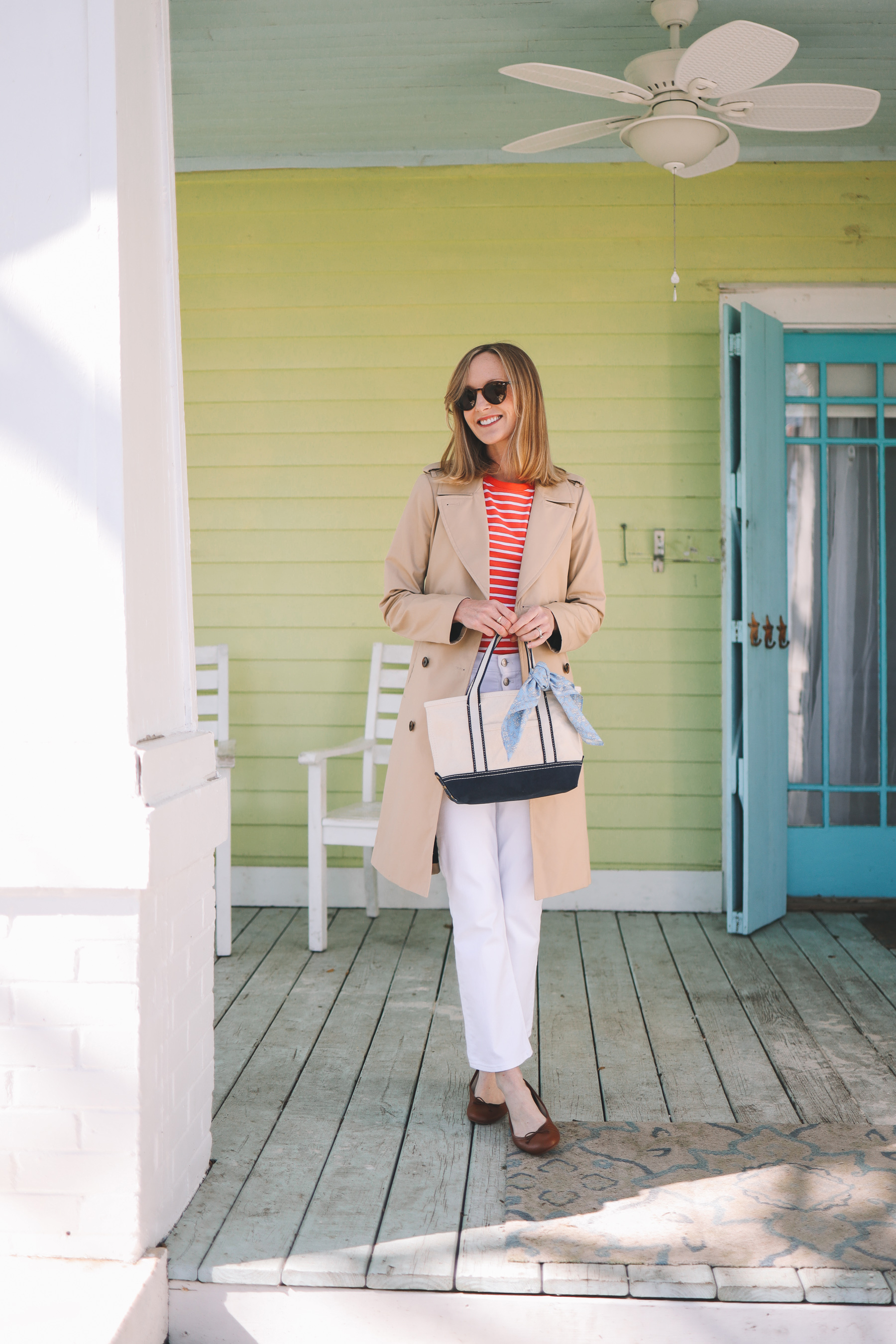 High-Rise Demi-Boot Crop Jeans / Unstructured Ballet Flats / Montauk Tote (I have the small.) / Liberty Scarf / Trench Coat / Striped T-Shirt (Also comes in a navy gingham!) / Sunglasses / Lucy's Dress (It's a hand-me-down from Emma's toddler days!)
It's about time I did a full post on these shoes!
I have incredibly sensitive feet. I just didn't realize it until I moved to New York City and started walking everywhere. But YIKES. I learned pretty quickly that most footwear will hack my feet up and that I need to be extremely careful when shopping for shoes. And over the years, I've become pretty ruthless about getting rid of those that provide even the slightest discomfort. Life's too short to wear shoes that hurt!
So me introduce you to the most comfortable ballet flats in existence. They're J.Crew's Unstructured Ballet Flats, and they're made with this awesome floppy leather that doesn't require any break-in time. I'm sure J.Crew would be thrilled to hear me call the leather "floppy," haha, but I mean that in the best possible way!
(I should note here that the only other ballet flats that haven't killed my feet are the Sam Edelman Felicia Flats. but I don't love the little logo attached to them. You can get the logo off with pliers, though; it's just annoying. The Felicia flats look a bit more casual, but they do have a good amount of padding in the footbed which is nice.)
Anyway, when I heard about J.Crew's unstructured ballet flats, my ears perked up. And they're fantastic! I really can't believe it. They have that timeless preppy look I've always loved but without all the blood that normally comes along with it for me. 😆 TTS, too. I normally wear a size 7.5, and I took these in a 7.5 as well. The other good news is that they come in all the colors: brown, black, navy and red. Oh, and silver!
Big fan.
Other details:
High-Rise Demi-Boot Crop Jeans: I'm obviously a cult follower of Madewell's demi-boot white crop jeans (available at Madewell and via Nordstrom), but J.Crew's Demi-Boot Crop cut is honestly just as good! The J.Crew version is made from the brand's stretchiest denim and is designed to move with you. They'll "always snap right back into shape like a rubber band." I mean, sold… no? (TTS.)
Unstructured Ballet Flats: We don't need to rehash all the reasons I love them. Just buy them. 😂 They're such the find!
Montauk Tote: Is this not the cutest bag?! I have the small but it comes in tons of sizes. Also, I have some insider knowledge that matching crossbody straps are about to hit J.Crew's website. (The bag has strap rings.) So stay tuned for that!
Liberty Scarf: One of my favorite ways to spring-ify looks is by tying a Liberty scarf to my bag or around my neck.
Trench Coat: J.Crew's iconic trench coat is back! Btw: The best way to make a trench coat warm is by wearing this quilted liner underneath. I wear the liner under so many of my coats and jackets; it's magic! I really recommend investing in it if you want the look but also want to be warm. :)
Striped T-Shirt: Also comes in a navy gingham! TTS. I'm wearing a small here.
Sunglasses: Stepped on them in New Orleans so now they're crooked and I have no one to blame but myself. 😆
Lucy's Dress: It's a hand-me-down from Emma's toddler days, but the company carries so many gorgeous pieces for a steal! (They're not actually an auction site. Just a regular retailer, haha.)
xoxo
Shop the post:
High-Rise Demi-Boot Crop Jeans / Unstructured Ballet Flats / Montauk Tote (I have the small.) / Liberty Scarf / Trench Coat / Striped T-Shirt (Also comes in a navy gingham!) / Sunglasses / Lucy's Dress (It's a hand-me-down from Emma's toddler days!)