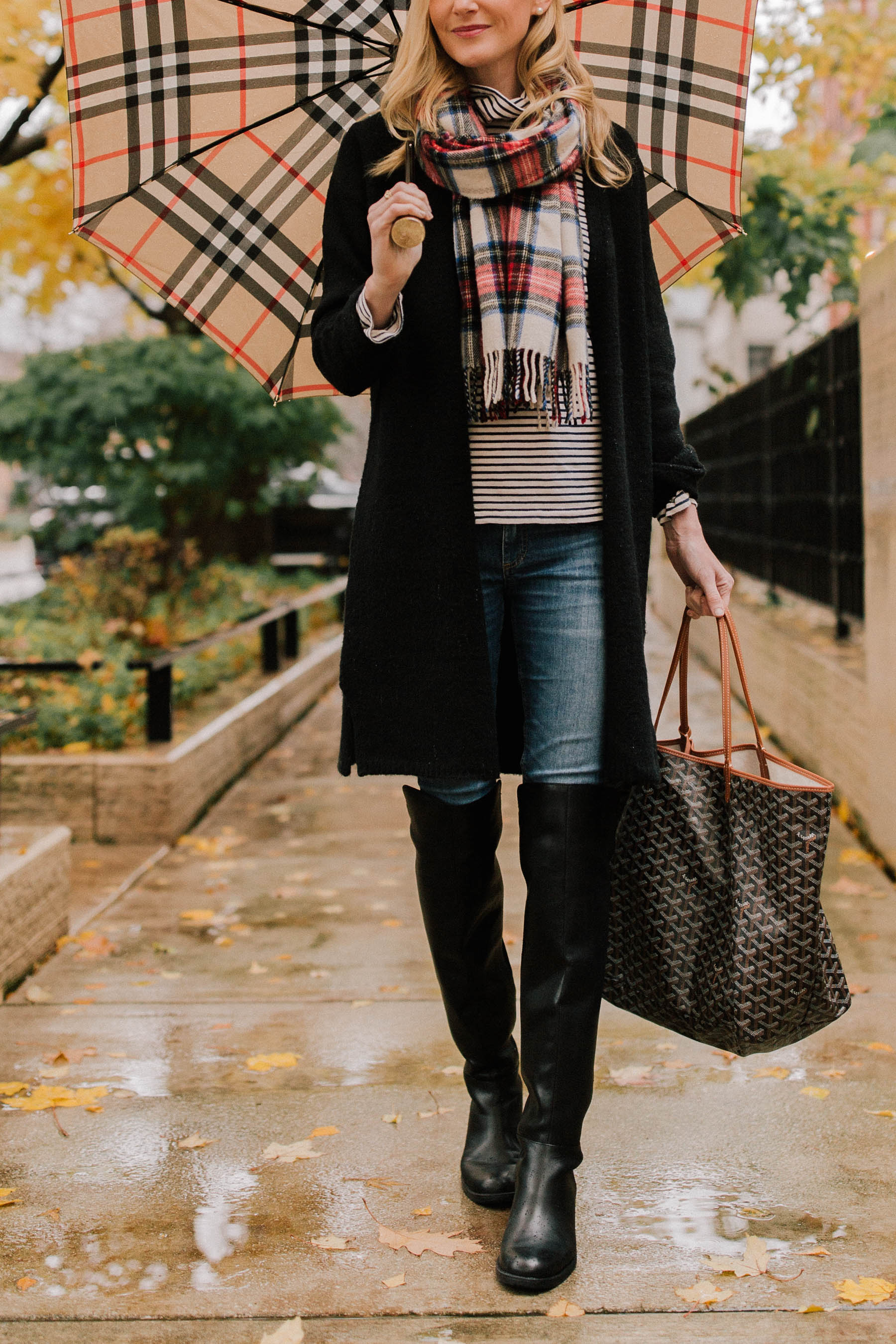 Plaid Scarf / Burberry Umbrella (Also available here) / Waterproof Leather Over-the-Knee Boots (Run slightly small. I usually wear a size 7.5, and I took these in a size 8. In black leather here) / Rag & Bone Jeans / Striped Turtleneck (Love this one, too) / Sweater Coat
Mitch here!
I've been practicing for the #30daysofplaid challenge my whole life. Though when I first met Kelly, I thought plaid was more of an underwear kind of thing. I didn't realize I could base my whole "fashion identity" on the stuff!
These pictures embody the true life of a Chicago fashion blog family in late November. They were taken in the middle of a two-day torrential downpour when we finally threw up our hands and said "Screw it! We're going outside!" I'm not a weatherman, but if I were to offer up a "wind chill" for that day I'd say it was about -800° F. I'm pretty sure Kelly color-adjusted these photos because in real life, she looked like a Smurf.
Isn't it incredible how she can pull of the "I'm miserable, but also stylish" look that none of the rest of us can accomplish? On the other end of this camera, I'm wearing a parka covered with a plastic rain sheet.
HOW DOES SHE DO IT?! Let's take a closer look:
Waterproof Knee-High Boots: These boots are WATERPROOF, people! And oh so stylish. They look like regular over-the-knee boots, are super comfy and come in black leather.
Burberry Umbrella (also available at Bloomingdales): Kelly loves this umbrella. I think she secretly looks forward to rainy days so she can bust it out. Does anyone else invest in accessories so they can care about them more? Like buying a nice pair of sunglasses so you don't lose them as often?
I choose to go the other way. I live my life as if umbrellas don't even exist. If it's raining outside, I either wear a rain coat or get wet. I've decided to stand up, you know, for the lazy people. The ones who usually just lay down.
Stewart Plaid Scarf: Did I mention #30daysofplaid? Because it's in full effect. From where I sit, I can see 17 different plaid things in this room and I'm probably missing some. But this scarf's plaid features the best plaid. It's back in stock and sells out quickly so grab it like now.
Mitch. Out.
Shop the post:
Plaid Scarf / Burberry Umbrella (Also available here) / Waterproof Leather Over-the-Knee Boots (Run slightly small. I usually wear a size 7.5, and I took these in a size 8. In black leather here) / Rag & Bone Jeans / Striped Turtleneck (Love this one, too) / Sweater Coat
SaveSave