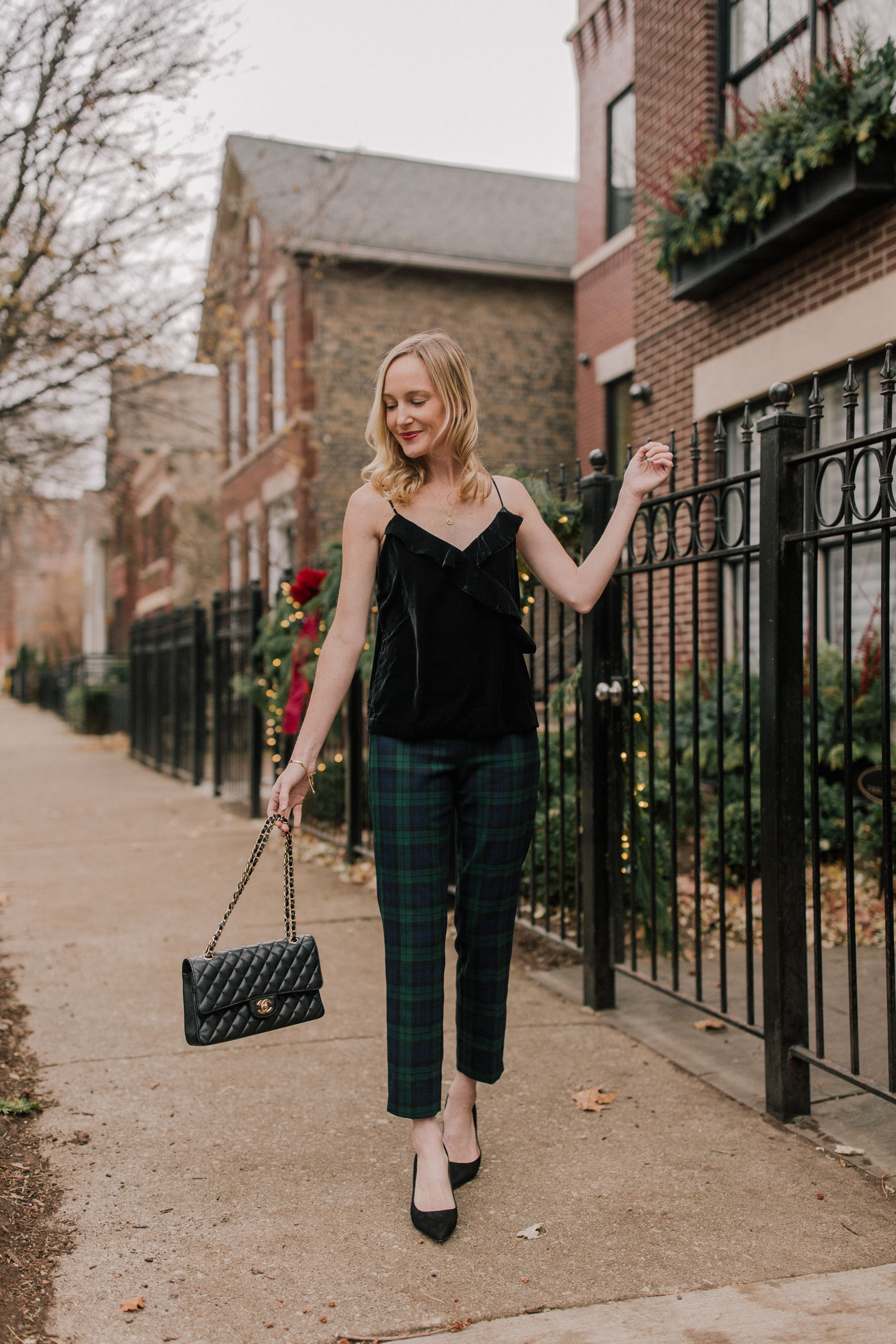 Black Watch Plaid Pants (Also here. And love Vineyard Vines' take on the pants as well as Vineyard Vines' red plaid pants!) / Newer Version of my Velvet Cami (Exact version here) / Block Heel Pumps (If they're sold out, they're also available at Zappos. And this pair, this pair, and this pair are super close. I also adore this pair of bow pumps and this pair of bow-tie pumps.) / Chanel Bag c/o StockX: Learn how to score a Chanel bag for a huge discount here! (Love this lookalike, which is on sale! Similar bags here, here and here.) / Tory Burch Earrings / Kate Spade Initial Necklace / Monica Vinader Bracelet
Undergoing a kitchen renovation is tough, especially when you have a toddler. But besides the fact that you're getting a nicer space, there's a silver lining: you have to order takeout or go out to eat in order to survive.
Or else you will die.
😂
I can't lie. I've been loving it. Sure, we have "leftover nights" pretty often. But we also get out way more than we used to, and with this 60-degree weather we've been experiencing, it's been a blast. It's an excuse to get dressed up without worrying about freezing!
This is what I wore last night. A little breakdown:
HELLO, perfection. I've been lusting after black watch plaid pants for years, but could never find the right fit. I'm a big fan of J.Crew's Martie Pant, though, and when I saw this pair, I knew they were destined for my holiday closet. (I don't actually have a holiday closet. But you know: with #30daysofplaid, I might next year, haha.) Some details: I'm allergic to wool, but these pants are lined and don't itch at all. (Like, no little seam at the top that touches the skin.) I also think that they run completely TTS. I usually wear a size 0 in J.Crew pants, and I took these in a 0 as well. (Remember: J.Crew has vanity sizing, fo SHO.) Finally, you don't have to get them hemmed, which is awesome. I'm somewhere between 5'4 and 5'5, and as you can see, the pants hit right above my ankles, and I love that!
Looking for alternatives?  I love Vineyard Vines' take on the black watch plaid pant as well as the company's red plaid pants!
All hail the classic velvet cami, and the ruffled velvet cami I'm wearing here. It looks great alone or under blazers (and sweater blazers), and it pairs well with dress pants or jeans. I honestly can't believe I survived without one for so long!
GAH. So sad that these sold out so quickly, though Zappos still has a few pairs. If you're looking for something similar, this pair, this pair, and this pair are super close. I also adore this pair of bow pumps and this pair of bow-tie pumps. Every girl needs a good pair of black pumps for the holidays!
My cousins gave me these earrings many years back, and they're still my faves. I only break them out for special occasions as they mean a lot to me and I'm nervous I'm going to lose them. But considering how much I love them, I think they'd make for the perfect gift!
Other jewelry
I'm not big into jewelry, as I'm short on time and Emma seems to rip everything off me anyway. ;) But this initial necklace, which is such a good deal, is worth mentioning. I've given this as a Christmas gift on countless occasions because it's just that good. (I wear mine nearly every day, and don't even take it off while showering!) My Monica Vinader bracelet is at a higher price point, and therefore might be more suitable as a gift for your mom, for example. But I adore it. Again, it's one of those pieces you can wear casually or to a fancy event! You can also bring it into Nordstrom to have engraved for free. :)
Heavens to Betsy. I'm still in shock that this Chanel bag is part of my life. (Thank you, Mitch, for setting me up with StockX!) If you're interested in scoring a pre-loved bag in phenomenal condition for a steal, read my recent post on the topic. And if you're not ready to take that kind of splurge, consider this lookalike. Similar bags here, here and here, too.
Over and out!
Shop the post:
Black Watch Plaid Pants (Also here. And love Vineyard Vines' take on the pants as well as Vineyard Vines' red plaid pants!) / Newer Version of my Velvet Cami (Exact version here) / Block Heel Pumps (If they're sold out, they're also available at Zappos. And this pair, this pair, and this pair are super close. I also adore this pair of bow pumps and this pair of bow-tie pumps.) / Chanel Bag c/o StockX: Learn how to score a Chanel bag for a huge discount here! (Love this lookalike, which is on sale! Similar bags here, here and here.) / Tory Burch Earrings / Kate Spade Initial Necklace / Monica Vinader Bracelet