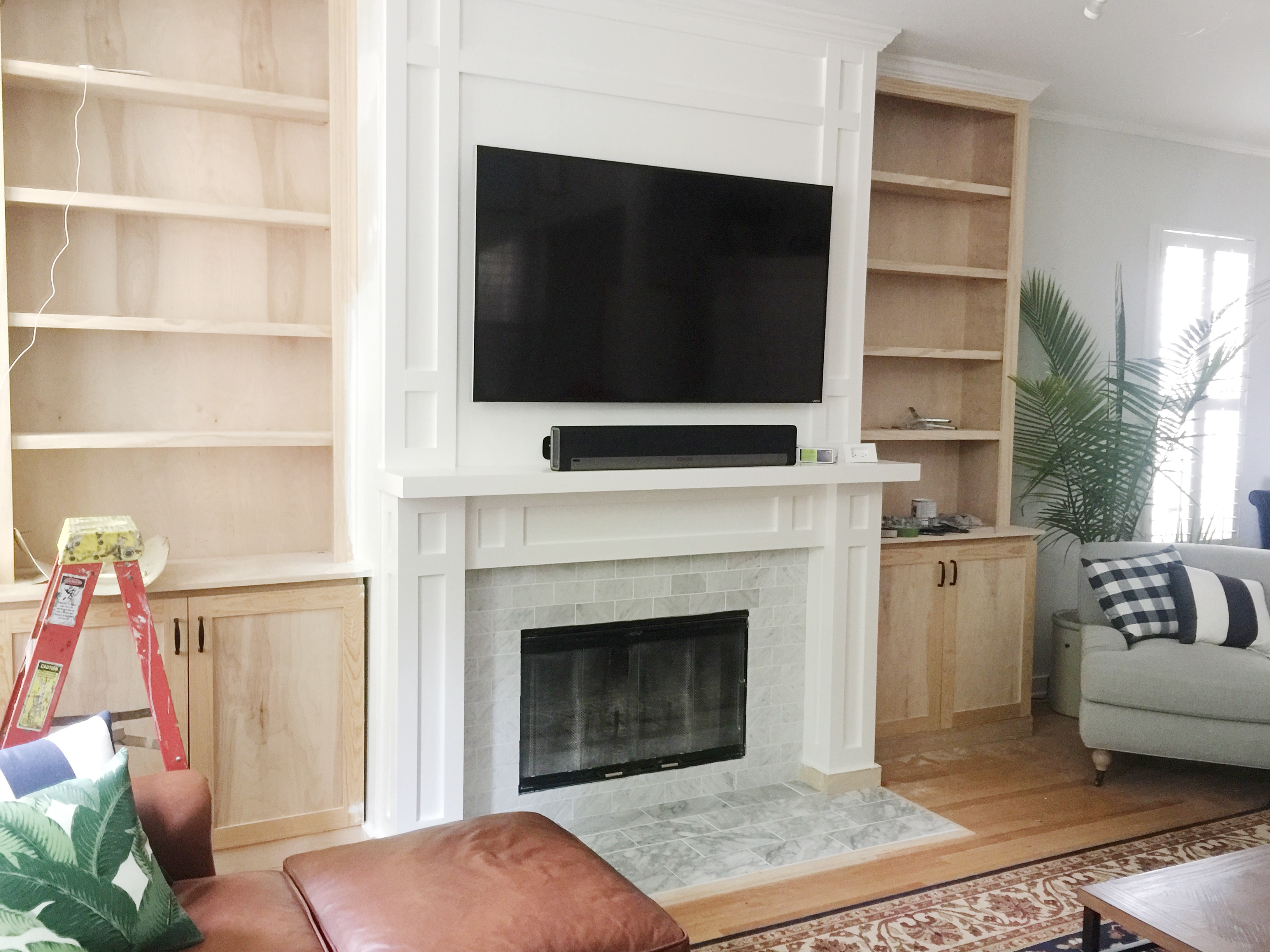 I truly can't thank you enough for your kind, supportive and understanding messages after yesterday's panicked post. I was undoubtedly having a rough day, and the hormones were off their rockers. ;) But really: thank you! Things are coming together; I think I was just too overwhelmed to see that. (Also, I wrote that post at night, and I'm definitely one of those people who tends to melt down when tired.)
So let's focus on the positive today! Renovations are wrapping up this week and next, and I couldn't be more excited to get our lives back and enjoy living in our house. Construction on the staircase, which was damaged during the flood, hasn't yet started yet… but I'm not counting that. Because it's just a staircase, and it's really not impacting our everyday lives. Yes, it's unsightly, but it's also kind of hidden. I've promised that it's the one project I'm not going to stress about, and I'm going to hold myself to that!
My apologies for the crappy iPhone photos, but these will have to do until the final reveal posts. ;)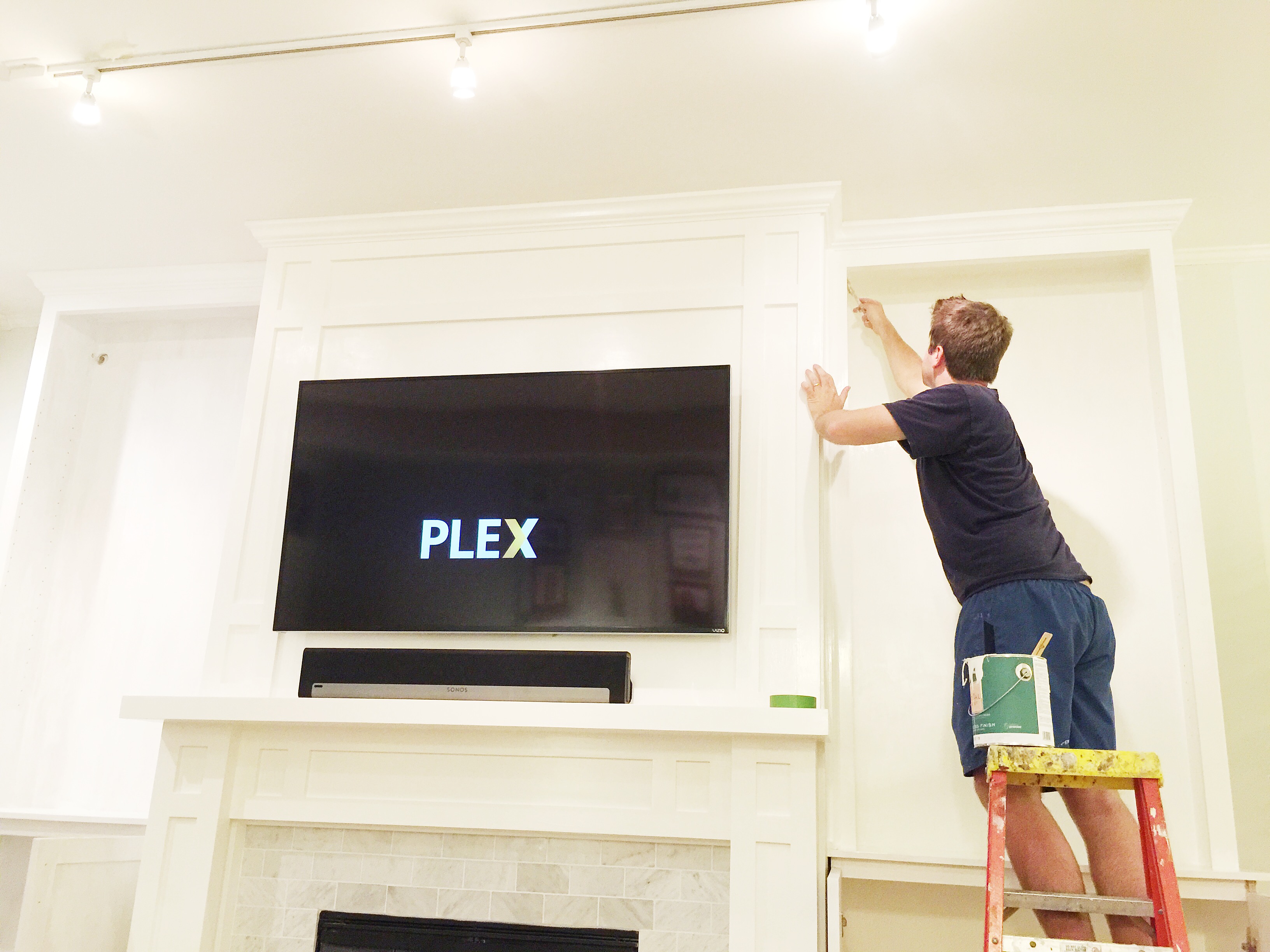 Fireplace
While the fireplace was finished last week (after our first contractor disappeared), life has been so crazy that we're only finishing the paint job today. We totally underestimated just how long it would take to paint the thing, but we've put in at least 10 hours so far, and we still need to put a second coat on the bookshelves and do some detail work. (How is that possible?!) We stayed up until midnight last night pounding it out, though, and, like I said, the goal is to finish today. I'm so excited to style the bookshelves, clean the living room, and get things set up. :) And I can't wait to share the final reveal with you guys! (Here's the original inspiration blog post. So fun to look back on it now!)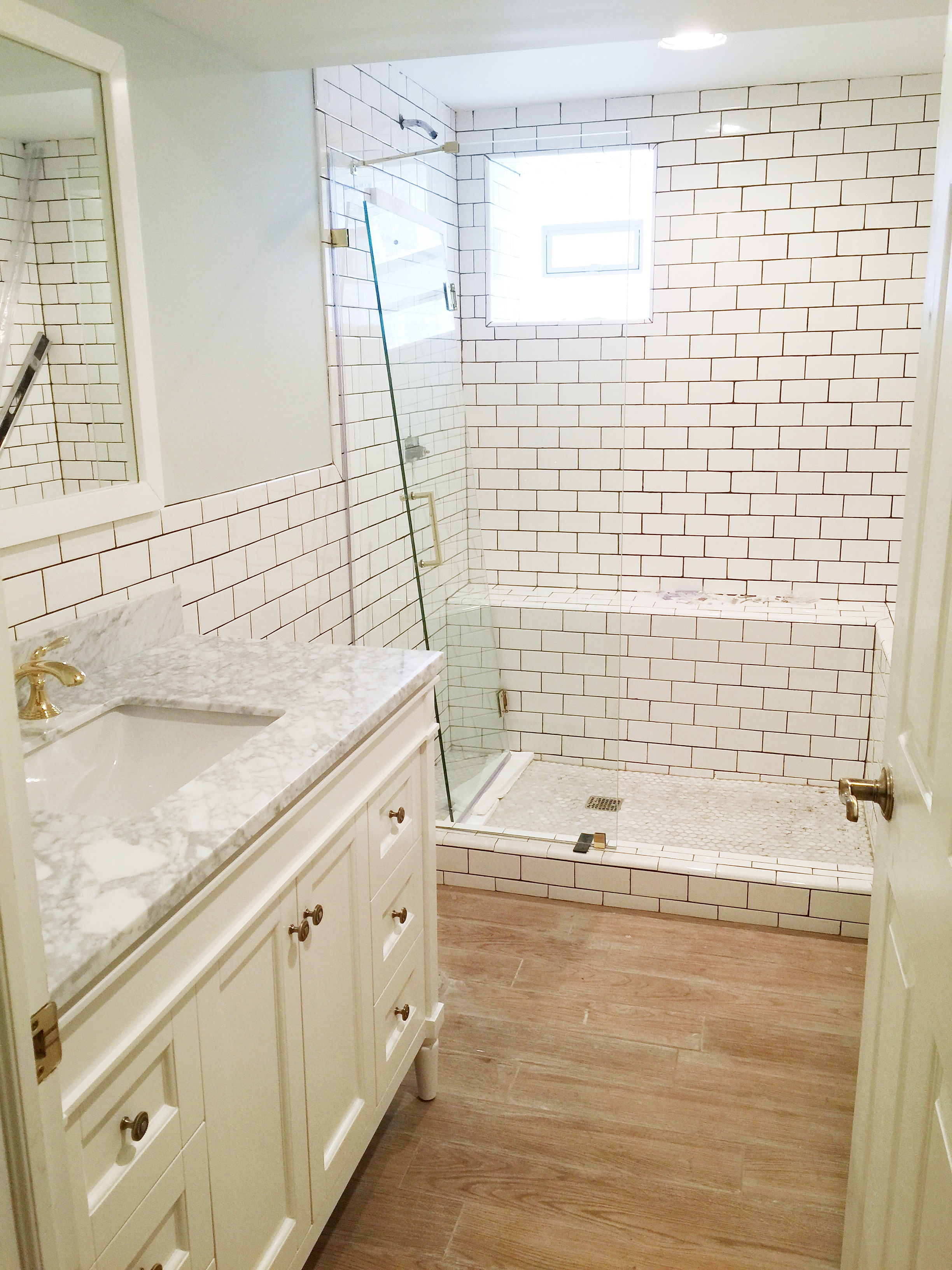 Master Bathroom
Much like the fireplace, this project has been extremely slow-moving, as the contractor handling it needed to leave the country for a solid month. But I can't believe that it's finally coming together! Last night, the other shower door was hung, the toilet was installed, and the shower fixtures were put in place. There's still a bit to do, but it's come a LONG way in the past week, and we're thrilled with the results. A big shoutout goes to Mitch for coming up with the bathroom's floor plan (honestly, SO amazed!) and to my friend Kira from The Imperfectionist for all her design help! (Here's the original inspiration blog post.)
Nursery
It's HAPPENING! I know everyone kept telling me not to panic about the nursery, as Baby Larkin can obviously sleep in our room in the beginning. But I desperately wanted this project completed before his or her arrival, partly because I don't want to be going through a renovation during the baby's first few months (sounds way too stressful!) and partly because I want our parents to be able to come and stay whenever they can. (The guest room is part of this project as it shares a wall with the nursery, and needed doors moved and installed as well.)
My parents live on the East Coast and Mitch's live 2.5 hours south of Chicago, and a HUGE part of the reason we bought this house was so that they'd be able to come and stay with us for extended periods of time. Of course, this past year has been a disaster and as a result, that hasn't happened very often yet. But when the baby arrives, it's SO important to us that they're able to stay! So, hallelujah. :)
Anyway, we're in the middle of installing board and batten, laying down hardwood floors, putting up crown molding, and moving the door so the nursery has an entrance separate from the guest room. (And by "we," I mean our fabulous new contractor.) It's set to be finished this week, and I'm astounded by how quickly it's going! (Here's the original inspiration blog post.)
Next Steps
Next steps for the fireplace include finishing the paint job, decorating the bookshelves, putting the room back together, and giving the space a deep clean. Next steps for the bathroom are installing the light fixture, switching out the vanity knobs, painting the trim, finding gold bathroom accessories and CLEANING! Next steps for the nursery are… well, everything. ;) But once the contractor is done, we're looking forward to painting, assembling the crib and changing table, and decorating.
Again, thanks for all your support. :) WE CAN DO THIS!