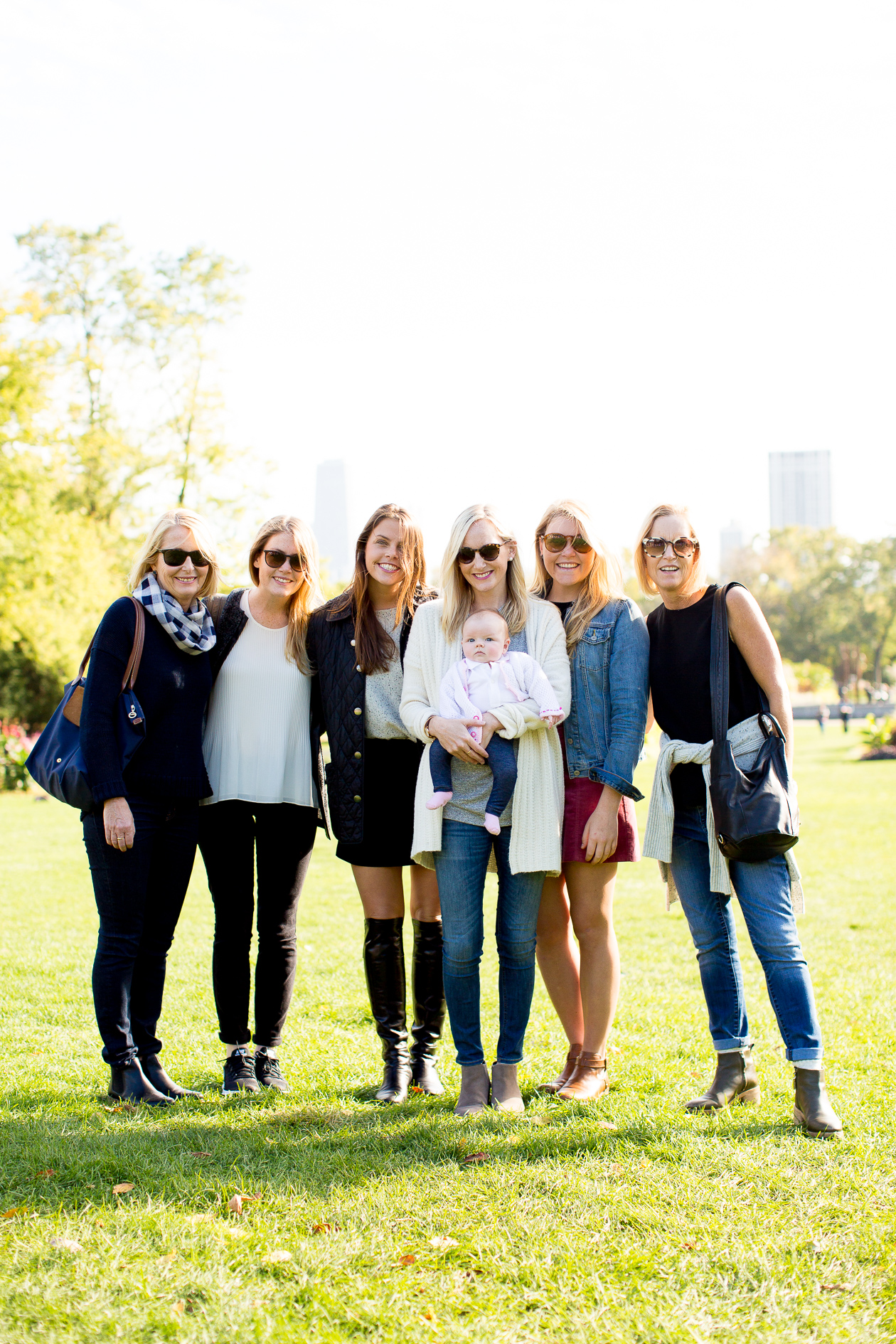 Wearing in this post: Jeans (On sale! They run TTS.) / Gray Booties c/o / Brown Booties c/o (On sale! So ridiculously comfortable. I'd recommend ordering a 1/2 size up. They also come in suede.) / T-Shirt (So soft!) / Cardigan / Blanket Scarf c/o (Newer here and here) / Barbour Jacket c/o (Also quilted. REALLY warm.) / Gray Sweater (Also available here.) / Similar Sunglasses
I'm sure a lot of you can relate, but my cousins–for all intents and purposes–are my siblings. We grew up super close, and I love them so, so much.
It's funny: right around the time that Mitch and I knew we were leaving, their family moved to NYC. And my aunt and uncle (who are like second parents to me) lived in Chicago when they were in their 20s and 30s, and had my cousins here. (At the same hospital where Emma was born, actually!) So it's kind of like we've flip-flopped lives, and it makes visiting each other really special. :)
But this particular visit was probably the most special of 'em all, as it was their first time meeting Emma. (I'm the oldest cousin, so she's the fam's first baby since… Paige! Hehe.)
I can't even tell you how surreal it was to introduce our little Boo Bear to everyone. The minute they walked into the house, I teared up! And yes: we spent the majority of our time together fussing over little Emma. ;)
I kind of can't believe that we were able to organize the trip, considering everyone's all over the place right now: Annie's working in New York, Sammy's working in Boston, and Paige is in school at Wake Forest down in North Carolina. (And Mom's in Pennsylvania and Auntie-M's in NYC.) Four different flights! While it was a short trip, I'm crazy thankful for the two days that we had together. Such good times, and so many laughs.
I'm counting down the days until Gallagher Christmas, and I'm crossing my fingers that we can organize a springtime Chicago trip, too! Love you guys beyond measure. Anyone else have a heavy heart this morning? AH! I miss you too much! xoxo
Wearing in this post: Jeans (On sale! They run TTS.) / Gray Booties c/o / Brown Booties c/o (On sale! So ridiculously comfortable. I'd recommend ordering a 1/2 size up. They also come in suede.) / T-Shirt (So soft!) / Cardigan / Blanket Scarf c/o (Newer here and here) / Barbour Jacket c/o (Also quilted. REALLY warm.) / Gray Sweater (Also available here.) / Similar Sunglasses