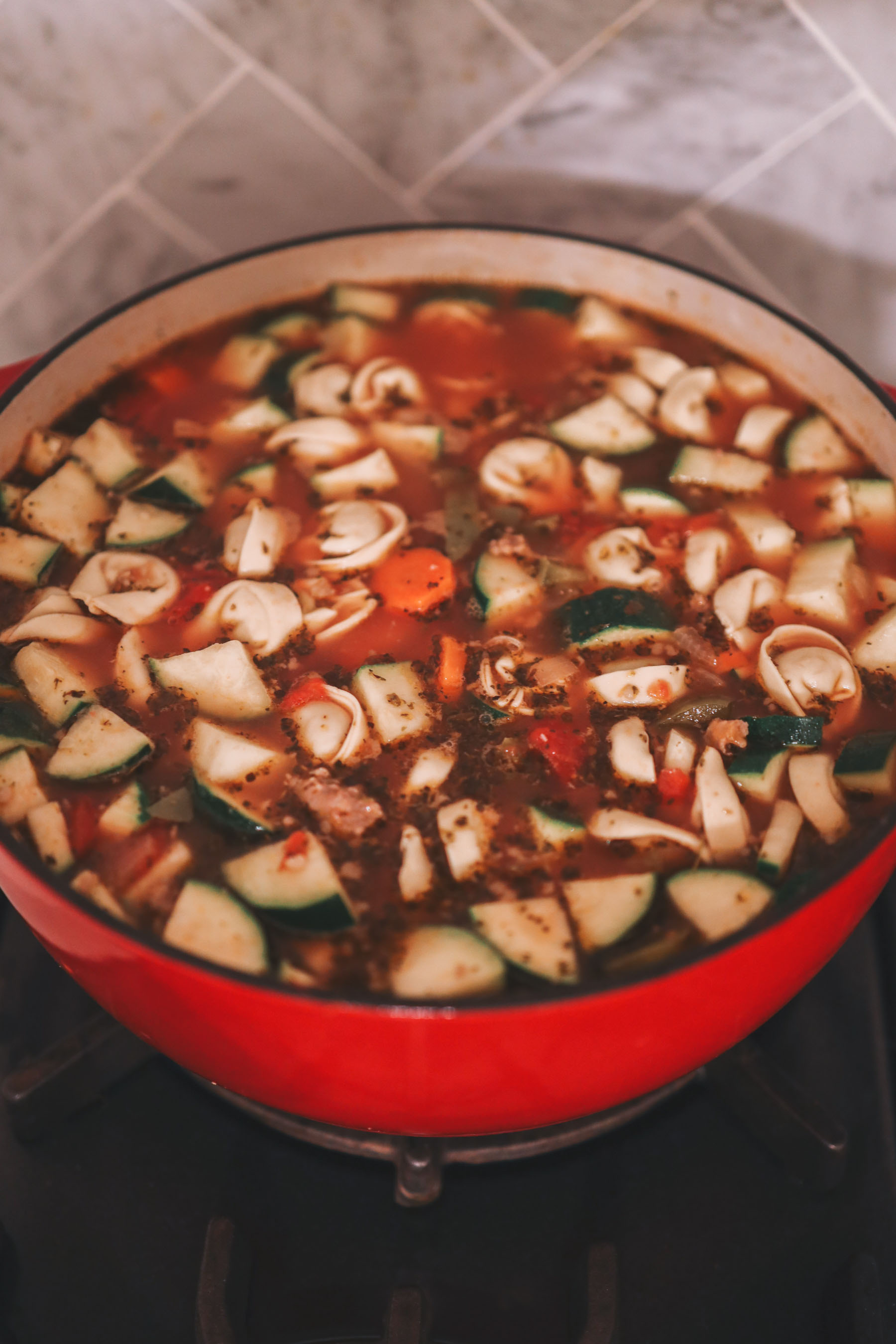 Chef Mitch here!
I love a recipe that has all the ingredients right in the title. This soup hasn't yet had its Cobb Salad, Italian Wedding or Reuben sandwich moment but it's on it's way. In our house we just call it "Gammie's Soup" and it is the absolute perfect meal for a chilly winter day…and as a family in the middle of a Chicago winter you'd better bet we're souping this soup on the reg. SOUP!
The old adage says that chopping wood heats you twice, and I can attest that this soup does that 5 times better. It'll heat you while prepping the veggies, standing over the the stove, enjoying your first bowl and then again for every additional bowl you microwave until the soup supply is spent.
I'm a big leftovers guy (and as a result, I'm becoming big guy in general). Cooking family meals takes time and it's always a bummer after spending hours in the kitchen to sit and eat the thing in like 5 minutes. So I appreciate a recipe that lends itself to being doubled and tripled to the point where it can feed the family for a week.
This Italian Sausage, Zucchini and Tortellini Soup is a joy from the first chop to the last spoonful. I typically make this soup on lazy Sundays in a slow cooking cast-iron braising dish that lets the steaming soupy smells waft through the house until the whole family is practically ravenous for the stuff.
But on this day, I was souping in a hurry. By the time I started I had 20 minutes before Emma's school let out and I furiously prepped the ingredients while an un-napped Lucy screamed at me from her Bumbo seat. The result was a thoroughly destroyed kitchen, a sliced finger, a late pickup, truly bad blog photos and, frankly, a delicious soup. You really can't screw this up.
Italian Sausage, Zucchini and Tortellini Soup
A few tips:
This soup is versatile and I'll often use it to empty out the fridge. If you've got some combination of baby carrots, regular carrots, zucchini, squash, spinach, onion, peppers, tomatoes, sausage, ground beef, tortellini, macaroni, rigatoni and whatever stock you have in the cupboard you can get this soup goin'. Honestly, just chop up whatever you have available and put it in a pot and call it a soup. Today's iteration included zucchini, green peppers, white onion, garlic, canned tomatoes and spicy Italian sausage.
The soup lends itself to an Instant Pot or slow cooker well, but take care not to overcook the zucchini and tortellini. I'll typically let the soup (minus tortellini and zucchini) simmer all day and then add the last ingredients 5-10 minutes before serving time. Adjust this to your favorite level of al dente crisp.
Ingredients
6 Italian sausage links with casings removed (sweet or spicy to preference)
1 large onion chopped
2 minced garlic cloves
2 green peppers deseeded and chopped
1 quart beef broth
1 can diced tomatoes
6 diced large carrots
1 tablespoon herb du province (or dried oregano or Italian mix)
1 (8 ounce) can tomato sauce
3 large zucchinis diced
2 cups dried tortellini
Shaker of grated parmesan
Recipe
De-case sausage and brown in dutch oven (or Instant Pot)
Add onion, garlic, peppers and carrots. Sauté until onion appears translucent and your kitchen smells awesome
Add broth, tomatoes, herbs and tomato sauce. Simmer or slow cook for at least half an hour
10 minutes before serving add zucchini and tortellini and cook to taste
Serve with crusty bread and plenty of parmesan cheese
Chef Mitch. OUT.