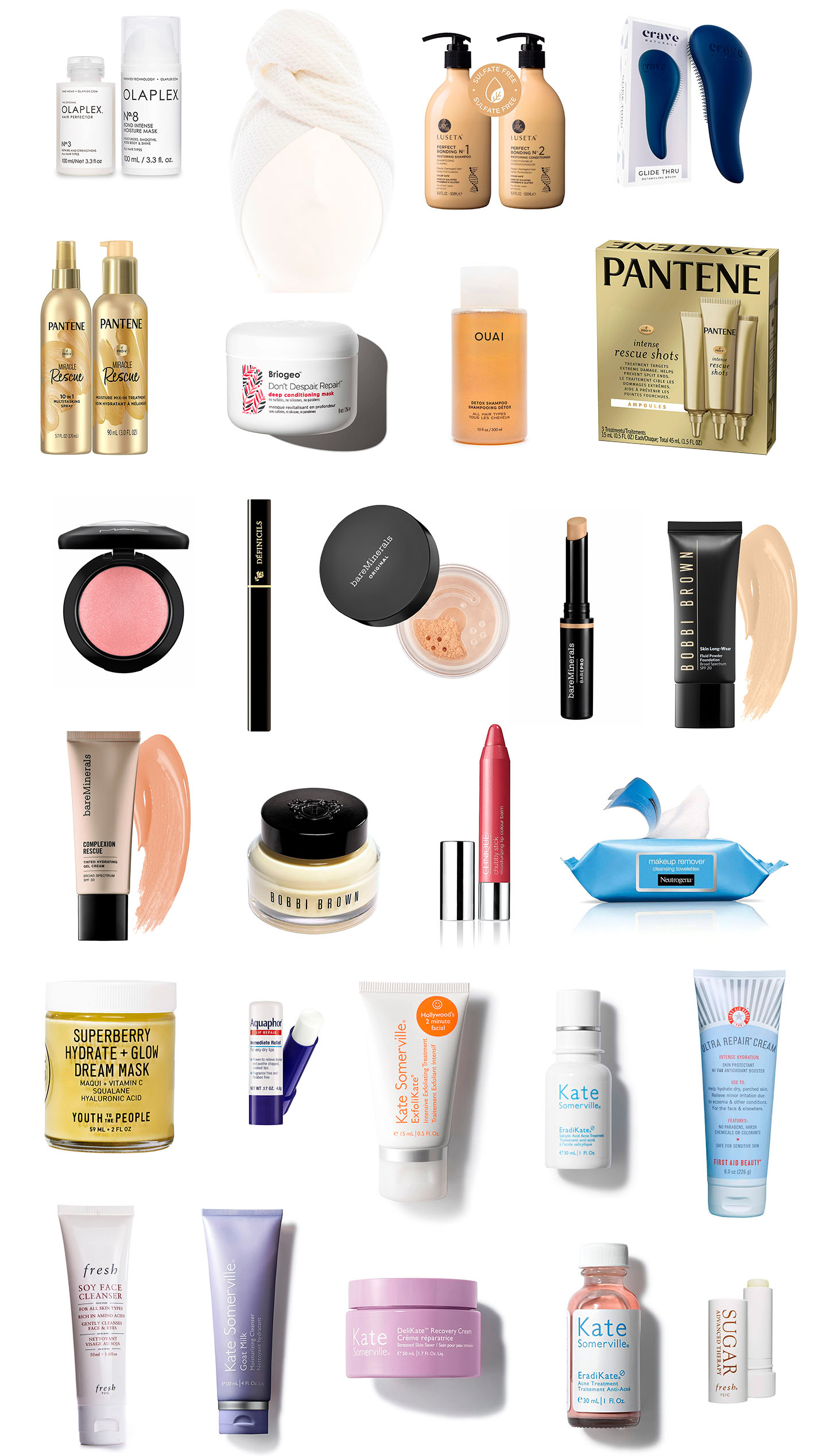 Amazon Beauty is legit. It took me a while to realize how utterly fantastic it is, but the prices are awesome, the selection is vast, and nearly everything I order is on my doorstep within a day or two (and sometimes only hours later). Even better, you can set up "Subscribe and Save" on products you need regular refills for. (You can also select when you want the refills to come—anywhere from once every two weeks to once every six months—and there's no penalty for discontinuing. I normally see a 15 percent discount for subscribing.)
I recently took some time to round up my favorite skincare, haircare, and makeup products, most of which are available via Amazon. (I'll note here that Amazon's makeup inventory is currently lacking, so I included where else to find them at the moment! Hoping that portion of the site is improved soon, as it's really not in keeping with the company's usual standards, in my opinion. 😉) Anyway, I really enjoyed putting this blog post together. :) Any Amazon beauty products you swear by that I should consider?!

Skincare
Kate Somerville ExfoliKate Exfoliating Treatment: My holy grail! I'm sure you're tired of hearing me talk about this stuff, but it's my #1 beauty product. It's a physical and chemical exfoliator that you leave on your skin for two minutes max (once or twice per week), and BOOM. Your skin is instantly ridiculously smooth and bright. It's one of those products that I can't believe is real. 100-percent buy this. A little goes a long way, too, so the mini size is just fine!
Kate Somerville Goat Milk Face Cleanser: This is my favorite face cleanser. It's pricey, but it lasts a long time as long as you don't use it as a makeup remover, too. (I recommend these wipes instead.) It's very good for those with super sensitive, redness-prone dry skin.
Fresh Soy Face Cleanser: This is what I use in the shower. I honestly first bought it because I liked how the container looked, hahaha. (Yes. I realize how insane I sound right now. But what can I say? I like a thoughtfully organized and coordinated shower. If you do too, invest in these refillable amber pump bottles. They make me happy every morning. 😆) Back to the subject matter at hand, though. The Fresh Soy Face Cleanser is great. Smells amazing, very gentle, and leaves my skin feeling clean yet not stripped. Highly recommend.
Kate Somerville DeliKate Recovery Cream Moisturizer: Undoubtedly the best moisturizer I've ever used. This is another product that's fabulous for sensitive, redness-prone dry skin. I believe it was originally developed to sooth angry skin after treatments. I use this every morning without fail, and my skin has never looked better. Truly evens out the complexion!
First Aid Beauty Ultra Repair Cream Intense Moisturizer for Face and Body: So I've never used this on my face; only my arms, where I'm prone to extreme dry skin. But it works wonders! Within a matter of hours, my arms look and feel better.
Youth to the People Superberry Hydrate + Glow Dream Mask: I sleep in this every.single.night. My sister-in-law also swears by it! The container comes with so much in it, too; pretty sure it'll last me the majority of the year. I wake up with soft, hydrated skin!
Kate Somerville EradiKate Overnight Acne Treatment: I recently went the prescription route in this department, but beforehand, I swore by Kate Somerville's acne line. It was the only over-the-counter stuff that ever made a considerable difference! I used this at night. (And it was pure magic! Would often wake up the next morning with the blemish either totally or almost gone.)
Kate Somerville EradiKate Salicylic Acid Acne Treatment: …and this under my moisturizer during the day. It kept my skin at bay.
Fresh Sugar Advanced Therapy Lip Treatment: This is my go-to "chapstick." It's really, really nice… and leaves my lips feeling soft and hydrated. It also has SPF in it!
Aquafor Lip Repair Stick: This is what I use when my lips are extremely parched in the winter. Emergency lip balm, if you will. Heals cracks quickly!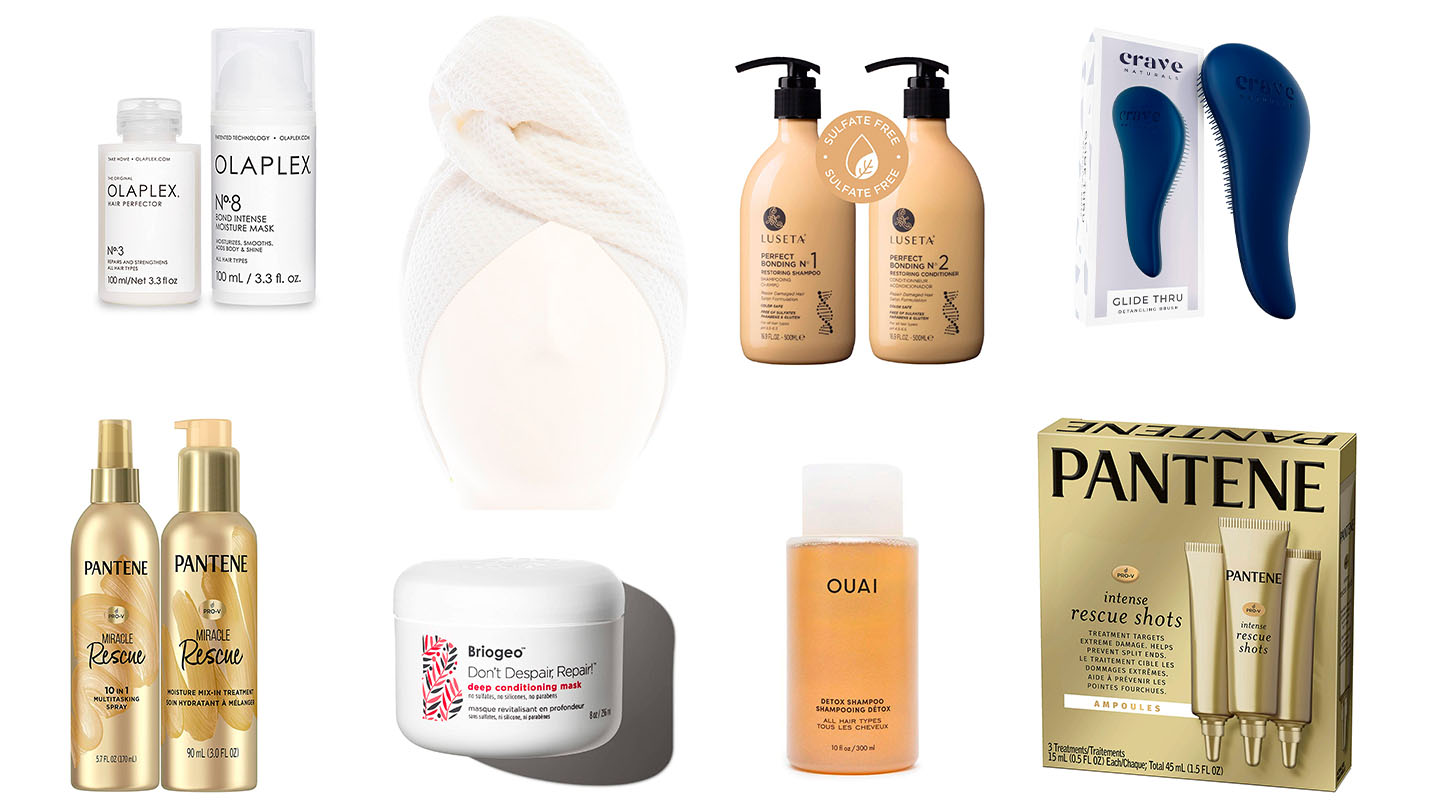 Haircare
Pantene Rescue Shots: If you've been following along with this blog for a while, you know my extreme devotion to these very affordable tubes of magic. Simply apply to your hair after shampooing and conditioning, rinse, and unleash the inner goddess within. Haha—but seriously. They turn dry, brittle, damaged hair into silk… instantly. And you get three for under $6. Insanity.
Luseta Perfect Bonding Restoring Shampoo and Conditioner: A reader recommended this shampoo and conditioner for dry, damaged hair, and I'm so grateful! They're both awesome—way better than the Olaplex shampoo and conditioner, in my opinion—and I now buy them in bulk.
Pantene Miracle Rescue 10-in-1 Multitasking (Detangling) Spray and Mix-In Conditioner: If you want even more moisture, you can add this affordable deep conditioning treatment to your normal conditioner. It really does make a difference. And the 10-in-1 spray is amazing as well. It does a ton of things, but my favorite functions are the detangling and heat protection it provides.
Crave Naturals Detangling Brush: The ONLY brush I use. I discovered this thing from a PR e-mail and decided to order since it was under $12 on Amazon. Wow. I have extremely fine hair that's prone to tangles and knots, and I look like a wild animal when I get out of the shower. This brush, however, works wonders. All you have to do is gently glide it over your hair, and after only a few light strokes, everything is detangled. Whereas I used to lose a ton of hair while brushing, I now lose next to none. Definitely a miracle product!
OUAI Detox Shampoo: This is my favorite clarifying shampoo. I use it once every two weeks to get rid of product buildup, and my hair feels extremely lightweight and clean afterwards. It bounces! (Btw: My sister-in-law coincidentally told me she loves OUAI Detox Shampoo, too!)
Olaplex Hair Perfector #3: You can read about my love affair with Olaplex here, but it really is responsible for taking my over-processed and extremely damaged hair to a healthy place. I used it on a weekly—sometimes daily—basis for years, but now only use it once per month because my hair is so much stronger and thicker. In between Olaplex treatments, I would recommend using the Pantene Rescue Shots.
Briogeo Don't Despair, Repair! Deep Conditioning Hair Mask: I discovered this from a Fab Fit Fun box, and I must say that I was impressed! It's supposed to take lifeless locks to nourished ones, and that it does. Of course, it's becoming abundantly clear that I have an addiction to hair masks, but it is what it is. ;) I also think it's good to alternate masks as they all specialize in slightly different areas of repair. Two thumbs up for this one. 
Aquis Hair Towel: What a time-saver! I wash my hair—or at least get it wet—every morning, but that makes my routine a lot longer. This towel, though, cuts my drying time in half. I throw my hair up in it while I get dressed and put on some makeup, and then use my Dyson Hair Dryer (refurbished here) or Airwrap, which takes roughly 3-5 minutes. Easy peasy, as Emma says.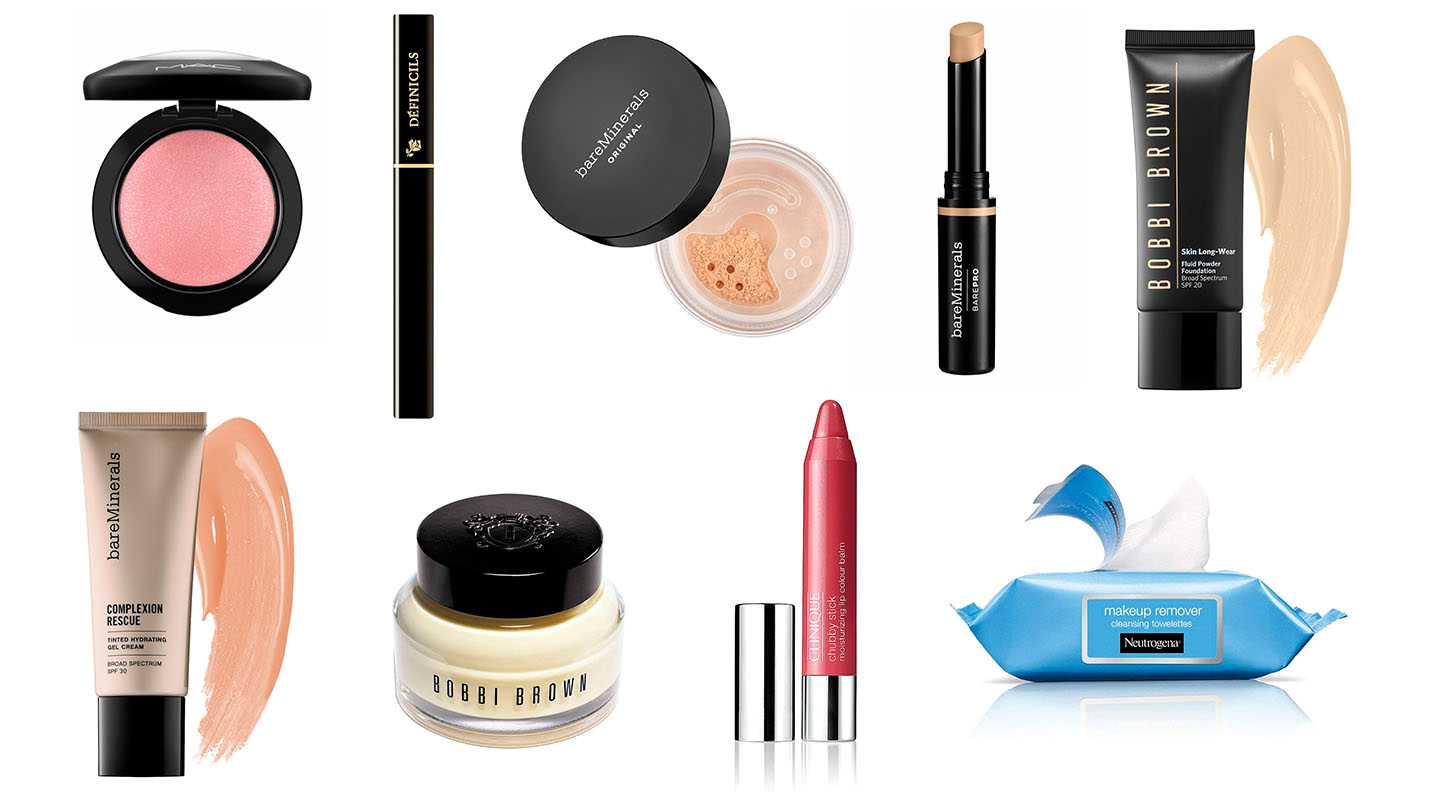 Makeup*
*Note that I've included other retailers that carry these products, as Amazon's makeup department is definitely lacking, IMO!
Lancome Definicils Mascara: (Find it at Sephora/Nordstrom as well.) This mascara gets awesome reviews and for good reason. It's known for making lashes look extraordinarily long while also providing definition. (No clumping!) It's my favorite, for sure.
Clinique Chubby Stick Moisturizing Lip Balm: (Find it at Sephora/Nordstrom as well.) This provides a lot of moisture and a good amount of color considering it's not a true lipstick. I use it when I'm going for a natural, casual look. (Which is almost every day these days, haha. #momlife)
Neutrogena Makeup Removing Cleansing Wipes: It took me a long time to realize that I shouldn't be wasting my favorite face wash on makeup removal. Most face washes aren't designed for makeup removal anyway, and I end up having to double cleanse! These very affordable wipes get the job done perfectly and then allow me to truly cleanse with face wash.
Bobbi Brown Vitamin-Enriched Face Base (Primer + Moisturizer): (Unfortunately not easy to find via Amazon; find it at Sephora/Nordstrom.) This is a moisturizer and primer in one, and what I use when I want my makeup to look flawless! You know how sometimes your makeup can look awesome in the morning but then somehow slide off your face by noon? Face Base prevents that, and ensures that you look radiant all day. I've tried a lot of primers over the years, and this is by far the best—and easiest, since you don't have to layer it with another moisturizing product! Works like a charm. (So much so that I wrote an entire post on it a while back!)
bareMinerals Complexion Rescue Tinted Moisturizer SPF 30: (Unfortunately not easy to find via Amazon; find it at Sephora/Nordstrom.) I use this every day without fail, sometimes alone and other times with foundation on top when I'm looking for more coverage. It has SPF in it and really evens out my skin tone and gives me a healthy glow. It's widely regarded as the best tinted moisturizer on the market, so I would give it a try if you're looking for a solid minimalist makeup routine. It's a game-changer!
Bobbi Brown Skin Long-Wear Foundation SPF 20: (Unfortunately not easy to find via Amazon; find it at Sephora/Nordstrom.) As the tinted moisturizer gives me a very dewey glow, I'll sometimes layer this Bobbi Brown Long-Wear Foundation over it on my t-zone. It creates a nice matte finish that stays in place all day—as the product's name suggests.
bareMinerals Original Loose Powder Mineral Foundation SPF 15: (Unfortunately not easy to find via Amazon; find it at Sephora/Nordstrom.) This is what I use when I want to look glam, haha. It's considered to be the best foundation for your skin; so good, in fact, that the company says you can sleep in it! (Which I wouldn't recommend doing, but hey. We've all been in situations before where it happens. Nice to know that you're fine when it does!) Anyway, I love this stuff. It's a breeze to apply—I simply brush it all over my face—and it makes skin look flawless. And despite the fact that it powder, it isn't drying.
bareMinerals BarePro Stick Concealer: (Unfortunately not easy to find via Amazon; find it via Nordstrom.) I'm SOMEWHAT WORRIED that this is being phased out because it's getting harder and harder to find. But this is my go-to concealer for my #mom under-eye circles. It's really the only stuff I've found that doesn't crease! Brightens everything up and makes me look more awake.
MAC Mineralize Blush: (Unfortunately not easy to find via Amazon; find it at Nordstrom.) I love it in "Dainty." Have tried other blushes, but just always come back to this one. Stays on longer and the color is perfect.