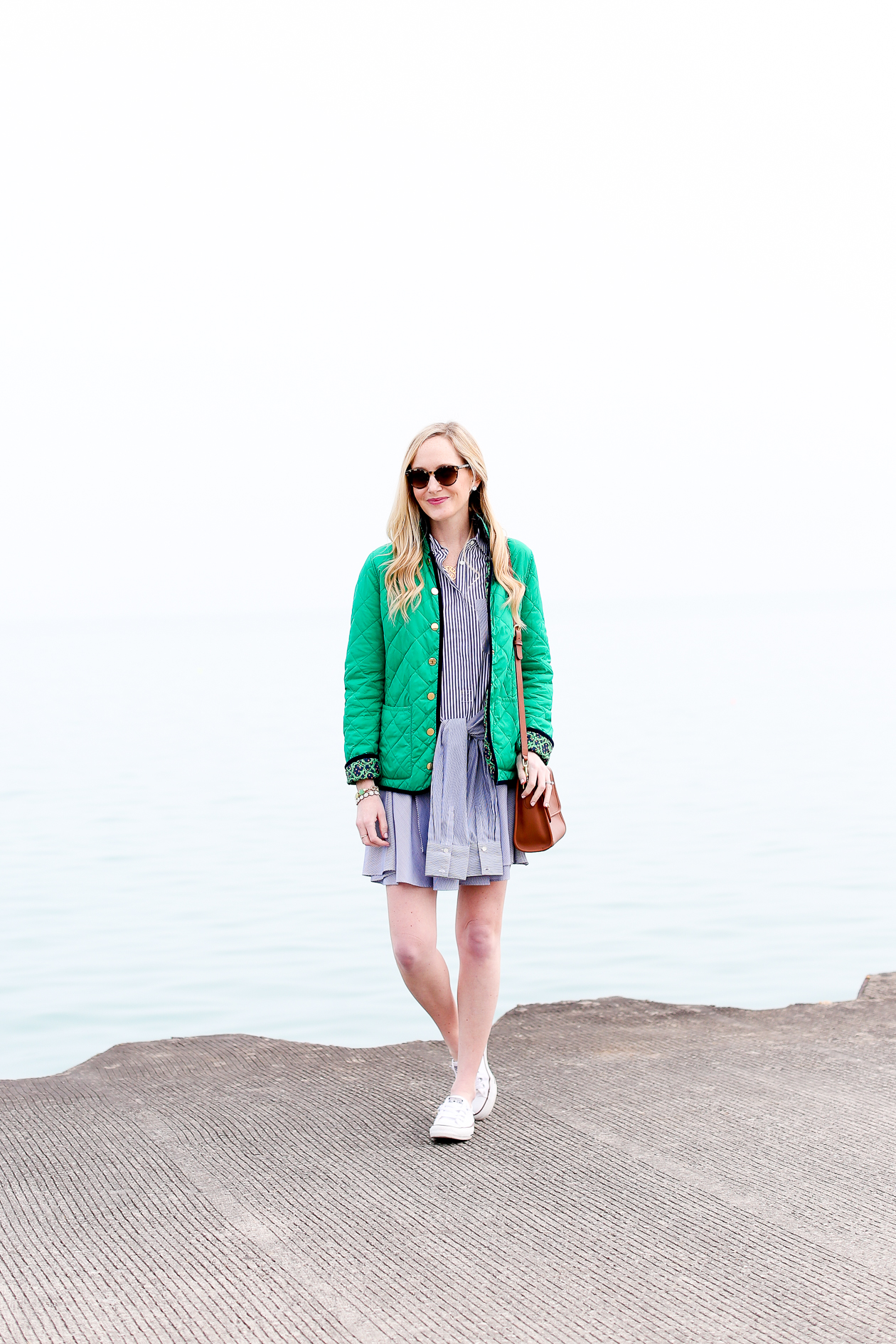 Derek Lam 10 Crosby Shirtdress c/o / Coach Court Bag (Not currently available, but I love these similar bags: one, two and three) / C.Wonder Jacket (Old, but did you see that C.Wonder is BACK?! Also: this is the quilted jacket I'm considering investing in this spring. I've been pining over it for years! Thoughts?! Also love this one from Barbour!) / Converse Sneakers c/o (Also love the navy and red versions!) / Daniel Wellington Watch c/o (Use code "KELLYINTHECITY" to take 15 percent off your next order on the DW site! Watch also available here.) / Moon and Lola Earrings c/o / Similar Bracelet
Doesn't the background totally look like the Cliffs of Moher here?! Kidding, kidding. As much as I wish I were back in Ireland, I'm just here.
…in Chicago.
BUT TODAY IS MY DAY! ;) Today we celebrate pale skin, freckles and names like "Sheehan" and "Larkin." Yaaaas! (More jokes.)
In all seriousness, I love Saint Patrick's Day, and always have, as it brings my super Irish family together. It also reminds me of my grandfather. We were always supposed to go back to Ireland together, but didn't make it before he passed away. While I was in Ireland a few years ago, though, I met his family–which was incredible. (You can see me meeting Uncle Vinny here.)
Video here (Thank you so much for making this, Mitch! So many wonderful memories!)
And oh my goodness: I'm ridiculously jealous of my parents. They recently got their Irish citizenship, which is so exciting. (Just wish they'd done it a bit sooner, so I would have been eligible, too. Haha — It's okay, guys. ;)
Anyway, short post today, as Mitch took the day off yesterday, and I'm sitting here writing this at midnight because we had way too much fun running around Chicago instead of working!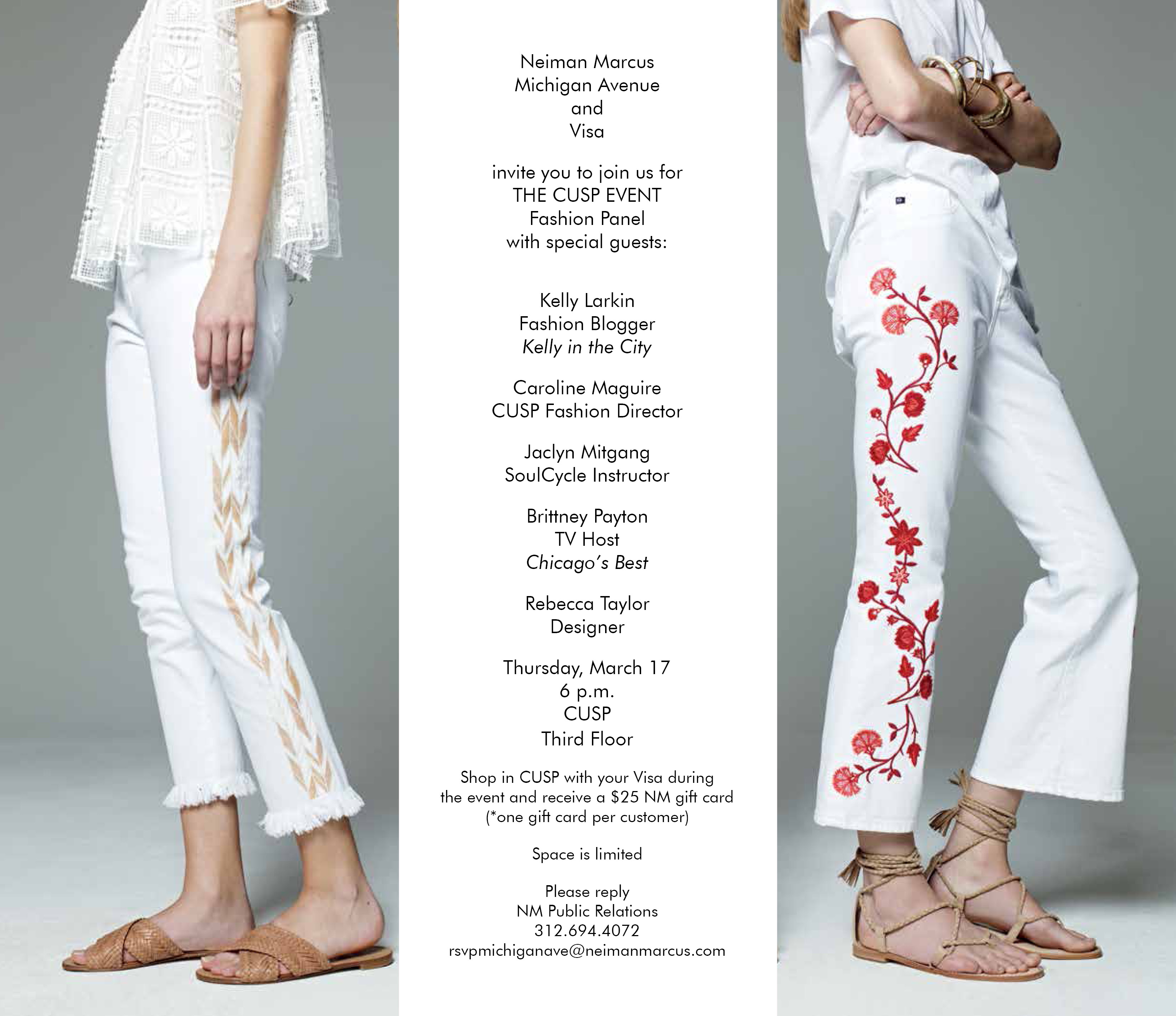 But just a quick reminder: I'll be speaking on a panel with Rebecca Taylor at THE CUSP EVENT today (Thursday, March 17th) at 6 p.m. on the third floor of Neiman Marcus on Michigan Avenue in Chicago. I'd LOVE to meet you/see you there. :) Simply RSVP to rsvpmichiganave@neimanmarcus.com if you'd like to attend! (More detes: Along with CUSP Fashion Director Caroline McGuire and SoulCyle Instructor Jaclyn Mitgang, we'll be talking all things spring style, and there will even be a runway show. We're also going to be offering $25 Neiman Marcus gift cards when you shop the event with your Visa card!)
Outfit Details:
Derek Lam 10 Crosby Shirtdress c/o / Coach Court Bag (Not currently available, but I love these similar bags: one, two and three) / C.Wonder Jacket (Old, but did you see that C.Wonder is BACK?! Also: this is the quilted jacket I'm considering investing in this spring. I've been pining over it for years! Thoughts?! Also love this one from Barbour!) / Converse Sneakers c/o (Also love the navy and red versions!) / Daniel Wellington Watch c/o (Use code "KELLYINTHECITY" to take 15 percent off your next order on the DW site! Watch also available here.) / Moon and Lola Earrings c/o / Similar Bracelet