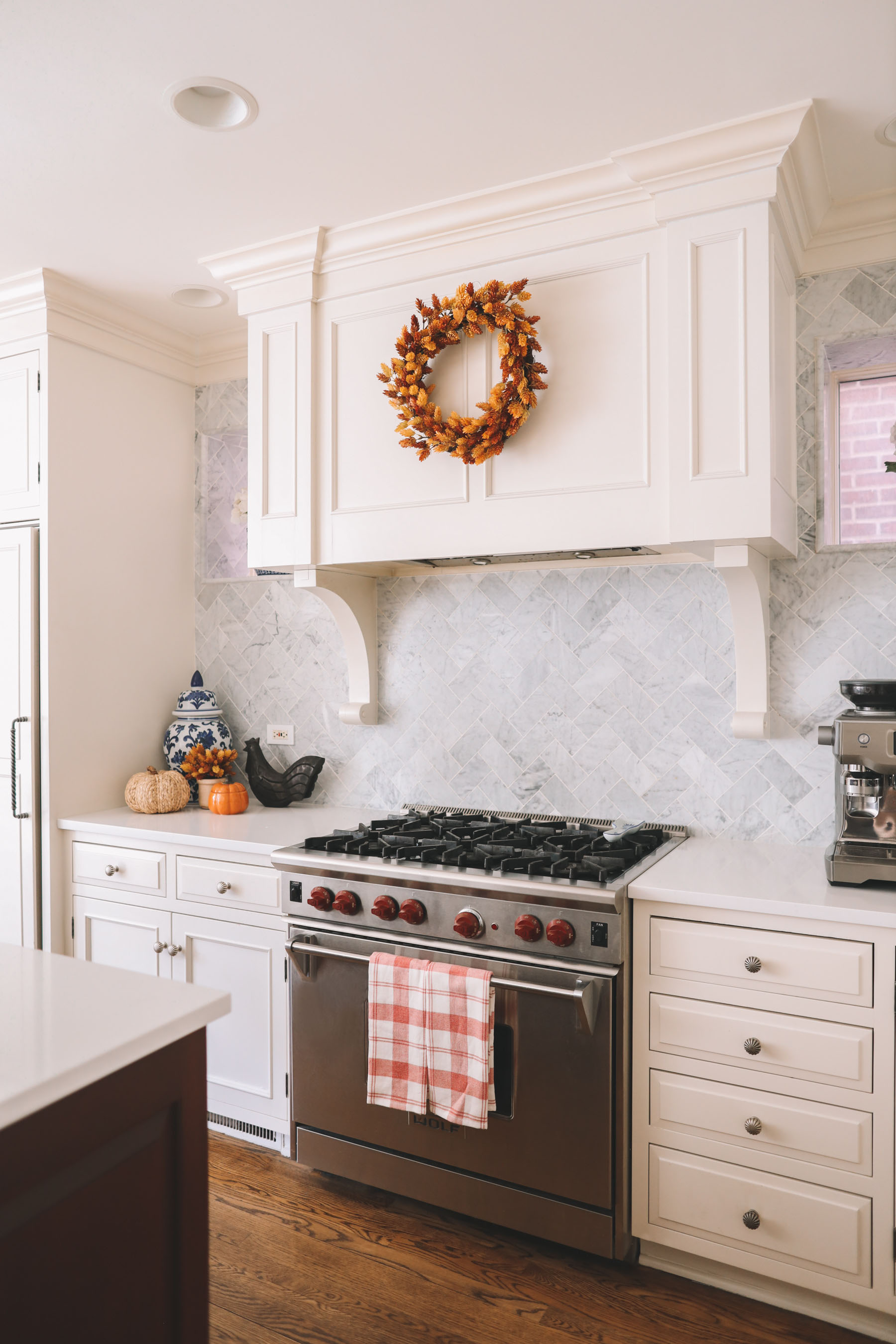 Large Raffia Woven Pumpkin, Medium Raffia Woven Pumpkin and Small Raffia Woven Pumpkin / Corn Husk Rope Pumpkin / Pinecone Arrangement / Cane Basket / Outdoor Lanterns / Wood Letter Board / Trachelium Arrangement in Ceramic Pot / Hopps Arrangement in Wood Pot / Hopps Wreath / Applewood and Amber Candle / Brass Figurine Shape / Banana Woven Tray / Artificial Oak Leaf Garland / Quail Figurine / Glass Pumpkin / Plaid Kitchen Towels / Ceramic Pumpkin / Magnolia Table Cookbook / Hydrangea Stem, Hopps Stem and Foxtail Stem / Wooden Rooster / Newer Gingham Runners Here and Here
Who's excited about fall?! Until this project, I can't say I was; still over here feelin' a tad anxious about winter pandemic life with tots. 🙈 But man. This put me in the spirit. And I'm determined to put a big smile on my face and make this fall–and this holiday season, for the matter–our best yet. Or very good, at least. 😆 (If you're a parent, I highly recommend picking up A Little Spot of Optimism, btw. It's a children's book, and I got it for Emma. But it really affected me! I honestly think about its message every morning when I wake up.)
Anyway, this whole experience was a dream come true.
I get so much of our seasonal decor from Target. First, I hate in-person shopping. And I stress hate. It stresses me out to no end! (I like to go through everything on my own time, after the girls go to bed, when things are calm and I'm able to make rational decisions about what to purchase.) Not that it would matter if I did enjoy in-person shopping since I don't have a driver's license and can only get myself to a select number of stores within walking distance of our home. 😜
But I digress.
Target also carries adorable, super on-trend and affordable seasonal decor, which explains the company's cult following. Just as people say they can't walk into a Target without putting something in their physical cart, I can't log on to Target.com without adding something to my virtual cart. Even just the presentation! Woo-ee. Everything in-store and online is beautifully styled and photographed or beautifully styled and organized on shelves. And I can picture where the decor would go in my home! I don't know. I can't seem to convey whatever I'm trying to say here, but I'm going to assume that you know exactly what I mean. Because who doesn't adore Target?!
Target.
Sparks.
Joy.
😂
My order has arrived!

This is getting extremely long-winded, so let's cut to the chase: Target recently asked whether I'd be interested in decking out our home for fall with them, and I was like this. It was so, so much fun. Heck, I spent days poring over the site, and when everything arrived, I kicked my family out of the house so I could soak up all the magic while I photographed, haha. Needless to say, I immensely enjoyed the experience and I'm so excited to share everything today!
Of course, I need to be honest right now and say that our home almost never looks like this for long. We have two small children, and if you follow us on Instagram, you regularly see the disasters that we are. So yes. This is aspirational–even for us, haha. But I love that we start our days a little like this… and I love that we end our days cleaning up the destruction and putting it all back together. There's no greater feeling than to flop on the couch with my husband at 10 p.m. surrounded by raffia pumpkins, glowing lanterns and flickering fall candles. ;)
Oh! And arguably the most important part: I did not buy five of each products! I simply moved the decor from the kitchen to the dining room to the living room to the front stoop. This is a trick I learned from my mother-in-law, who's a big Target fan and an absolute design wiz.
I do not want tubs and tubs and tubs of seasonal decor lining my garage; I love seasonal decor–I really do! It brings so much warmth to the home, and Emma gets so excited when it comes out. But I'm a firm believer in the idea that you don't need to drop thousands of dollars to make your home "ready" for whatever season. Buy a few new things and/or repurpose older stuff, and then move and arrange as needed.
Are your parents coming over for dinner? Awesome! Grab that fall decor and make the dining room cute. Are you having a fun stay-at-home weekend with the fam? Great! Make that living room warm and cozy. Having a socially distant happy hour with friends on the front stoop/parkway garden? Boom! Move those pumpkins and lanterns and take the magic outside.
You get my point. No need to redecorate every day, but no need to break the bank, either. Rearrange, rearrange, rearrange! Thank you, Lisa. :)
Let's get to it, though. Here's how I used the same decor to make my kitchen, dining room, living room and front stoop look festive and warm.
Thanks for reading. 😆
Shop the post:
Large Raffia Woven Pumpkin, Medium Raffia Woven Pumpkin and Small Raffia Woven Pumpkin / Corn Husk Rope Pumpkin / Pinecone Arrangement / Cane Basket / Outdoor Lanterns / Wood Letter Board / Trachelium Arrangement in Ceramic Pot / Hopps Arrangement in Wood Pot / Hopps Wreath / Applewood and Amber Candle / Brass Figurine Shape / Banana Woven Tray / Artificial Oak Leaf Garland / Quail Figurine / Glass Pumpkin / Plaid Kitchen Towels / Ceramic Pumpkin / Magnolia Table Cookbook / Hydrangea Stem, Hopps Stem and Foxtail Stem / Wooden Rooster / Newer Gingham Runners Here and Here
In collaboration with Target; all opinions are my own. As always, thank you so, so much for supporting the partnerships that keep Kelly in the City up and running! You're the best. Thank you.