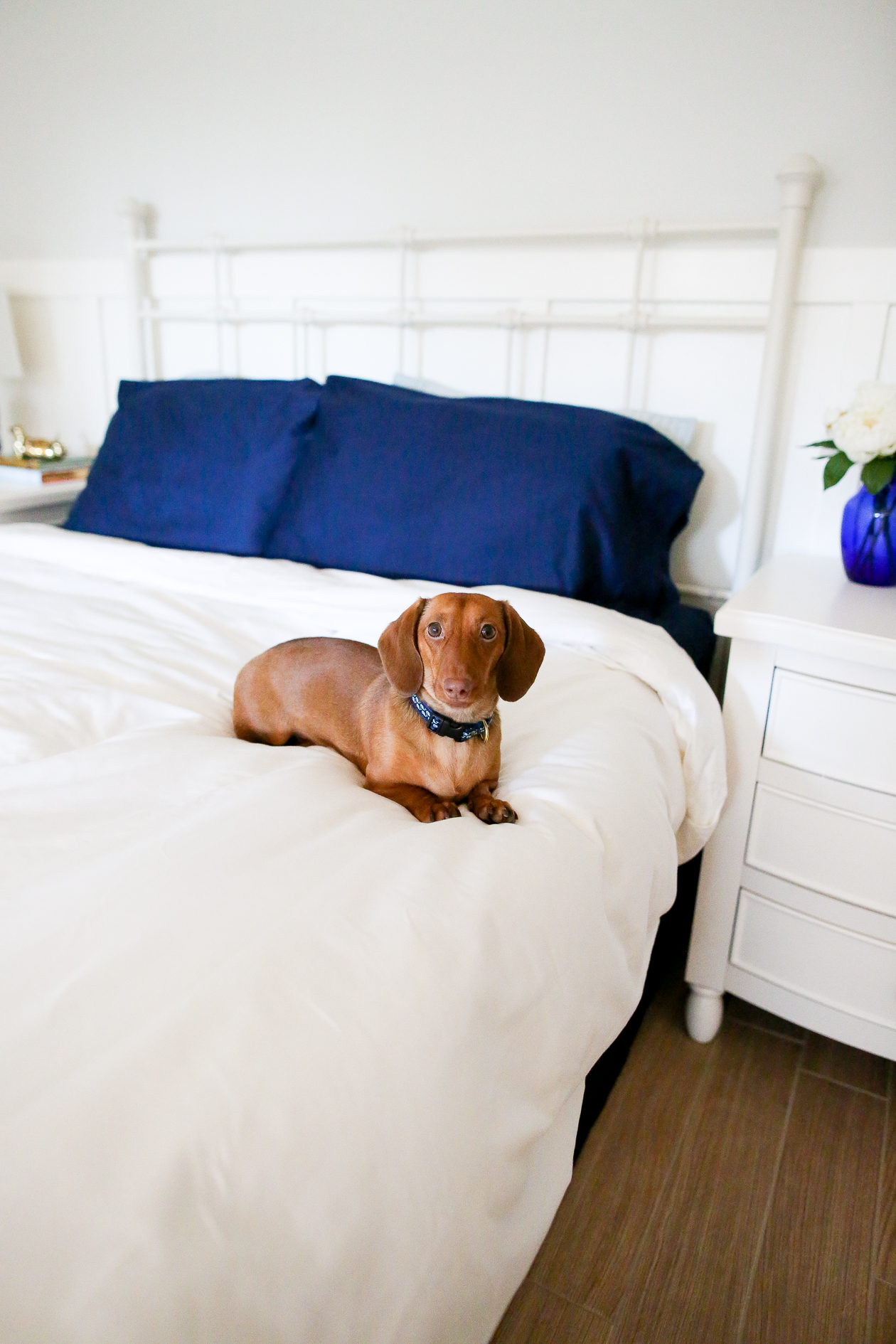 Navy Sheet Set and White Duvet Cover c/o Sachi Home
Truth be told, the master bedroom has yet to be decorated, as the master bathroom is still under construction and contractors trudge through the room on the reg. It's killing me not to put down our rug, hang art and make the room look more lived in. But I know that holding off, for now, is best. Construction dust is the real deal, and so is my contractor's inability to realize he's tracking mud through the house. ;)
We are, however, finally sleeping there! What a huge change from snoozing (separately) in the guest room, surrounded by cardboard boxes. The box problem still exists, and will continue to for the next month or two. But sigh. It's been a long, long time since Mitch wasn't sleeping on a trundle bed, we weren't high-fiving before bed, and we weren't using Home Depot boxes as nightstands. Woo! It's the little things, for sure.
We also recently upgraded our bedding game. Like, majorly. Before, we had ONE set of sheets–from our bridal shower–and they'd become pretty ratty. So when Sachi Home sent us this ridiculously soft navy sheet set and this gorgeous white duvet cover, we really felt like we were staying at a luxury hotel on its opening night. And clearly, so did Noodle.
(Girlfriend thinks the bed is hers. Flashback to this Instagram.)
But back to Sachi Home. I'd heard about the magic of luxury bedding, yes. But it was kind of like the whole thing I recently experienced with investment pieces (and my first investment bag). Nervous for way too long about the price tag, and now wondering how I went so long without. ;)
The sheets and duvet cover you see in these photos are 100-percent cotton sateen. What does that mean? They're woven from a rare and exclusive blend of long-thread cotton, resulting in stronger, finer yarns. And while most cotton is mechanically collected, Sachi Home's is handpicked to guarantee the highest level of purity. The sheets also feature a 500 thread count, which makes them crazy soft and lightweight yet durable and long-lasting. And they're woven in socially responsible mills that use green energy from windmills and that have a long tradition of weaving cotton. All Sachi bedding is Oeko-Tek certified, too. This means it's free from harmful chemicals and surpasses the highest environmental and safety standards. (Shop other sheet sets here, and other duvet covers here!)
You may have noticed from clicking around the Sachi Home website that the company's luxury bedding prices are accessible. Are they the kind of prices you're going to see at Target? No. But this isn't Target-quality bedding. It's investment bedding, if you will. The kind of bedding that makes you excited to slip into bed every night, and that helps you get a better night's rest. (I swear I sleep better with it!) And Sachi Home is amazingly competitive compared to the price tags you'll find on other luxury sheet sets and duvet covers. (Truly, some of the prices I've seen for premium bedding are absolutely absurd.)
So, how does the company do it? It's simple: Sachi Home operates 100-percent online, thus eliminating the need for expensive brick-and-mortar stores. The brand also cuts out intermediaries, delivering its products straight from its factories to customers. The coolest part is that Sachi Home's products are produced at the very same specialist factories that manufactures products for elite, luxury brands. It's kind of like M.Gemi for bedding!
Anyway, I'm teaming up with Sachi Home today to give away the navy sheet set you see in these photos. Entering is super easy. Use the Rafflecopter widget above to achieve TEN different entries, or, if widgets aren't your thing, you can do a couple of things: Visit the Sachi Home website and comment below with your favorite product and/or sign up for the company's emails on the lower right-hand side of the site. But really: use the widget. It's easy and puts you at a big advantage! I'll be announcing the winner in one week. :)
Good luck!
Want to try Sachi Home? Shipping and returns are free. And after 30 days, if you're not in love with your purchase, you can send it back for a full, no-questions-asked refund… no threads attached! ;)
Next up? Decorating the master bedroom and a master bathroom tour. Fingers crossed it happens THIS YEAR. ;)
Other room details:
Navy Sheet Set and White Duvet Cover c/o Sachi Home / Birch Lane Night Stands and Chest / Wayfair Lamps (Also love these!) / L.L. Bean Bed c/o / Pottery Barn Monogrammed Pillow / Dachshund Brass Animals (Thrifted; similar here) / Bed Skirt / Flooring c/o BuildDirect (Original post on flooring here)