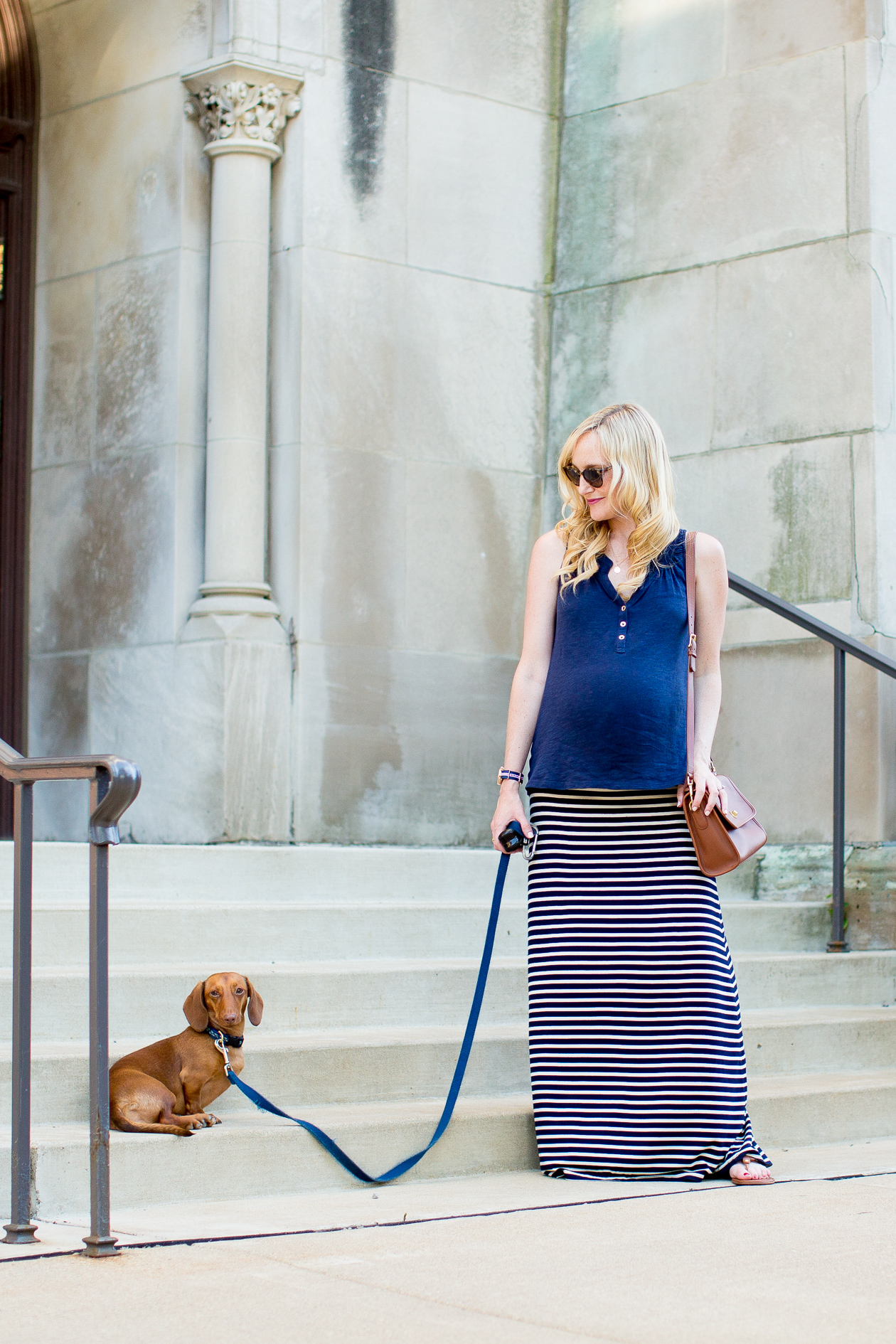 Tory Burch Sandals (Love them in gold, too!) / Timex Watch c/o / Coach Bag (No longer available, but similar here and here. Also love this one! These matching loafers are on my list, too.) / Helen Ficalora Necklace (But LOVE this more affordable and nearly identical version… and how about this?!) / J.Crew Navy Maxi Skirt (Still available at Factory) / Similar Sunglasses / Kendra Scott Earrings c/o (On sale!) / Lilly Pulitzer Top (Kind of like a jersey sleeveless Elsa. So comfy! Also comes in dress form.)
No, not for Baby Larkin. (Though, WHOA. Due date is two weeks away!) For the Nordstrom Anniversary Sale, haha. Early Access starts this Thursday, July 14th, and it's always the best sale of the year. So much of what I'm wearing in today's post is available at Nordstrom, and with any hope, a ton of it–along with dozens of other staples and favorites–will be heavily discounted, too! (I've never been let down in the past.) Shipping and returns will be free (as always), so you can shop quickly and stress-free. :)
FYI: Early Access ends on July 21st, and the sale is open to the public on July 22nd. Prices will go back up on August 8th.
In other style-related news, I started unpacking my summer clothing last night–you know, just for the heck of it–and I found something that actually works with the baby bump! The skirt is sadly no longer available at J.Crew, but it is available at J.Crew Factory. And if you live in Lincoln Park, I promise you'll see me in it over the next two weeks, if not on a regular basis. I already told Mitch that I'm totally wearing it at least every other day. ;) Pregnant or not, it's a summertime staple for sure! SO COMFY.
Finally, this watch from Timex is the cutest. I love that it's called the Fairfield, as I went to Fairfield University, and I'm really excited to give one away on the blog soon. Stay tuned for the next giveaway! (Oh, and speaking of giveaways: last day to enter to win this adorable ginger jar print from Laura Dro Designs.)
But back to life: yesterday, I shot a fun hair feature with Jess (she's back from Paris!); worked on contracts and "maternity leave" blog posts (trying to build a little reserve!); and started caulking and sanding the nursery. (Okay… Mitch did all that. I just cheered him on.) And last night, we headed to Mad River for half-priced appetizers. (So funny because we used to spend a lot of time as youngsters at Mad River in New York.) We ended the night with ice cream at Oberweis. It was my first time, but without a doubt, it's my favorite ice cream in Chicago!
Today, I have a bunch of stuff due to various companies, and I'd like to finish unpacking the master bedroom and packing my hospital bag. (Almost done! Just a few things left. THANK YOU for all your help! Such great guidance.) Mitch's plan is to prime the nursery and start the paint job. The goal is to have the nursery done by Friday. Do you think we can do it?! :) Cross your fingers for us!
Shop the Post:
Tory Burch Sandals (Love them in gold, too!) / Timex Watch c/o / Coach Bag (No longer available, but similar here and here. Also love this one! These matching loafers are on my list, too.) / Helen Ficalora Necklace (But LOVE this more affordable and nearly identical version… and how about this?!) / J.Crew Navy Maxi Skirt (Still available at Factory) / Similar Sunglasses / Kendra Scott Earrings c/o (On sale!) / Lilly Pulitzer Top (Kind of like a jersey sleeveless Elsa. So comfy! Also comes in dress form.)