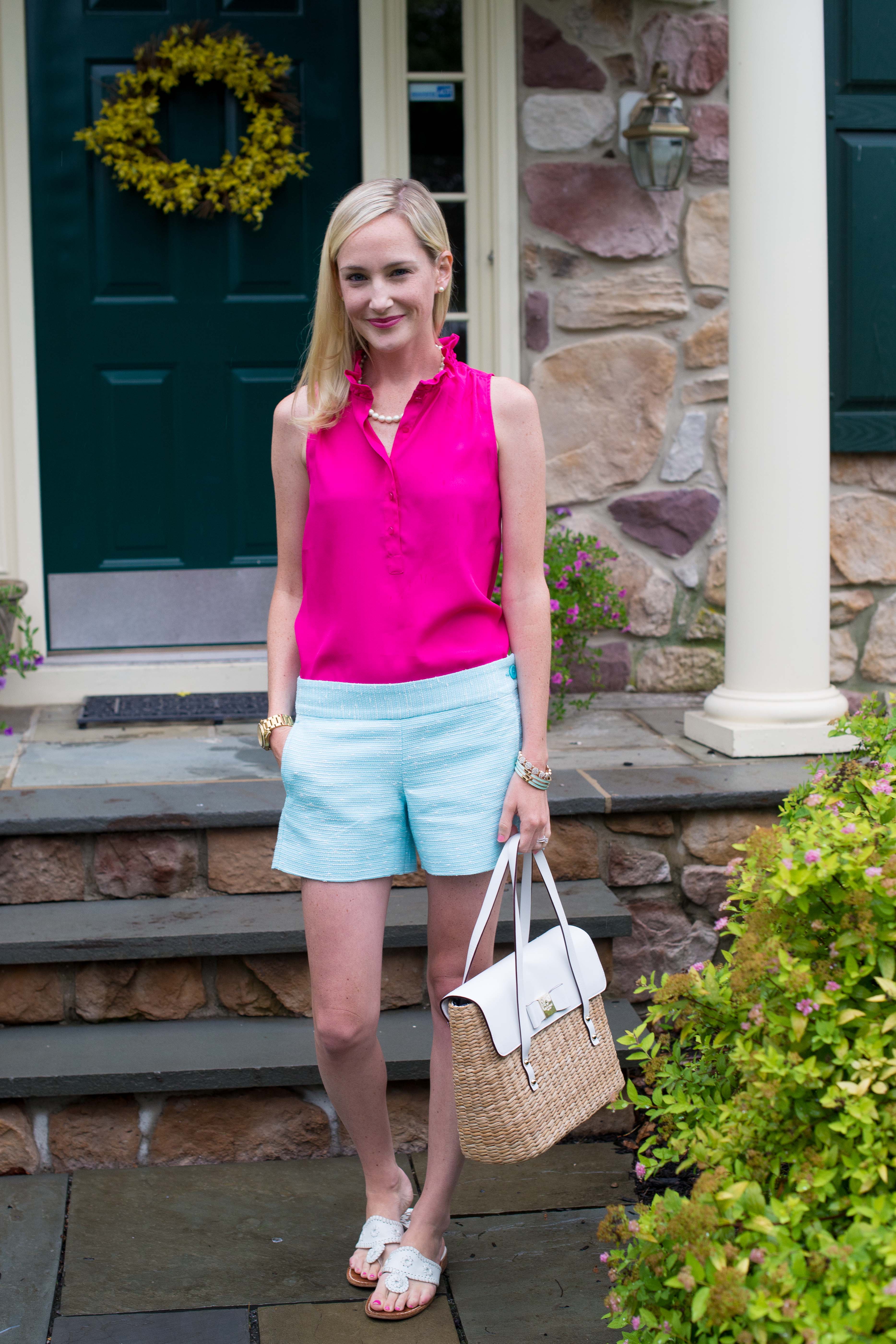 Lilly Pulitzer Shorts / J.Crew Factory Top (Old, similar here) / Armed and Readi Pave Bracelet (c/o) / BaubleBar Bracelets (c/o) / Kate Spade Straw Bag (Borrowed from Mom) / Jack Rogers Sandals / Michael Kors Watch / Kate Spade Pearl Necklace / J.Crew Pearl Earrings
Conversation with Husband earlier today:
Mitch: It's Monday today, right?
Kelly: Nope. It's Friday.
Mitch: WHAT?
A long trip will do that to you, I guess. Over the last four days, we've been on the Jersey Shore, on Long Island, in New York City, in Bucks County, and in Philly. Oh, and now we're back on the Jersey Shore, haha. Phew.
As I've always lived less than three hours from my parents, I've never really had that "oh my god; I have to see everyone and do everything" feeling during trips home. My visits were normally pretty laid-back and relaxing: lots of sitting around, talking, eating, and wine-drinking. ;) But now, everything seems different, and I'm in a full-on craze.
Which is ridiculous. Come on, Kelly. At this point, you've lived in Chicago for less than a month. And Chicago isn't even that far away from the East Coast! It's not like you moved to California and can only get back a couple of times per year. You can drive to New York City in 12 hours. Leave at 6 a.m. and you're there by 6 p.m., you maniac.
This trip has been truly fabulous, but it's taught me an important lesson: don't run yourself ragged while traveling. I can't tell you how many times I've unpacked and re-packed my suitcase, and how often I've had to re-buy contact solution. (Seriously, how do I lose it so frequently?!) This weekend, though, I'm kicking back and spending some serious time with my beach chair… and I can't wait.
Updates on my recent adventures to come!