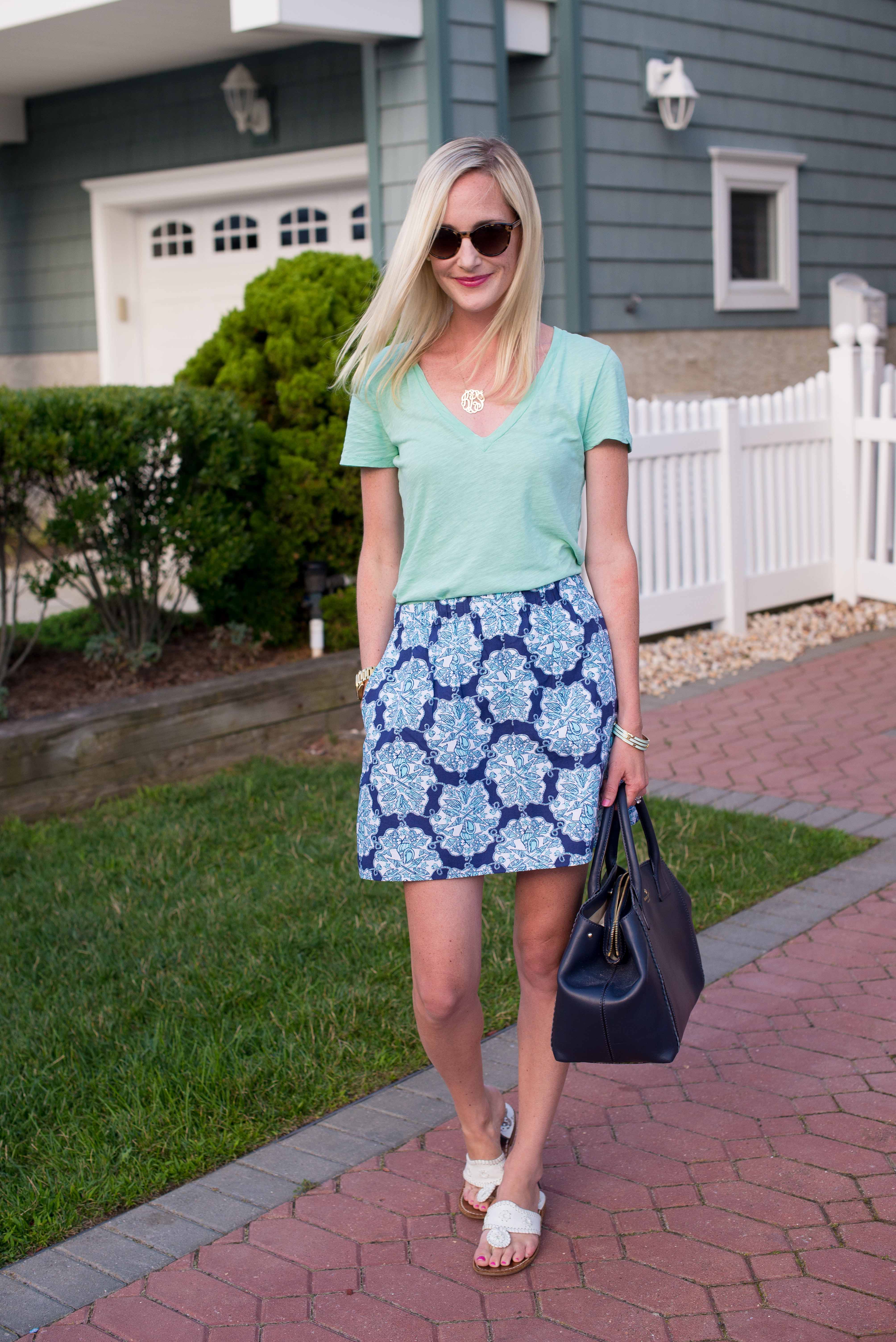 Lilly Pulitzer Skirt (Old, but see current nautical-themed Lilly skirts below!) / J.Crew Tee / Kate Spade Scalloped Bag (Old, but I love this brown scalloped bag!) / Jack Rogers Sandals / BaubleBar Bracelets (c/o) / Michael Kors Watch / Monogrammed Necklace (from Paradise, similar here) / J.Crew Pearl Earrings / Kate Spade Sunnies (Old, newer styles here)
I can't believe it's August. I know we have a full month left of break, but I'm already freaking out. I adore summer. I love the trips, the quality time spent with family and friends, and those peaceful, lazy days spent alone. I love the smells, the warmth, the sensation of sand between one's toes, and the way moments seem to stand still. I also love my "summer self," if that makes any sense. I'm happier, more relaxed, and more appreciative. I suppose I just feel alive, as silly as that might sound.
When I was younger, I used to collect quotes that describe this seasonal adoration that's weirdly so difficult for me to express. My favorite comes from an essay I once read by one of my favorite authors, John Updike. Isn't it perfect?
"In that latitude the temperature flirted with a hundred degrees for a few of the dog days, but to a child it can hardly ever be too hot. I liked the sun licking the backs of my legs, and the sweat between my shoulder blades, and the violet evenings, with ice cream and fireflies, wherein the long day slowly cooled. I liked the ants piling up dirt like coffee grounds between the bricks of our front walk, and the milkweed spittle in the vacant lot next door. I liked the freedom of shorts, sneakers, and striped T-shirt, with freckles and a short hot-weather haircut. We love easily in summer, perhaps, because we love our summer selves." – John Updike
Sigh.