Let's be honest. You usually don't wake up and think to yourself, I want to wear a dress when it's cold outside. Especially not if there may or may not be snow in the forecast. Lately, I've been mainly wearing cozy sweaters, soft leggings, and these super warm snow boots. But styling dresses in the winter isn't as intimidating as it may seem. With a few style tips, you can wear dresses in colder weather without compromising on warmth and comfort.
How To Wear Dresses In Winter
Styling dresses in the winter doesn't have to be hard. Honestly, the hardest part for me is the whole braving the cold part. As far as styling dresses for winter goes, I'm down as long as I can stay warm! With that in mind, here are some tips to keep in mind as your creating the perfect winter look. These tips come in handy for me year after year.
Choose a warm style and fabric.
First things first, opt for a warmer style of dress, with a warmer fabric like cashmere or wool. I promise, you won't regret it. Especially if you plan on spending any amount of time outdoors. Long sleeve or maxi-dresses are perfect for winter. Although I do love a good midi dress in the winter, too. The extra fabric on the arms and legs provides an extra layer to keep warm. Yes, please!
Break out the summer dresses, too.
Second, don't be afraid to wear your summer dresses in the colder months. Just be sure to add some extra layers, of course. Think black tights (especially fleece lined tights), knee high boots, and even some faux fur winter accessories. Scarves, gloves, boot socks, toboggans, and more – I love it!
Choose warm, statement outer wear.
And finally, keep in mind that your outer layers are everything in winter. It's the first thing people notice when you walk into a room, and it's what is going to keep you warm. So, why not go for a statement jacket or topcoat, or even a leather jacket? You'll see that in all my outfits below, I've featured a statement jacket for just this reason. Just make sure your chosen outer wear is actually warm…lol! And don't forget the statement shoes as well. Boots, boots, and more statement boots!
So, get ready to break out your winter dresses, your summer dresses for winter, your statement coats, your best booties, and more, and take your winter wardrobe to the next level. Here are three of my favorite ways to wear dresses throughout the winter season:
Cashmere Collared Sweater Dress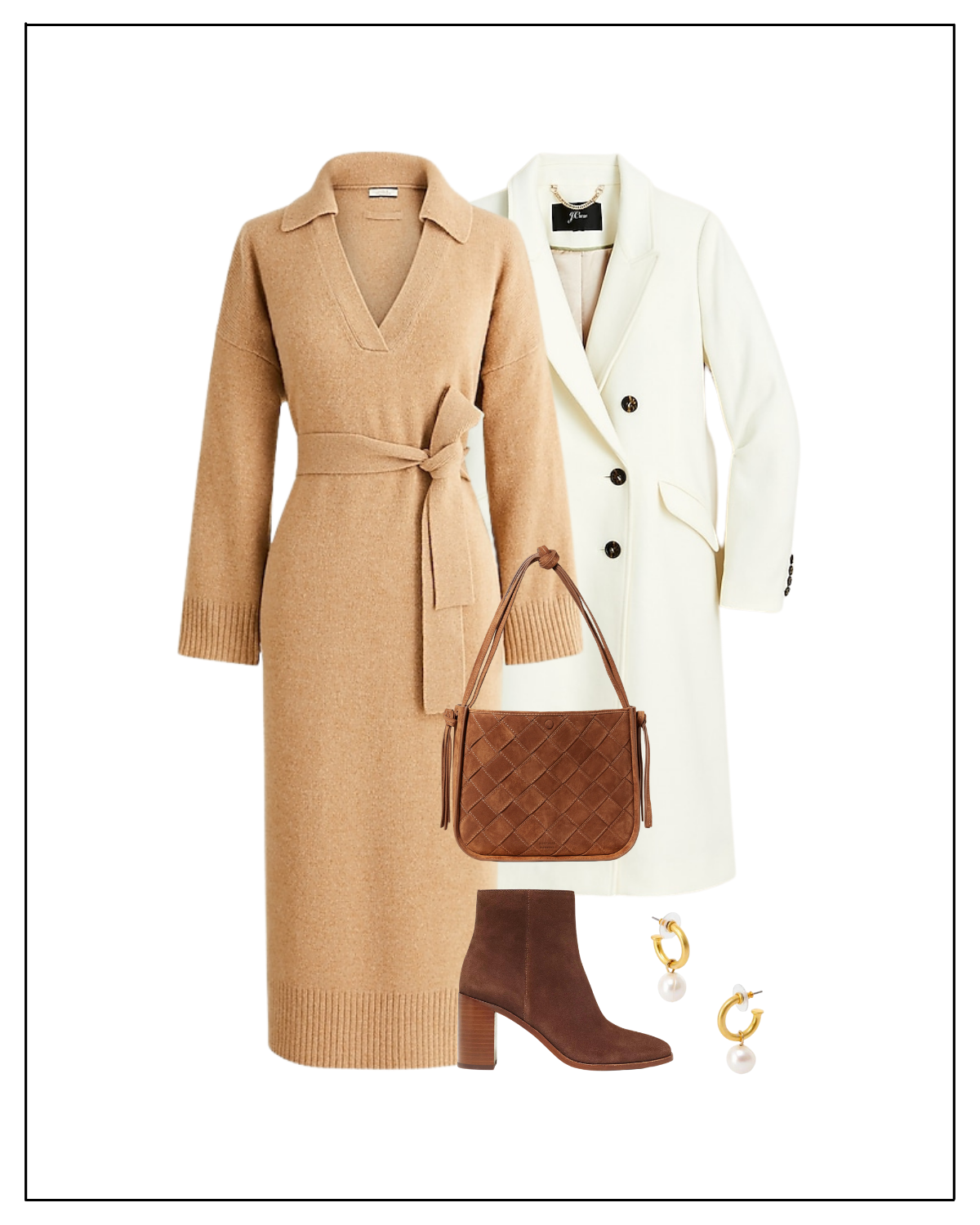 Cashmere Collared Sweater Dress (similar styles HERE and HERE) / White Topcoat (sold out but I also love this one) / Tote Bag (sold out but similar HERE) / Suede Ankle Boots (sold out but similar HERE) / Pearl Hoop Earrings
I love this elegant winter outfit. It would be the perfect look to wear for an evening dinner or to the office. This neutral cashmere collared sweater dress is so gorgeous. It's currently sold out, but this one is really similar in black. From the belted tie around the waist to the collared neckline, every detail has been thought of. A style tip for wearing dresses in the winter is to choose styles with warmer fabrics, like cashmere or merino wool; it will make such a difference. I'd style this sweater dress with a white topcoat and accessorize it with a neutral suede tote bag, suede ankle boots, and gold pearl hoop earrings.
Black Crewneck Midi Sweater Dress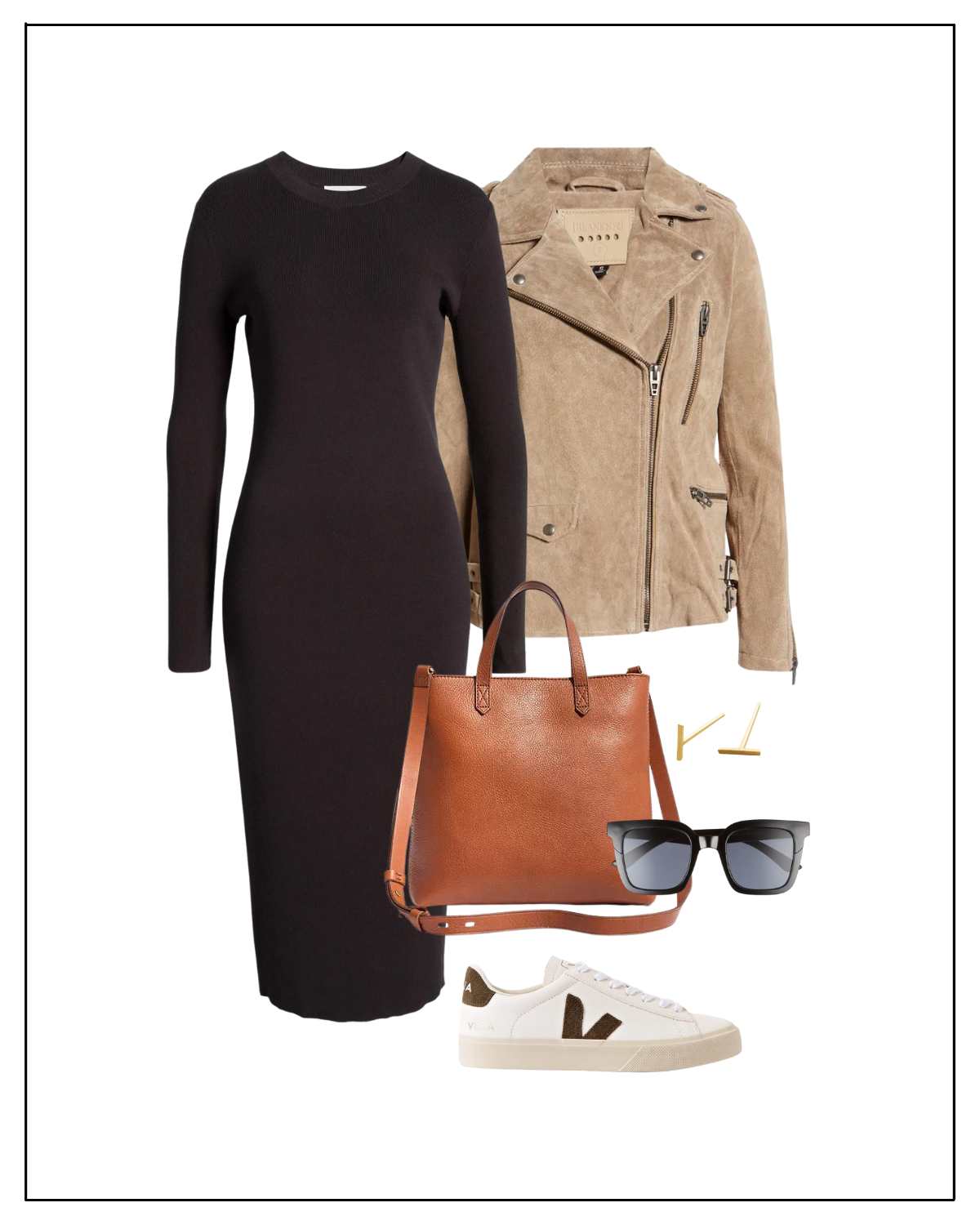 Black Crewneck Midi Sweater Dress (similar style HERE) / Suede Moto Jacket (similar by GUESS) / Leather Tote Bag / Bar Stud Earrings / Black Sunglasses (I like this style, too!) / Leather Sneakers
A casual and cute outfit to wear on weekends. This black crewneck midi sweater dress is a great basic that can easily be styled between seasons. In the winter, you can style this versatile midi dress one of two ways, depending on what the weather is like where you are. If it's not too chilly, style it with a suede moto jacket as I did here, or wear it with a longer coat and still looks amazing. Although it seems like such a simple tip, choosing the right coat is so important. It's a chance to accessorize and tie your outfit together while also ensuring you don't freeze, haha. Don't be afraid to try out different lengths and fabrics to find what works best for you. Finally, to complete the look, wear a pair of gold stud earrings, black sunglasses, a leather tote bag, and a pair of white leather sneakers to keep it casual. These sneakers are some of my favorite shoes, and this new neutral colorway is so pretty.
White Turtleneck Sweater Dress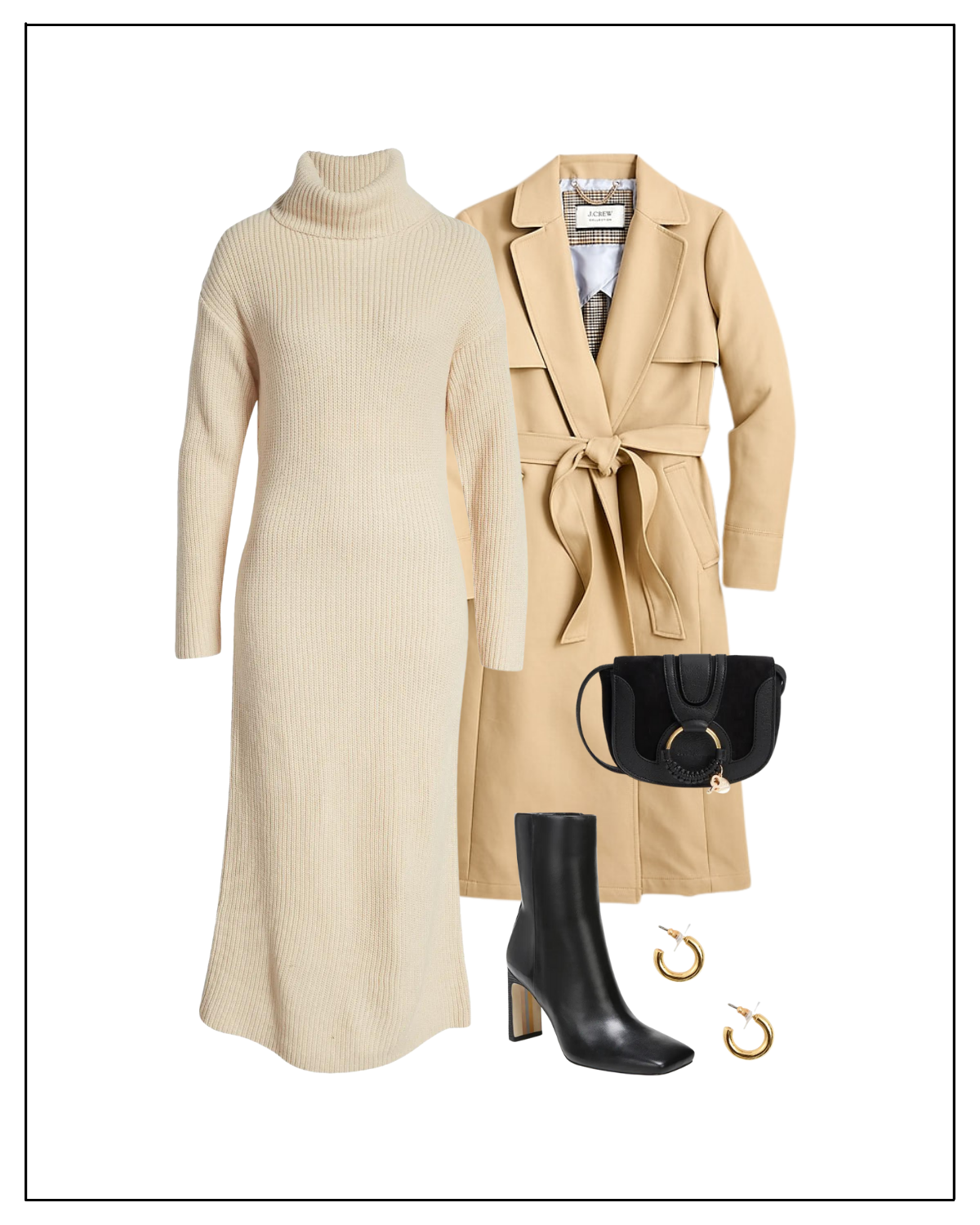 White Turtleneck Sweater Dress (sold out, but I love this luxury version. Plus, I like this one in black HERE.) / Trench Coat (Love this one and this one as well) / Black Ankle Boots (See in suede, too) / Black Leather Bag (currently sold out, but how adorable is this one? / Mini Hoops (also currently sold out, but these will do the trick!)
This look would be a great work to weekend outfit. I absolutely love this long white turtleneck sweater dress. While it's simple, it makes such a statement. Since it's low in stock, I'm also linking a similar white sweater dress which would be equally as gorgeous styled like this. Also see a black version of this dress linked above. Next, I'd pair the dress with a neutral-colored trench coat. A longer coat not only ensures you stay warm but also complements the longer length of the dress. Another style tip when wearing dresses in the winter is choosing the right shoe. For longer dresses, ankle boots work really well, whereas a flat or sneaker looks great with midi dresses. Since this turtleneck sweater dress is long, I added a little height with these black leather ankle boots. Finally, accessorize with a black leather bag and mini gold hoops to tie this look together.