We've covered 3 Holiday Party Outfit Ideas, 3 Christmas Outfit Ideas, and even Holiday Dresses, so it's only fitting to share 3 New Year's Outfit Ideas.
Something Sparkly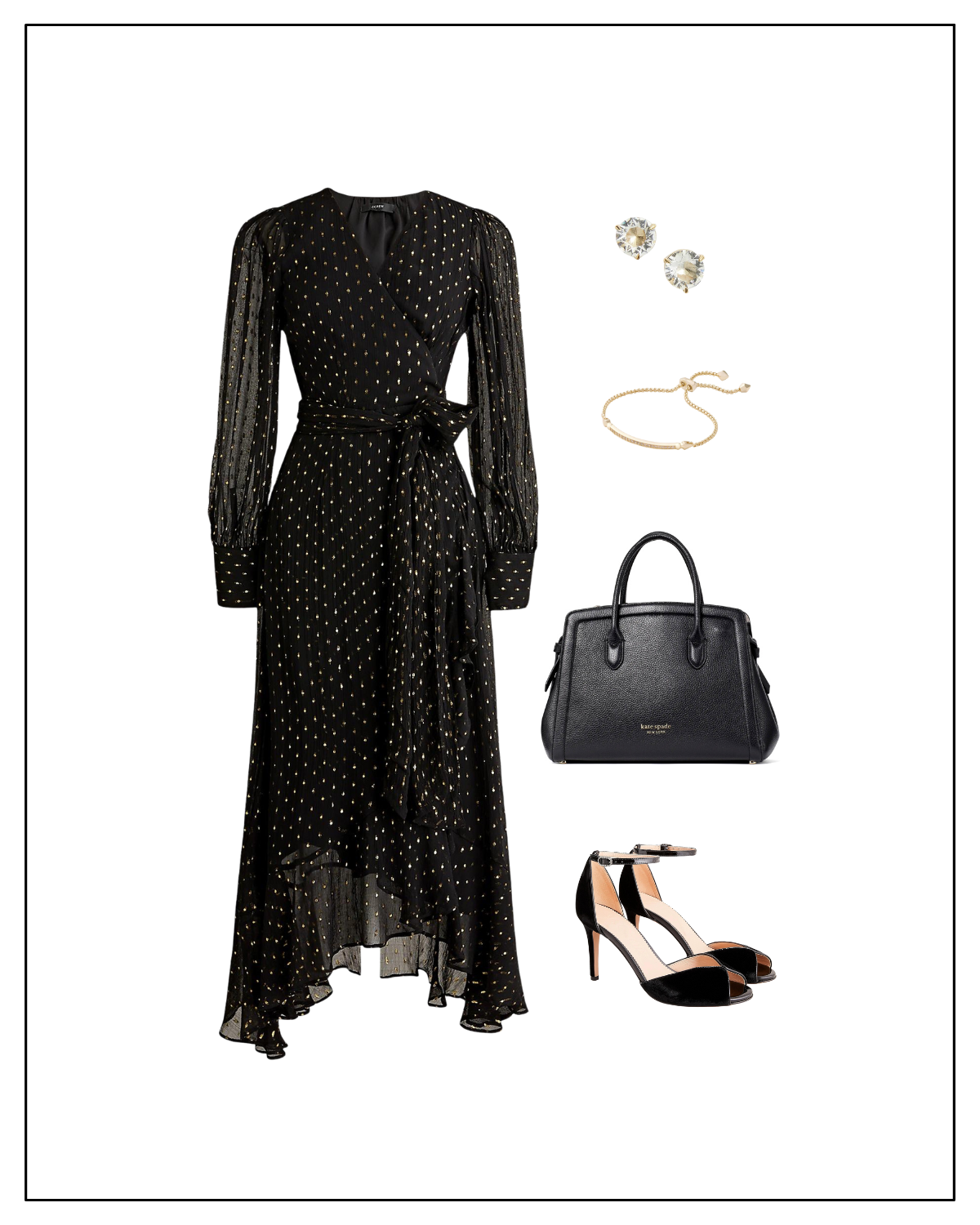 Black Wrap Dress / Stud Earrings / Gold Bracelet / Black Leather Bag / Black Velvet Heels
I love this statement black wrap dress. The gold dotted print is so festive, and the silhouette is classic. Best of all, it's over 50% off right now. Accessorize with sparkly stud earrings or statement earrings and a gold bracelet. Lastly, a black leather bag and black velvet heels (these are also gorgeous) pull together the outfit.
A Little Bit of Faux Leather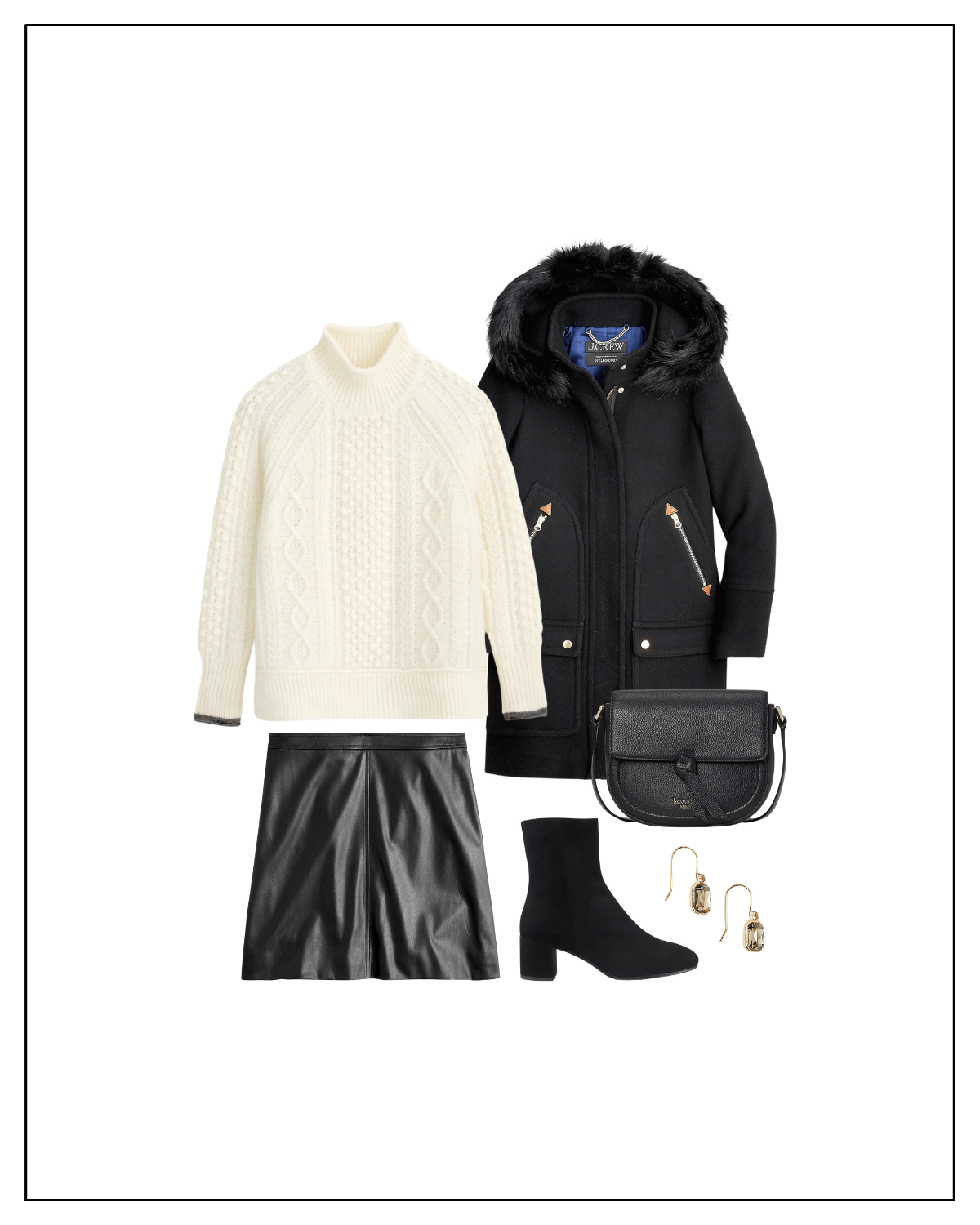 Cream Cable Knit Sweater / Faux-Leather Skirt / Black Parka Coat / Black Leather Saddle Bag / Crystal Drop Earrings / Black Suede Boots
This faux-leather skirt is so good and perfect for New Year's. It's a great basic, easy to style, and can be worn all throughout the winter. Style it with a cozy cream cable knit sweater and a black parka coat which is nearly 50% off right now. Depending on the weather, you could throw on a pair of tights for extra warmth. Tie the look together with a black leather bag, crystal drop earrings, and black suede boots.
A Cozy Sweater Dress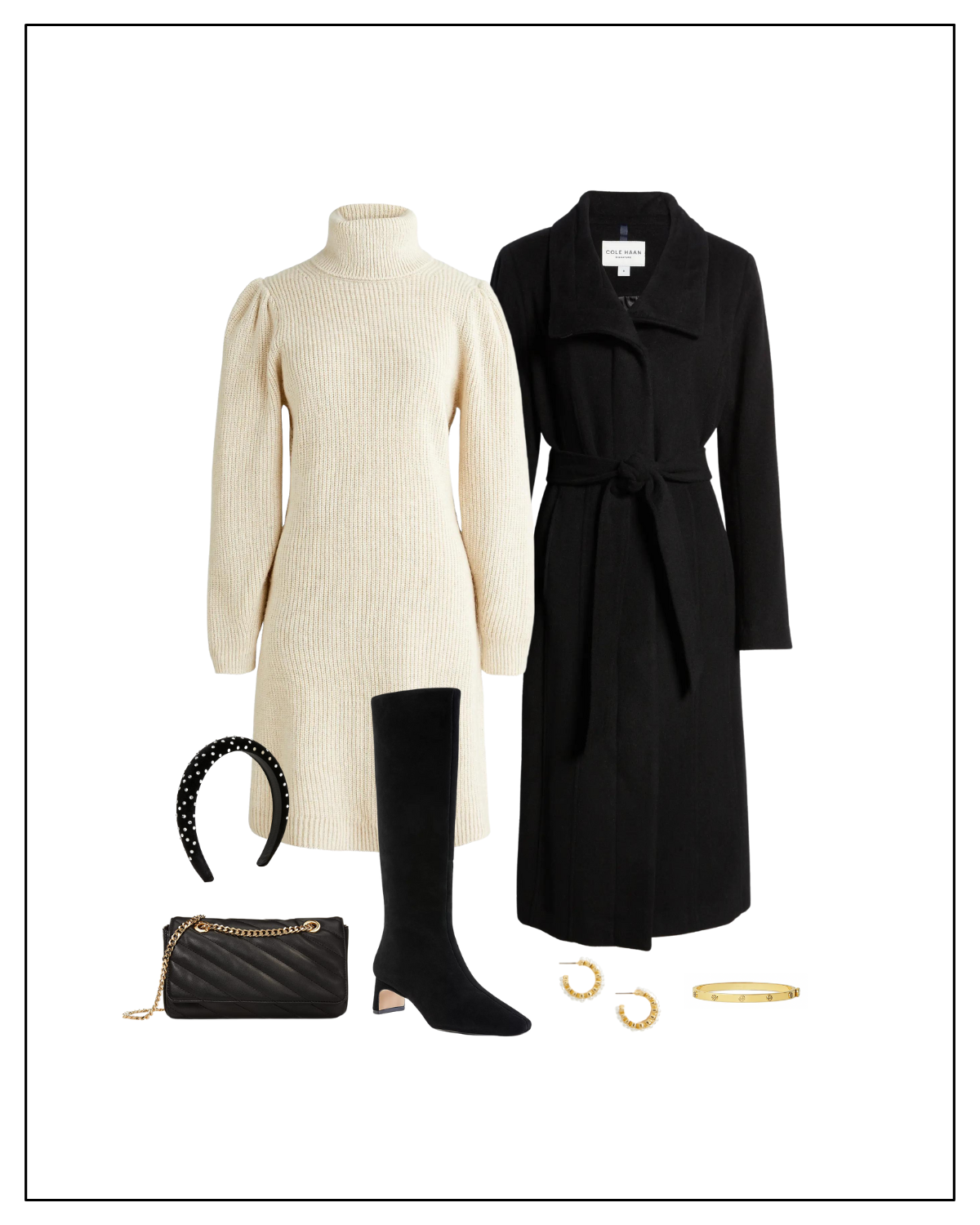 Puff-Sleeve Turtleneck Sweater Dress / Black Belted Long Wool Coat / Black Headband / Black Quilted Bag / Black Knee-High Suede Boots / Pearl Hoop Earrings / Gold Bangle Bracelet
This outfit is built from versatile basics that can be worn throughout the winter. Start with this cream puff-sleeve turtleneck sweater dress that's on sale for up to 70% off with the code SHOPNOW. I love it because they can be worn as a casual weekend outfit to something a little more dressy in the evening. Style it with black knee-high suede boots, and these are 50% off. Add a black belted long wool coat and accessorize with a black headband, a quilted bag, pearl hoop earrings, and a gold bangle bracelet.