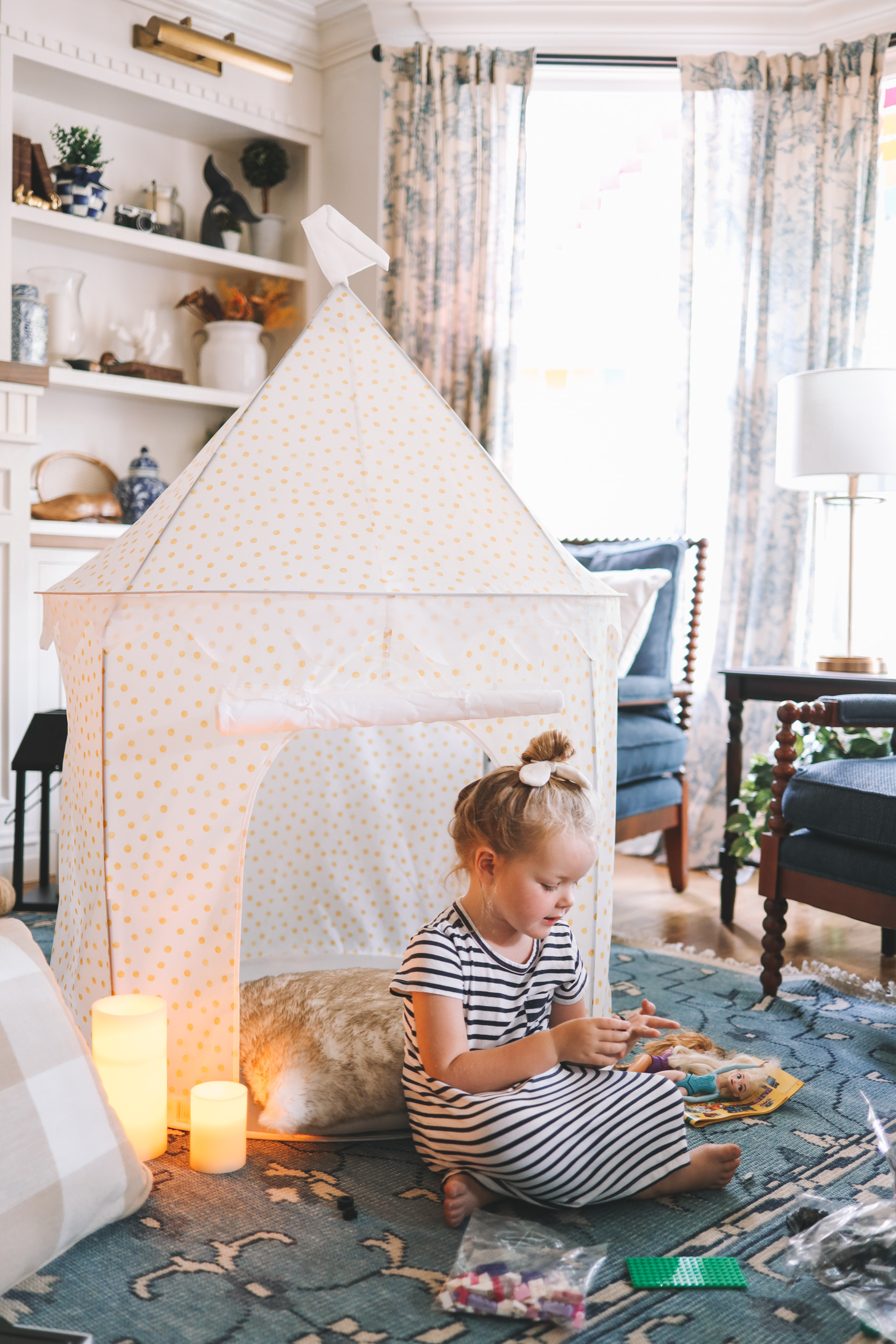 Hello from the Larkin Family's cozy living room! I try to do something exciting or special for Emma every week since she no longer has (physical) school, play dates or group sports to look forward to. This week's magic came in the form of some new activities, a ridiculously affordable princess play tent, and some warm home decor. Oh, and the fireplace. ;)
This post is sponsored by Walmart+; all opinions are my own. As always, thank you so, so much for supporting the partnerships that keep Kelly in the City up and running!
I ordered everything with Walmart+, which is a different kind of membership that I'm very excited to have. It's actually indirectly responsible for Mitch's discovery of the best faux mums ever, as we've been spending a lot more time on Walmart.com!
For $12.95 per month or $98 per year, your membership gets you free unlimited delivery on orders of $35 or more (restrictions apply), and member prices on fuel. (You'll save 5¢ per gallon at most Walmart & Murphy gas stations.) Depending on where you live, you also may be eligible for free unlimited delivery ($35 minimum; restrictions apply), as soon as same day. Delivery windows are only an hour, and sometimes same-day free delivery is offered, too. (We aren't personally eligible for this in Lincoln Park, but head to the sign-up page to see if you are!) Finally, if you're shopping in-store, you can check out with your phone using mobile scan & go, making the process contactless and speedy.
Anyway, Emma LOVED her little surprise. She spent the afternoon making light-up scenes and building castles inside her own castle, and because she was so occupied, Mitch and I actually got to enjoy a cup of coffee and talk while Lucy was napping. It was a 2020 miracle, for sure. 😉
Everything from our recent order is linked at the bottom of this post, but click here if you'd like to sign up for a Walmart+ membership!
Shop the post:
Warm Apple Pie Candle / Buffalo Check Pillows / LEGO Set / Lite-Brite / Flameless Candles, Pack of Three / Flameless Candles (1) / Play Tent / Faux Fur Pillow / Not pictured, but you can find our faux mums on Walmart, too!