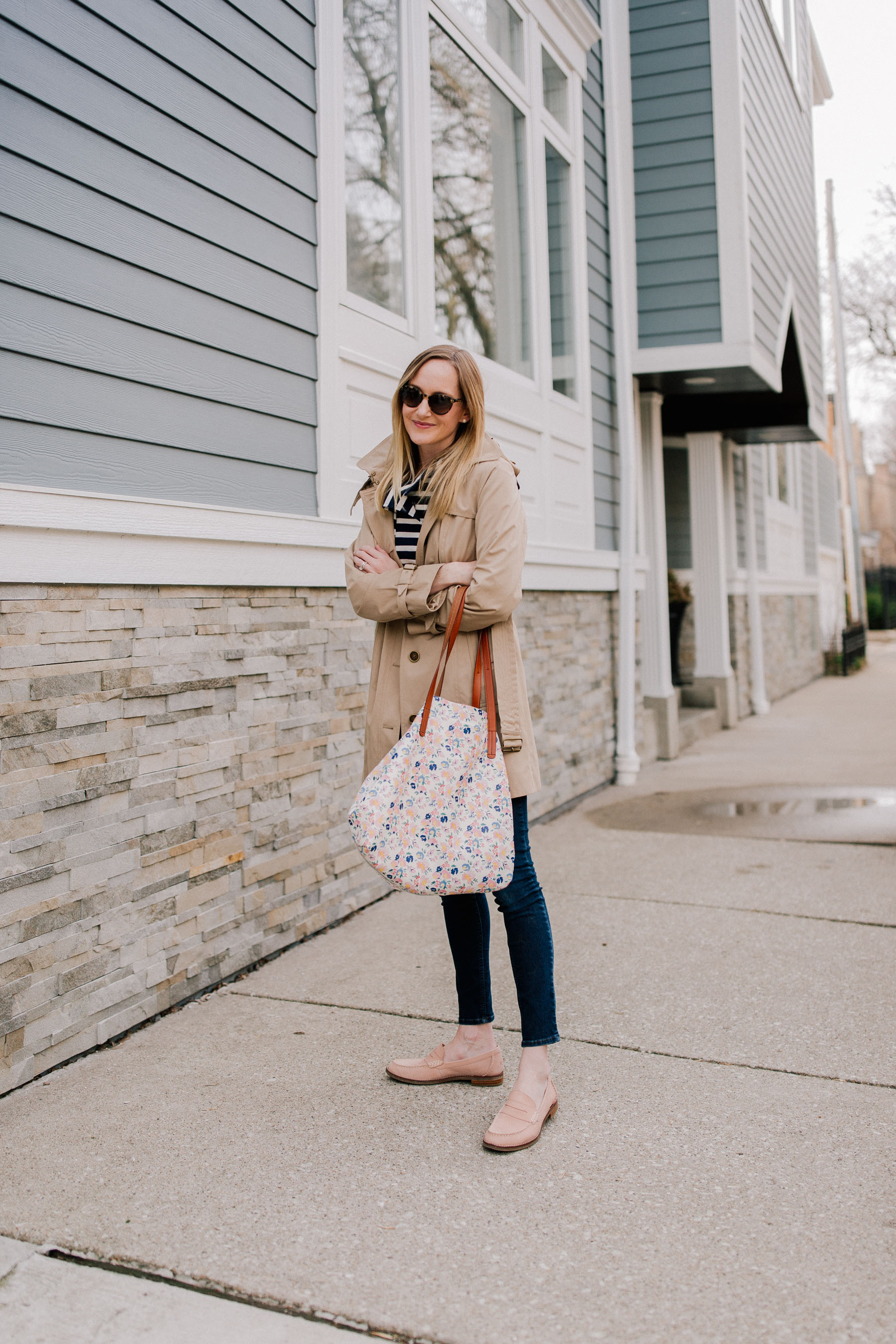 Mark & Graham x Caitlin Wilson Tote (Love the crossbody, too!) / Favorite Trench Coat (SO warm because it has a quilted liner. Adore the double-breasted version as well.) / Blush Loafers (Back in stock here! Also available here.) / Jeans / Striped Top (How cute are the bows?! And just ordered this classic striped shirt.)
Today's "Recent Finds" post will be published either tomorrow or Sunday, as I might have another blog post going up today! In the mood to shop? Here's last week's shopping post, and here are ALL of 'em. ;) Be sure to check back later this afternoon for another post!
Guys, I'm failing at the whole "fashion" part of this blog. (How often I've worn the blush loafers–available here, here and here–on the site over the last week is evidence enough, am I right?) While I've had all my spring outfits ready for nearly a month now, there's just no way I'm standing outside in 20- and 30-degree weather at my age. 😂 But that's okay! I honestly fall back on fashion posts more often than not because they're relatively quick and mindless for my tired mom self. And the cold is forcing me to get creative with the blog, and it's also encouraging me to put a little more thought and planning into it. This weekend, I have a post going live on how I styled my bookshelves, for example. Which is something I've always wanted to do. So that's a silver lining right there!
Regardless, I've been meaning to write a post on this trench coat (which also comes in a double-breasted version) for the longest time.
I'll be short and sweet about it: it's the warmest trench coat I've ever owned. Fine. I've owned two in my lifetime, and Noodle literally ate a hole through my last one, haha. But this is a WINNER. It has an amazing quilted liner that helps you stay toasty, and while I admit that the model looks a bit bulked up, it doesn't look bulky in person. Really, though: I'd nearly written off trench coats–despite how much I love them!–simply because Chicago tends to be pretty cold in the spring. But this one gets the job done and then some! (It also comes in a double-breasted version, btw. I love both looks, but went with the single because I liked the appearance of it while opened a tad better. But you really can't go wrong!)
Note: This is not a winter coat. You can get away with some 40-degree days, and temps in the 50s? Yes! But it's definitely not appropriate for 20- and 30-degree days. Puffer. It. Up. (Warmth > Style)
In terms of sizing, I went with my normal size and it's pretty good. I might say I could use a little extra room in the shoulder area, but I might be being nitpicky. :) So if your shoulders normally give you trouble with sizing, maybe go one size up. Otherwise, go with your regular size! (Wearing an XS here, for reference.)
Anyway, LOVE this trench coat. I used to think I wanted this classic Burberry trench, but now I honestly can't imagine ever reaching for the Burberry over the London Fog. So there you go! Hundreds of savings, fabulous style, and potentially a more versatile coat? (Although maybe there's a quilted or wool liner you can buy for the Burberry? Who knows.  😂)
Over and out, Friends! Hope to see you back here later this afternoon. :)
Shop the post:
Mark & Graham x Caitlin Wilson Tote (Love the crossbody, too!) / Favorite Trench Coat (SO warm because it has a quilted liner. Adore the double-breasted version as well.) / Sperry Loafers(Not pictured but they're all I've been wearing, as I'm sure you've noticed. So comfy and they run totally TTS. Looking for an alternative? Try this pair!) / Jeans / Striped Top (How cute are the bows?! And just ordered this classic striped shirt.)
SaveSave