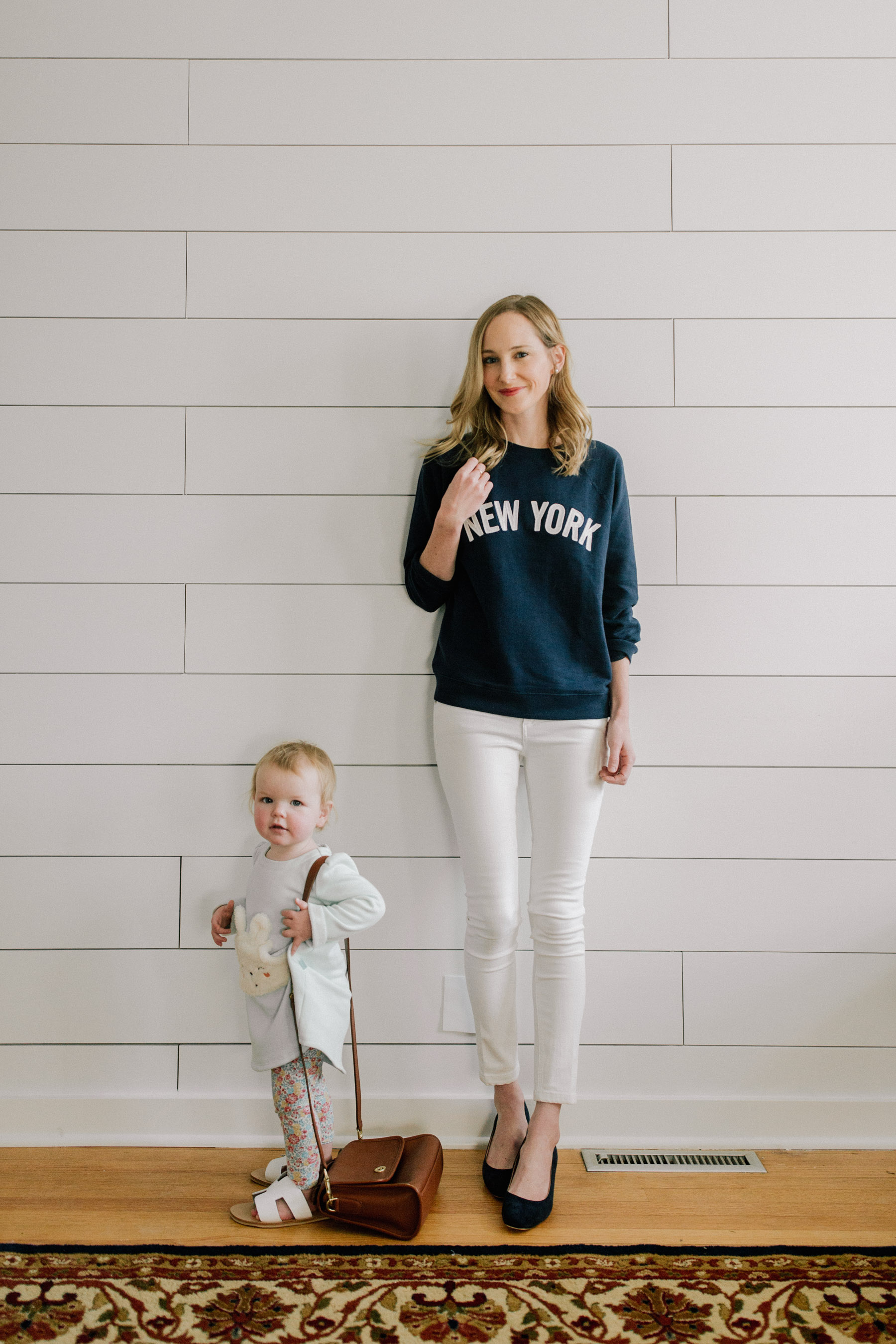 $89 Kate Spade Pumps (Incredible. And they come in so many different colors!) / J.Crew New York Sweatshirt (Runs TTS. Wearing a size small here. Here's the Brooklyn version! I also recently got this sweatshirt and this pair of sweatpants and I'm obsessed. So soft and cozy.) / Rag & Bone Skinny Jeans (And adore this pair.) / Coach Bag (Also love this similar one and this similar one.) / Camel Coat (My current favorite in-stock camel coats include this one, this one and this one, btw. And I loooove this Ralph Lauren coat in pink.) / Burberry Scarf (And here's the snood, which totally fits adults!) / White Sandals that Emma's Wearing (Also available here, here and here. And LOVE the Everlane version.) / Emma's Cozy Sweatshirt and Floral Leggings
 I thought I'd just pop in here today to highlight something kind of crazy. I don't know whether this is an error, but this pair of Kate Spade pumps–available in a TON of different colors–is currently listed for $89. They ship free, too!
I ordered them in navy suede, and they're REAL. They're also super comfortable and run true to size. So if you're looking for a classic pump (and one that you can walk miles in on account of that fabulous block heel), today's the day to invest!

Side note: the red is adorable as well, right? Perhaps we need these to get us through the rest of winter? 😉
Anyway, I hope this is a happy little public service announcement on this Monday morning. Please enjoy these cute photos of Emma from "Girls' Day" while I get my life back together after the weekend, haha. Who's on her second cup of coffee already?! 🙋‍
Shop the post:
$89 Kate Spade Pumps (Incredible. And they come in so many different colors!) / J.Crew New York Sweatshirt (Runs TTS. Wearing a size small here. Here's the Brooklyn version! I also recently got this sweatshirt and this pair of sweatpants and I'm obsessed. So soft and cozy.) / Rag & Bone Skinny Jeans (And adore this pair.) / Coach Bag (Also love this similar one and this similar one.) / Camel Coat (My current favorite in-stock camel coats include this one, this one and this one, btw. And I loooove this Ralph Lauren coat in pink.) / Burberry Scarf (And here's the snood, which totally fits adults!) / White Sandals that Emma's Wearing (Also available here, here and here. And LOVE the Everlane version.) / Emma's Cozy Sweatshirt and Floral Leggings
SaveSave