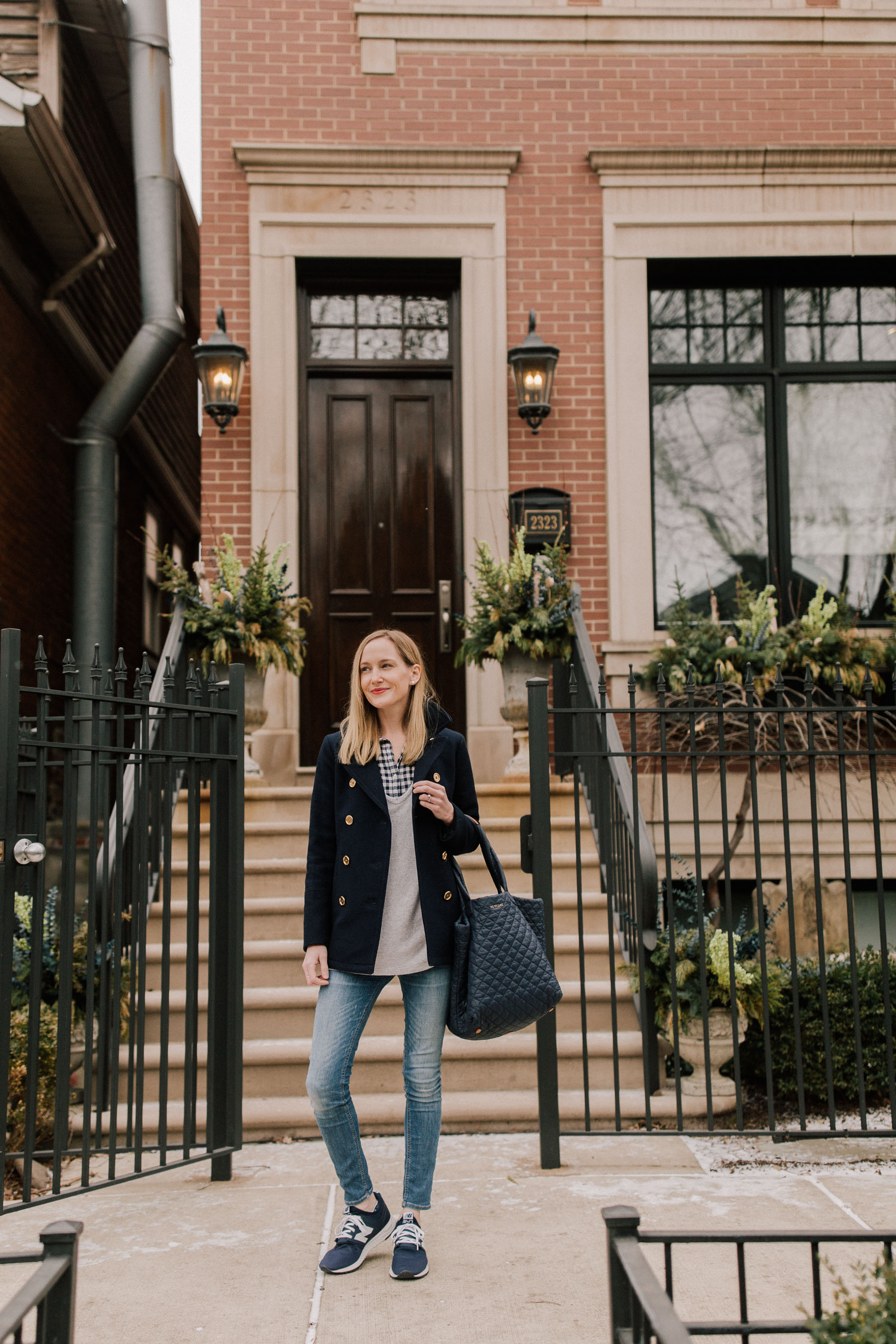 Gray Pullover / Peacoat (And here's the $38 version that I adore so much!) / Navy Sneakers / Gingham Shirt / Skinny Jeans / Quilted Tote
"Mom outfits" is one of my most frequently requested blog topics. It's funny: I'm very often in comfy, casual looks… but they rarely make it to the site because… I don't know why. Maybe it's because I assume they're not blog-worthy? That only my out-on-the-town and nighttime outfits are? Whatever the case, I'm making a concerted effort this year to show you what I'm actually wearing to the playground, to kid-friendly museums, and on playdates!
Over the last week, we've been experiencing some awesome 40- and 50-degree days, and I've been able to toss aside the puffers, mittens and boots. It's been amazing! Here's what I've been opting for:
My Go-To Mom Outfit:
I've owned this super-soft number for a couple of years now, and I'm constantly throwing it over button-downs. Without it, I think the vast majority of my shirts would go unworn. But with its added warmth, I'm able to get a lot more wear out of my closet! (Size down.)
I think the last time I owned a peacoat was when I was in high school… but I couldn't resist when I saw this one this year. I'm definitely trying to return to the classics in 2018 in an effort to simplify and declutter my life, and this coat is one I'll have forever! I also adore this $38 version which I wore all last season. (Go up a size. The shoulders are a little tight.)
Other peacoat and duffle coats to consider: L.L.Bean Duffle Coat: DYING. This one is perfect in camel. And as we all know, a good camel coat is hard to find this time of year. ;) Sizing advice: go down! L.L.Bean typically runs large. // Nordstrom Pea Coat: This is a favorite! Not sure if you remember me blogging about this coat like every other day this past fall, haha, but it's under $38 (you heard that correctly!) and it's surprisingly warm considering how lightweight it is. Disclaimer: this is NOT appropriate for a Chicago winter. Great for the fall or spring here, and wonderful for winter in a warmer climate. // Camel Pea Coat: This one is on the pricier side, but it's on sale and it's a coat you'll have for life, as Fleurette is well known for its outstanding quality. AND it's available in all sizes. // Abercrombie Duffle Coat: SO CUTE IN RED, and it was just restocked! Coming to a blog near you soon. ;) I went with a small, in case you're wondering about sizing!
I picked up these sneakers in the fall when Emma started walking, and I'm so glad I did. While I'd never been a sneaker-wearing girl before, I now realize how absolutely wonderful they are when I'm running around after a toddler. I also realize that I feel a bit sloppy if I'm wearing dirty, decades-old sneakers. But this navy pair–worn with cute jeans–reminds me that I'm not just a goldfish-dispenser. 😂 I'm a person, too! (Runs TTS, if not a little big.)
Are you guys tired of me talking about these jeans? Sorry but not really. 🙈 They're THAT great. They're the softest jeans I've ever owned, and they don't stretch out throughout the day. They're also not "capris." They're ankle cut… Rag & Bone simply need to work on their marketing. 😉 (Runs TTS.)
It's back! This one goes out of stock so quickly, so if you've been after a navy one, be sure to swoop it up now. I use it as my baby bag, and adore it. It also fits under a plane seat perfectly and doubles as a pillow for tired tots. (Sizing: I'm actually carrying the medium here, but the large fits SO much more, and I have some regret over going with the medium!)
Happy Tuesday!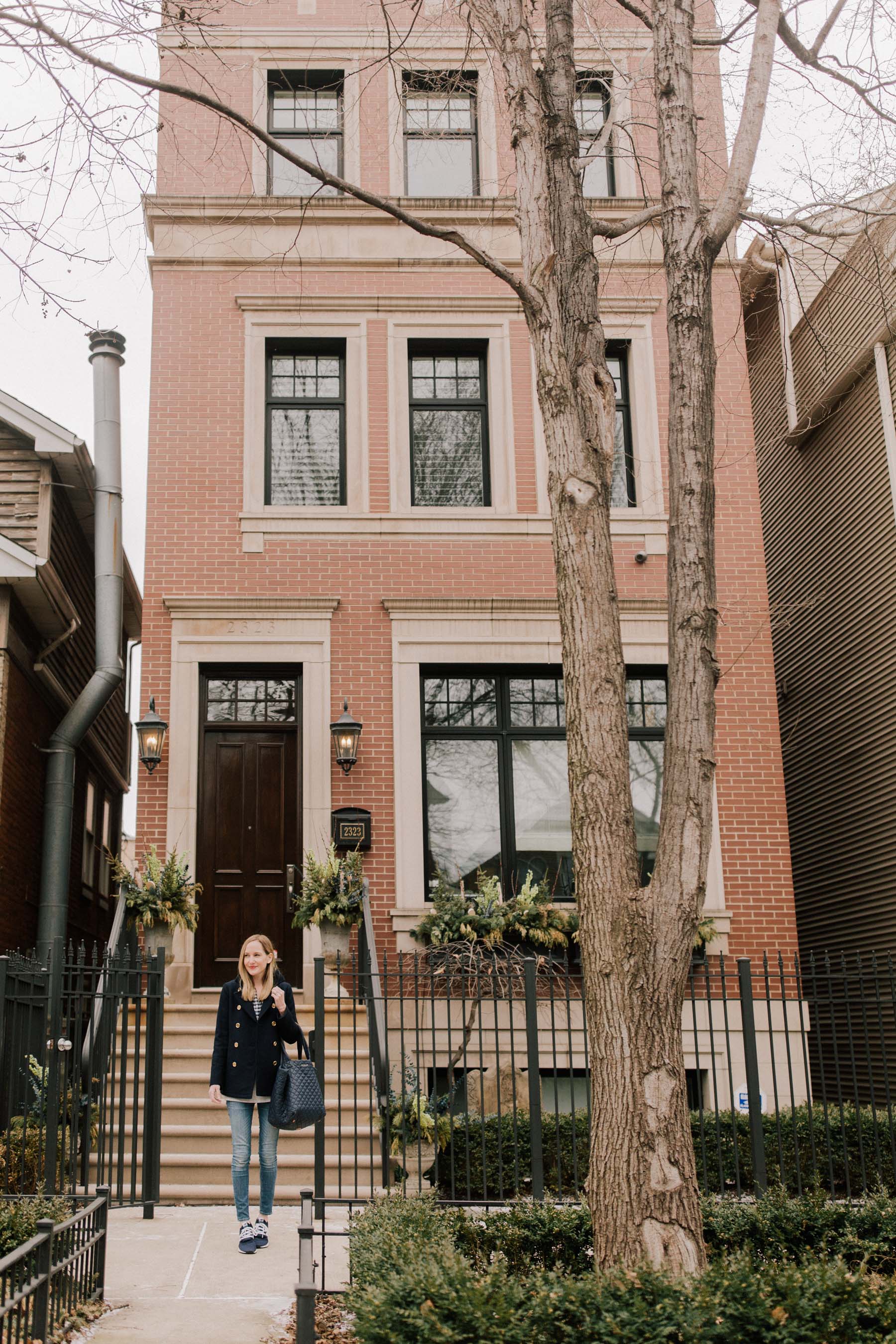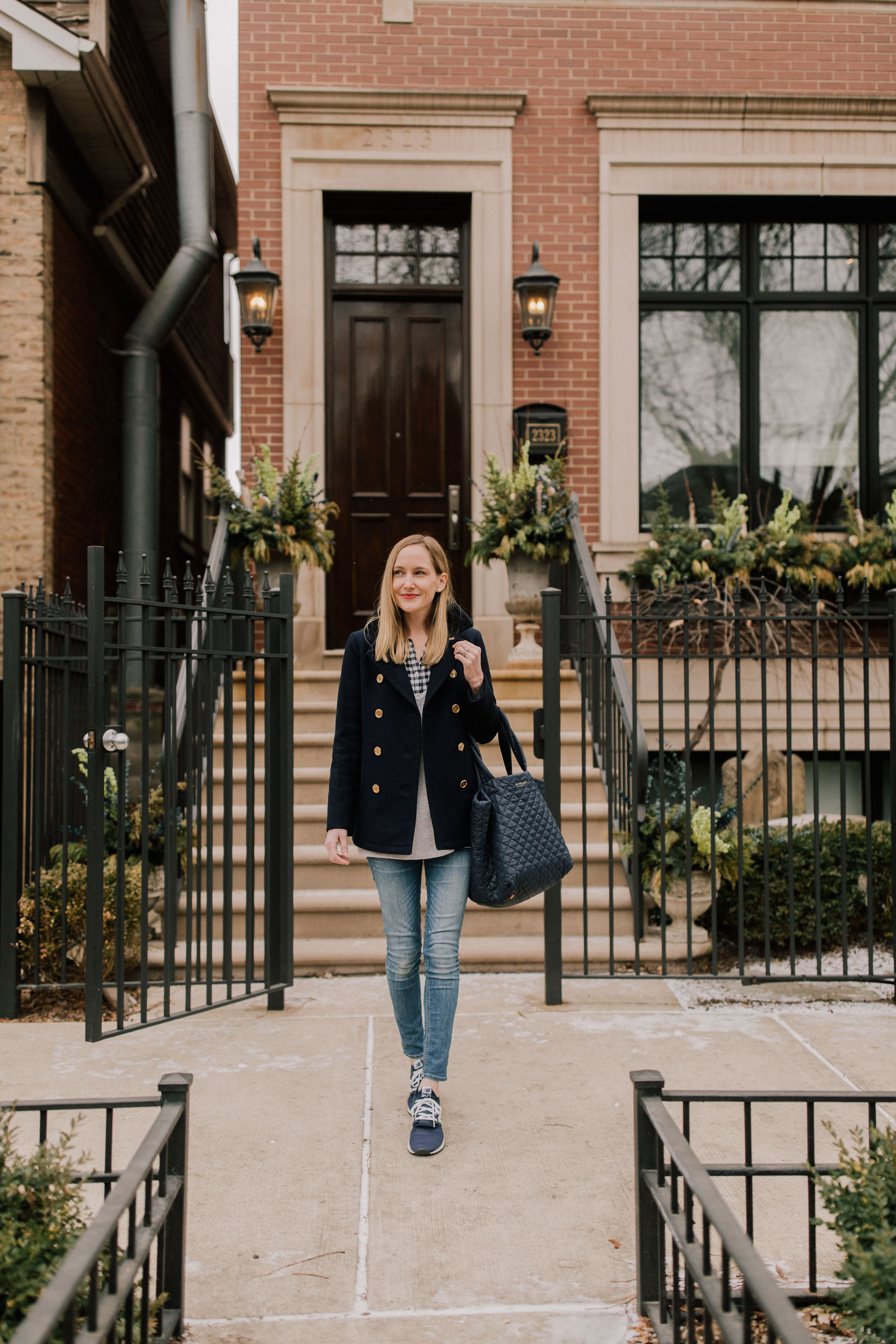 Shop the post:
Gray Pullover / Peacoat (And here's the $38 version that I adore so much!) / Navy Sneakers / Gingham Shirt / Skinny Jeans / Quilted Tote