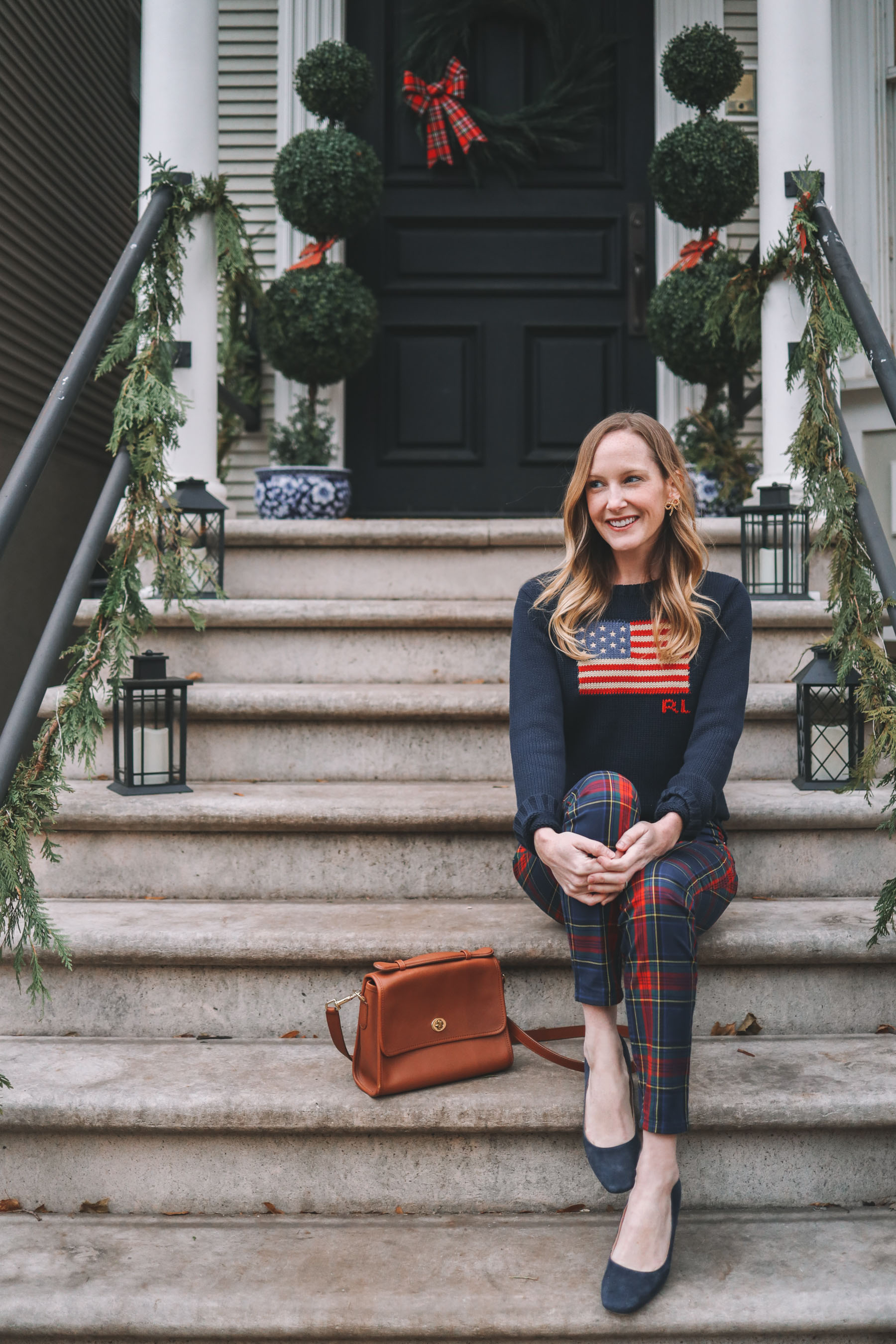 Vineyard Vines Plaid Party Jeans c/o (On sale and they ship free today with orders of $125+! Use code "DASHER." I also own and LOVE the blackwatch plaid velvet pants from VV! The top and the skirt are pretty adorable, too.) / Ralph Lauren Sweater / Newer Coach Bag (This is my post on how to find and restore old Coach Court bags.) / Lisi Lerch Bow Earrings c/o / Navy Kate Spade Pumps (Also love this similar pair and this pair, too! Also, wouldn't these be great for New Year's?)
Oh hey, Friends! We had a bit of a wild weekend because our best bud Shawn came to town!
Shawn is Mitch's best friend from elementary school, and they've "been together" ever since. 😂 He and Shawn went to high school and college together, and then Shawn moved out to New York shortly after Mitch did… and the two lived together there for many years. Fun fact: I actually lived with BOTH of them for a couple of years in the East Village. It was a trip. (Just kidding. The only downside was that they thought running Roomba was cleaning. 😜 Otherwise it was an absolute blast!) And now, Mitch and Shawn run a business together, so they chat approximately seven billion times per day.
Anyway, we had so much fun. There's just nothing like having a visitor that you don't need to "try" for. I didn't tidy before Shawn arrived, and I let the girls make messes throughout the weekend because it's Shawn. Not that Shawn isn't worth a deep clean, haha… it's just that he really doesn't notice that kind of stuff and definitely doesn't care. He just wants to chat, play with Lucy (they bonded), and get a glimpse of our (real) everyday lives here in Chicago: the crazy mornings, the drop-offs and pick-ups, the meals, etc. etc. In short, the chaos!
We all had such a great time together that we decided that we need to do this more regularly. Shawn's going to come back out in a month or two… so we didn't even need to be sad when he left! It's also going to be so nice to have something to look forward to after the holidays are over.

But yeah. I wore this little number yesterday. We were running around town trying to get as much done as humanly possible, and the outfit–specifically my Vineyard Vines plaid jeans–really reminded me how fun all of this is. ☺️ Btw: Check out Vineyard Vines' blackwatch plaid velvet jeans, too. They're fantastic. I found both pairs of pants to run TTS, even though some of the reviews were adamant about the sizing being off. I took my normal size and they're great!
Oh, and Vineyard Vines is offering free ground shipping right now when you spend $125, and free two-day shipping when you spend $200. Another opportunity to check everyone off your list! (I'm deeply regretting not getting this velvet dress, haha.) Use code "DASHER."
Yes, the holidays are stressful. Work-wise, it's the busiest time of the year for nearly everyone I know, regardless of their profession. Add in interesting family dynamics, not enough sleep, and complicated travel plans… and WOO-EE. It's enough to send anyone into a downward spiral. But this year, I'm trying to be super conscious of what's really important. It's okay if things aren't perfect. It's okay if the house is a mess. It's okay if we don't get to every activity we've planned. It's okay if the gifts I'm giving aren't all super personal and thoughtful.
Because there are only two things that really matter:
That Emma and Lucy feel the magic and love
That we're together
End of story. :)
Shop the post:
Vineyard Vines Plaid Party Jeans c/o (On sale and they ship free today with orders of $125+! Use code "DASHER." I also own and LOVE the blackwatch plaid velvet pants from VV! The top and the skirt are pretty adorable, too.) / Ralph Lauren Sweater / Newer Coach Bag (This is my post on how to find and restore old Coach Court bags.) / Lisi Lerch Bow Earrings c/o / Navy Kate Spade Pumps (Also love this similar pair and this pair, too! Also, wouldn't these be great for New Year's?)