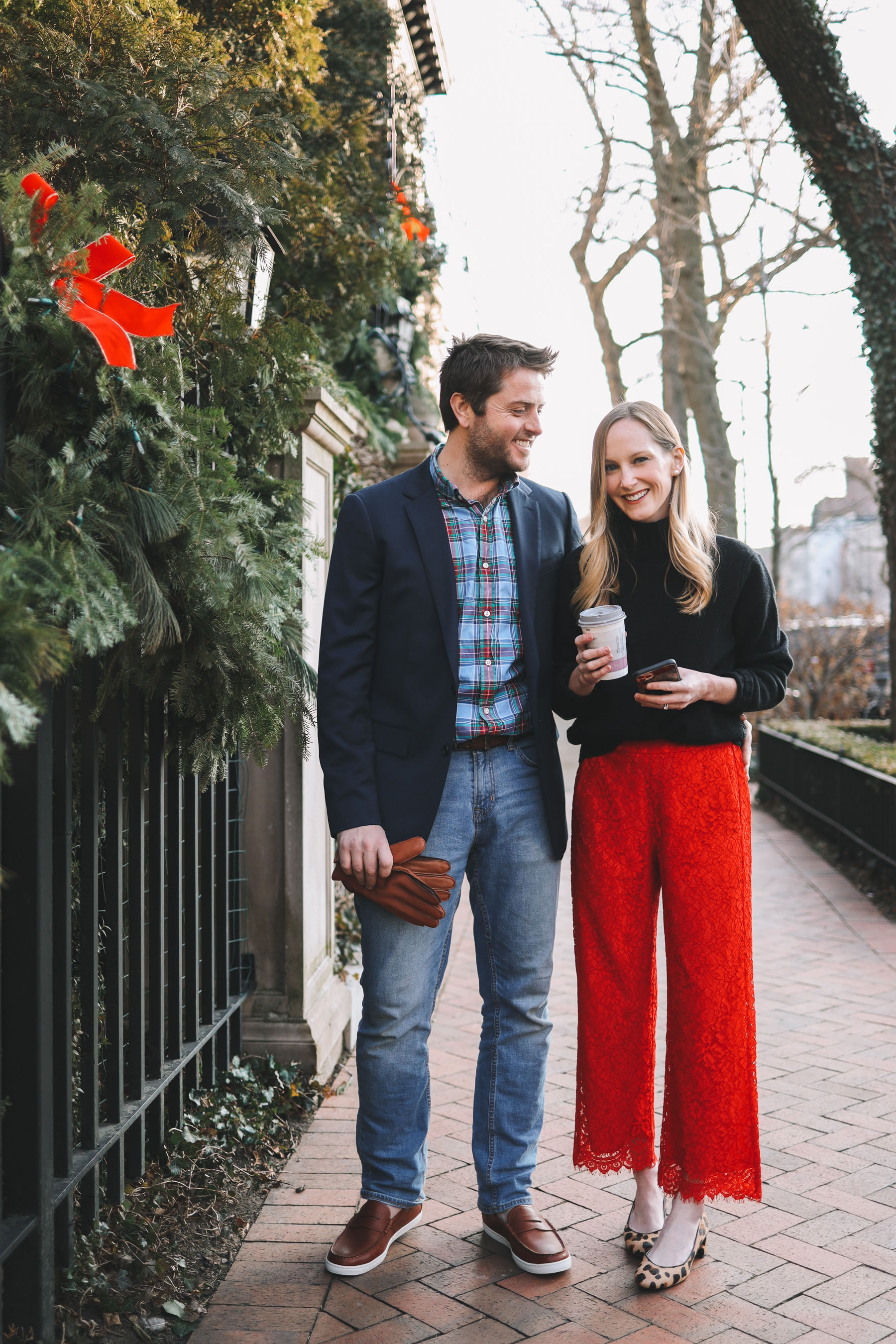 Cole Haan Pumps, Pinch Weekender Loafers, Women's Leather Gloves + Men's Leather Gloves / Lace High-Rise Pants / Super Soft Mock Neck Sweater / Tortoise Phone Case / Newer Men's Holiday Shirts Here and Here / Navy Blazer / Men's Jeans
These are the faces of two kids who wrapped up all of their holiday work TODAY… and are currently en route to New York to kick off some awesome family holiday celebrations! Truth: We're barely alive. 😂 But we somehow did it. Feels amazing to know that we won't need to pull any all-nighters during our travels, and that we can really kick back and enjoy our time together. :) Note: The blog WILL be up and running per usual! So please swing by every day! ❤️
Anyway, Mitch and I are highlighting five awesome gifts for guys (from Cole Haan!) in case you're stuck right now. Cole Haan is a go-to for footwear for both us because the brand's shoes are always so ridiculously comfy. (So much padding yet you can't tell just by looking at them!) So picking out these products was a cinch for us; we're super fans! ;)
Pinch Weekender Loafers: I can't tell you how happy it made me to give Mitch these shoes. I don't know about you guys, but I really struggle with my husband's shoe reserve, haha. He beats everything to death within about a month or two, and rarely do shoes stand up to the wear he puts on them–especially on the weekends when we're running all over the city. His shoes always look like they needed to replaced roughly three years ago… and… sigh. It's hard, haha. But this particular shoe is a lifesaver. It has the look of a traditional penny loafer but the sole of a sneaker, which means that it'll be with us for a much longer timeframe. And nothing beats the fact that Mitch REACHES for these loafers because they're so comfy. I know. I'm a genius. I tricked my husband into wearing loafers on the weekend and liking it. DO IT! ;) Oh, and I should note that the entire "Pinch" line is incredible, too. For guys, I particularly LOVE the "Bit Loafer" as well as the classic Cole Haan penny loafers.
GRANDSERIES Leather Backpack: Mitch has a deep love for well-made leather products, and this looks right up his alley! He was a little green with envy when I got my Cole Haan leather backpack, so this might be in the cards for good old Dad! Because he's always out and about with the girls, I feel like this would be perfect as he doesn't love our baby bag.
Men's GRANDSERIES Leather Gloves: I can't recommend these more. First, most guys love leather. Second, most guys–who I know, that is–don't love going shopping. Which makes these gloves the ideal gift for that special someone in your life. Guys, I catch Mitch smelling his hands when he wears these. The workmanship is off the charts, the leather is luxuriously soft, and the look is timeless. I know that Mitch will have these in his closet for years and years to come!
GRANDSERIES Leather Bifold Wallet: Does anyone know a guy whose wallet ISN'T falling apart? Mitch's takes quite the beating, and he definitely needs this. Again, you can't beat the classic design, and the quality is fantastic. I also love that it's simple and slim. No bulging wallets in the back pockets of pants!
ZEROGRAND Insulated Jacket: Does your husband regularly leave the house in seasonally inappropriate clothing? Just yesterday, Mitch literally walked (barefoot) over to our neighbors' place–in 20-degree weather, mind you–in a swimsuit and t-shirt. This jacket, however, quells my fears that my husband might die this season. It's unbelievably soft and cozy yet it's lightweight enough that he'll actually reach for it. (He can move in it!)
Mitch and I also really love how easy it is to shop via the holiday gift guide on the Cole Haan site. The best sections, in our humble opinions, are "Gifts for Her Under $100," "Gifts for Her Under $200," "Gifts for Him Under $100," and "Gifts for Him Under $200." So quick! In case you're wrapping up your shopping this week, here are some other faves:

For Him

For Her
Shop the post:
Cole Haan Pumps, Pinch Weekender Loafers, Women's Leather Gloves + Men's Leather Gloves / Lace High-Rise Pants / Super Soft Mock Neck Sweater / Tortoise Phone Case / Newer Men's Holiday Shirts Here and Here / Navy Blazer / Men's Jeans
Gifting faves:

For Him

For Her
This post is sponsored by Cole Haan, but all opinions are my own. As always, thank you so, so much for supporting the partnerships that keep Kelly in the City up and running!