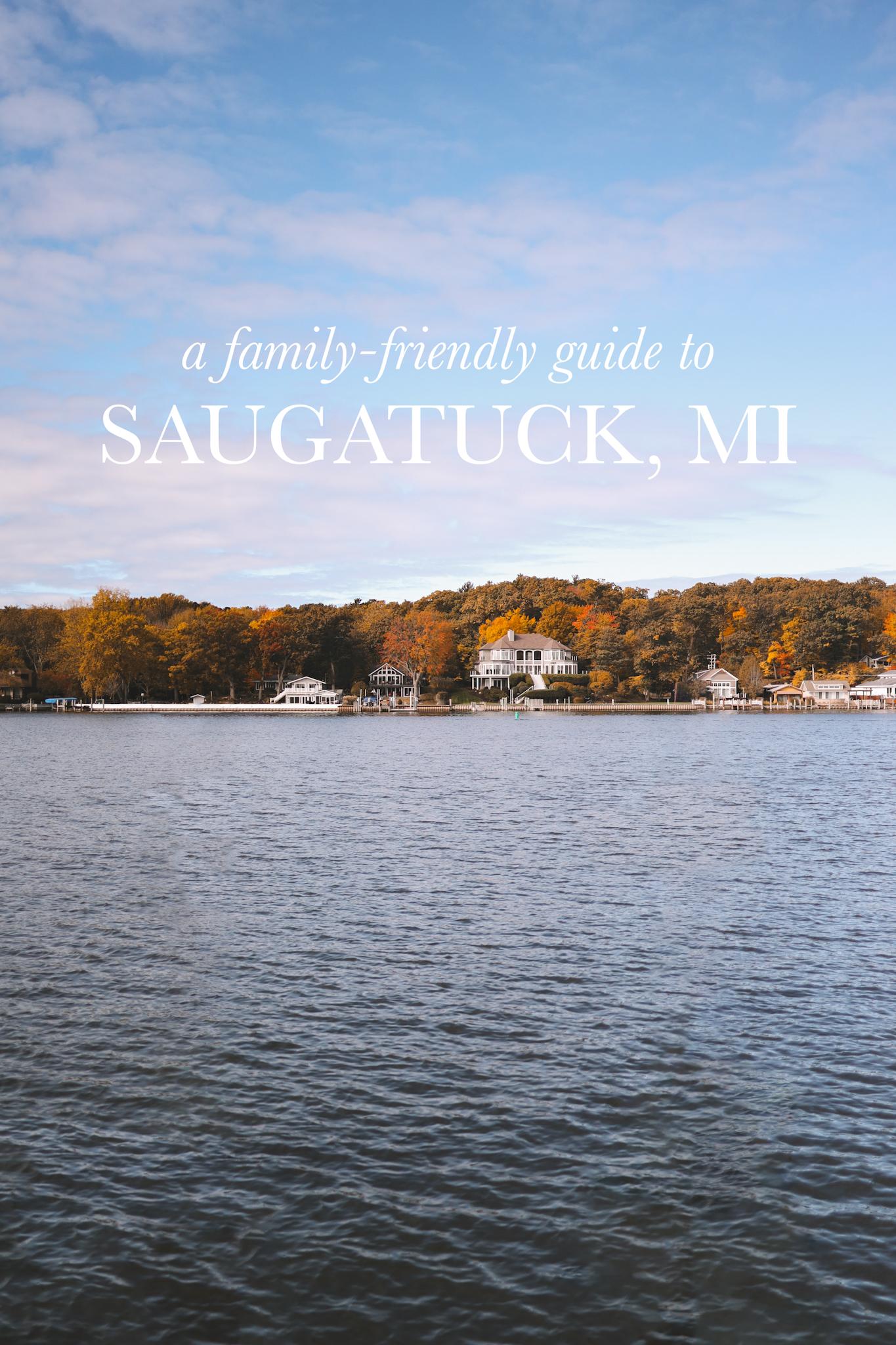 Visiting Saugatuck, Michigan has been on our travel list for years. And this past weekend, we finally made it there! A short 2.5-hour drive from Chicago, Saugatuck is nestled against a couple of other charming towns on the shores of Lake Michigan. Think "Nantucket meets Stars Hollow." And while it's obviously enjoyed by visitors in the summer months, fall is absolutely enchanting there.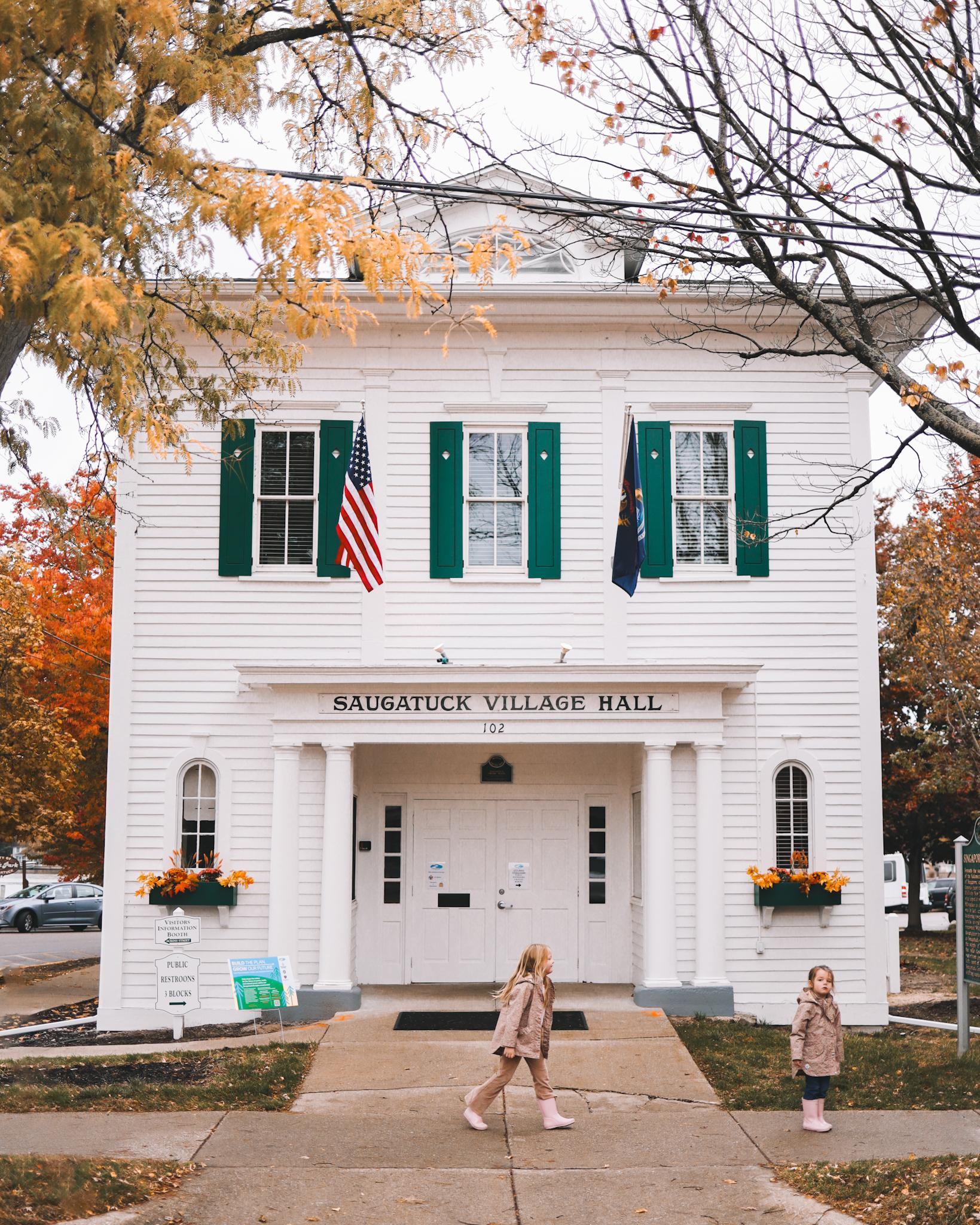 Saugatuck and Douglas (its sister town) invited our family—along with the Loftus and Khan-Holland crews—up for a couple of nights, and we can't thank them enough for having us. (And getting the gang together during the fall! It's normally such a hectic time for everyone but miraculously, this particular weekend worked for everyone. 🤯👏🏻😆) It definitely goes down as one of the best trips we've ever taken!
We were blown away by Saugatuck. The town is as family-friendly as it gets, and I can't recommend it enough! So here's a little history about the area along with where to stay, where to eat and drink, and what to do while there:

About Saugatuck
Known as the Art Coast of Michigan, the Saugatuck/Douglas area offers award-winning beaches, scenic waterways, grassy dunes, a thriving art scene, rich local harvests, world-renown restaurants, quaint store-lined streets, and an open-minded culture. Just walk through its quaint downtown and you'll see that the crosswalks are rainbow-colored: a symbol of support for the LGBTQ+ community, which has long considered Saugatuck/Douglas to be a haven. (Since the 1950s, in fact!) And I have to share that as my four-year-old daughter Lucy literally danced across one of the rainbow crosswalks, she exclaimed, "I AM HAPPY!" Doesn't that just about sum it up?! Everyone is welcome, and the happiness that exudes from that is palpable.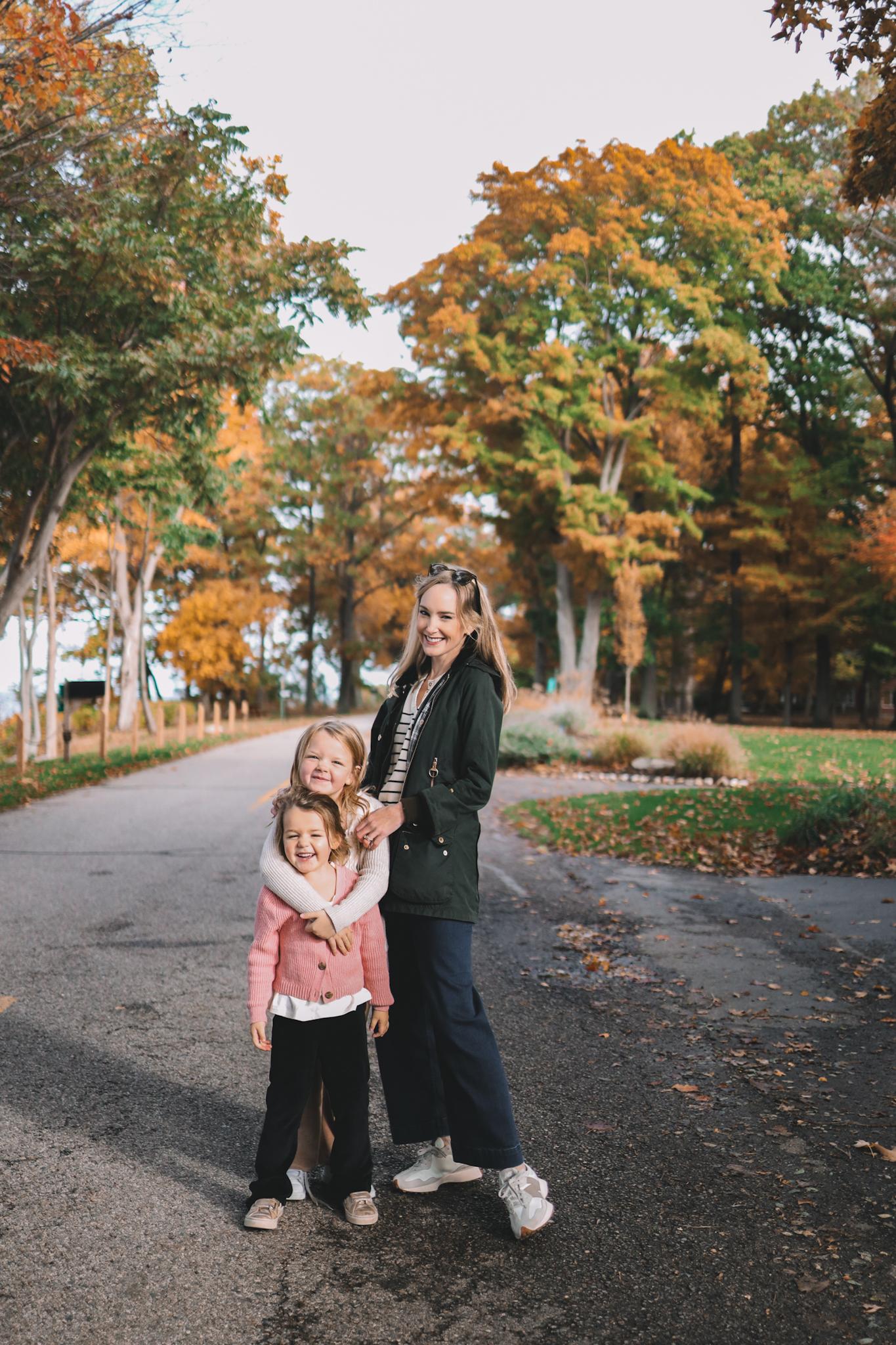 How to get there
Driving:
2.5 hours from Chicago

3 hours from Detroit

3.5 hours from Toledo

3.75 hours from Indianapolis
Flying:
The Gerald R. Ford International Airport (GRR) in Grand Rapids is only a 49-minute drive from Saugatuck, and features offers more than 140 nonstop flights a day.
Transportation while there
Popular ways to get around include:
Biking

Walking

Uber and Lyft

The Interurban: a handicap-accessible demand-response bus system, which costs only $1 for adults. Children 11 and younger ride free. Call 269-857-1418 to schedule a pick-up. Amazing, right?!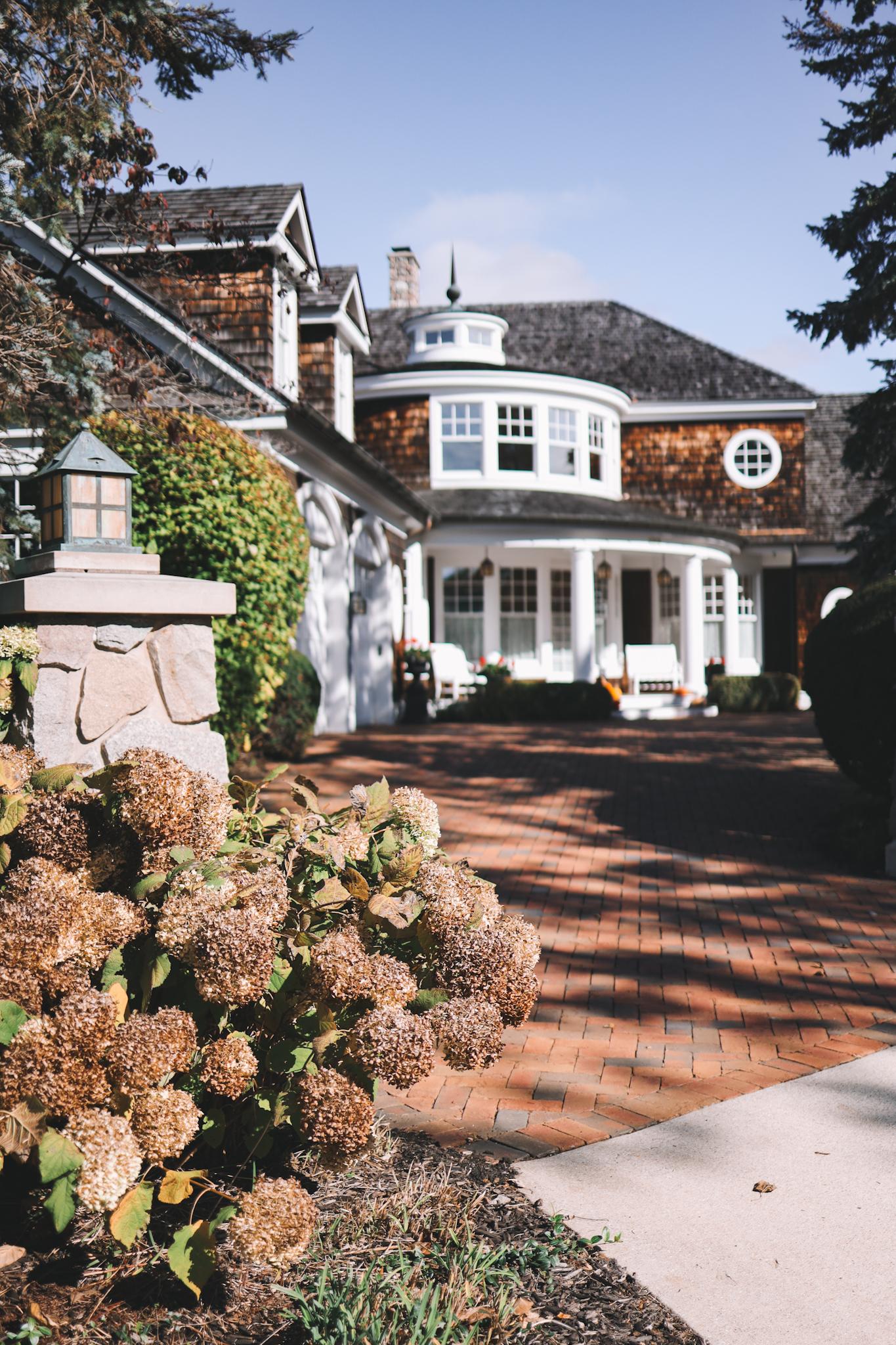 Where to stay
BNBs/Inns:
Maplewood Hotel: Located in the heart of downtown Saugatuck, it was built in the 1800s and it's the definition of charm. I really hope to stay here one day! 10/10 for walkability, too.
Judson Heath Colonial Inn: Also built in the 1800s, this one is right down the street from Maplewood. Each guest room is themed, and there's a full gourmet breakfast every morning!
Old Pike Cottages: This seems ideal for families, especially those with young children. You get your own beautifully decorated house, right on the docks in downtown Saugatuck, and there's a pool!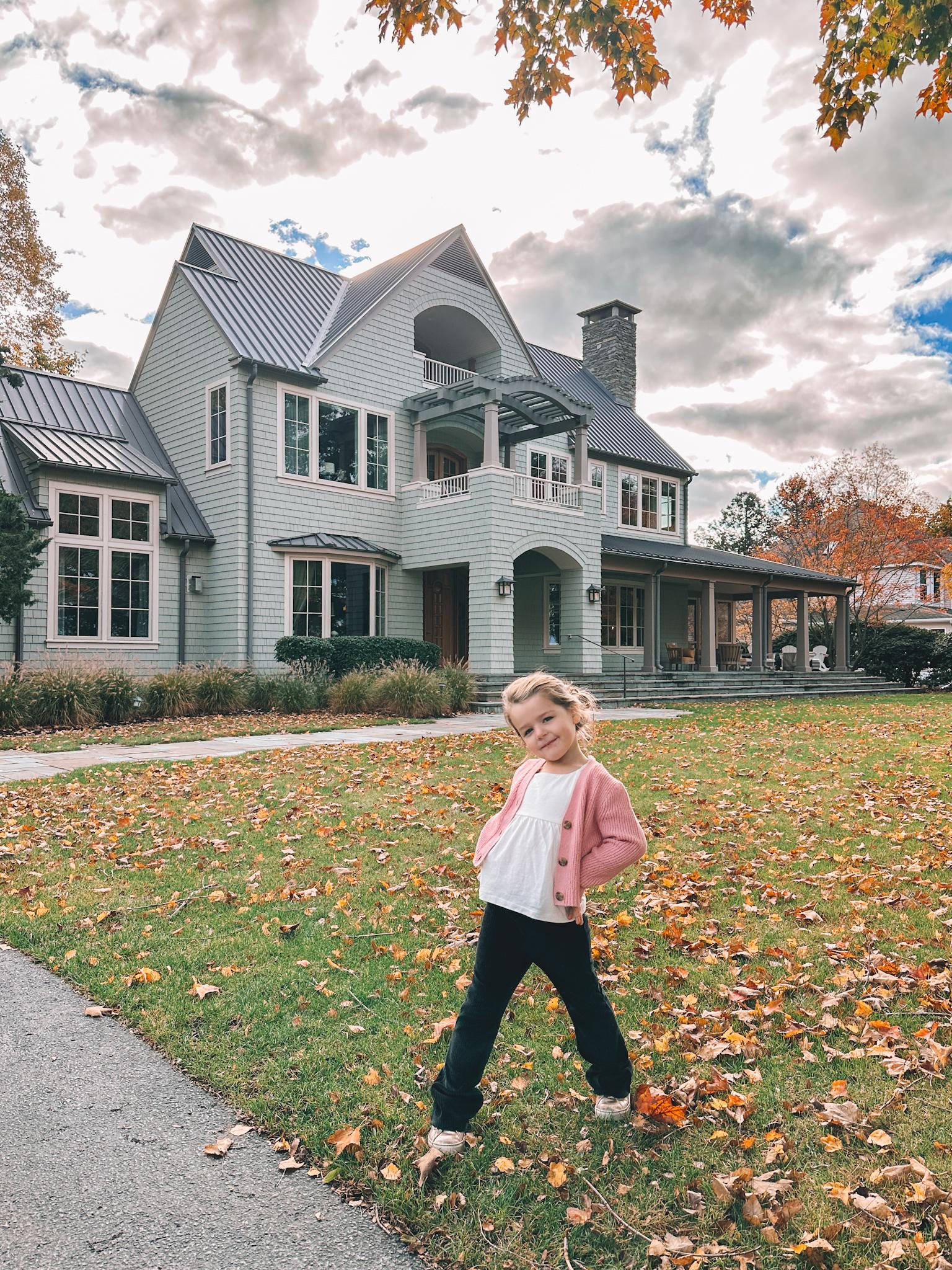 House rentals: Depending on how many people you're traveling with, a house rental might make a lot of sense. Because we had 11 people (including five kids), we stayed at this house on Lake Michigan in Fennville. It was gorgeous and was so spacious. There are tons of cottages (how cool does this look?!) and other options from Airbnb, too!
Adults-only resorts and hotels: If you don't have children or are planning a gals' or romantic getaway, I thought I'd mention that there are a few adults-only hotels in the area that are stunning. Look into the Wickwood Inn, Lake Shore Resort and The Hotel Saugatuck.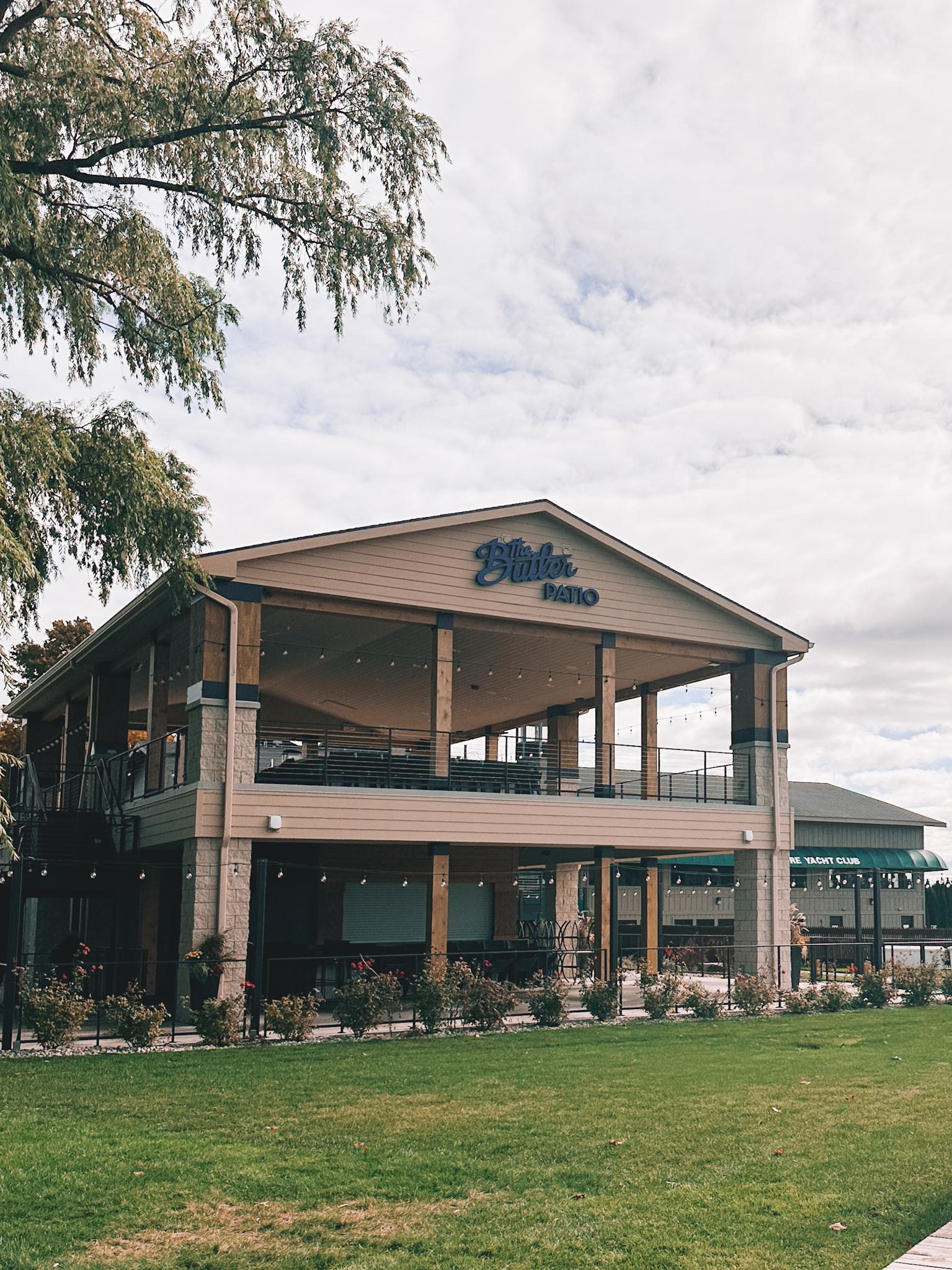 Where to eat and drink
Virtue Cider: Enjoy craft cider while your kids run around in the grass and pet pigs, dogs and bunnies. The backdrop is so pretty! You'll be surrounded by Tudor-style buildings. Dogs are welcome, and there are fire pits during the colder months. (Even in the snow!)
Coast 236: Offering a coastal-inspired menu, you can sit outside on their beautiful garden patio or inside by the fire. It's a great place to host an event, too!
The Southerner: Famous for its fried chicken, this hot spot is as down to earth and friendly as they come. You'll love the mix-and-match vintage plates, and if you're a boater, you can dock right in front of the restaurant.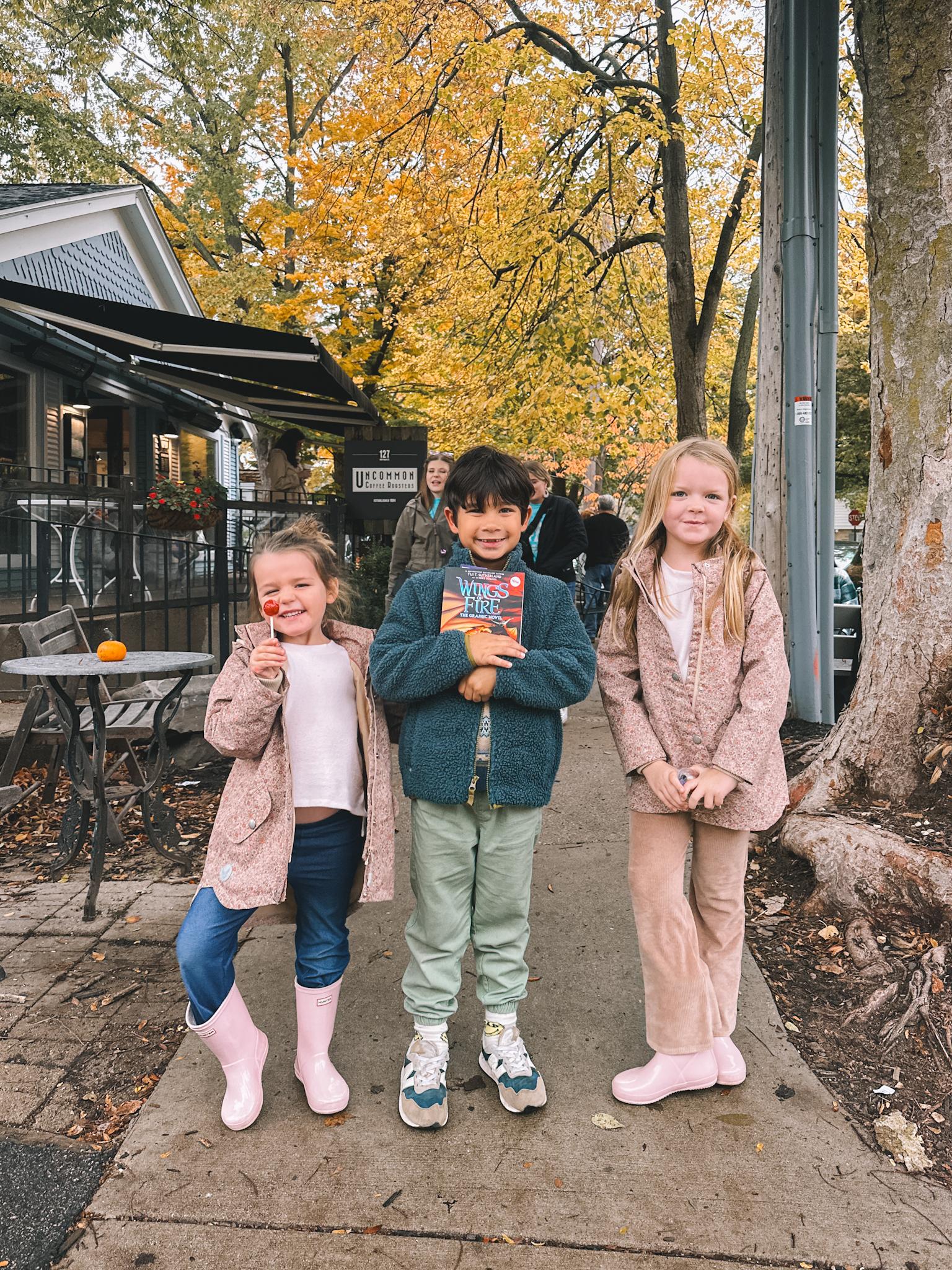 Uncommon Coffee Roasters: So many friends recommended this, and Mitch and I went every day we were there. the mocha lattes were the best mid-afternoon pick-me-ups!
Mitten Brewing Company: This is a baseball-themed microbrewery that also serves award-winning pizzas. The Saugatuck location features a wraparound deck, picnic tables and a cozy fire pit. Dogs are welcome in the outdoor seating area!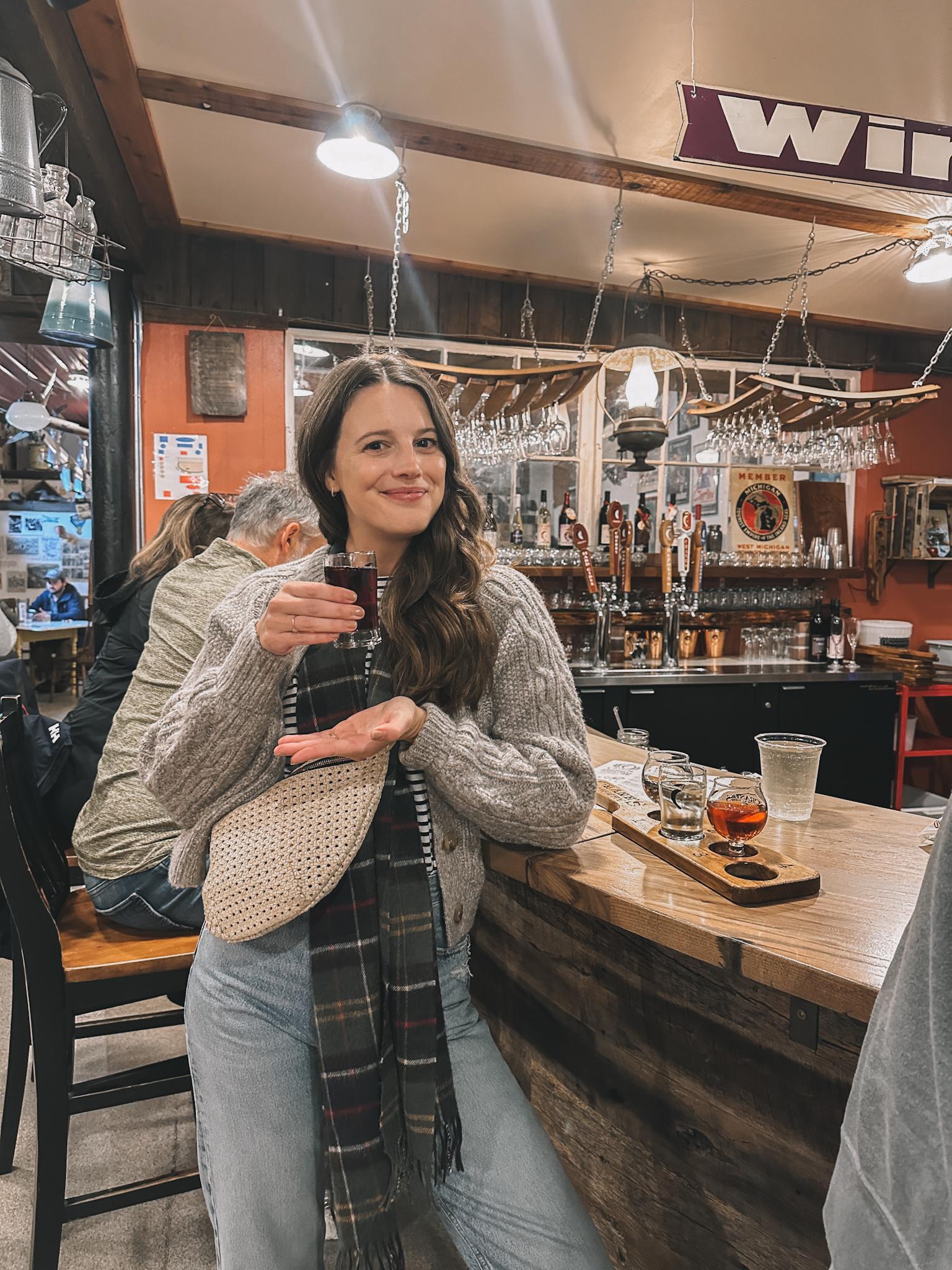 Crane's Pie Pantry & Winery: This is across the street from Crane Orchards, and it's owned by the cousins of the orchard and famous for its pies and cider. (It's all one big family.) While you can dine inside, we opted to sit outside next to the fire pits and under the space heaters. The kids loved the food, live music and puddles, of course. 😆
Pennyroyal Cafe and Provisions: All food is sourced locally, and the patio is breathtaking. One of the most beautiful spots in the area, for sure.
Root Beer Barrel: Kids will love this giant root beer barrel. They serve specialty hot dogs and root beer on tap. Pet-friendly, and seating is outdoor. (Because how could you sit inside a barrel?)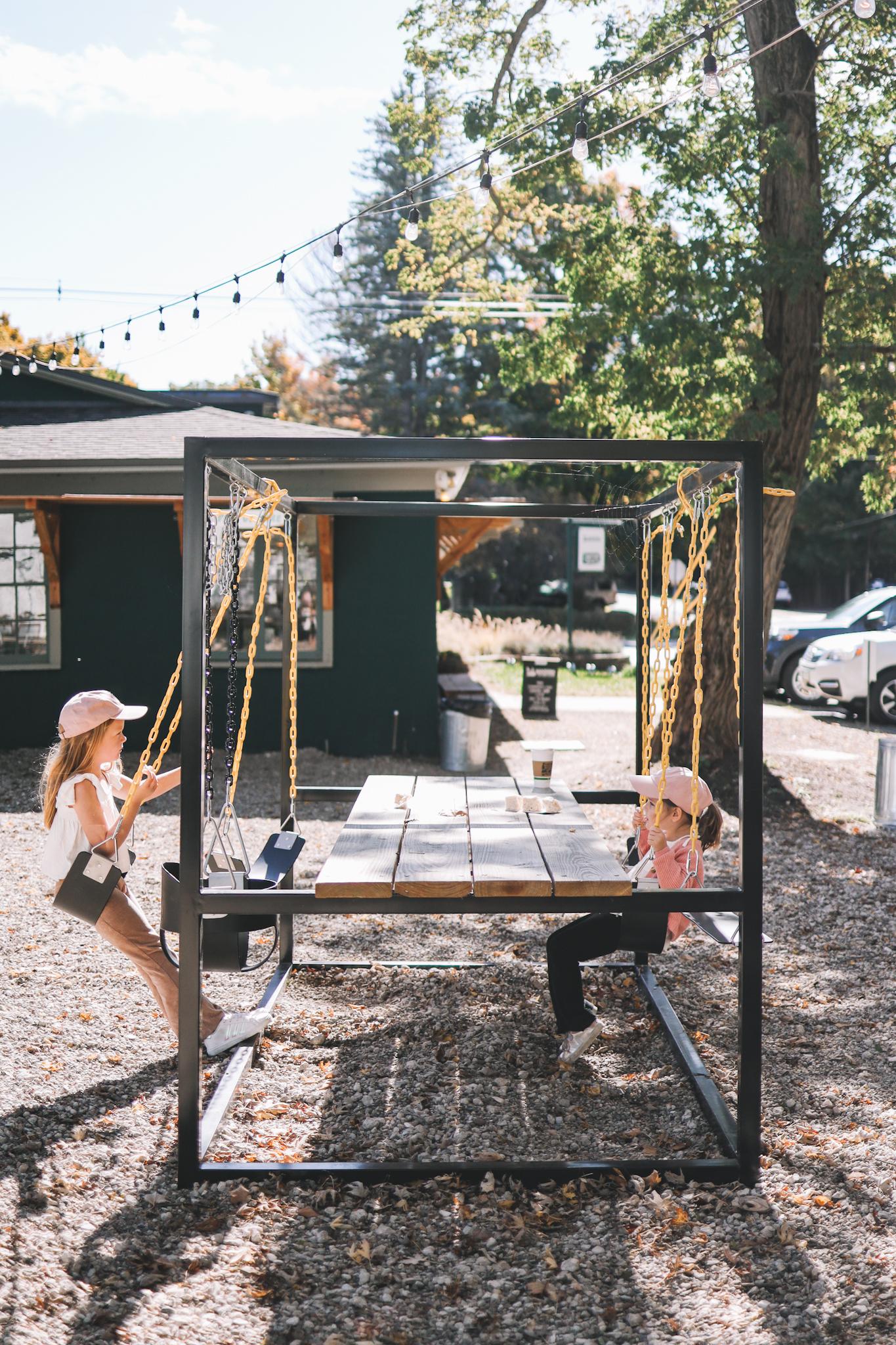 Whoosah: An art, apparel, gift and coffee shop featuring the works of founder and owner Erica Lang, this is a tucked-away gem! The outside space has a fire pit, three hammocks and tables with swings as chairs. Your kids will adore visiting—and eating the Rice Krispie treats. And the coffee is perfection.
Borrowed Time: Here you can enjoy acoustic live music featuring local artists on the weekends. There are yard games out back, too!
Mermaid: This family-owned waterfront bar and grille overlooks the Kalamazoo River. Seafood for those who love but, but many other options for those who don't. Dog-friendly.
Isabel's: A high-end market and eatery offering ready-to-eat deli and bakery items, pre-made party platters, grab-and-go grocery items, wine/beer/liquor, floral arrangements and gift baskets. Jess and Shaheen loved their chicken pot pies!
Ida Red's Cottage: This is the town's go-to breakfast (and lunch) spot. It's warm and homey, and the covered deck is such a nice place to dine during the warmer months. It's been open since the 1980s!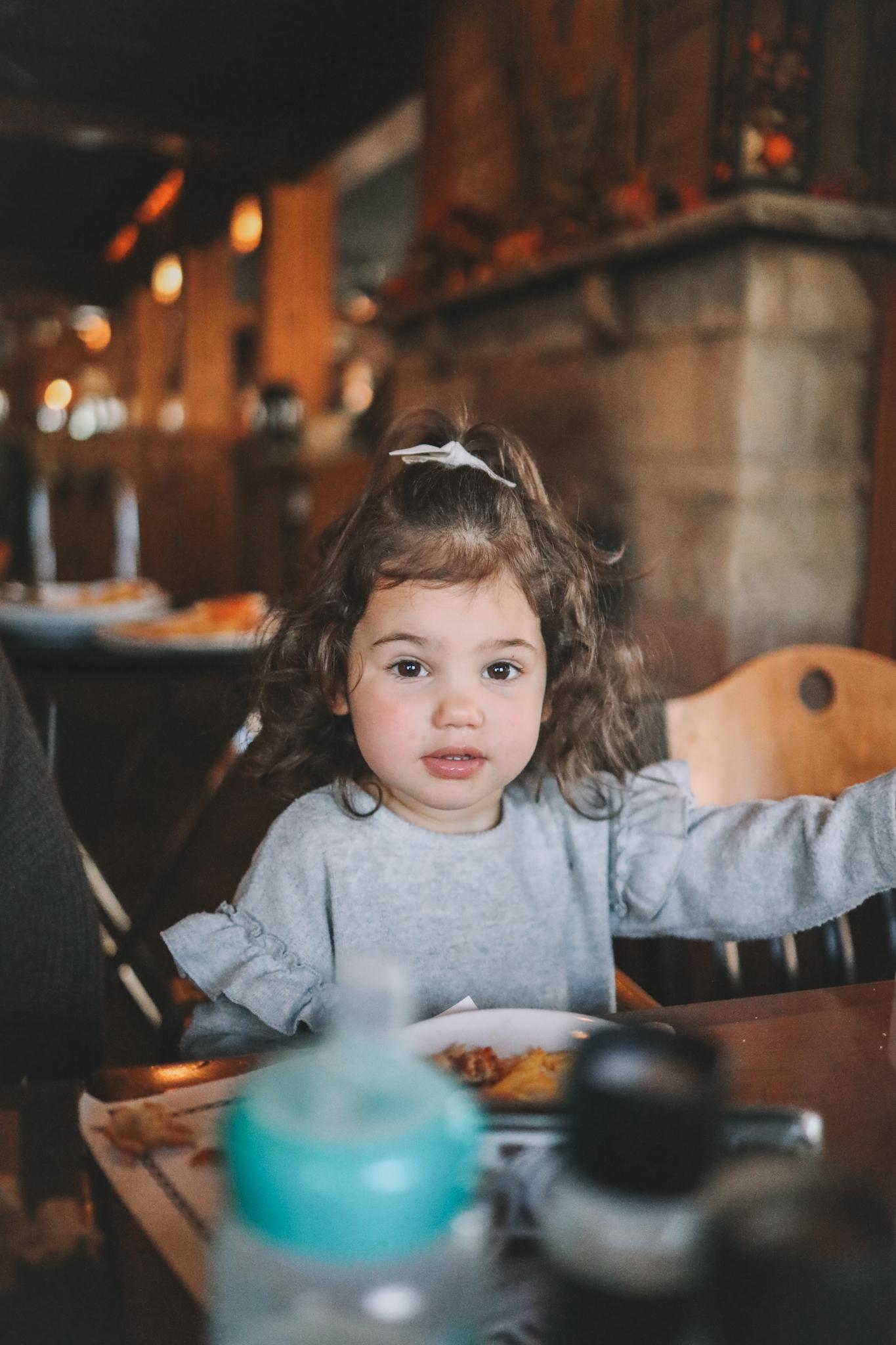 The Butler: All 11 of us went here for lunch, and it didn't disappoint. The historic hotel recently built a new deck that overlooks the water and looks like it would be the perfect place for a sunset meal with the family. Burgers, steaks and seafood.
Fenn Valley Vineyards: This is a family-owned and -operated vineyard and winery located a short drive away down in Fennville. It aims to produce world-class wines from grapes grown on the shores of Lake Michigan. There are lots of places for children to run around and even some toys.
Saugatuck Drug Store Soda Fountain: Open for more than 100 years, it serves ice cream, root beer floats and malts. You truly feel like you're stepping into the 1950s when you walk inside!
Charlie's Round the Corner Ice Cream: This place had me the moment I saw its blue-and-white striped awning. It's so cute. Very old-timey!
What to do
Play at Oval Beach: I mean, this Gray Malin's photo of Oval Beach says it all, right? It was actually ranked by Conde Nast's Traveler as one of the top 25 beaches in the world! There's a concession stand, clean restrooms, and parking. Be sure to catch the sun sink down into Lake Michigan there.
Play at Village Square Playground: Centrally located in town, there's no more picturesque spot to watch your kids play. Sip on coffees from Uncommon Coffee Roasters while you're there.
Go on a Saugatuck dune ride: The guides are hilarious and the views are unforgettable. Hold on to your hats; they go fast!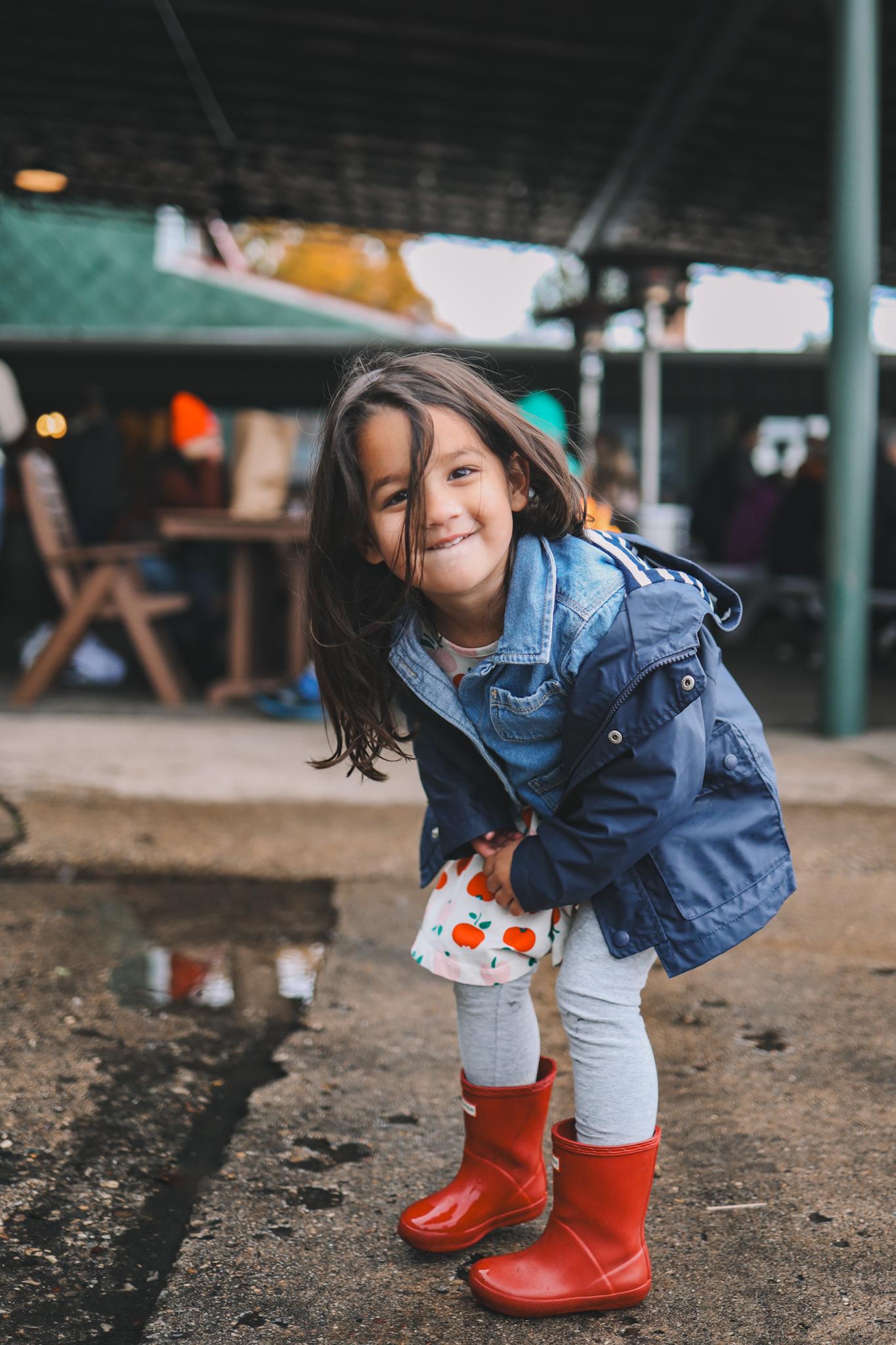 Visit Crane Orchards: This is described by nearly everyone as a "must," and for good reason. It's been farmed since the 1800s, and today you can not only pick apples but also peaches, cherries and pumpkin. While you're there, be sure to eat and drink at Crane's Pie Pantry & Winery, owned by the cousins of the orchard. (As I mentioned before! It's all one big family.) While you can dine inside, we opted to sit outside next to the fire pits and under the space heaters. The kids loved the food, live music and puddles, of course. 😆
Explore Mount Baldhead Park: Hike the one-mile loop trail, and climb the famously steep steps to the summit—where you can descend to the beautiful Oval Beach! It's a workout, but the views are worth it. Across the street, you can visit the History Museum, too.
Go cross-country skiing through Saugatuck Dunes State Park: You can rent gear at Landsharks right in town. There are almost 15 miles of trails to enjoy!
Peruse J. Petter Galleries: Here you'll find 24 rooms of curated fine art from hundreds of artists can well as a large selection of artisan wines. Sip and peruse!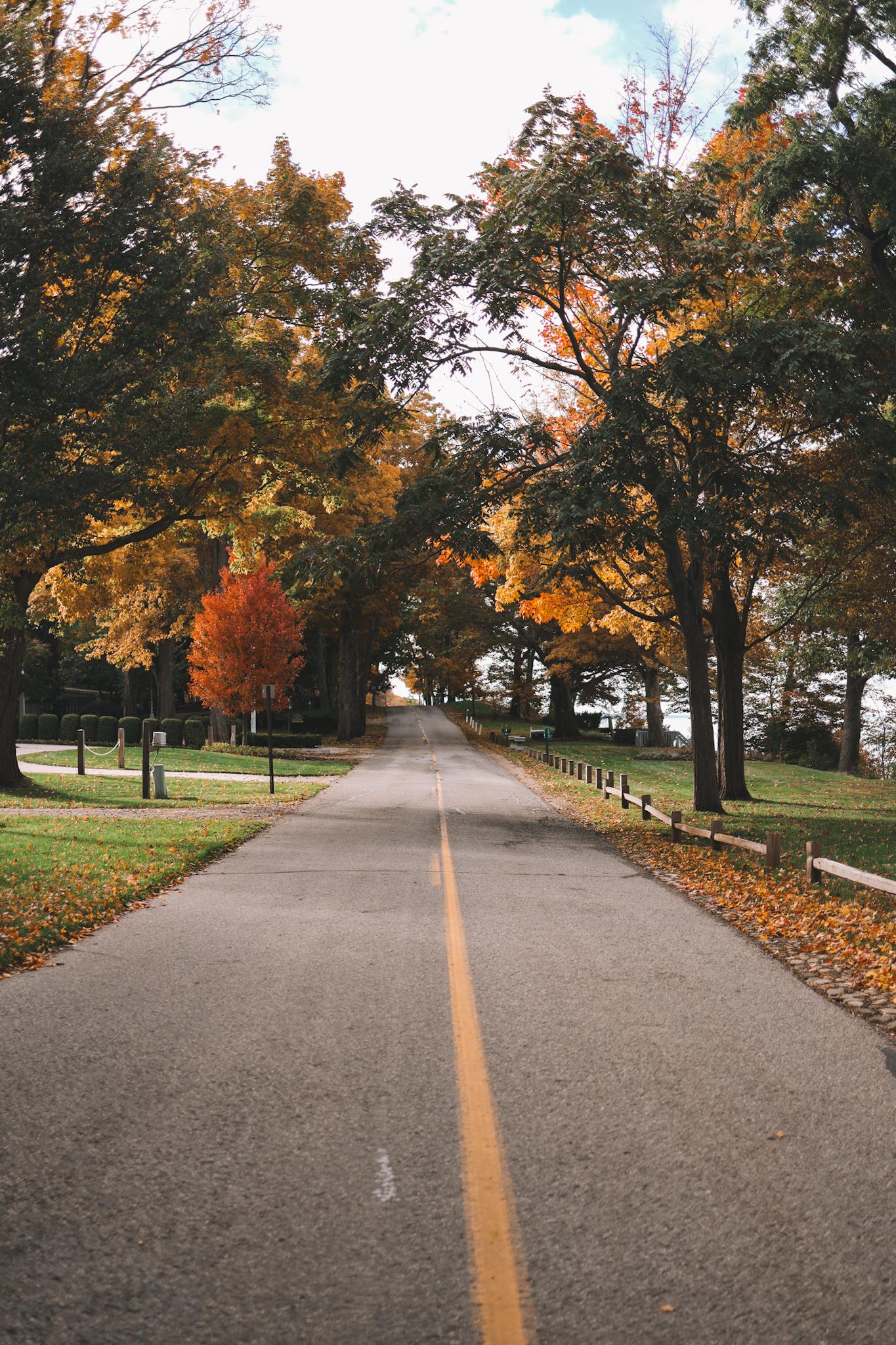 Go leaf-peeping: October and November are prime fall foliage months in Saugatuck. I couldn't stop taking photos! Go on a walk, bike ride or drive, and enjoy. Check out the fall color map here.
Express yourself at the Express Yourself Art Barn: Built in the 1800s, this old barn has been been turned into an art studio, and it's the perfect place to bring your kids. Simply drop-in! Studio fee is only $8.
Hang out at the Critter Barn: Drive 20 minutes to Zeeland, and you'll find the Critter Barn, an educational hands-on farm. They rabbits, chickens, ducks, geese, cows, sheep, goats, donkeys, turkeys, pot-bellied pigs, and lots of goats. Newly renovated, the barn offers classes for youngsters, seasonal events and programs for those with disabilities. A great place to spend a day!
Go on the Saugatuck Chain Ferry Ride: In use since the early 1800s, it's the only remaining chain-driven ferry in the country! It'll take you right to Oval Beach, so pack your swimsuit. The fare is $3 for adults and $1 for children; pets welcome.
Or the Star of Saugatuck: Enjoy snacks and/or beer, wine and mixed drinks while on a daytime or sunset cruise. The guides are informative and funny, and animal sightings are common.
Play yard games at Wicks Park: A beautiful riverfront park that's great for boat-watching, picnicking, playing yard games, and listening to free live concerts. Wicks Park Bar and Grille is right there, too!
Take a hike with some goats: At Evergreen Lane Farm and Creamery, you can "Hike with the Herd." Led by a knowledgable guide, the hour-long walk will be sure to lower stress, enhance your mood and induce laughter. Goats are the most entertaining companions! (If you have young children, the walk isn't a requirement! There are other opportunities to interact with the goats, too.)
Find lightning stones at Pier Cove Park: A rock hunter's dream! These separation nodules are really something to look at, and kids will have a blast collecting them. (And might even find a fossil or two!)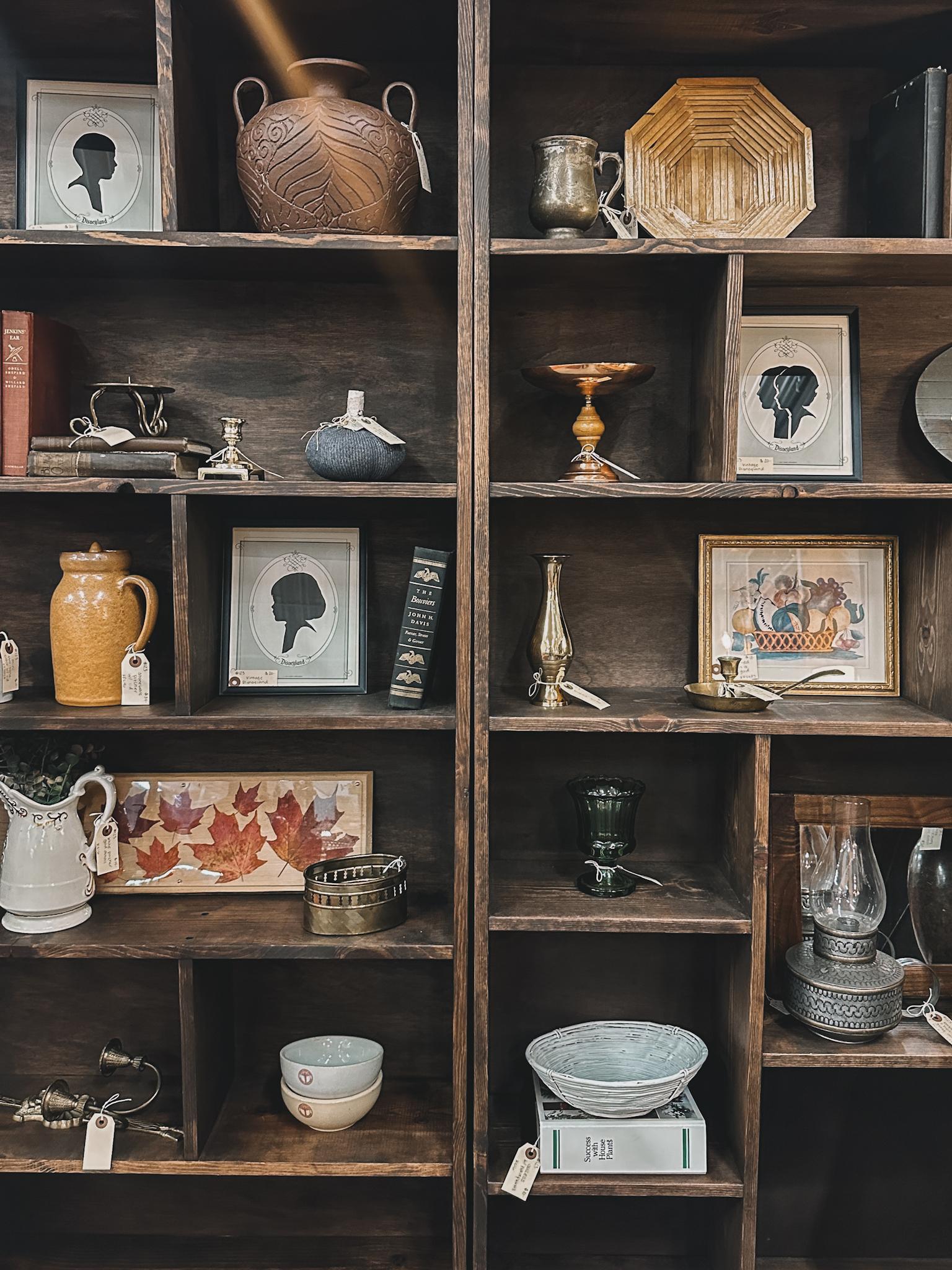 Where to shop
Saugatuck Antique Pavilion: Hands down, my favorite! I could have spent hours in this giant warehouse on the outskirts of town. I later learned that it's one of the most famous antique shopping experiences in the country, and its facility is 24,000 square feet. It's even been featured on Antiques Roadshow! Right next door is Saugatuck Brewing Co., where Mitch and Emma parked themselves. 😜
Teeny Tiny Toy Store: A highlight of the kids' trip, of course. The parents loved that there was a $3 fidget toy wall. Each kid left with a treasure, but no loans had to be taken out to finance it.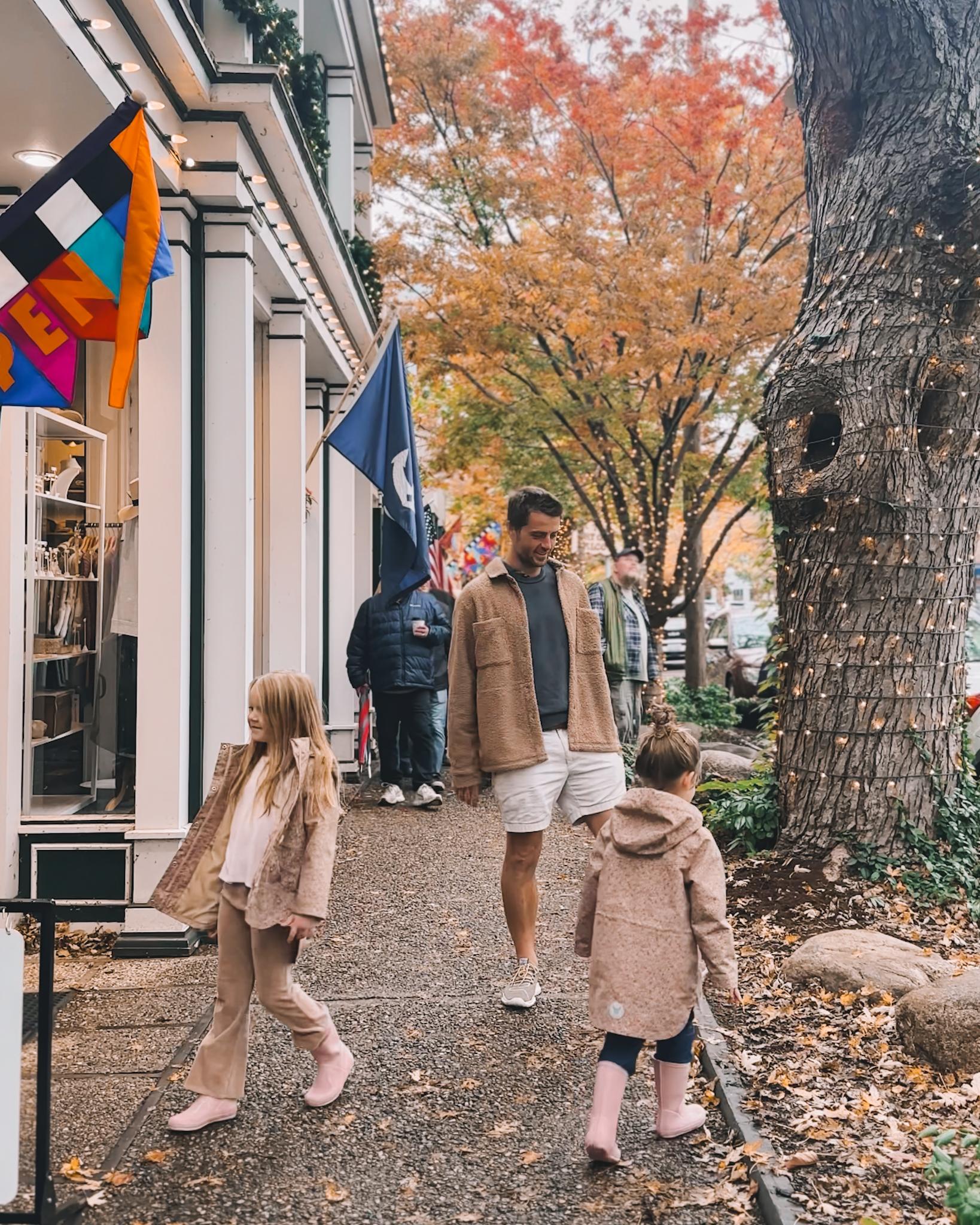 The Brass Anchor: Definitely a crowd favorite store for women's apparel! Think Michigan Preppy.
LUXE Saugatuck: The girls and I squealed when we saw this place, as its logo is a dachshund. Inside, we found both toys for kids and pups. Lucy said it was her favorite store!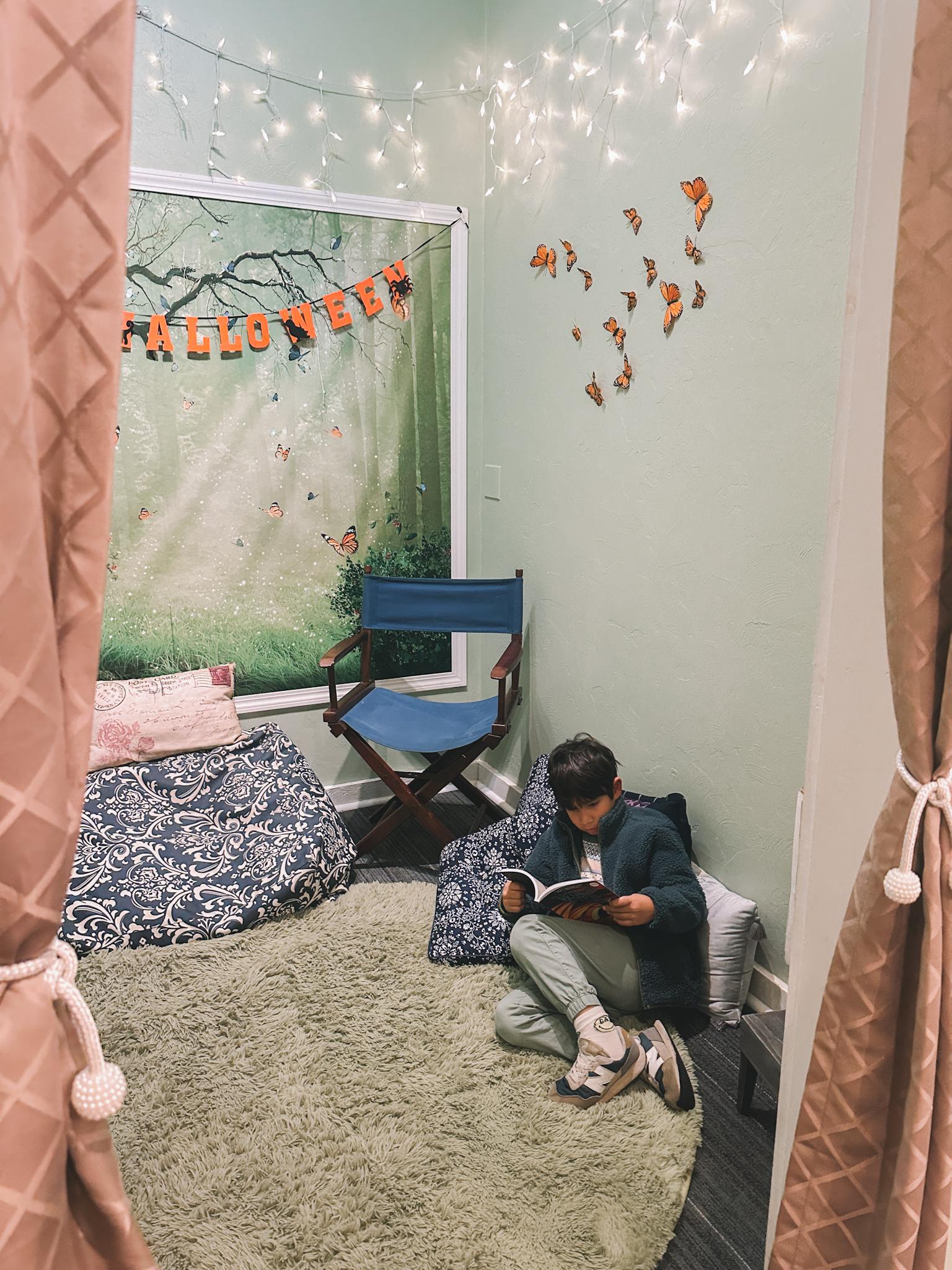 The Book Nook: This is a book store selling new and gently used books. It has an adorable children's section in the way back, as well as a secret reading room. The girls were mesmerized by it, and Lucy asked whether she could sleep there that night, haha. They also had doughnuts and cider set out for the kids.
Gina's Boutique: Designed with the "busy mom" in mind, Gina's Boutique is another lovely women's apparel store. If you forgot to pack a basic, here's where you'd go to find a beautiful replacement that'll remain in your closet—errr… suitcase?—for years to come!
Urban Found: I feel like this is Saugatuck's version of Anthropologie! You can find women's clothing, home decor and accessories here.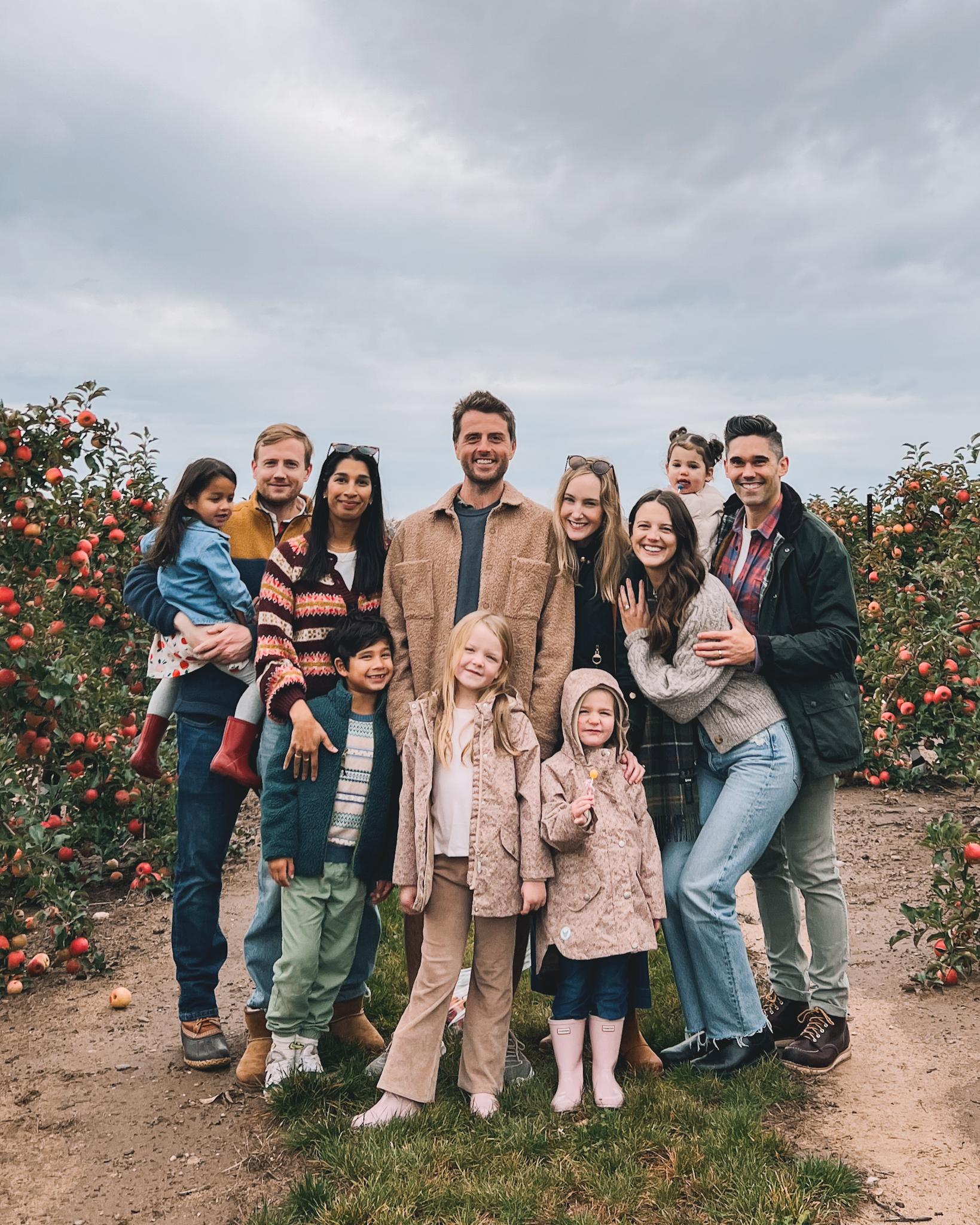 In collaboration with Saugatuck/Douglas. Thank you so much for hosting us! We had the best weekend getaway with the best friends. ♥️