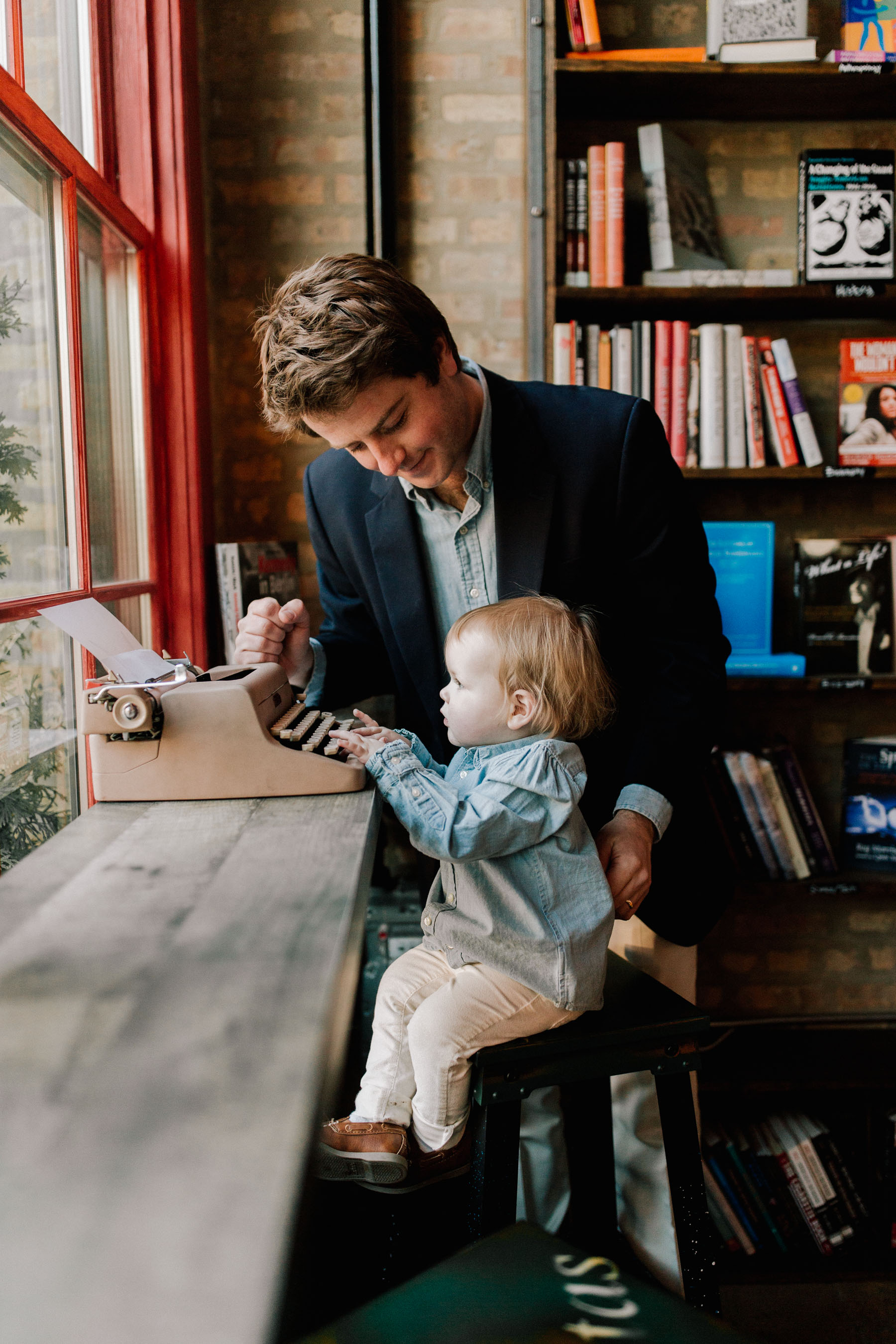 Swing Top (Back in stock!) / Dark Skinny Jeans / Leopard Pumps (Solid here, on major sale!) / Emma's Chambray Shirt, Loafers and Cords / Mitch's Chambray Shirt and Similar Navy Blazer
Mitch here!
I'm not gonna lie to you. When I set out the write this post it was entitled "5 Things I'm Hating," and it was about how awful everything is. Here are the original five things:
My glow-in-the-dark winter skin.
How long it takes to put my cold weather gear on.
How long it takes to rip said cold weather gear off.
My neighbor who salts his sidewalk so exuberantly that Noodle refuses to walk more than three feet before holding her paws up in defeat.
My socks, which I put on all twisted today. I could fix 'em, but meh…
In these desperate wind-chapped months, though, one must focus on the positives. And life is good! So below I'll lay out the five things I'm loving during these truly awful early February days. These five things are getting me through the winter, and they'll safely deliver me through however many days we have left between now and Memorial Day.
5 Things I'm Loving
Serena & Lilly Comforter / Pillow Shams / Striped Quilt and Shams / Ginger Jars / Dachshund Bookends / Classic Style / Elements of Style / Chanel Books / White Queen Bed / White Day Bed / Campaign Nightstand / Diptyque Candle / Custom Frames / Similar Ginger Jar Lamps
Being stuck inside for five months isn't what it used to be. These days, we have Netflix, Youtube and all kinds of other cool junk to preoccupy ourselves. As a guy who spends his day crawling around after a toddler, those brief moments of Internet distraction are sacred and wifi dead spots are unacceptable.
Long story short, I need the best freaking router on the market. After doing a little research, I understood the problem was threefold:
Most people use ugly routers and hide them far away in a cabinet or under a bed, which destroys their signal and ruins your ability to watch Instagram Stories.
One router isn't nearly enough to handle the stress most of us put on our wifi networks these days.
Setting up an old-school router is tough, and most people screw it up.
Enter Samsung Connect Home! This thing solves all three standard router problems and looks good in the meantime.
The Connect Home system actually changed the way I use the internet. Our "house" is really half of a house, and half of our half-house is on the garden level. Which means that before Connect Home, my "internet day" didn't really begin until I got upstairs. But no more! Samsung is smart. I can now text, chat, story, live, voip, tweet, blog, ping, post, snap, stream or flurb from anywhere in my house.
(Don't Google the word "flurb." I just made it up.)
Rocksmith Game / Mitch's Guitar / Mitch's Blazer / Leather Couches / Marble Coffee Table / Emma's Loafers and Chambray Shirt / Striped Pillows / Gingham Pillows / Rug
So far, my New Year's resolutions have been an absolute disaster. I've watched like three TV shows, I've over-boiled Mac 'n Cheese multiple times, and my house is more cluttered than it was on 1/1. But I have made some progress on at least one of my goals: I'm learning to play the guitar!
I've been trying to do this for decades, and in the past, I've failed over and over again. I bought lessons, downloaded apps, numbered fret boards and printed out song tabs. Unfortunately, I'm easily distracted and musically ungifted. But I think I've found my saving grace!
Rocksmith is a video game much like Guitar Hero, but with a real guitar. It takes you through lessons from how to hold the thing to strumming and chords, and it eventually teaches you songs. It's so much fun, and I can sneak in a few lessons here and there around our busy schedule. Though Emma does love unplugging my axe while I shred.
Swing Top (Back in stock!) / Dark Skinny Jeans / Leopard Pumps (Solid here, on major sale!) / Emma's Chambray Shirt, Loafers and Cords / Mitch's Chambray Shirt and Similar Navy Blazer
My current favorite place in the city of Chicago is two blocks away. But I can't really describe what it is.
Kibbitznest is a bookstore that doesn't sell many books and a coffee shop that isn't open in the morning. They sell beer but I've never seen a drunk person there. They sell food but not meals, and they play music but only records. They're closed on Mondays and Tuesdays, which stinks because I like going out on Mondays and Tuesdays and they don't allow laptops. But it's honestly, it's the best.
Here's my attempt at describing Kibbitznest: It's a coffeeshop/bookstore/bar with snacks and games but also none of those things, and if you go there once, you'll go there 20 times. Oh, and they don't allow cell phones because they're firm believers in the idea that face-to-face communication is better. And the Larkins can get behind that.
Lacoste Tennis Dress (Runs small. Wearing a 4 here but wish I'd gone with a 6!) / Navy New Balance Sneakers (Also love these.) / Emma's Dress (And #omg. Just ordered her this.) / Emma's Sneakers
When does Sean Connery show up to Wimbledon? Tennish!
All jokes aside, I play the part of a Midwestern, thirty-something Dad pretty well. I live in Lincoln Park, I wear button-downs under sweaters, and I love playing tennis. When Kelly asks me what I'd do if I won the lottery, I answer, "I'd join a tennis league."
I played bad tennis in high school, and I'm pretty sure I can play bad tennis now. So last week, I took the plunge and joined a tennis league at our gym!
And to my future teammates, I'm sorry.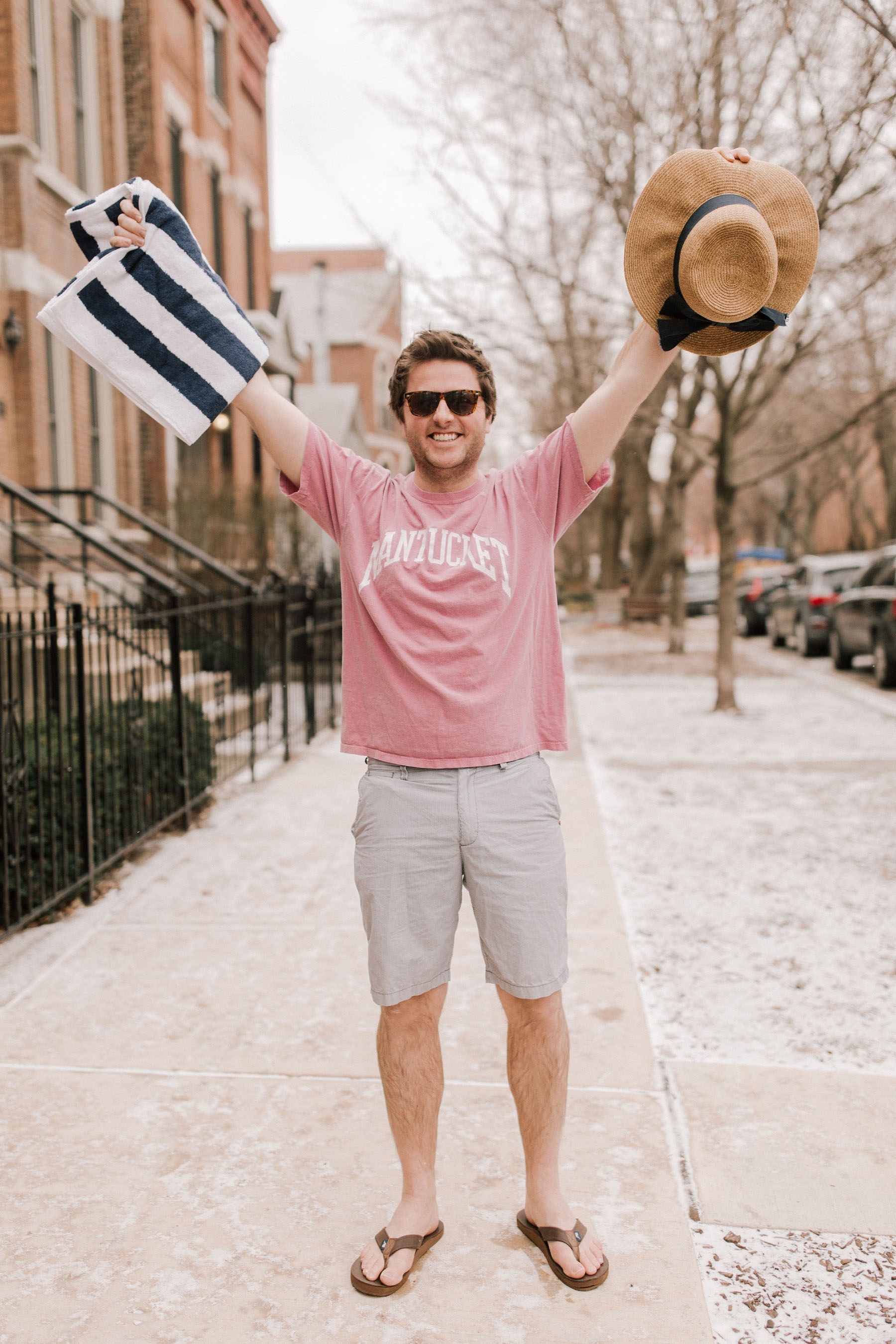 Vineyard Vines Flip Flops / Striped Beach Towel / Kelly's Hat (Oy.)
Tickets to Florida
If I succeed in learning the guitar, my band name will be called "Tickets to Florida." The whole concept of having tickets to Florida is powerful for a Chicago family this time of year. These tickets are the antidote to that "5 things I'm hating" narrative I originally set out to write.
Does anyone else do this? I feel like we booked this trip more for the "looking forward to" than the "actually doing." I mean, being in Florida will be great, but anticipating Florida is something.
Sadly, there's absolutely no way this trip can live up to the Floridian dream I've built up in my mind. In this dream, Florida would need to (1) watch Emma so we can (2) take a nap on the beach and (3) become tan and (4) swim in the sea and (5) lose 20 pounds and (6) get a full night's sleep. If Florida accomplishes all of that, I swear to god I'm moving there.
What's getting you through the winter?
Mitch. Out!
This post is partially sponsored by Samsung, but all opinions are our own. As always, thank you so much for supporting the partnerships that keep Kelly in the City up and running!