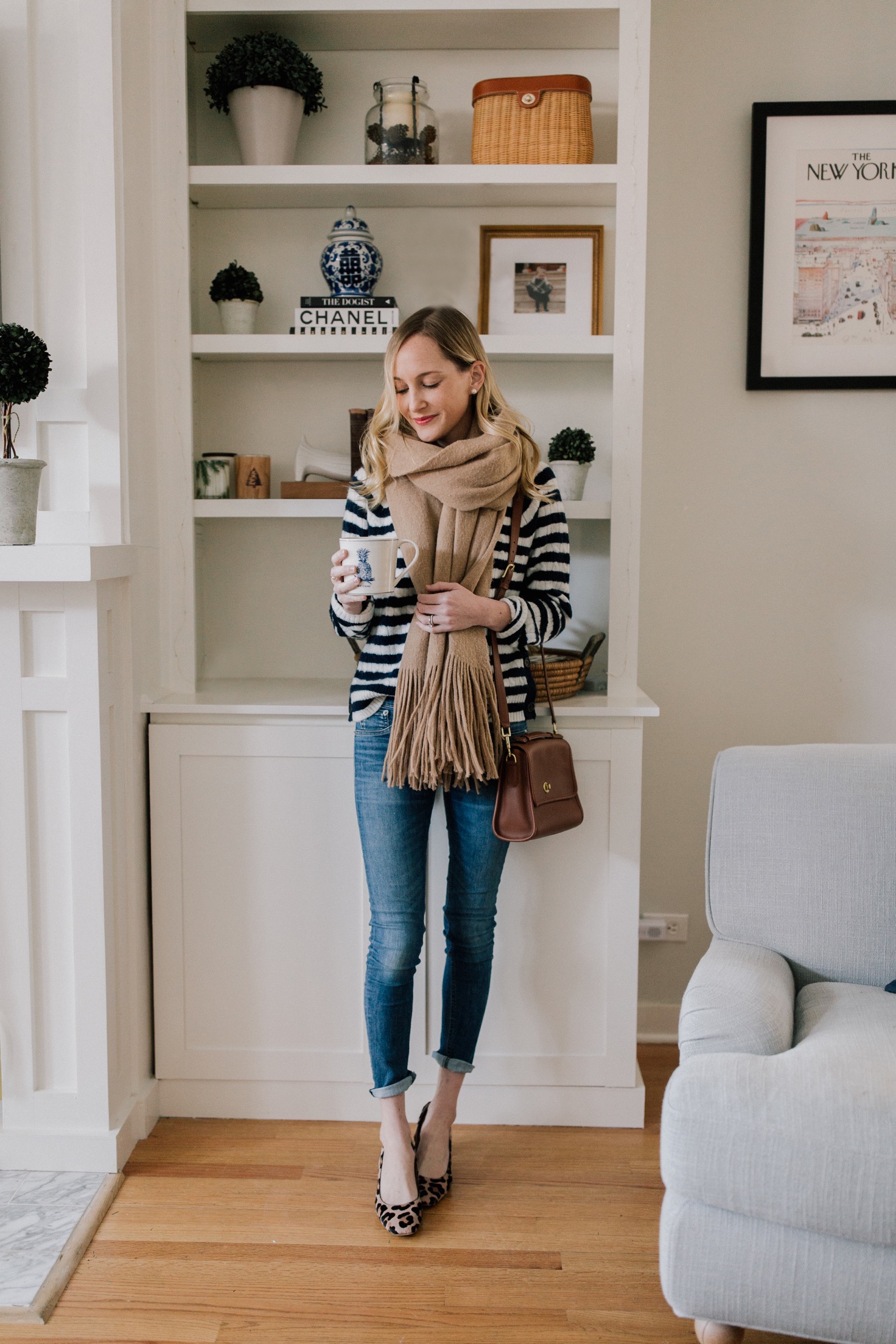 Sweater (It's available here, too. And here is it in solid pink and solid white!) / Scarf (Similar here) / Jeans (Also adore this pair.) / Coach Bag (Also love this similar one and this similar one.) / Kate Spade Leopard Pumps (But the solid version is CRAZY on sale!) / Initial Necklace /Sorel Boots (Also here and here in more sizes. They run small; go up a half size.) / Puffer Jacket
Woo-ee! With the exception of Mitch's adorable post yesterday, it's been quite the outfit-filled week.  Outfit posts are always a great indication of how crazy things are with the Larkins. Busy day? Outfit post. A little sleep-deprived? Outfit post. House guests? Outfit post. Bath night? Outfit post.
😂
Still, I've been meaning to dedicate a full post to this sweater for a few weeks now, so the timing–of not having enough time, of course–is pretty great!
Because it's PHENOMENAL, and I want you to be able to scoop it up before it sells out. Here's why I love the sweater so much:
It's insanely soft. And it's itch-free! I'm allergic to nearly everything in this lovely world, and so most sweaters really irritate my skin. This, however, gives me zero problems. It's beyond cozy, and I honestly can't think of another article of clothing that's softer!
It hangs perfectly. Here's my issue: I hate the look of cropped anything. But I also like being able to tuck my sweaters in on one side, as it makes my legs look longer. (Try it! The trick works!) This sweater, however, hits at just the right spot, allowing for just that. Not cropped, but not tunic-length, either. Perfect.
It's features navy stripes. I mean… you guys do know that my wedding colors were "navy and white stripes," right? Our wedding planner literally laughed in our faces, haha.
It has buttons up the sides. And that's the cutest. Wish I'd taken a photo of it for you, but just click here to see! :)
It's a three-seasons sweater. Totally acceptable to wear during the fall, winter and spring. And even on some chilly Nantucket summer nights?! (Okay, so maybe it's a four-seasons sweater.)
If you're wondering about sizing, I'm wearing a small in the sweater. While I normally wear a 0 or XS, I like my tops and sweaters slightly oversized for a cozy/flowy look, which is why I went up to a small in this number. So if you're in between sizes, I think I'd suggest going up a size, as I don't think this sweater looks too large!
PS: It comes in a solid version, too!
Shop the post:
Sweater (It's available here, too. And here is it in solid pink and solid white!) / Scarf (Similar here) / Jeans (Also adore this pair.) / Coach Bag (Also love this similar one and this similar one.) / Kate Spade Leopard Pumps (But the solid version is CRAZY on sale!) / Initial Necklace /Sorel Boots (Also here and here in more sizes. They run small; go up a half size.) / Puffer Jacket
SaveSave