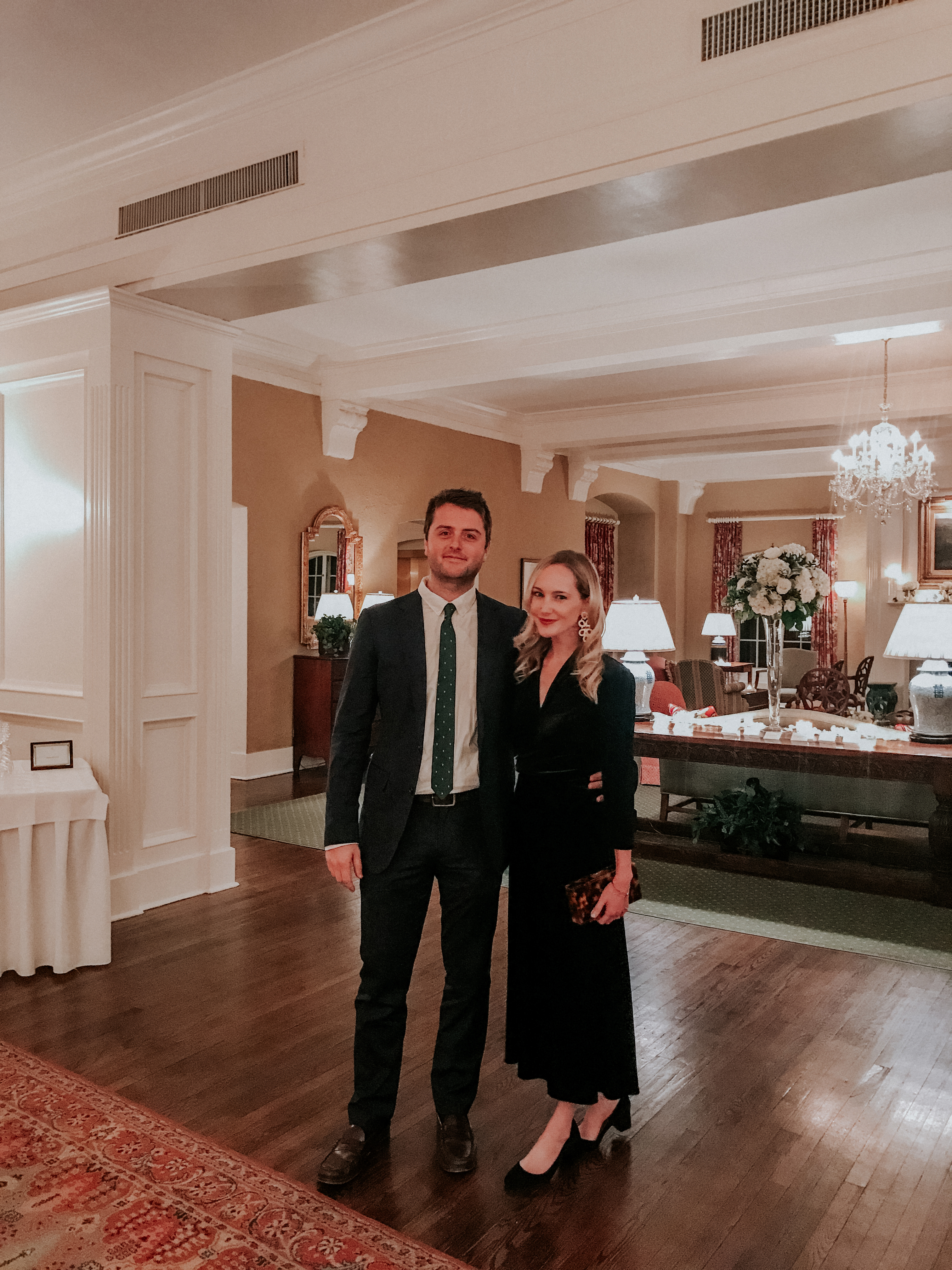 Velvet Tea-Length Dress (This one is SO CLOSE! And NEARLY IDENTICAL HERE! Similar here, here and here. LOVE this one, but it's pricey. And what do we think about this green one?! I think it's perfect for the holidays!) / Marc Fisher Pumps (But LOVE this black velvet pair. I tried them on recently and they're SO comfy and they fit TTS. There are also these navy velvet bow pumps. DYING.) / Tortoise Clutch c/o / Lisi Lerch Earrings c/o / Mitch's Bonobos Suit
It's been a while since I wrote about what's going on in my life, so I thought I'd share a few quick updates!
Mitch and I attended Danielle and Conor's wedding last weekend, and it was SO MUCH FUN. It had been a while since we'd had a real night together, but my mom (who flew in a couple of days early) watched Emma for us so we could go all out. We actually slept over Neal and Jess' place that night, and we had entirely too much fun. (As always, with those two… haha!) Anyway, we're so happy for you, Danielle and Conor. Can't wait to catch up and hear wedding stories over dinner soon! (Also, I wore this velvet dress, which is likely sold out but you can find a super similar one here, and this one is nearly identical, too. I couldn't recommend it more. So warm and absolutely perfect for holiday festivities. If it's sold out, I have other recommendations above.)
My parents came to stay for a week! It was awesome. I had to work for some of it, but Mom and Dad graciously watched Emma, which was super helpful… and something tells me that they absolutely loved it. ;) We also had some great dinners, one of which was with Kira's parents at Blue Door on Halsted. "Operation Get Parents to be BFFs" complete! Really, though, I'm so grateful my parents came to stay, and I can't wait to see them in New Orleans next month. Lucky girl here.
We're in the midst of a couple of home renovation projects. I think I told you guys about this, but we're renovating our staircase, closing off a wall for Emma's safety, and installing a baby gate. At the same time, we're converting our horribly ugly yellow kitchen to a white one. ;) All of this, of course, is happening under Kira–which has made it seamless and FAR better than any other home renovation project we've ever been through. (Thank you, Kira!) Still, I do apologize for the chaos, Mom & Dad. ;)
I'm on the search for a fox hunt painting. We're installing shiplap on that "safety wall," and I envision a giant fox hunt painting on it. Mitch is on board. (Pun intended.) Do you guys have any leads?! I need a BIG one.
We need a solution to Noodle's barking. It's becoming a big issue. Whenever there's a knock at the door or a new person enters our home, Noodle loses her mind. She wakes Emma up during nap time, and she's driving us CRAZY. Of course, we love her to pieces, but we've tried everything to correct this behavior, and nothing's worked so far. We recently heard about vibration collars. Has anyone had any success with this? Or any other recommendations? Send help!
We owe you a work/life balance blog post. In short, things are going well, and we're really happy. Mitch and I have learned a lot over our 2.5 months of self employment together, and we have no regrets. Life is truly better because of the big decision we made a few months ago. We do, admittedly, have a few kinks to work out on the business front, but we learn something new every day and are constantly streamlining things! Life is good, and I only expect things to get better and easier. :) Full blog post on this topic coming soon!
As the holidays are almost upon us, is there anything specific you'd like to see on the blog this year? Would love your input as we start to map out content! Thanks in advance. :)
And now for this week's recent finds:
SaveSave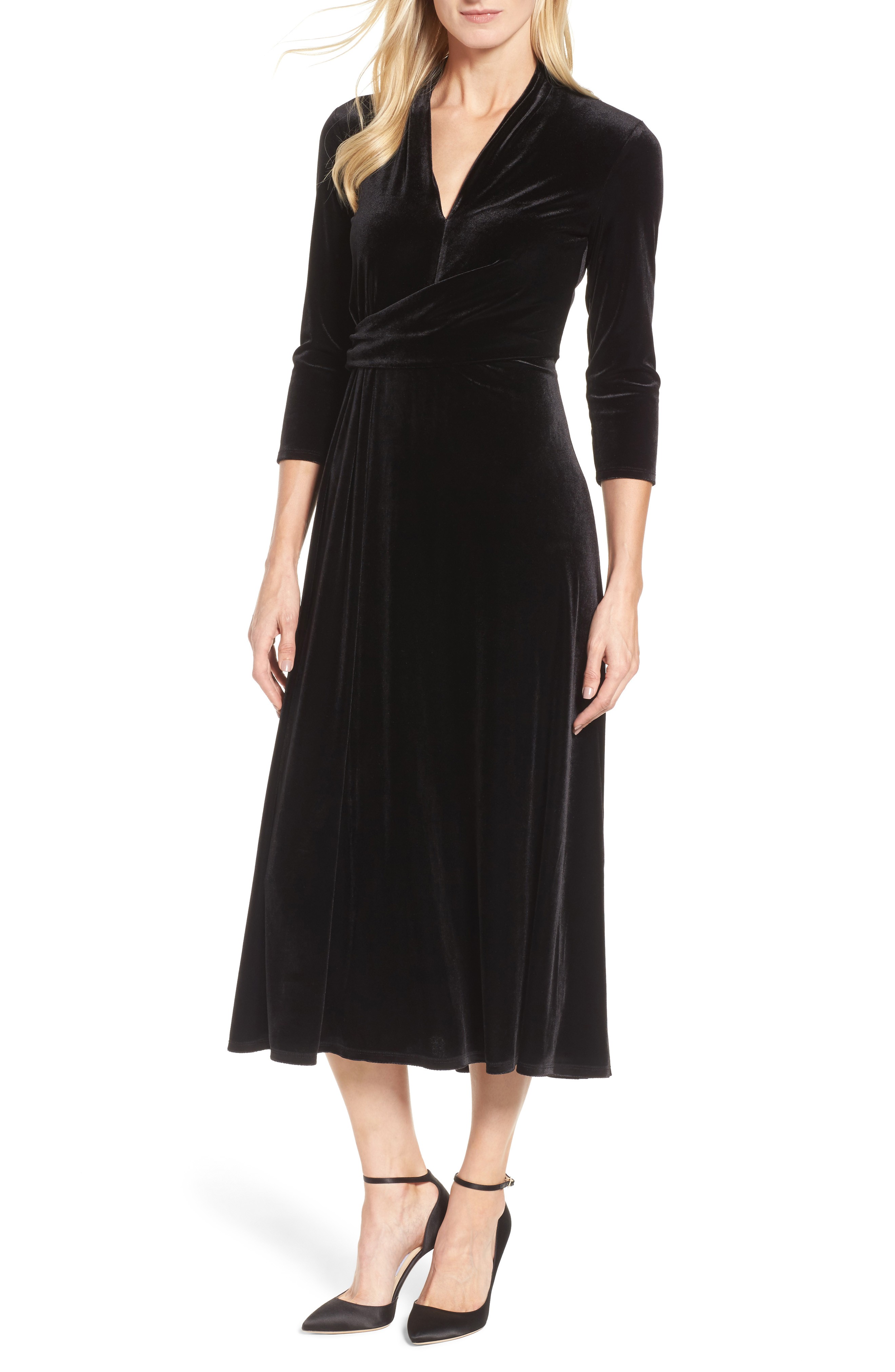 I wore this to Danielle and Conor's wedding last weekend, and I really couldn't recommend it more. I'm always cold at holiday and winter functions, but this dress kept me warm AND made me feel elegant. The velvet is to die for and those long sleeves are clutch! In case it sells out, this one is nearly identical. And so is this one! I also really like this one, this one, this one and this one. This one is STUNNING but it's pricey.