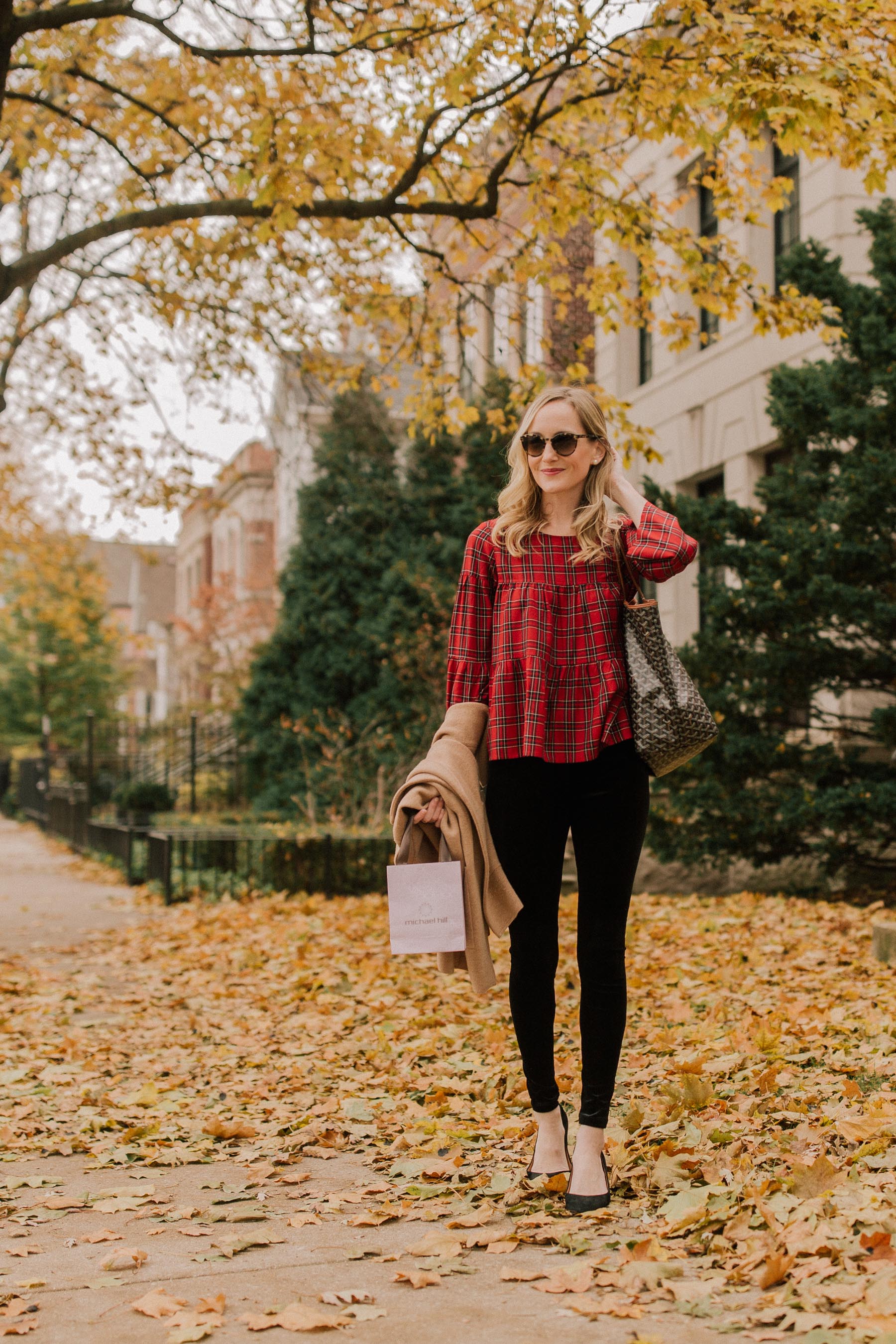 Tiered Plaid Top (Also available here. Love this one, this one and this one as well.) / Velvet Leggings (They're the BEST. Here's the leather version, btw. But I also have and love this pair of velvet leggings, which are more affordable.) / Block Heel Pumps (Also love this pair.) / Sweater Blazer (Also available here. In navy here and in gray & black here.) / Wool Trench Coat (Not pictured, but available in more sizes here and here. And my favorite peacoat–only $38!–here.)
You'll actually see this outfit in another blog post soon, but I wanted to pop in today to share an easy (and warm!) look for Thanksgiving.
We're spending Turkey Day at my in-laws' lake house, and it's going to be casual, which I LOVE! As there are so many events and parties surrounding the holidays, it's really nice to have a somewhat low-key Thanksgiving. :) I'm pretty sure that I'll be wearing this, since I want to be festive yet warm. A few notes on the outfit:
It was love at first sight when I saw this top, also available here. ;) I'm typically freezing during holiday gatherings, so I appreciate the long sleeves. The plaid is slightly Christmassy but not too Christmassy, and I love the fluttery fit. (Perfect for turkey consumption!) I should also mention that I have an abnormally long torso and Mitch took this photo while crouched on the ground (don't ask)… so the top will likely look a bit longer on you. :) For sizing purposes, I'm wearing an XS and it's great. I'd recommend ordering your regular size. (Looking for similar tops? Love this one, this one and this one as well.)
I've tried SO many velvet skinny jeans and leggings this season, guys. And let me tell you: it's been difficult to find a pair I'm absolutely in love with. But I finally found one! Let me introduce you to this Commando pair. Technically, they're high-waisted, which I don't normally like. But they're SO insanely comfortable while also form-fitting. I was worried about sizing since I have smallish legs and the smallest size available is a small… but they're perfect. So soft and they look super fancy yet they feel like pajamas. Couldn't recommend them more! If you're looking for a more affordable option, I also have this pair and really, really like them! They're a little more cropped, but very comfy and soft.
I'm so happy that block heel pumps are in because I'm FINALLY comfortable at events. This is a favorite pair this year, and I love the version with the pointed toe. They run TTS and I can truly stand and walk in them for hours and hours without pain.
It's back! I kind of can't believe it. I'm obsessed with mine, and wear it on the reg over camisoles, button-downs and other tops. Love how sophisticated it looks and the fact that it provides the same look as a normal blazer but actually adds considerable warmth. It's also available here, in navy here and in gray & black here.
Obsessed. I know: it's not actually in the photo. But it's thrown over the baby stroller off to the side. ;) If you're looking to see what it looks like in real life, I wore it in this recent blog post. It's available in more sizes here and here, and for sizing reference, I own it in a 2, which allows for some layering. If you're looking for a super affordable camel coat, I adore this $38 pea coat. Go up one size.
What do you plan on wearing for Thanksgiving this year?!