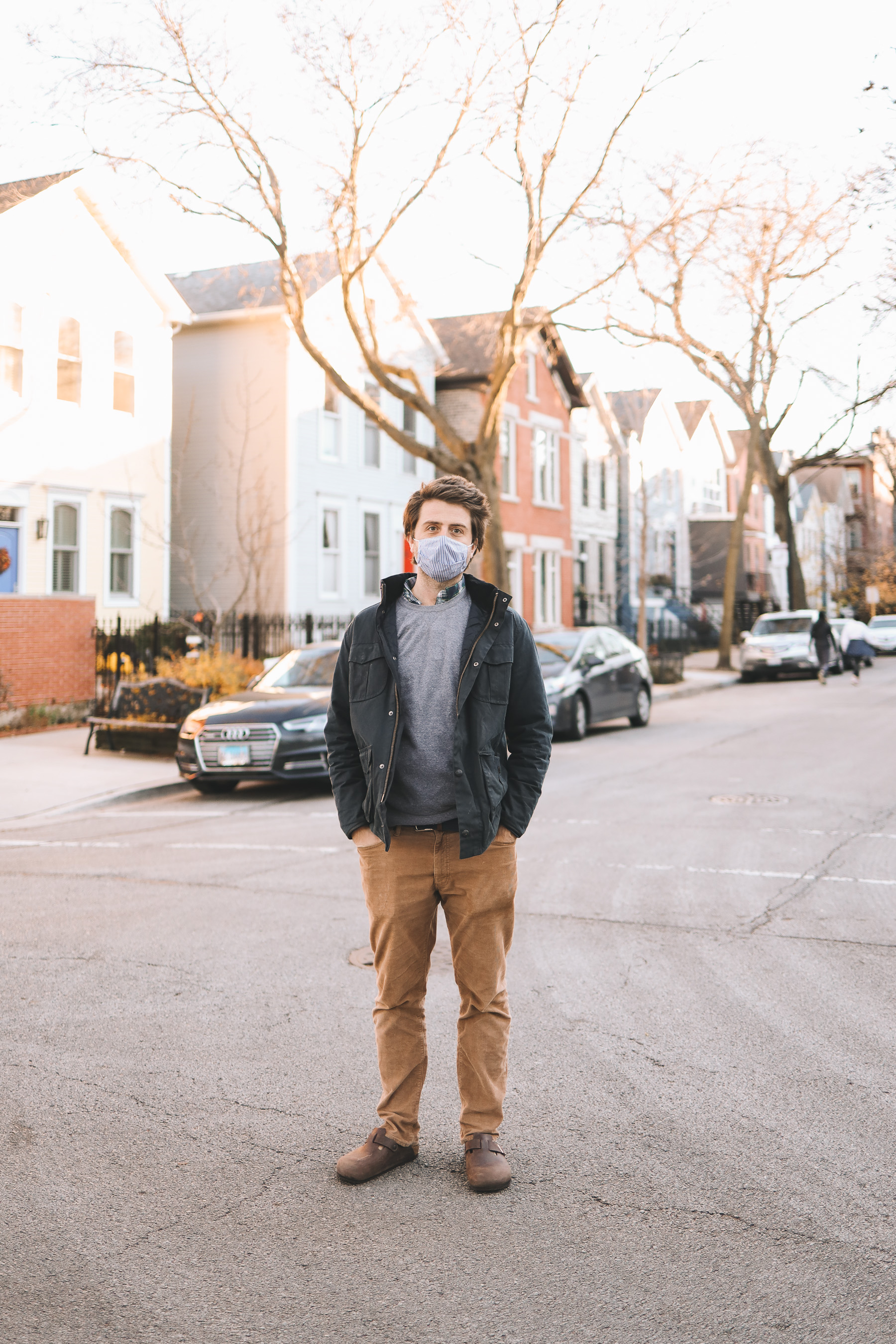 Birkenstock Soft Clogs (Also available via Backcountry—use code "INTHECITY15" to take 15 percent off your first order!—and Zappos.) / Newer Barbour Jacket / Corduroy Pants / Similar Gray Sweatshirt
Mitch here!
It seems like just yesterday that I wrote my summer Birkenstock post. Oh, how young and foolish I was then, with my toes freely floppin' out in the sun. Well, that's very much over now.
Or is it?
Like most guys out there, I'm spending this frozen pandemic winter season watching Netflix and drinking. But this year I'm doing it in style. No more socks 'n 'Stocks for me; no way. Well, okay. I'm still wearing Birkenstocks and socks. But I now own Birks with a closed toe, as my wife calls it.
Game-changer.
Kelly put an end to the slippy flippy this year with what is shaping up to be the greatest present I've ever received: Birkenstock Boston Soft Clogs, aka my winter sandals. (Also available via Backcountry—use code "INTHECITY15" to take 15 percent off your first order!—and Zappos.) I put these babies on straight out the box and, after a quick new shoe walk-around dance, I left them on for two straight weeks. They're comfy and warm and cool all at the same time. It's like wearing slippers outside. I feel like I'm getting away with something.
A few notes on the leather and sizing: I find that Birkenstocks run a bit bigger than the traditional sandal, and these clogs are no exception. I'd size down a bit considering this shoe is backless and forgiving. Kelly chose the Habana oiled leather for me most likely because it's the darkest leather available and she sees me as a walking stain factory. This was a good move. Birkenstock does carry rubber clogs but maybe stay away from that look.
There are only a couple of issues with my newfound clogging lifestyle. The first is that Kelly and I will sometimes leave the house with the same shoes on. The second is that we're currently under a ton of snow, and these shoes are not snow boots. (Birkenstock does make some boots, but they're mostly for women and I'm just not there yet. Instead, I would go with Bean Boots.) Otherwise, though, I'm all in. I'm so in that I just bought my dad a pair for his birthday, too. (And he wears them!)
Long story short: These clogs would make a great Valentine's Day gift. (Here are a lot of other ideas for guys, too.)
Mitch. OUT!