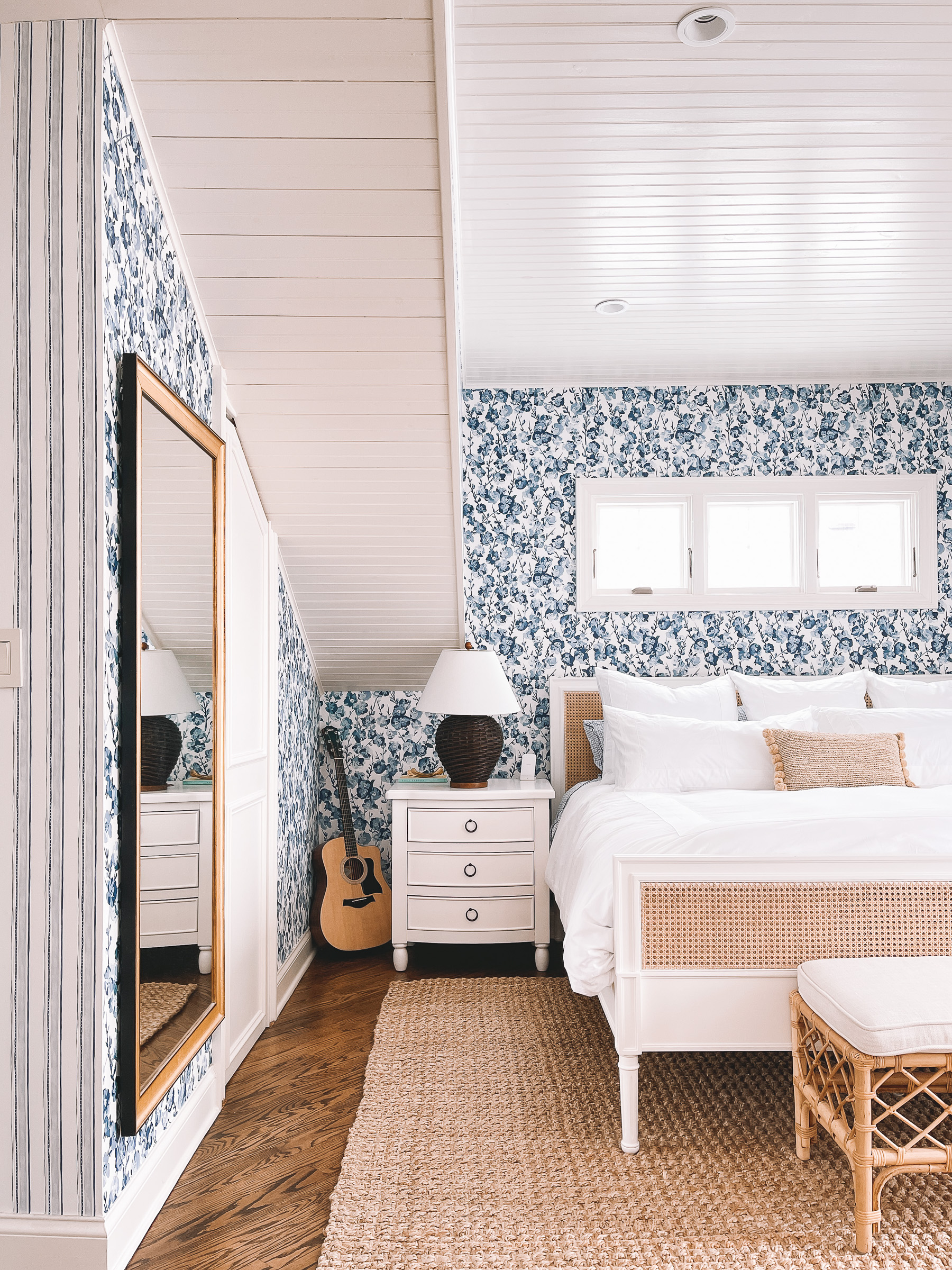 Bedroom details here — Only updates this duvet cover, this pillow and this bench
Morning, guys! Everyone have their coffee in hand?
Grammie got the vaccine on Friday! I write all my weekend content in advance because #familytime, so I should say that Grammie's appointment was this past Friday. But hopefully all went well; I'll report back soon on that! As I mentioned before, I'm just so excited. Gram's been isolated this whole time, and has only seen my parents. I know she's missed her best friend, and we've obviously missed Gram. I'm really hoping that she and Mom (who received her first shot a couple of weeks ago) will be able to fly out in March so we can have a girls' weekend. It would be the best. I'm tearing up just thinking about it! Of course, we won't be able to do very much since our family isn't vaccinated—but I foresee some igloo lunches/dinners. ;) Anyway, I'm thrilled. Love you, Grammie! Congrats! SEE YOU SOON!
I love how I envision our vaccinated future like I'm going to be hitting up the town every single day. I will still have small children. 😆 I don't know who I think I am.
That said, I'm dreaming about working in a coffee shop with a girlfriend once per week. Even just for a couple of hours! It would be so nice. I'm also dreaming about going to the Children's Museum with Lucy, and taking her to music and Gymboree-like classes. And of course seeing friends and family. And Emma going to school. And visiting restaurants. And traveling. And everything. Moving on…
How are you? I'm in a weird place right now. As I write this, I'm feeling particularly hopeful—probably because I just received the news about Grammie. I also haven't minded the winter too much this year, which is absolutely bizarre considering I suffer from Raynaud's as well as seasonal depression. But I had a lot of days in January during which I felt unbelievably overwhelmed and pretty sad. Not depressed; I know that feeling well, and thank goodness I've somehow warded that off this year. It's just been very day-to-day over here. This feels like a good time to quote Tom Petty: "The waaaa-iiiiiit-ingggg is the hardest part."
On a related note, Carly sent me this article last week, and really helped. I recommend reading it! It put so much of what I've been feeling into words. No one's alone in this.
Last weekend, I last minute got together with some girlfriends outside—during a very chilly and significant blizzard! We almost cancelled—we were supposed to do it in a backyard—but then decided that our souls really needed it, and the cold never bothered us anyway. ;) My friend set it up and hosted it in her garage, complete with space heaters, wine and individual treat boxes. (Thank you, A!) There was obviously tons of ventilation and we all sat far apart, but gosh. I forgot what it was like to get together with friends and just talk, especially about how life's been lately. I'm guilty of assuming that everyone else is handling the pandemic better than I am… and this was a good reminder that we're all human. Most people are struggling with the same things that I'm struggling with. It's been a hard year. But the night really lifted my spirits, and we're going to do it outside again in a few weeks. Feeling grateful.
I tried to continue my Happiness Walks with Lucy in the stroller (in the snow) but we failed. It was actually fairly hilarious; at once point, construction workers had to help me get out of a particularly tricky snow drift. Zero chance any of them are reading, haha, but thank you, guys! You can see video of me trying to get the stroller out of our alley here. (Swipe over.) We've since given up and we now walk on our feet. Meaning that Lucy walks 10 steps, gives up, and I end up carrying her. It's fine. At least I'm getting a workout, right?!
We celebrated Emma's four-and-a-half birthday last week. It was adorable. I guess we just decided that pandemic + tons of snow + frigid temps + remote learning = we needed something to look forward to. And it was the best day! The above photo was taken during it; we played hooky and went to the park, haha. For dinner, we had half pancakes, half sausage patties, and a half birthday cake. And my mom totally saved the day and sent the girls tons of little Valentine's Day treats that we pretended were half birthday presents. (Emma didn't notice.) Thank you, Mom!
My Block My Hood My City is looking for people to join their shovel crew! If you live in Chicago, it's a great way to put something positive out into the city right now. If you're not in Chicago, you can donate so MBMHMC can buy the gear they need!
Temps were in the negative this past weekend. Again, I write these posts in advance, so all I can say right now that I am filled with a sense of dread yet determined to still get outside, even if it's only for 15 minutes. GEAR UP, NOODLE. 😜
These pink snow boots are so cute! My neighbor Nicki and I have been discussing winter boots often as we're currently buried in snow and we miss real shoes. Seems to help. We love the Sorel Joan of Arctic (also available via Backcountry) and the Tofino II (also available at Backcountry) boots for snow, but we do admit that it would be nice to have a pair of taller slip-on boots when running out quickly with the kiddos. Our other friend Bradley (Walker's mom!) recommends these. Are they not adorable?! She says that they're warm, comfy and easy to get on.
We finished "Ted Lasso." Thank you to everyone who suggested it! Mitch wanted to watch "The Leftovers" once we finished that, but I cried and got depressed after only watching the preview. 😆 I know nothing about it, but reader Julie recommended "Working Moms" so I'm going to turn that on tonight and see how it goes. :)

I need to replace some skincare/makeup "empties," and I'm excited about trying some new products to help with dry/dull skin! My skin has changed a lot over the last couple of years. Whereas it was once oily or "combination," it's now dry. And so it's time to change things up! The new humidifier has definitely been helping (as has this hyaluronic acid line from Cetaphil), but I also decided to try a few hydrating/brightening products that have cult followings: this makeup removing cleanser from fresh, the OLEHENRIKSEN Banana Bright Eye Creme and the C-Rush Brightening Double Creme, this hydrating under-eye primer from Smashbox, and the Radiant Creamy Concealer from NARS. (I luckily had some old Sephora gift cards to burn.) I've read such great things about all five, and with any hope, they'll give me a brighter, more hydrated complexion. Any miracle products you've found for dryness, dullness and/or fine lines?! (Wow. Crazy how my concern was blemishes for years and years and years, and now I'm talking about fine lines. How the tides have turned. 😉) If you're looking for a skincare steal, though, seriously give the hyaluronic acid line from Cetaphil a try. After ONE USE my skin was no longer scratchy or flaky. (Gross, sorry. But Chicago winters are rough!) They offer tons of different products, too. (Eye cream for only $12? Amazing.)
SHOULD I GET MY LICENSE? To be transparent, I do know how to drive, and in case of an emergency, I could and would drive. (I actually know how to drive a stick shift, haha!) But I haven't had a license in several years, and that means that I'll need to take both the written and physical driving tests. And I'm admittedly not the best driver. It's just that I never really had much practice! I was very young for my grade due to weird cutoffs and cross-country moves, so I didn't drive until the end of my senior year of high school… and then I went to college… and then I immediately moved to New York City. I drove for a year and a half in college, but that was quite a long time ago. So yeah! But I'd love to be able to drive Lucy to the Children's Museum once this is all over, as I mentioned before. And to classes! So I'm thinking I need to do it. Perhaps I should start practicing considering we have a massive car and it scares me. ;)
I found more chapter books for Emma. Girlfriend is tearing through them during this pandemic winter. My new Chicago mom friend Rachel—author of The Kids are in Bed (SO GOOD!)—made some awesome recommendations, so we ordered Yasmin, Ivy & Bean, Dory Fantasmagory, and Heidi Heckelbeck. (Thank you, Rachel! And Barbie. Yasmin was her rec!)
We're thinking more and more about driving south. We could use the sunshine and happiness. (We'd do an AirBNB so we wouldn't have to interact with anyone.) There's just a lot up in the air with Chicago Public Schools, as you probably have seen in the news. Hard to figure out what our next move is.
For my "one house project per day" thingy, I'm currently working on clearing out our bedroom closets. I use the KonMari Method, and it's awesome. I literally take everything out, and then one by one, determine whether I use/need each article of clothing. I did it with the girls' stuff recently, and life after the process is so much easier. I published a big post on my first experience with using the KonMari Method on clothing here. :) If you even feel slightly inclined to do it, DO IT!
K, bye! 😜