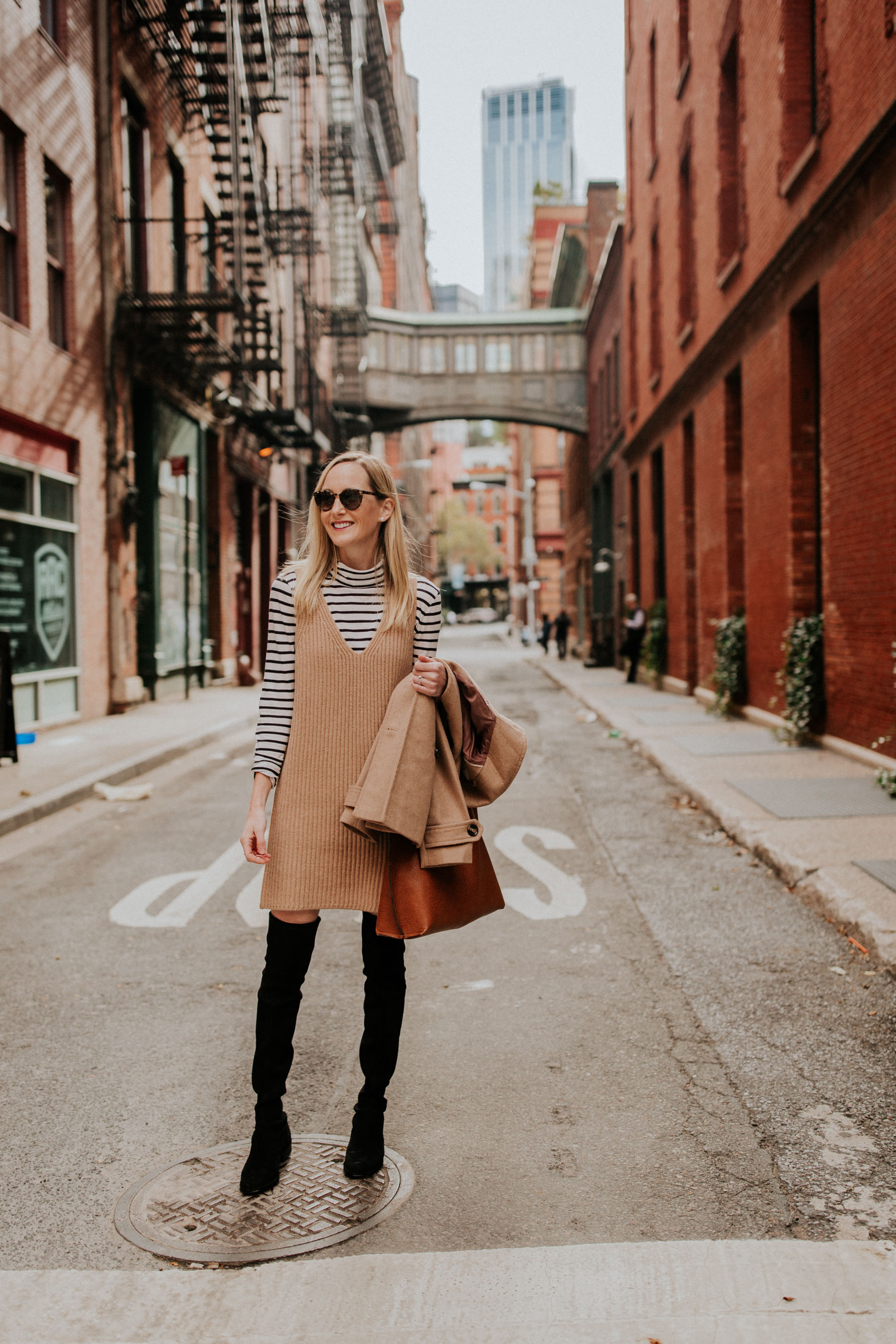 Camel Sweater Dress (Sold out, but love this one, also available at Madewell in more sizes. And recently bought this one, available at Nordstrom as well. And the gray Donegal sweater dress and striped version?! Swoon.) / $38 Peacoat (Have you seen the Kate Spade bow version?! I'm crazy obsessed with my Ralph Lauren coat, and this one's a classic.)  / Over-the-Knee Boots (This waterproof pair, which is much more affordable, is amazing. See more waterproof Blondo boots here. And an A+ for this pair, which all my cousins have and swear by.) / Striped Turtleneck (Love this one, this one and this one as well.) / $48 Tote (So soft and holds a ton! Love this leather tote and the bow version, too.)
Okay. I have NOT forgotten about that "What I Packed for New York" post. It's coming soon, I swear. I even took the photos of my suitcase! (#miracle, haha…)
But while I'm finalizing that post, I thought I'd pop in and discuss sweater dresses.
I wore this look twice while we were back in New York last month, and it remains one of my go-to outfits this season. It's just so easy. Black boots (more affordable here and here); a camel sweater dress (love this one, also at Madewell, and this one, available here, too); a brown tote; and a striped turtleneck? Absolute transitional fall-to-winter perfection, and a look you can totally wear well into next season.
(A little background: I wore this on a somewhat low-key day during our trip. We started off at Grand Central, visited the Union Square farmers' market, and then headed down to to my dad's office in the Financial District for drinks. It was SUCH a great day, and I stayed toasty the entire time!)

Anyway, if you're looking for the perfect sweater dress, check out my recommendations above. I just received this one (also here) the other day, and I can't wait to feature it on the blog. And I'm OBSESSED with this striped sweater dress, and think this black one would be perfect for holiday parties. And this camel one? Why is it not available in my size?!
Okay. Over and out. Off to spend one last day with the fam bam. One more day until Friday, guys! xx
Shop the post:
Camel Sweater Dress (Sold out, but love this one, also available at Madewell in more sizes. And recently bought this one, available at Nordstrom as well. And the gray Donegal sweater dress and striped version?! Swoon.) / $38 Peacoat (Have you seen the Kate Spade bow version?! I'm crazy obsessed with my Ralph Lauren coat, and this one's a classic.)  / Over-the-Knee Boots (This waterproof pair, which is much more affordable, is amazing. See more waterproof Blondo boots here. And an A+ for this pair, which all my cousins have and swear by.) / Striped Turtleneck (Love this one, this one and this one as well.) / $48 Tote (So soft and holds a ton! Love this leather tote and the bow version, too.)

SaveSave