Have you guys ever participated in a White Elephant Gift Exchange? This'll be my first time, so today, I'm sharing what to give, what to serve and what to wear for 'em.
~
For as long as I can remember, we've spent the holidays in Vermont with my cousins, who are really more like siblings. (Read about their recent trip out to Chicago to meet Emma here!) This year, though, we're spending it at home in Bucks County, Pennsylvania, where my parents live. It's for a couple of reasons: my brother is an E.R. doctor, and he won't be given the time to travel up to Vermont for Christmas, and then there's the fact that holiday traveling almost kills Mitch and me every year. We drive from Chicago to Pennsylvania to Long Island to New York City to Vermont to Chicago (pit stop) to Central Illinois and then finally back to Chicago… all in an effort to see my immediate family, my dad's side of the family, my mom's side of the family, Mitch's immediate family and my in-laws' two sides of the family during the holidays. It was challenging without a baby, so I'm truly not sure we could even pull it off with Emma, who will only be about five months old by then.
While we knew it made sense to celebrate the holidays in Bucks County this year, everyone was kind of heartbroken about not being all together like we've always been. So we're having a "Gallagher Christmas" the weekend before actual Christmas, and it's going to be EPIC. I know it. Everyone is getting super excited, and I even convinced everyone to sleep over. We're also going to be doing a "White Elephant Gift Exchange," which is sure to be a blast!
Just to review, "White Elephant" is a bit different than Secret Santa. The goal is to give entertaining little presents. According to Wikipedia, the term "white elephant" refers to an extravagant but burdensome gift that cannot be easily disposed of, based on the legend of the King of Siam who gifted rare albino elephants to courtiers who had displeased him, so that they might be ruined by the animals' upkeep costs. Yep, totally just used Wikipedia as a source. ;) But who knew?!
Anyway, I'm pumped. But let's get to what to give and what to serve at a White Elephant party as well as what to wear to one!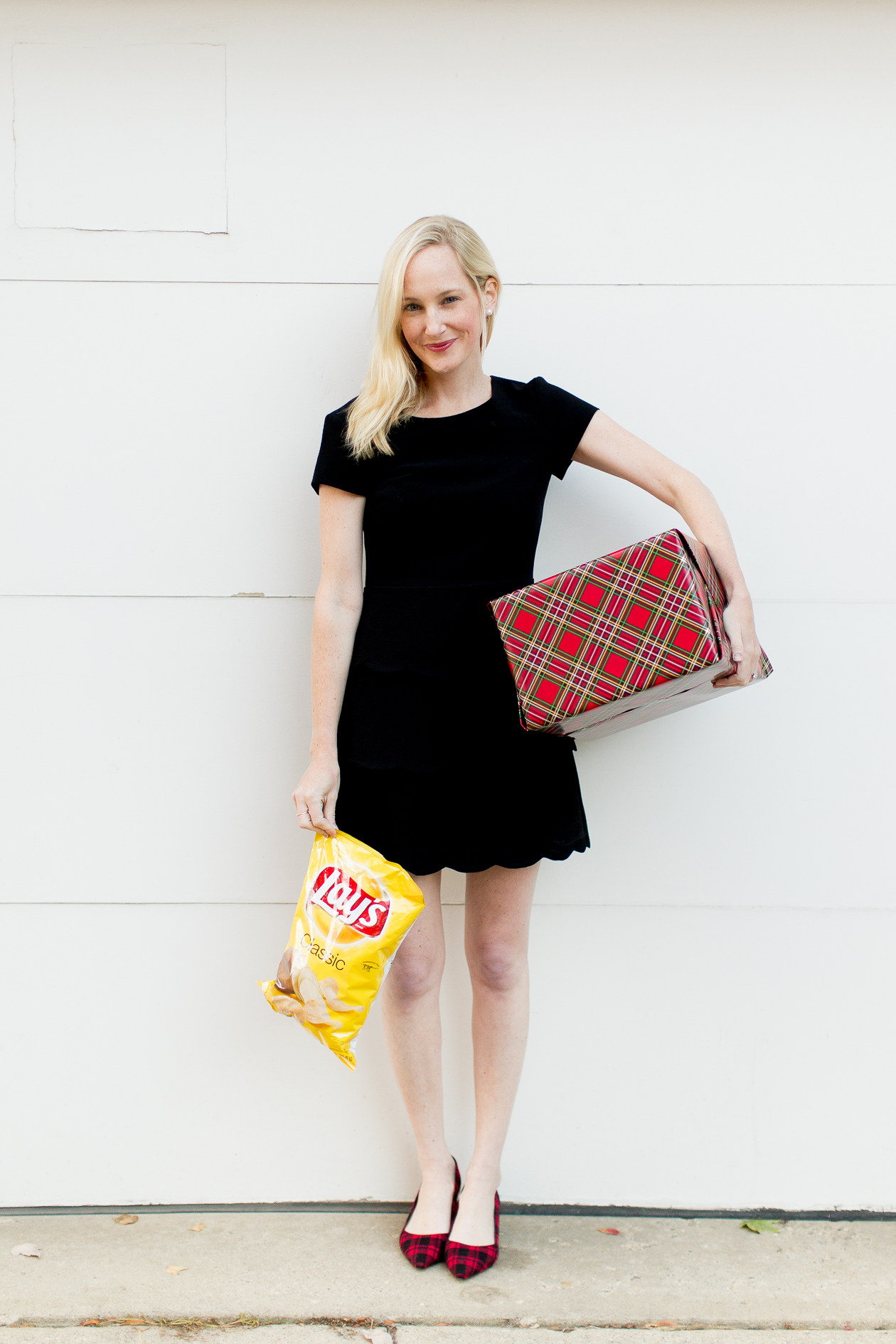 In my opinion, there are no better gifts than "gag gifts." Sure: the presents aren't exactly "burdensome." But they're intelligent and hilarious at the same time, and it's stuff that you can see your friends or family kind of wanting. Like mini to-go hot sauce bottles? Totally getting them for my brother, Danny, as he puts hot sauce on everything. (Don't worry. There's no way Danny reads here, haha.) I also love this article on the best White Elephant gifts to give. (This one is pretty funny, too. And this one.)
What to serve
The theme of this year's holiday celebrations for the Larkin family is easy. As we're usually one-handed these days, we've simply been ordering pizzas and then setting out snacks and drinks like Pepsi, wine and Budweiser. (Mitch's favorite beer has always been Budweiser, so that's a given!)
Funny story about Budweiser: we had to tell the hotel staff to STOCK UP on Budweiser for our wedding, as it's the only beer my dad's friends drink. (And as I mentioned, Mitch–along with Shawn, his best friend–is a huge fan.) The staff said, "Sounds great. Will do." But they must have not believed us or something. Because we drank 'em out of Budweiser! Haha–the beer will always remind me of our wedding!
As for snacks, Lay's Classic potato chips are always a crowd-pleaser and don't require any preparation. And oh my goodness. I just discovered Nut Harvest Dark Chocolate Almond Toffee Bites, and it's official: I'm in love. I was actually eating them while shooting these photos!

Find more tips and tricks for your holiday parties at www.pinterest.com/fritolay!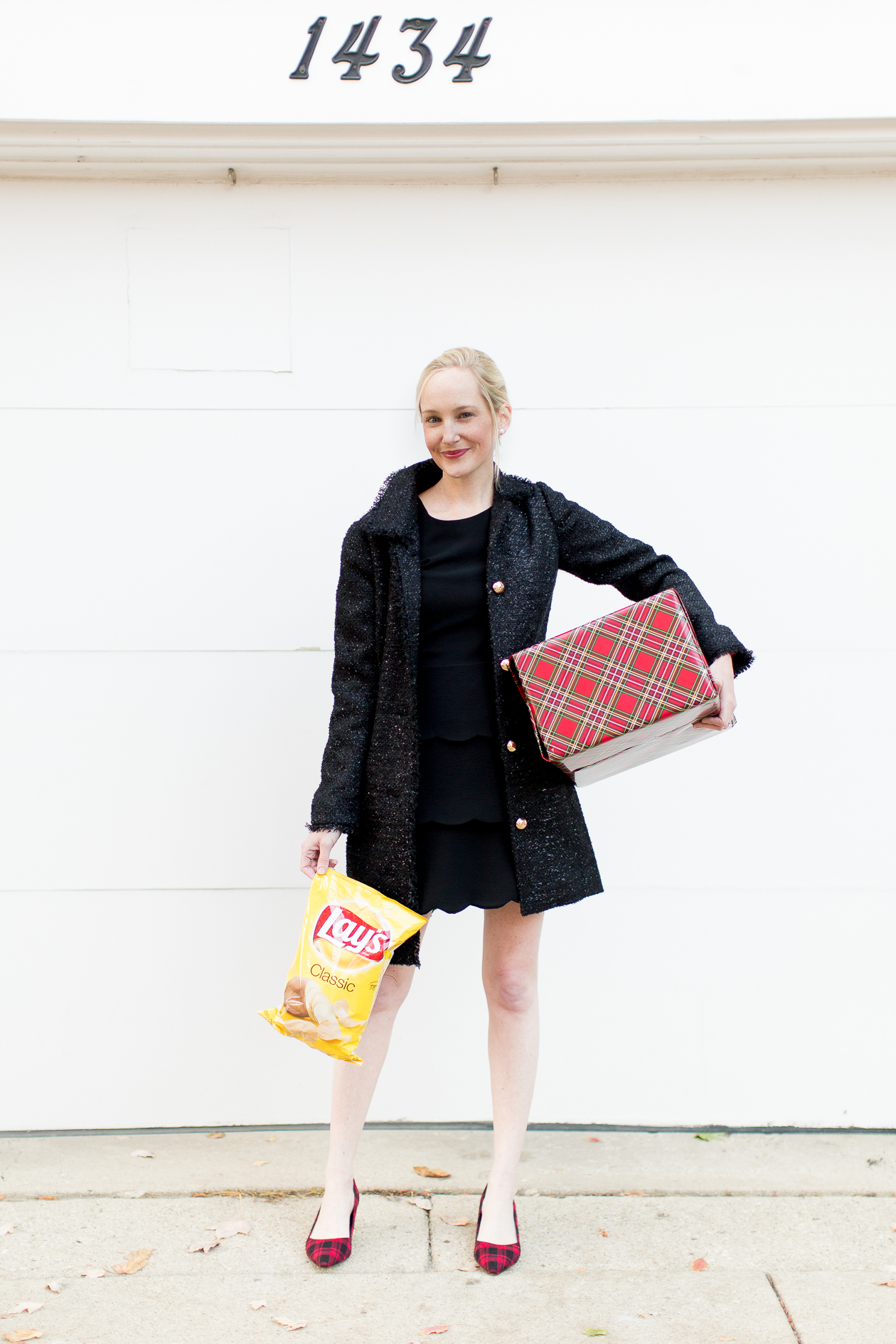 What to wear
Plaid, plaid, plaid. Without a doubt, plaid! The holiday season that I've needed to attend over the last few years.
This post was sponsored by Lay's, but all opinions are my own. As always, thank you so much for supporting the partnerships that keep Kelly in the City up and running!