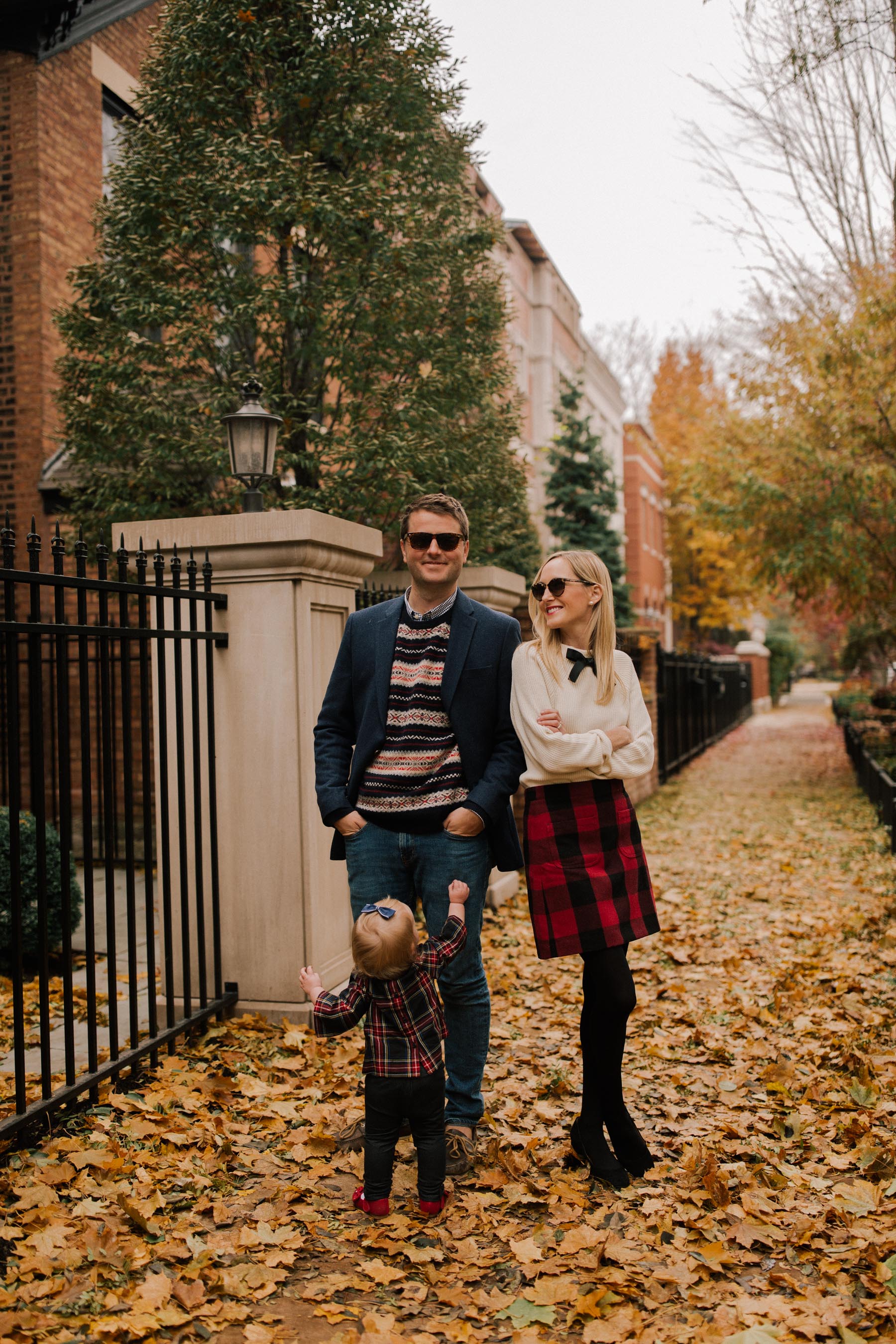 Bow Sweater (Also comes in gray!) / Buffalo Plaid Skirt / Block Heel Pumps / Black Tights / Mitch's Fair Isle Sweater / Mitch's Navy Blazer / Mitch's Jeans / Mitch's Gingham Shirt / Emma's Plaid Ruffle Top (Matching skirt here) — all c/o J.Crew Factory
J.Crew Factory Sale: 50 percent off nearly everything, 40 percent off clearance, and free shipping with code "GIFTGIVING."
Okay, guys. This is it! We're roughly a week out from Thanksgiving, so the blog is unofficially in holiday mode. I'm SO excited.
It's kind of crazy that the holidays are upon us. Until a few weeks ago, I was pretty stressed about 'em, probably because I was a little traumatized by last year, haha. (We simply did way too much as new parents.) This year, though, we're reelin' it in and taking the holiday season a bit slower. And I really think it's going to be fabulous as a result. We're ready for the Holidays.
There are a few ways we're slowing things down, namely by cutting back on travel–only ONE big trip–and embracing Secret Santa gifts. We're also doing all of our shopping before December arrives. And that includes "outfit shopping."
If you often find yourself standing in front of your closet during the holiday season, wondering what to wear for what seems like the zillionth time, I highly suggest picking up a few things from J.Crew Factory. The company hit the ball out of the park this year with festive looks! I honestly can't get over how amazing the selection is, and I think the best part is that nearly everything is timeless, meaning you'll be able to pull it out during the holidays for years to come.
In terms of what the Larkin Fam is wearing, I'm obsessed with my bow sweater and buffalo plaid skirt. (Sweater in a size small and skirt in a size 2 so I could tuck the sweater in!) And Emma's tartan top?! Let's just say I'm unbelievably thankful that my 15-month-old can fit into "2T." ;) I also adore Mitch's outfit, which he picked out all on his own. I love the fair isle sweater—such a great deal!–and can't get over how well the navy blazer pulls the look together. (Added warmth, too!)
Other items that are definitely worth checking out:
And here's some awesome news:
 J.Crew Factory is having a MAJOR sale today. You can take 50 percent off nearly everything and 40 percent off clearance, and get free shipping when you use the code "GIFTGIVING." It's such a great time to stock up on those holiday outfits!

Anyway, take a look at some of my other faves above, and be sure to take advantage of today's sale.
What do you plan on wearing to holiday functions?!
Special thanks to Dad for snapping these family photos!
Shop holiday outfits:
Bow Sweater (Also comes in gray!) / Buffalo Plaid Skirt / Block Heel Pumps / Black Tights / Mitch's Fair Isle Sweater / Mitch's Navy Blazer / Mitch's Jeans / Mitch's Gingham Shirt / Emma's Plaid Ruffle Top (Matching skirt here) — all c/o

J.Crew Factory Sale: 50 percent off nearly everything, 40 percent off clearance, and free shipping with code "GIFTGIVING."
This post was sponsored by J.Crew Factory, but all opinions are our own. As always, thank you so much for supporting the partnerships that keep Kelly in the City up and running!
SaveSave
SaveSave