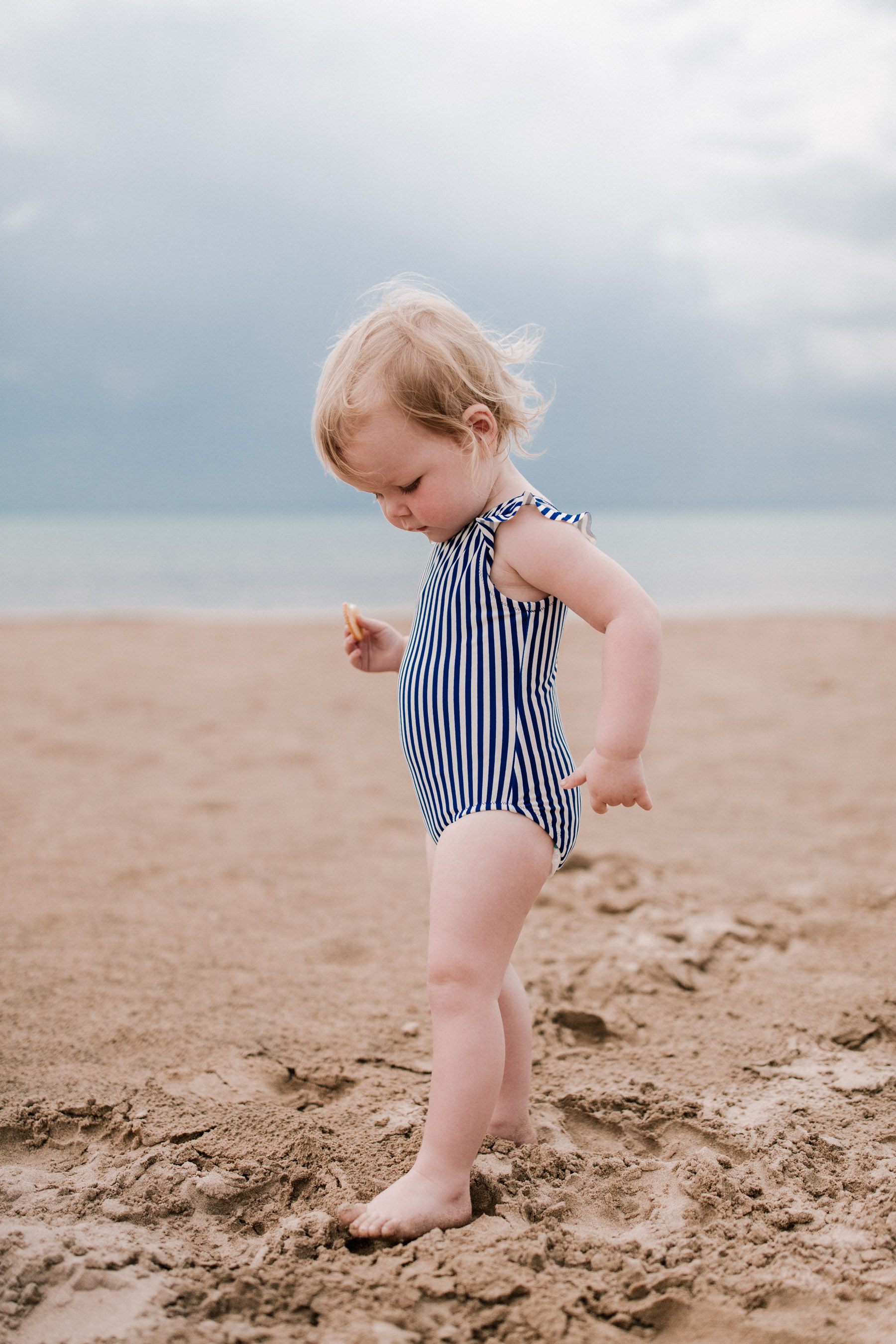 Kelly's Swimsuit, Striped Sweatshirt, Gingham Sandals, Linen Tie-Front Pants & Straw Hat / Emma's Swimsuit & Cover-Up / Mitch's Seersucker Swimsuit and Polo
Mitch here!
As has been well documented on this blog, Chicago skipped spring this year in favor of a painfully prolonged winter. Our family spent the season peeking out of our frozen windows wondering When?! Why?! How!? What!? …but as soon as the front door thawed enough to pry open, we headed to the beach. (On this particular evening, temps were in the 80s. So we had to go to the beach!)
Chicago technically has beaches, by the way. They have the qualities that other beaches have: they're sandy and they're located on the water. But for many months of the year, they're also arctic tundras of unimaginable frozen death moated off by a 12-lane interstate highway. For a few weeks every summer, though, the Chicago weather gods open up and say, "Whatever. I guess everyone can have some beach time." ;)
In anticipation of this, we recently defrosted the old family Prius–pouring hot water on the door seemed to do the trick 😂 (#jokes)–and took the family swimsuit shopping.
You can tell a lot about a man by his bathing suit. There's the Hawaiian Floral Board Short Guy who typically has about five kids and still wears the suit his mom bought him in middle school. And there's the Inappropriately Tan for Early May in Chicago Guy who typically doesn't have kids and who's clearly spent a good amount of time selecting his bathing suit for this day.
Aaaand then there's me. I don't have the same fascination with floral patterns that most men of my vintage share, but I also don't have time to swimsuit shop on the reg. J.Crew Factory hooked me up the seersucker suit you see here, and this apparently "adorable" polo shirt. (Lighthouses rule.)
This look prompted no less than five "you look really nice today" comments from Kelly, and that's a major win in my book.
I've said it before, but J.Crew Factory is my default store. When I'm in need of an outfit or a closet refresh, it's where I go. Not only do they always have new and on-trend styles, but their clothes actually fit me right out of the box. This time around, I knew that I could roll into the store and roll right back out both under budget and with the perfect beach attire.
(I should note here that J.Crew Factory is currently hosting a Fun in the Sun Sweepstakes, with a grand prize of $2500 cash and a second prize of 10 $100 gift card winners. Enter to win!)
As for my wife, it's clear that Kelly is happiest on the water. Jersey Shore sand seeped into her soul some time ago. If given the option, Kelly would spend a little bit of each day on a beach somewhere. Just look at how happy she is! This time around, she opted for a red suit (gasp!) and a straw hat, which Emma promptly commandeered. She also brought along this sweatshirt and these linen drawstring pants for when the sun went down. Needless to say, I wish I looked as nice doing anything as Kelly does on the beach.
And Emma? She takes after her mom. She actually planned this late afternoon/early evening beach trip. All day, she stomped around the house shouting, "Beach! Beach!" So, I mean, we had to take her. (Weak parents.) She might even love the beach more than Kelly. But what's not to love? It's the world's biggest sandbox and an excuse to wear something fun and different. Emma's wearing her adorable navy striped one-piece, this striped cover-up, and, of course, Mom's hat.
All in all, our first beach trip of 2018 was a great success. I love this time of year because I can see each summer day laid out before me. Appetizers around a sizzling grill, iced tea, grass stains, and long days on the water. Any day now, Chicago!
Mitch. Out!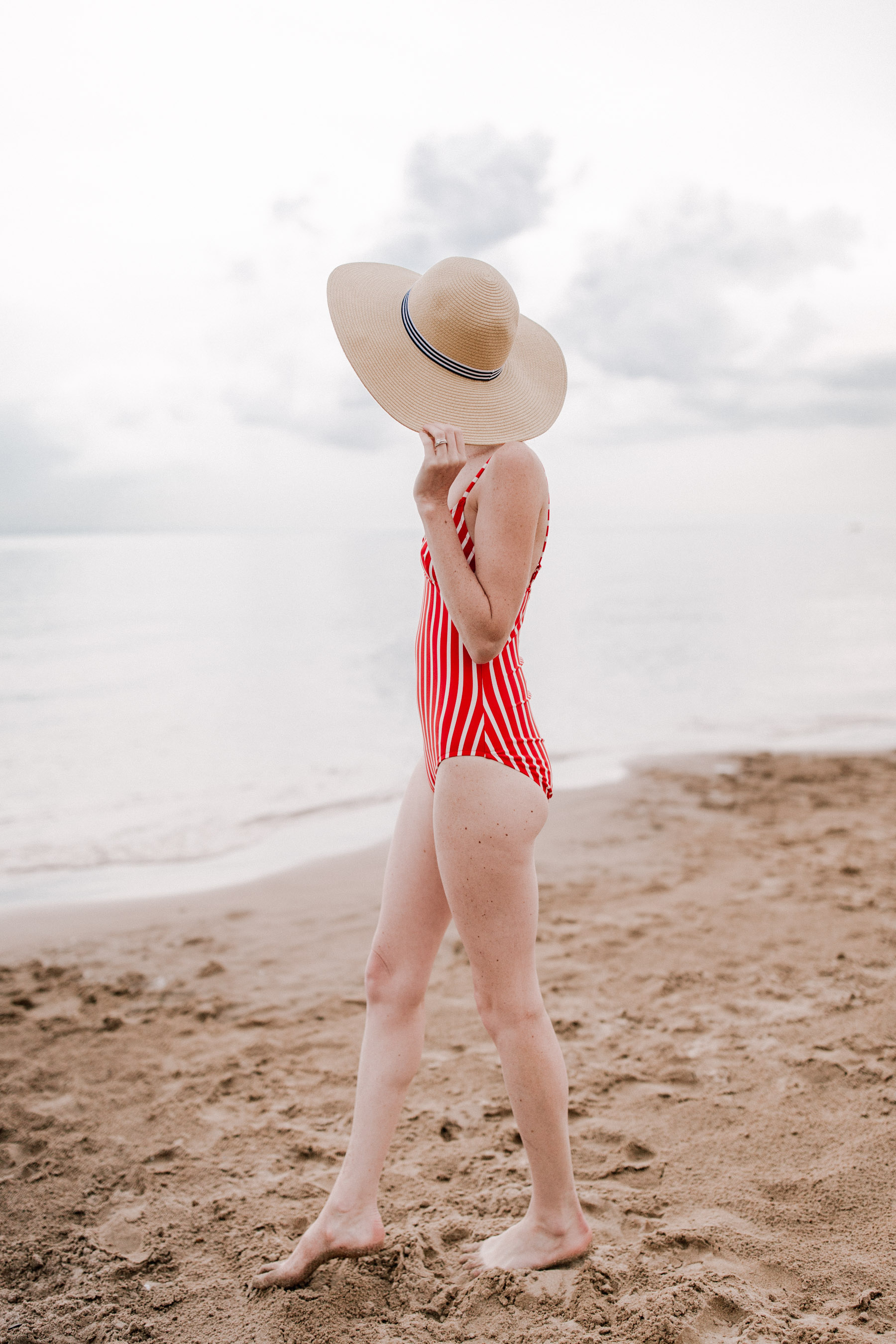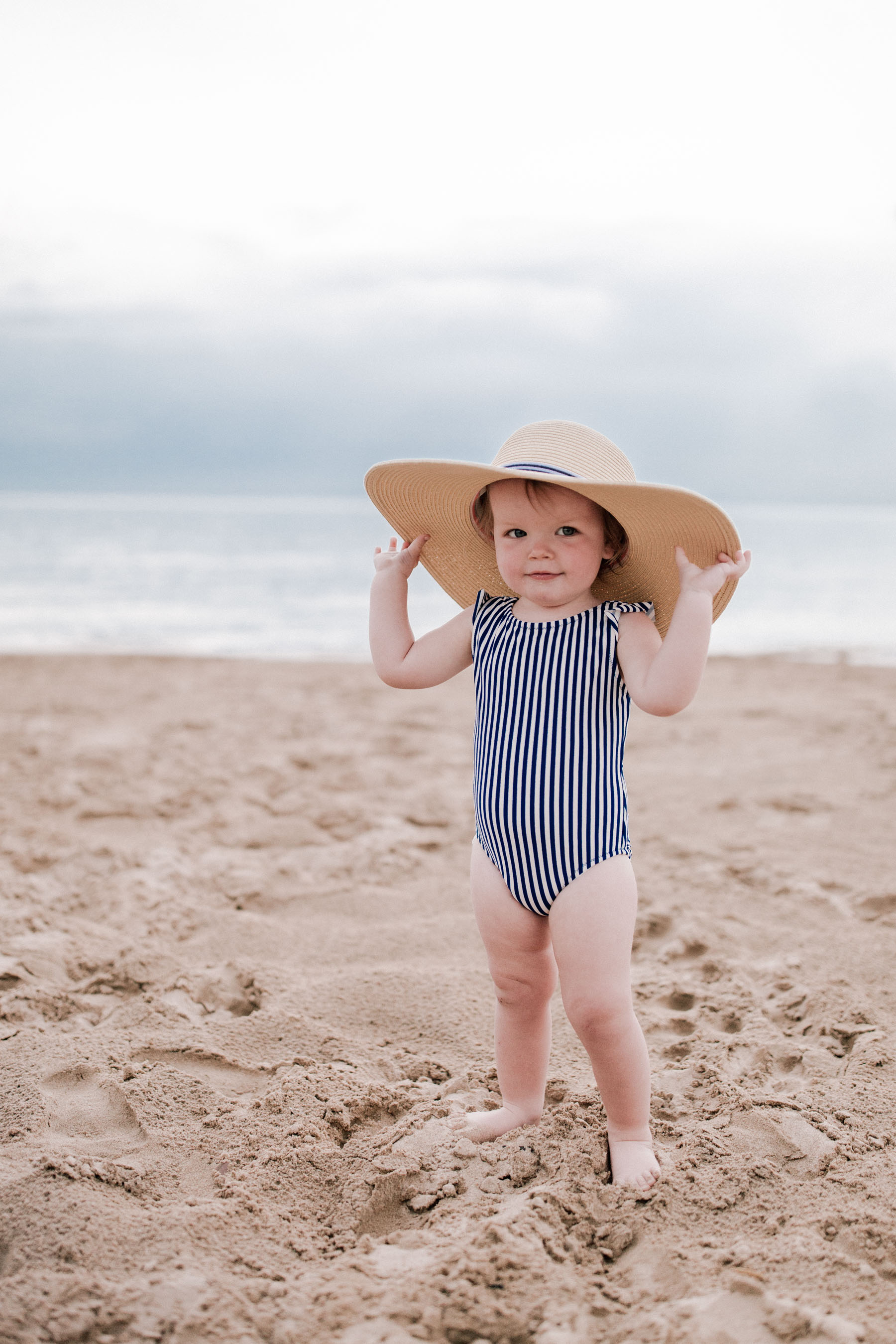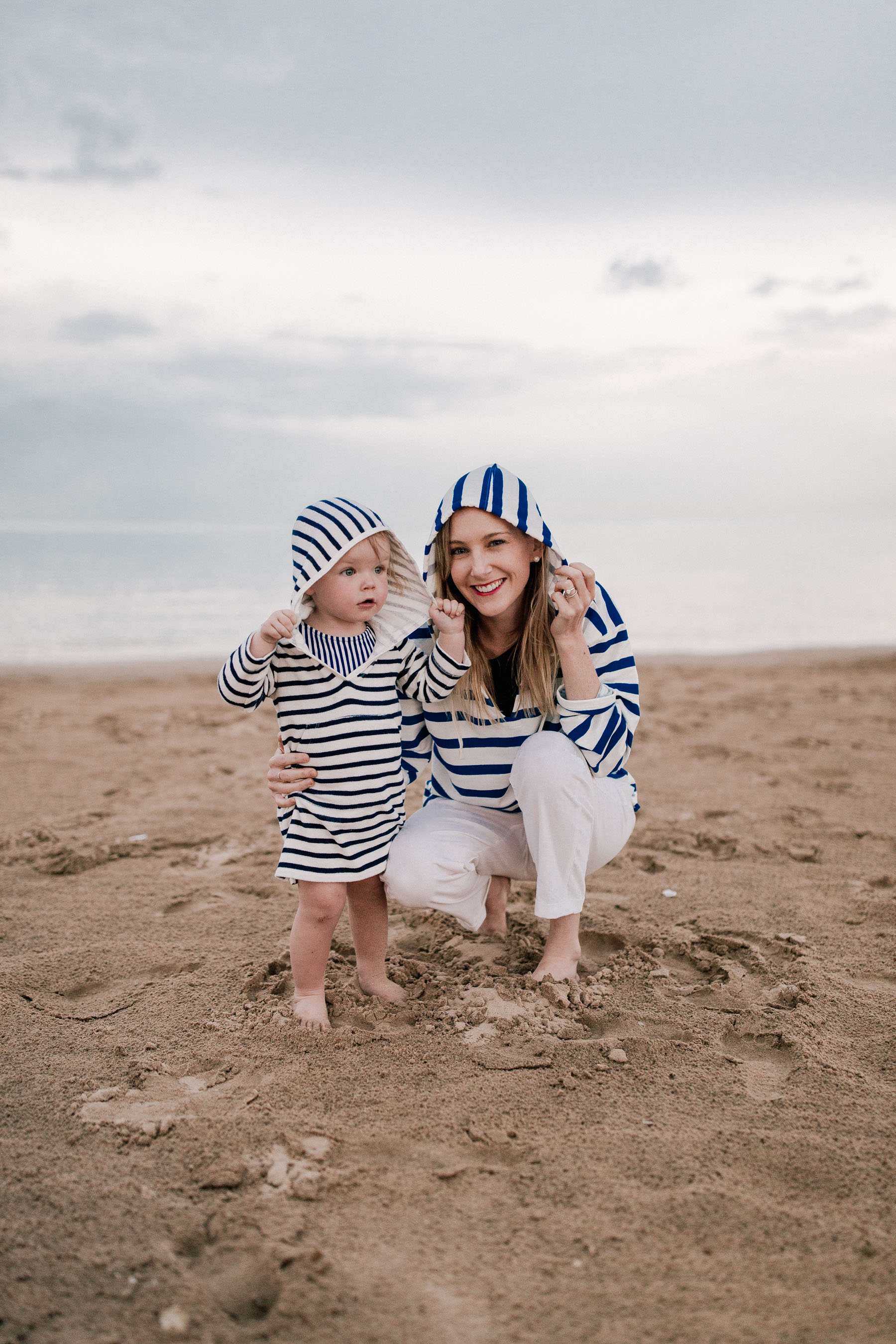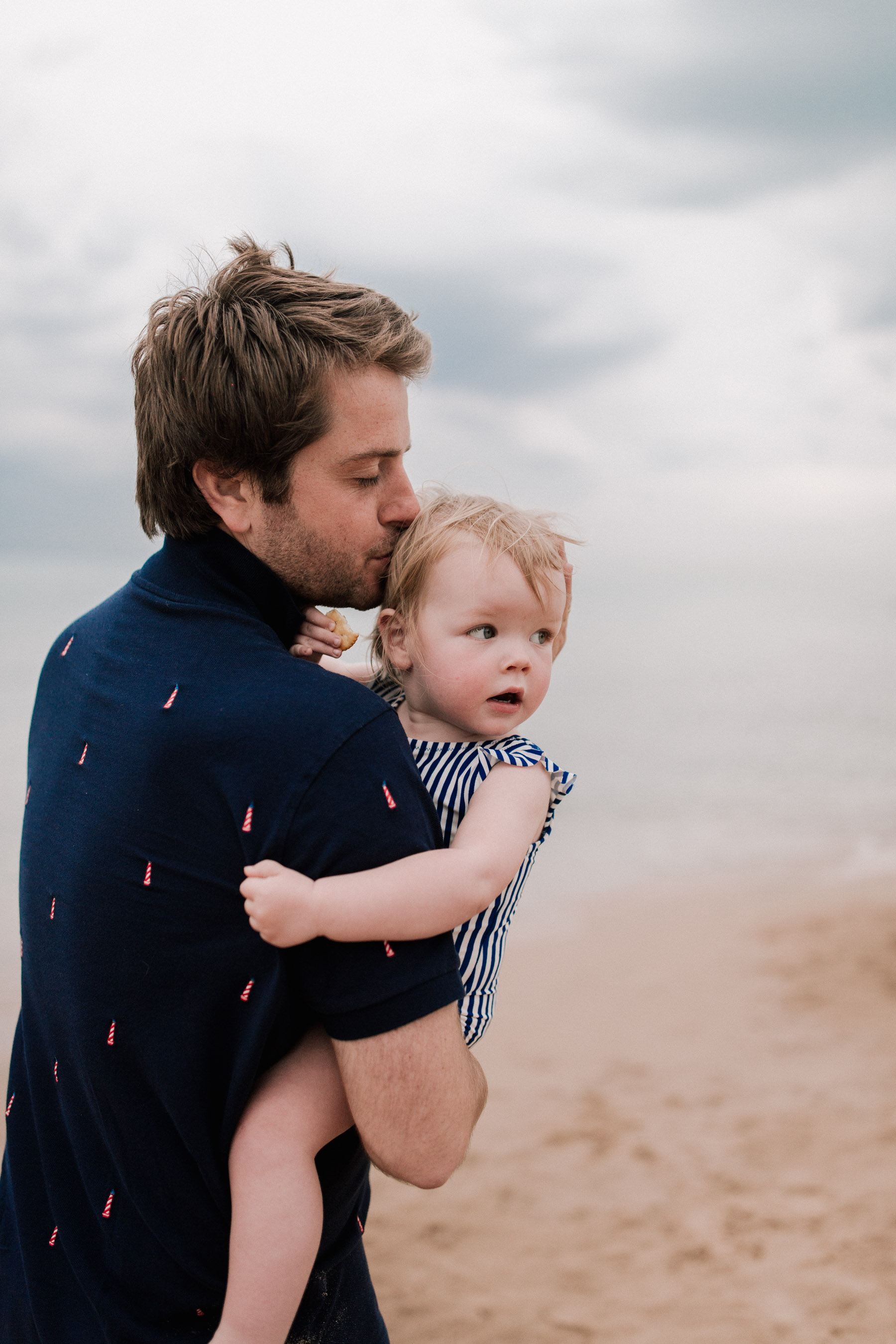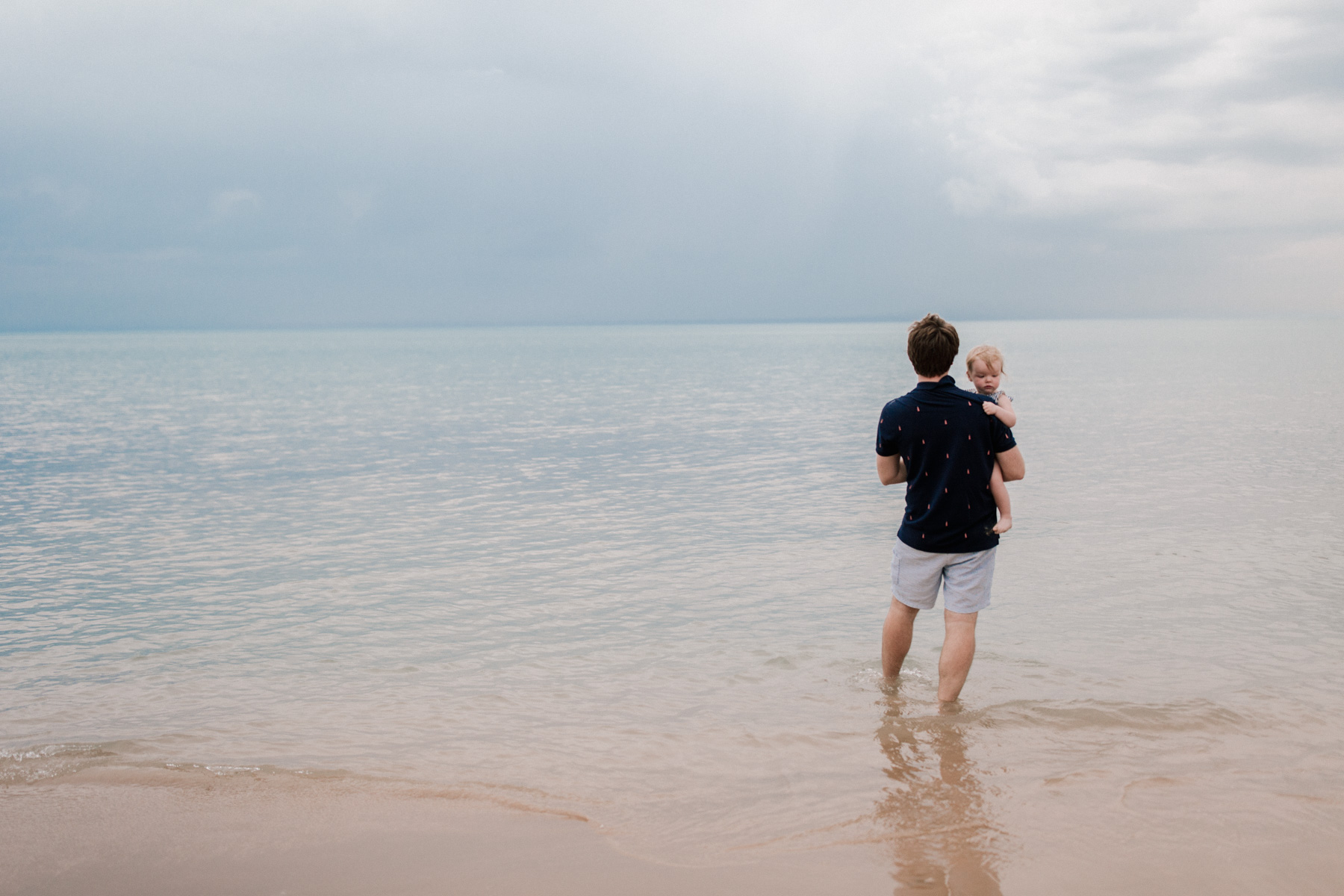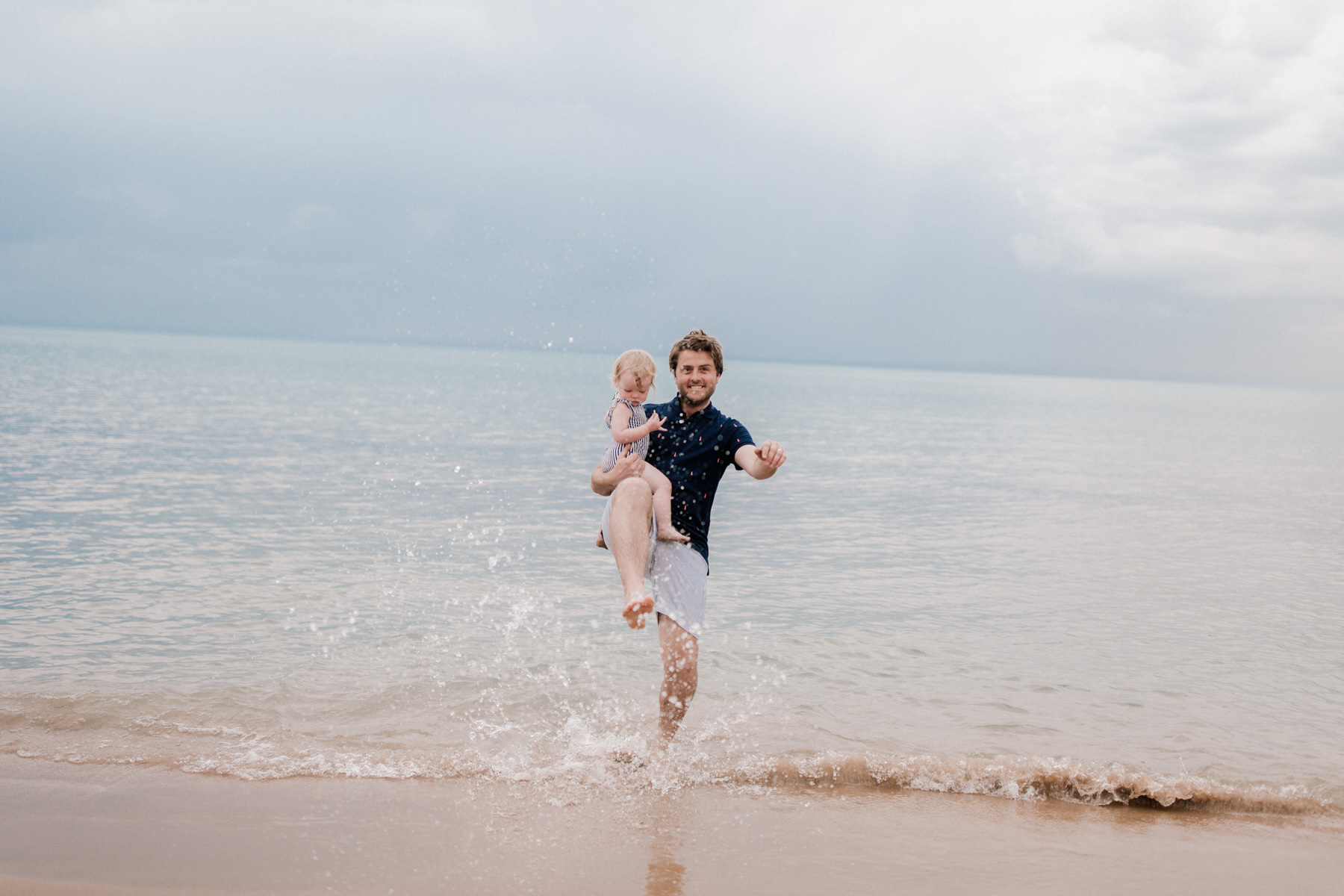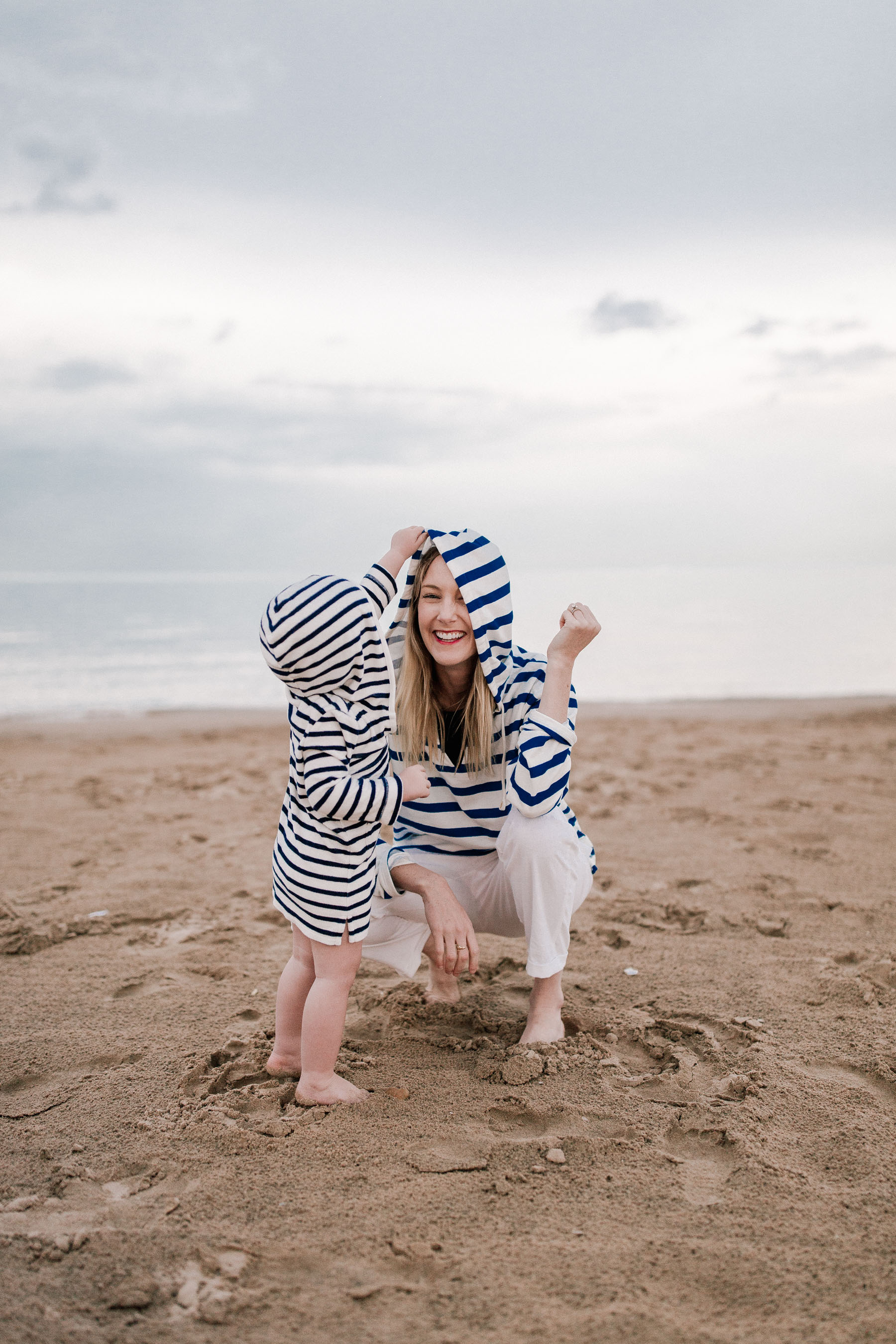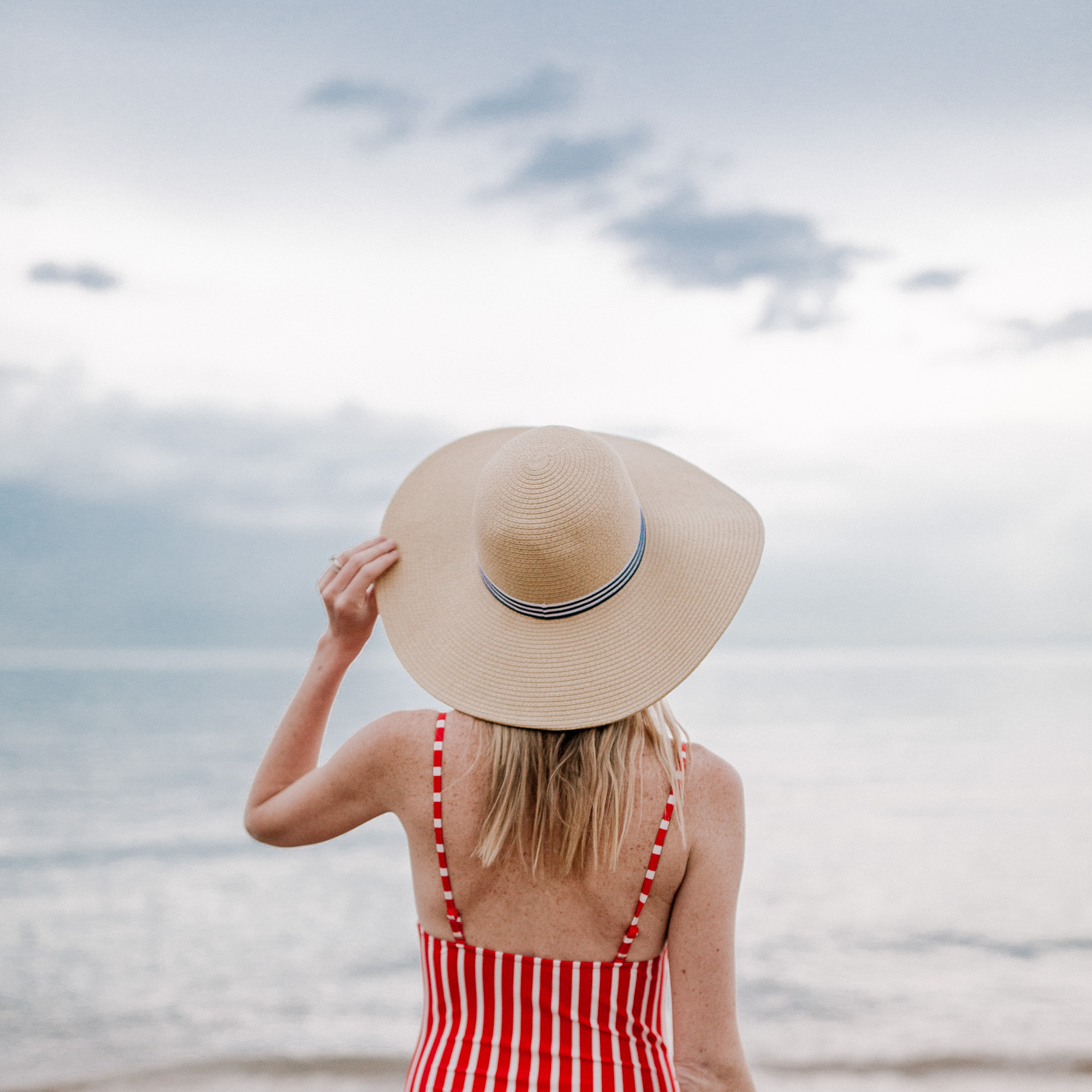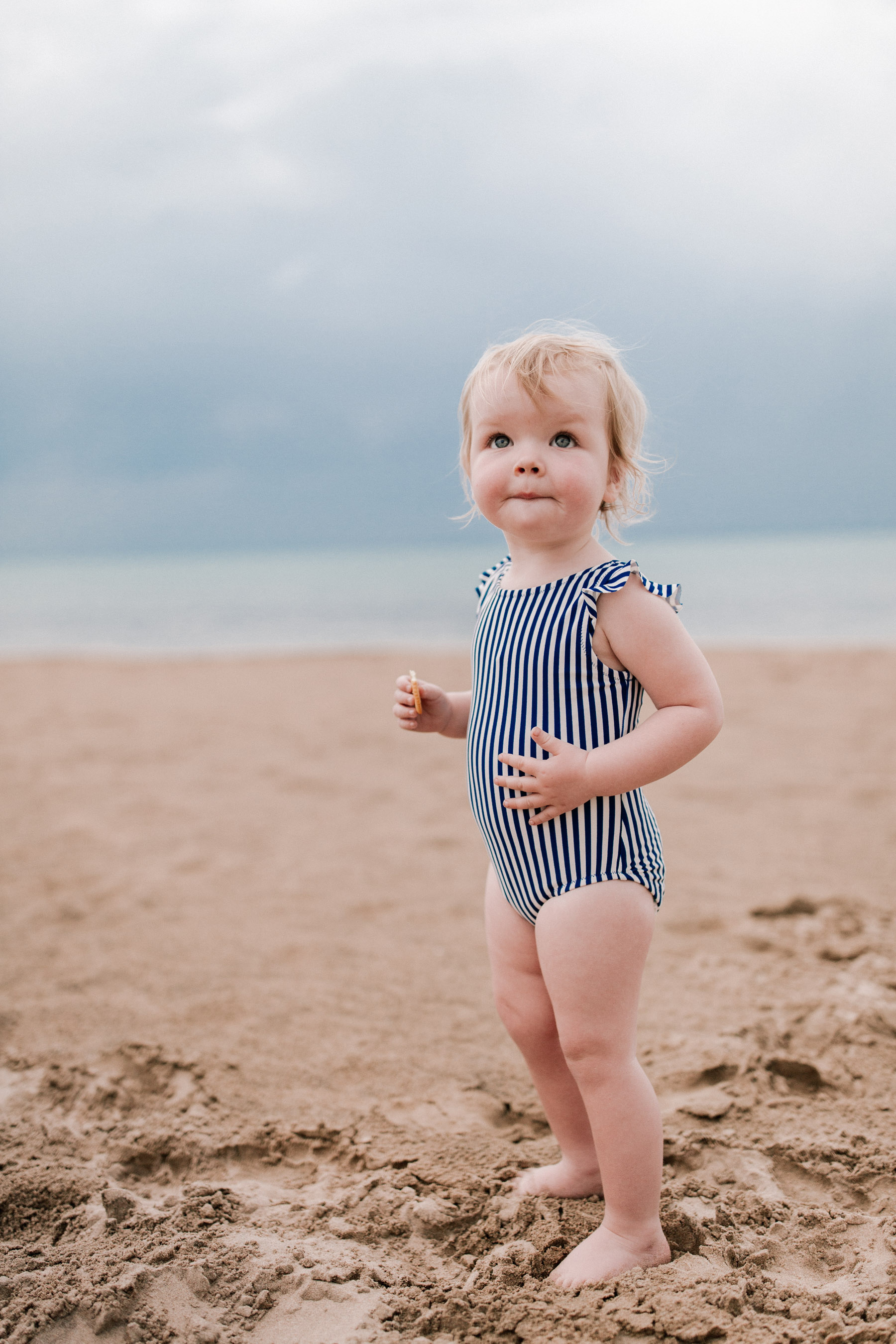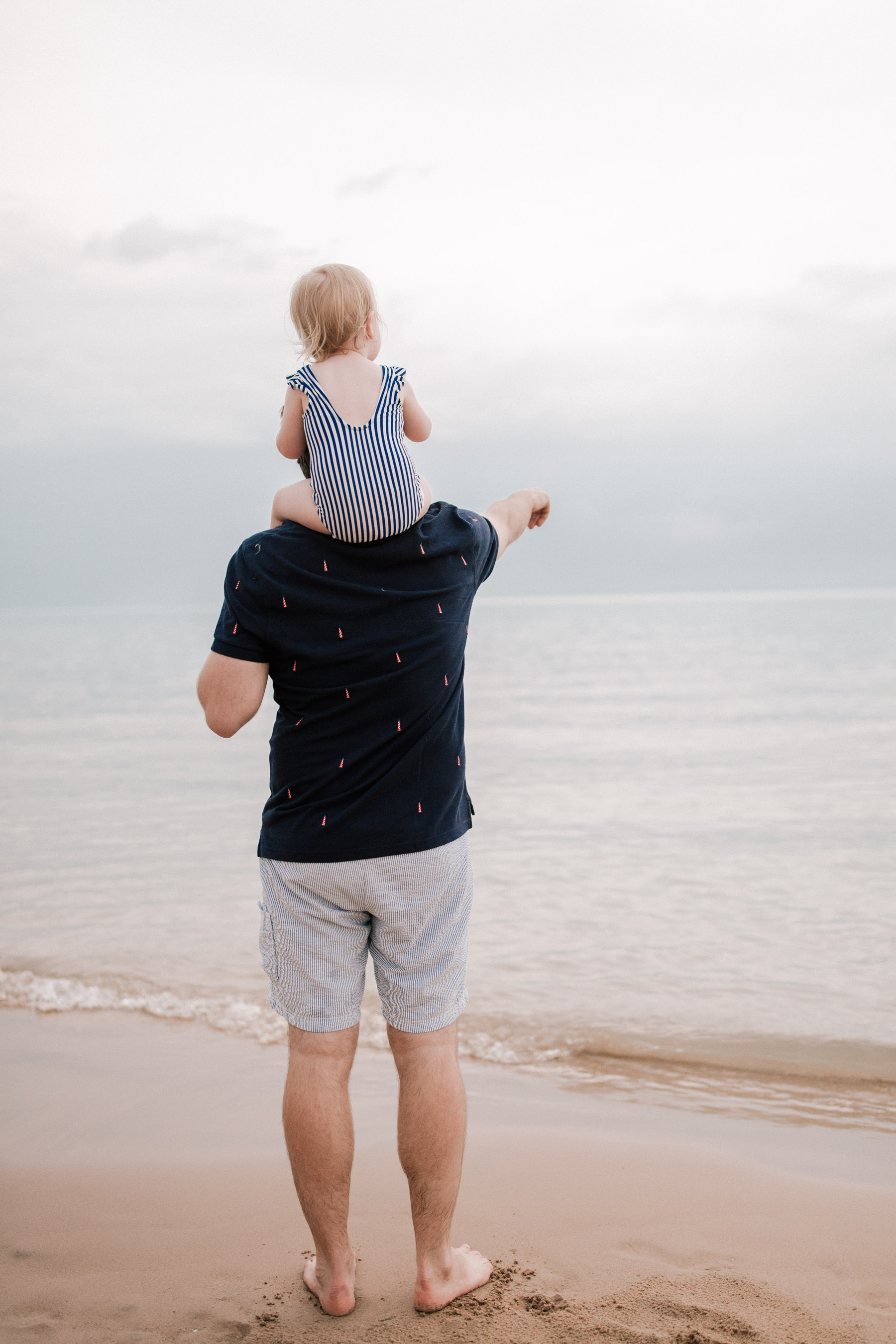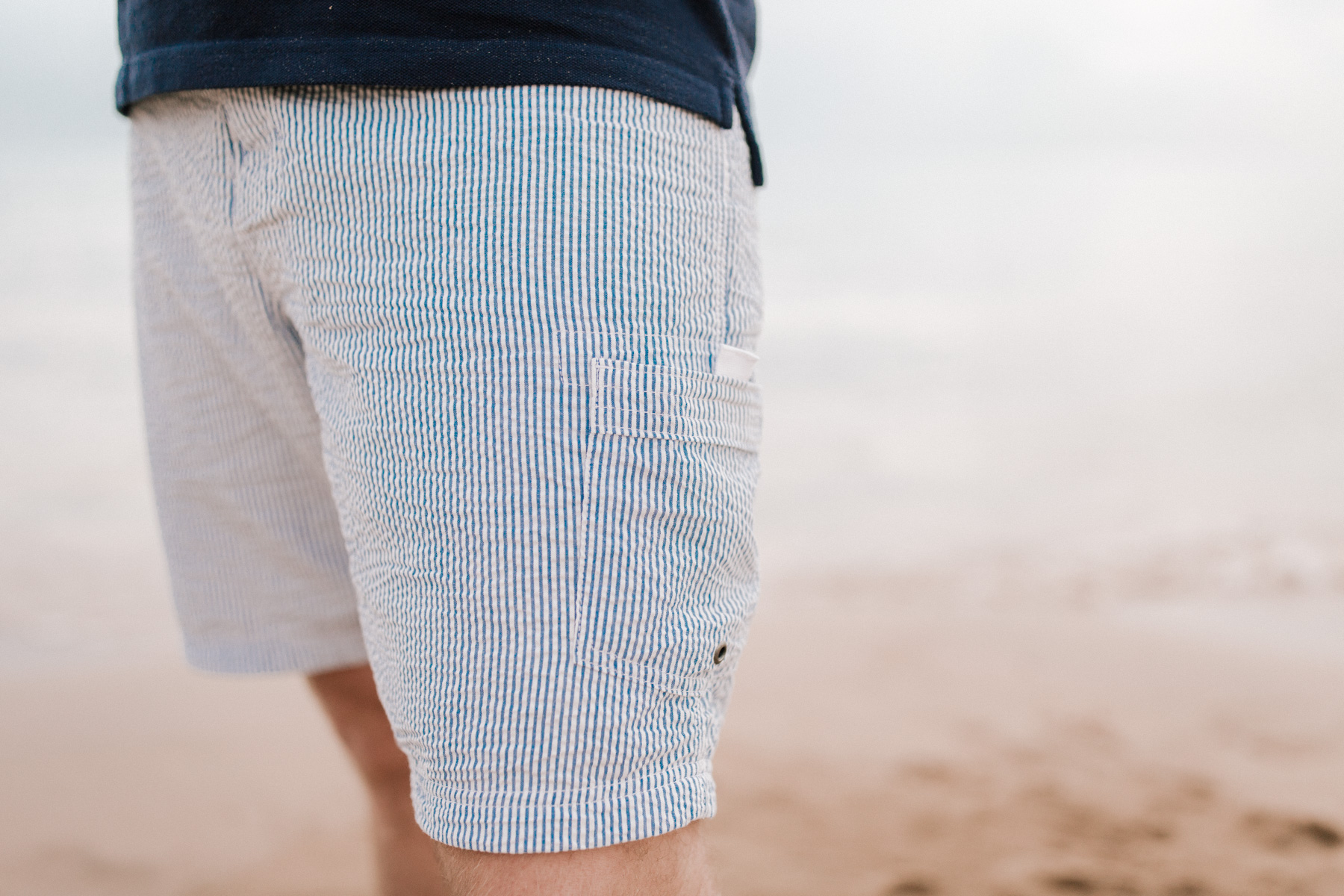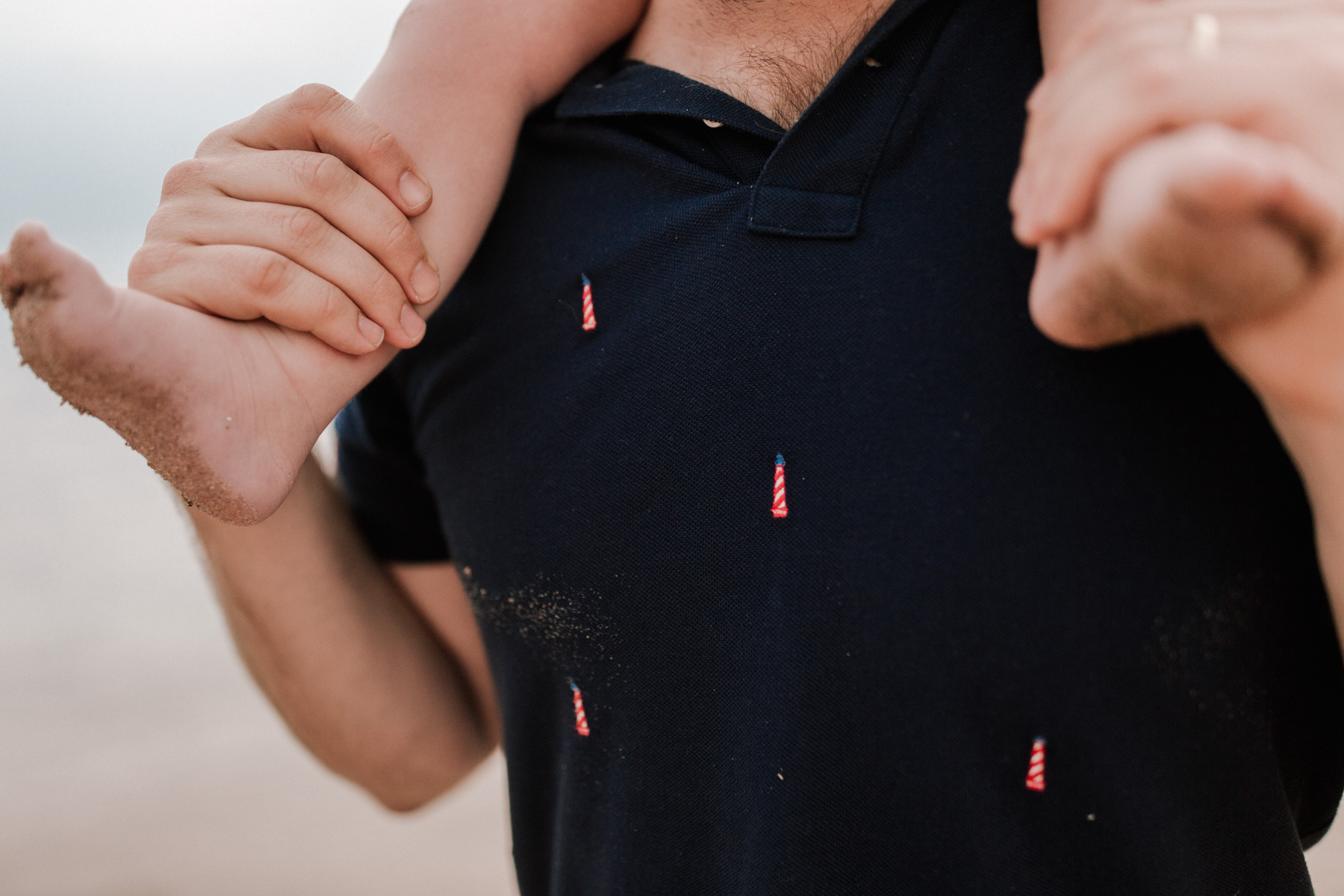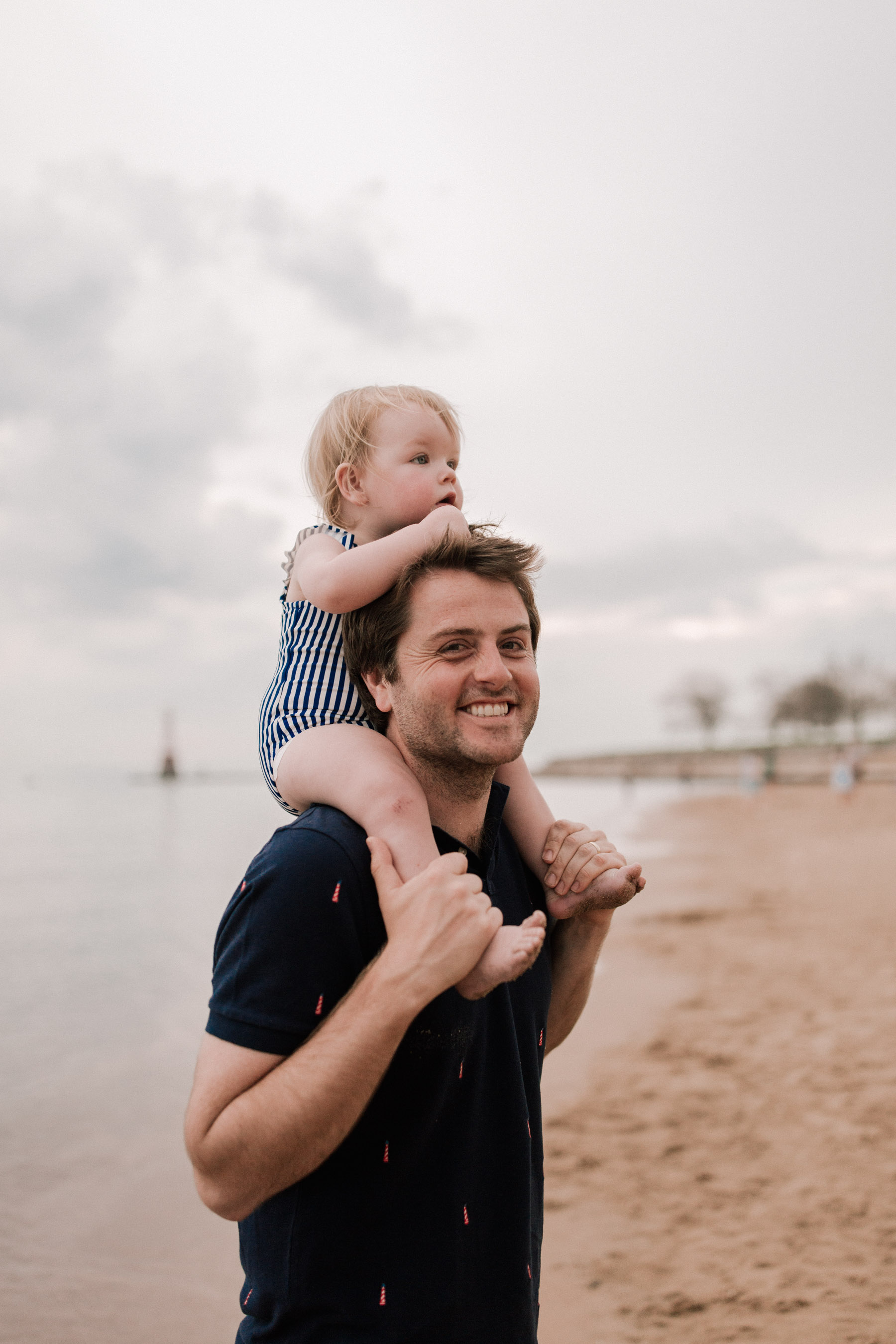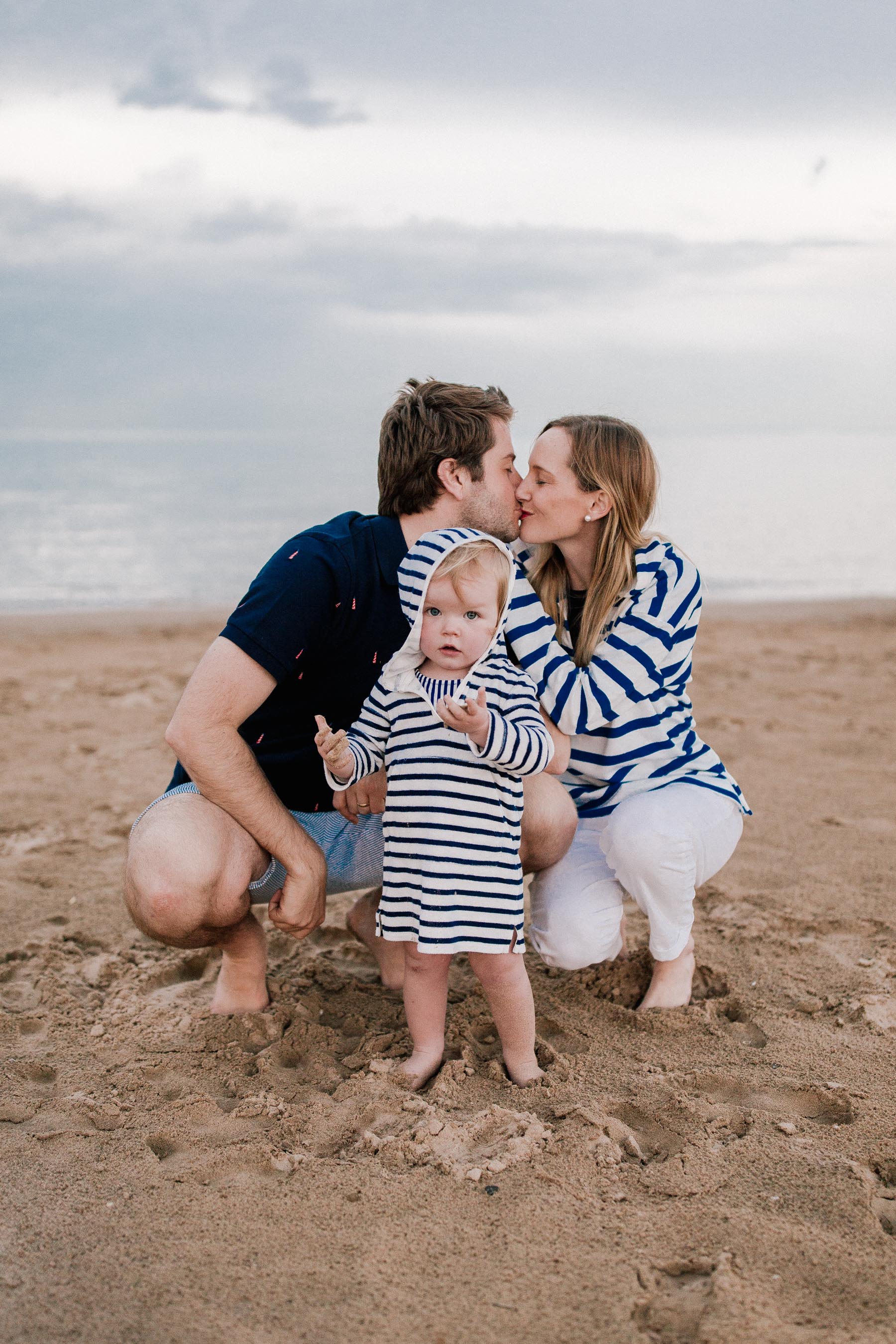 Shop the post:
Kelly's Swimsuit, Striped Sweatshirt, Gingham Sandals, Linen Tie-Front Pants & Straw Hat / Emma's Swimsuit & Cover-Up / Mitch's Seersucker Swimsuit and Polo
SaveSave