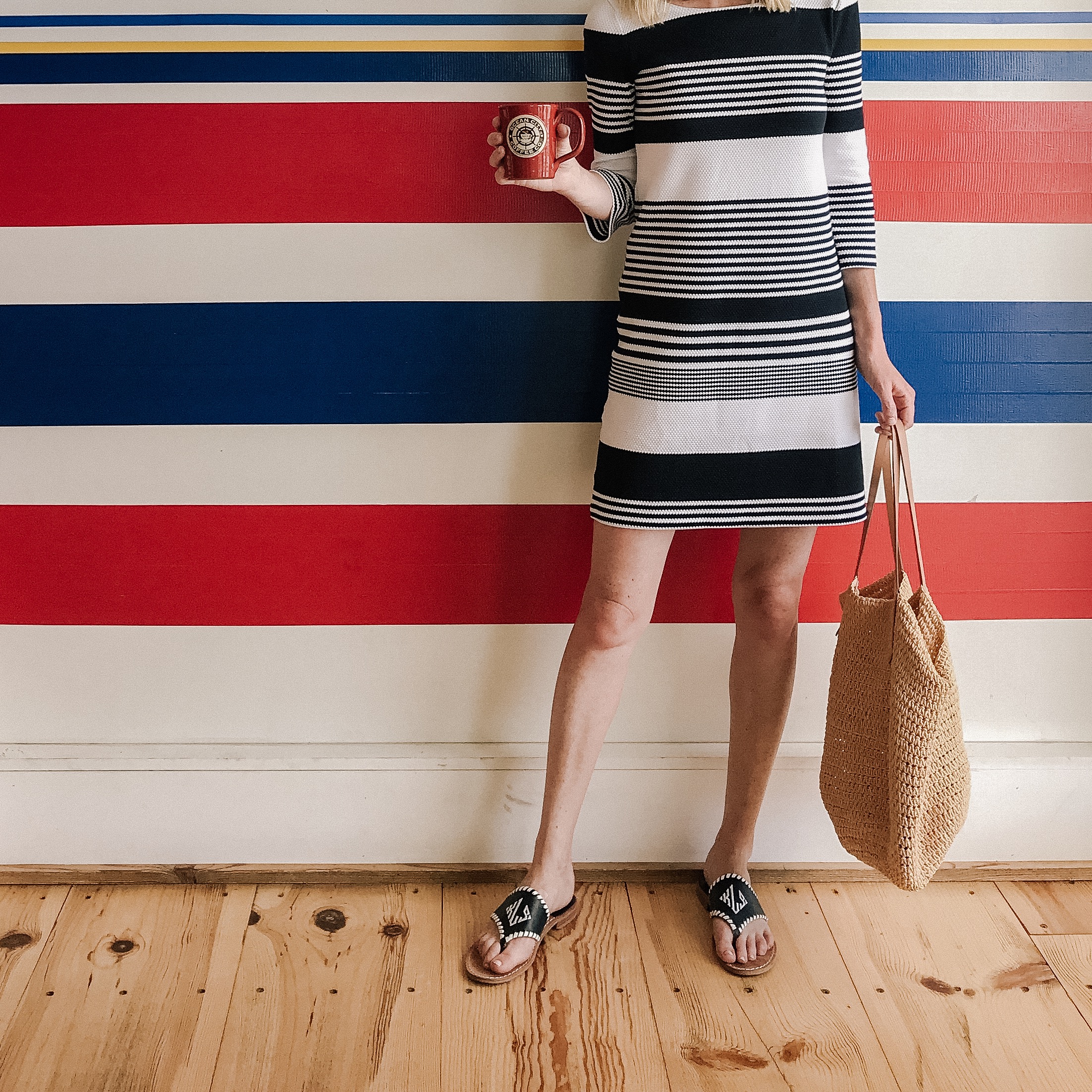 Lilly Pulitzer Navy Scalloped Striped Dress c/o / Newer Version of my Woven Tote (But how cute is this one?!) / Monogram Jack Rogers c/o (Solids are on sale!)
Hi, guys! It's been a while since I sat down to blog.
I pre-scheduled all of last week's posts so I wouldn't have to open my laptop while I was with my family on the Jersey Shore, and it was the BEST. Before I had my own blog, I never thought about how long putting together a post could take. But if you think about the organizing, shooting, editing, layout, linking, writing–it can be a lot of time! So yes. Almost killed me, but worth it. 😂
Anyway, let's get to this week's musings, Top 10 products, weekend plans & Recent Finds:
Musings
I love this dress! Lilly sent it to me for our trip to the Shore, and I know it's a "forever dress" — you know: those dresses that will always be in your closet. If you look closely, the navy stripes are actually tiny scallops! I love the little tie in the back (which still allows for a regular bra), and the fact that it's wrinkle-resistant since it's a cotton-rayon-polyester-spandex material. It runs totally TTS. I'm wearing an XS here, which is my normal size in dresses.
Ocean City was amazing. We spent two days with my brother and sister-in-law who were in from New Orleans; a couple of days with Grammie, which was SUCH a treat; and a day with my Aunt Michelle and cousin, Cassidy. (And, of course, my parents and brother, Danny, were there the whole time.) We mostly spent our days playing on the beach with Emma, and it was so lovely and relaxing. There were lots of big family dinners, boat rides, walks to the ice cream stand, trips to the Boardwalk, and cocktails out on the deck. I even read a book! It was perfect, and I'm already missing my fam. :)
I'm writing this on Friday, during our 14-hour drive back to Chicago. We have two hours left and we're all counting the minutes, haha. I wouldn't recommend taking a substantial road trip with a two-year-old, but as I think I mentioned last week, we missed our flight for unavoidable work reasons, and… here we are. We bought Emma that iPad like I told you guys, and that's been a major help. Almost there, almost there…
So many blog posts went up over this past week!
This week's 10 most popular products
Jack Rogers on sale: What a deal! I grabbed a new pair of the white ones because my old ones are super beaten up. You can't beat the price!
Navy striped maxi dress: Another steal. I wore the dress in this recent blog post. Runs totally TTS!
Little red dress: (It's on Nordstrom, too!) I promise that I'll stop blogging about this dress… soon. ;) It's just SO CUTE! I wore it in this blog post.
Striped tee with twist sleeves: A summer essential.
$38 peacoat: It's available in a ton of different colors, and it's a great transitional coat for early fall! (I'm wearing it in this blog post.)
Horse bit loafer: They're soft and comfy and require zero break-in time. :)
White jumpsuit: It's basically an exact copy of the white jumpsuit I'm wearing here!
Skinny jeans: They're awesome. I honestly want to buy another pair. They're so soft and don't stretch out, and run TTS. I'm wearing them here.
Drapey black top: A repeat offender! :) Again, incredibly soft, feels like you're wearing pajamas, and it's a "going out" top! It's crazy cheap, too. It's in this blog post.
Navy tie-sleeve polka dot top: Also seen in this blog post.
What's on tap for the weekend
Well, it's Sunday… so… I guess I'll report back tomorrow. 😂
Recent Finds
They're mostly all on sale, which is fun!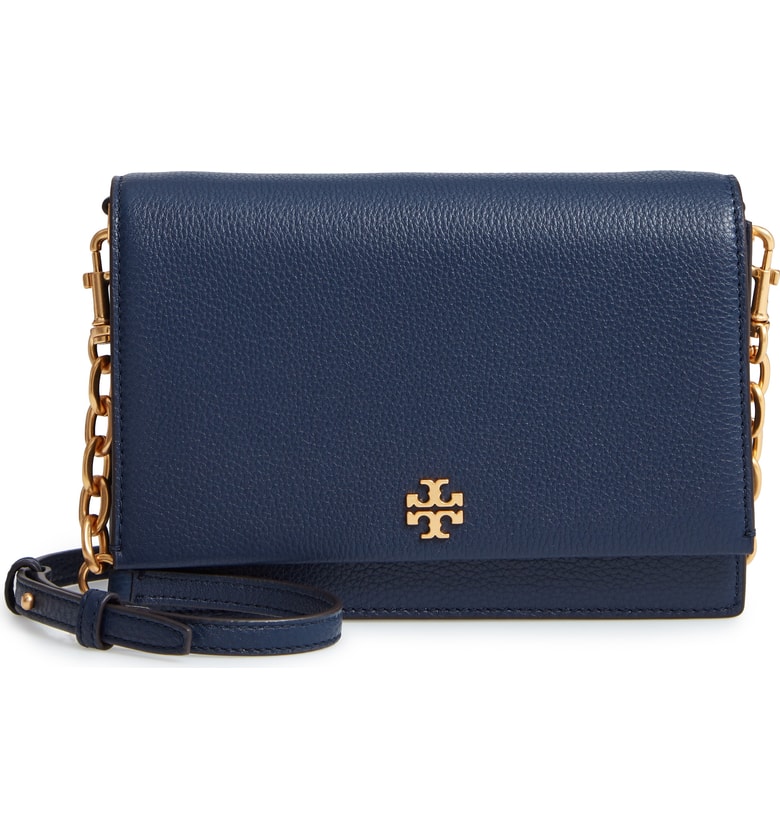 Another great sale find. I haven't seen this classic bag in navy, and I think it would go with everything, year-round!