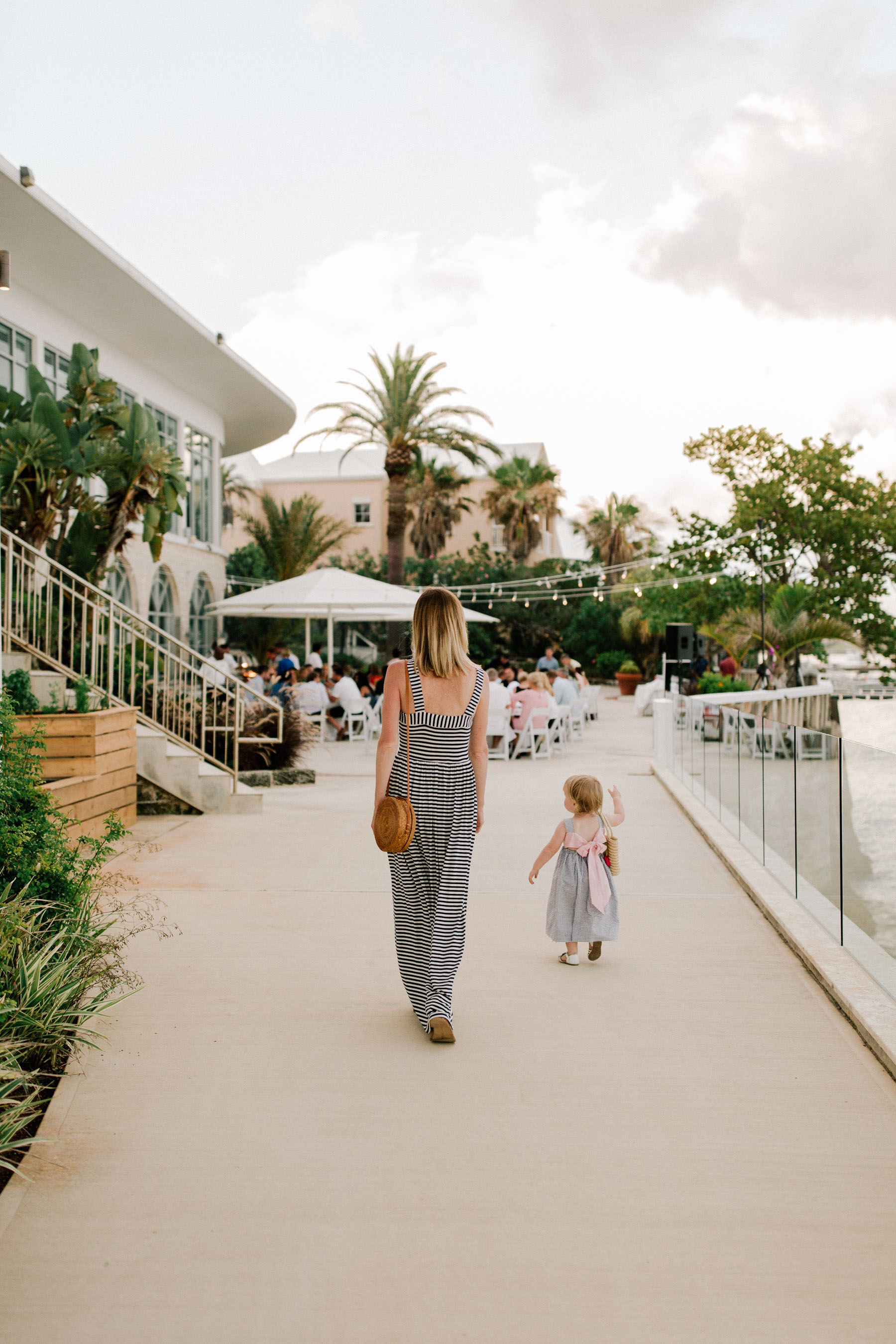 Navy Striped Maxi Dress (Also love these similar options: one, two, three!!!, four and five.) / Jack Rogers Sandals / Poppy + Sage Bag c/o (Also obsessed with this one! Love how affordable they are. Here's my complete guide to the best woven bags, btw.) / Emma's Dress / Emma's Sandals
A few days ago, I posted these beautiful photos that Mitch took of Emma while I was getting ready up in the hotel room. ;) These, though, are the rest of the snaps!
This was a great night. We had drinks/milk at the Hamilton Princess, and then walked into town for dinner.
While at the Princess, Emma was absolutely obsessed with the idea of going to a party. There were actually two parties taking place on this particular night: one gala and one rehearsal dinner. And in true Emma fashion, she marched herself right up to each one and demanded cake. 😂 Literally started shouting, "Emma party! Emma party! CAKE! CAKE!" Luckily, we were able to whisk her away pretty quickly and those who heard/saw it had a good laugh. Though this behavior does make me fear for her college years…
Anyway, after the party crashing, we headed into town, which is only a five-minute walk from the hotel. Definitely one of the best parts of the Hamilton Princess: I'm equal parts City Girl and Beach Girl, and I loved being within walking distance of the action. We found the cutest little outdoor burger spot (complete with twinkle lights), where I made friends with an older woman who was obsessed with Tuckernuck. (I asked her where her dress was from, and boom: a friendship blossomed. Mary Kate, I'll see you next year. Same time, same place.)
I wore this easy striped maxi dress, which is almost sold out. If you're looking for something similar, here are some other options I love: one, two, three!!!, four and five. :)
Off topic, but have I mentioned that we're leaving for my parents' Jersey Shore house tomorrow morning?! (I have. But let's talk about it some more, haha.) We're going to be there for a week, celebrating their 60th birthdays with my brothers and my sister-in-law. Sixty years, guys! So amazing. I can't wait for boat rides around the bay, boardwalk visits, coffee on the front porch in the morning, wine on the front porch at night 😏, a half moon of beach chairs at twilight, and the sound of laughter echoing through the house. And celebrating the two people who made all of it possible.
Love you, Mom and Dad. ❤
Shop the post:
Navy Striped Maxi Dress (Also love these similar options: one, two, three!!!, four and five.) / Jack Rogers Sandals / Poppy + Sage Bag c/o (Also obsessed with this one! Love how affordable they are. Here's my complete guide to the best woven bags, btw.) / Emma's Dress / Emma's Sandals