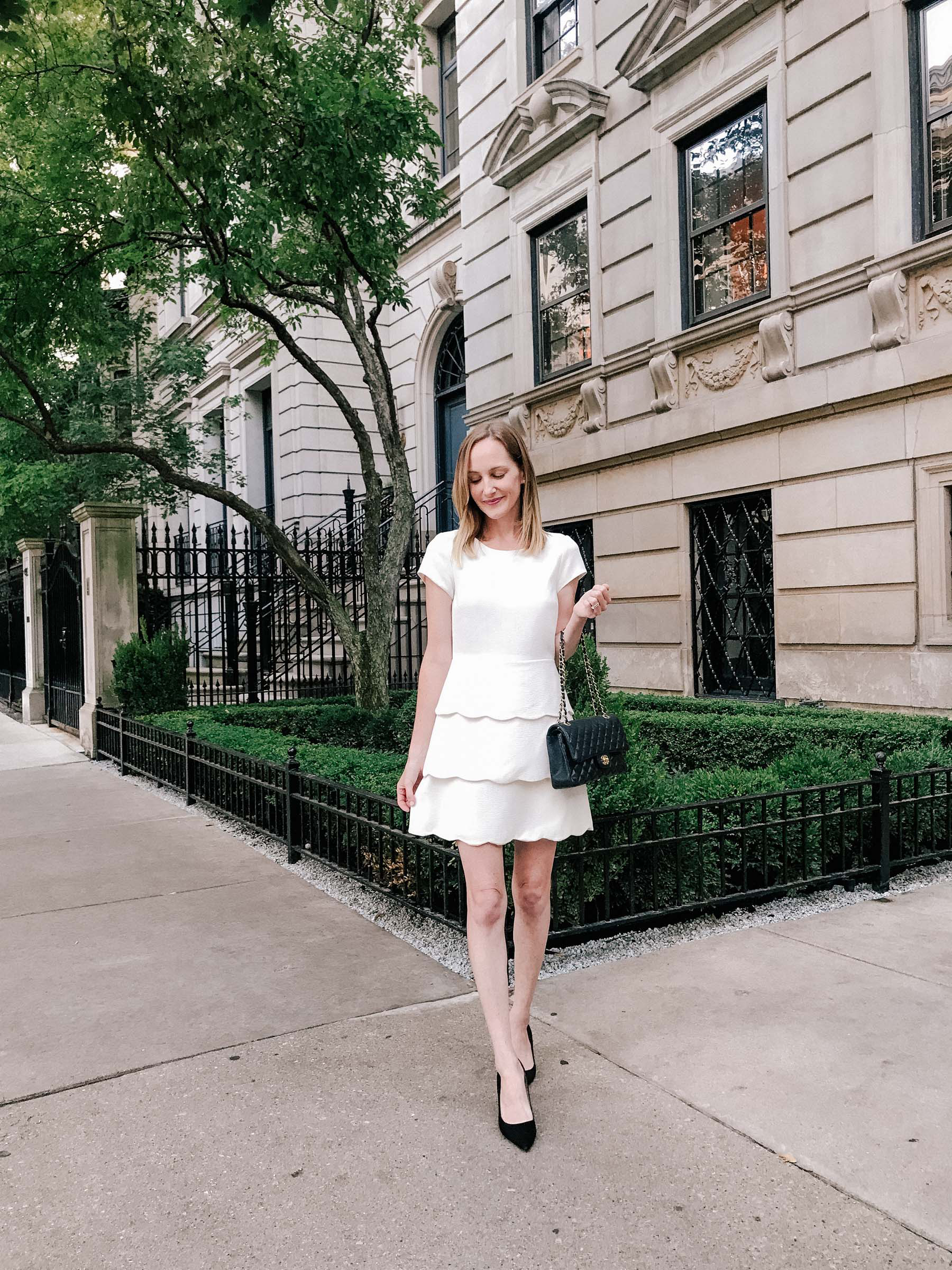 Club Monaco Dress (Last year's version. I would go a size or two up. I'm wearing a 2 in the older version, but wish I'd gone with a 4! How sweet is this newer dress?!) / Kate Spade Pumps (Last year's version.) / Similar Bags here, here, here and here — This one looks very much like the Chanel, and did you know that Shopbop carries gently loved Chanel bags?! Mine is pre-owned, too! This one's my fave.

As I mentioned in last week's Friday post, I'm slowly trying to overhaul Kelly in the City. I don't want to change everything; I still want to feature fashion and whatnot. (Hence why this series still exists!) I just want to enjoy blogging again, and I want my site to reflect who I really am. I'm already happier in my little corner of the internet, and we're only going into week 2 of "lifestyle blogging," for lack of a better term! Excited to get some different posts–stuff I've been meaning to publish forever–up on the blog next week, too. :)
For now, though, let's get to today's musings, the week's 10 most popular products, what I'm up to this weekend, and recent blog posts I hope you'll check out.

Musings
Emma calls noodles "Beales," and it's the funniest thing ever. If you're new here, we have no idea why Emma calls Noodle, our miniature dachshund, "Beale." It's hilarious. But the best is when we have mac and cheese, because Emma shouts "BEALES!"
Mitch and I went on a date night last night! We needed to be in the Gold Coast for a meeting, but kept the babysitter for another couple of hours so we could go afterwards in Old Town, one of my favorite Chicago neighborhoods. (So much history!) Felt great to really be able to talk to each other, and I loved walking down the quaint streets at twilight. I also loved the wine, haha. #swimmingscallops
Thank you for your support regarding yesterday's blog post. The response was overwhelming in the best possible way, and to me, it was further proof that talking about it is unbelievably important. Again, thank you. Please continue the discussion!
The video is DONE. Remember that video Mitch was working on for Emma's second birthday? He poured his heart into it, and he finished it on Wednesday night! I know it's a 20-minute video of my own kid, so that's probably why I was a blubbering mess while I watched it, haha. And while I don't expect you to watch the whole thing, I can't wait to get it on the blog. (I'm thinking it'll likely go up on Sunday.)
Tuckernuck is having a big sale. Be sure to browse the selection!
I'm still over here with laryngitis. It became glaringly obvious after 14 days that I needed to stop talking–pretty much all together–so I could heal. Man, that's been tough, especially with a toddler! I was mute for the better part of this past week, and was ultimately put on steroids because there really wasn't any improvement. I used to get laryngitis all the time, but this is definitely the worst it's ever been. Fingers crossed that the steroids work and that I don't become crazy hyper from them, haha!
Today's the last day to enter the Lilly Pulitzer giveaway! Everyone could use $100 to shop the upcoming sale, right?
Emma's Birth Story was recently featured on The EveryMom, and I'm so touched! It originally appeared here. If you're in the same shoes as I was in and nervous about childbirth, it's a very positive story. YOU CAN DO IT!
Our bathroom is coming along. I mentioned this recently, but I'm partnering with Ace Hardware to show how a new paint job can make a huge impact on a space in need of TLC. We're focusing on our guest bathroom, and we've decided to go bold. We also decided to replace our sink (because we're in desperate need of storage for Emma's bath stuff) and floor (because the tile had cracked). After having gone through a very expensive gut renovation on our master bathroom, I was reluctant to undertake another bathroom project, but I really can't believe how much of a difference these comparatively inexpensive (and relatively non-disruptive) updates are going to make!
What I'm up to this weekend
I honestly don't know! Once again, a pretty wide-open weekend, which is lovely. Maybe we'll get a babysitter for Saturday night after Emma goes down? Besides that, I think we'll likely spend our time cruising around the city and playground-hopping.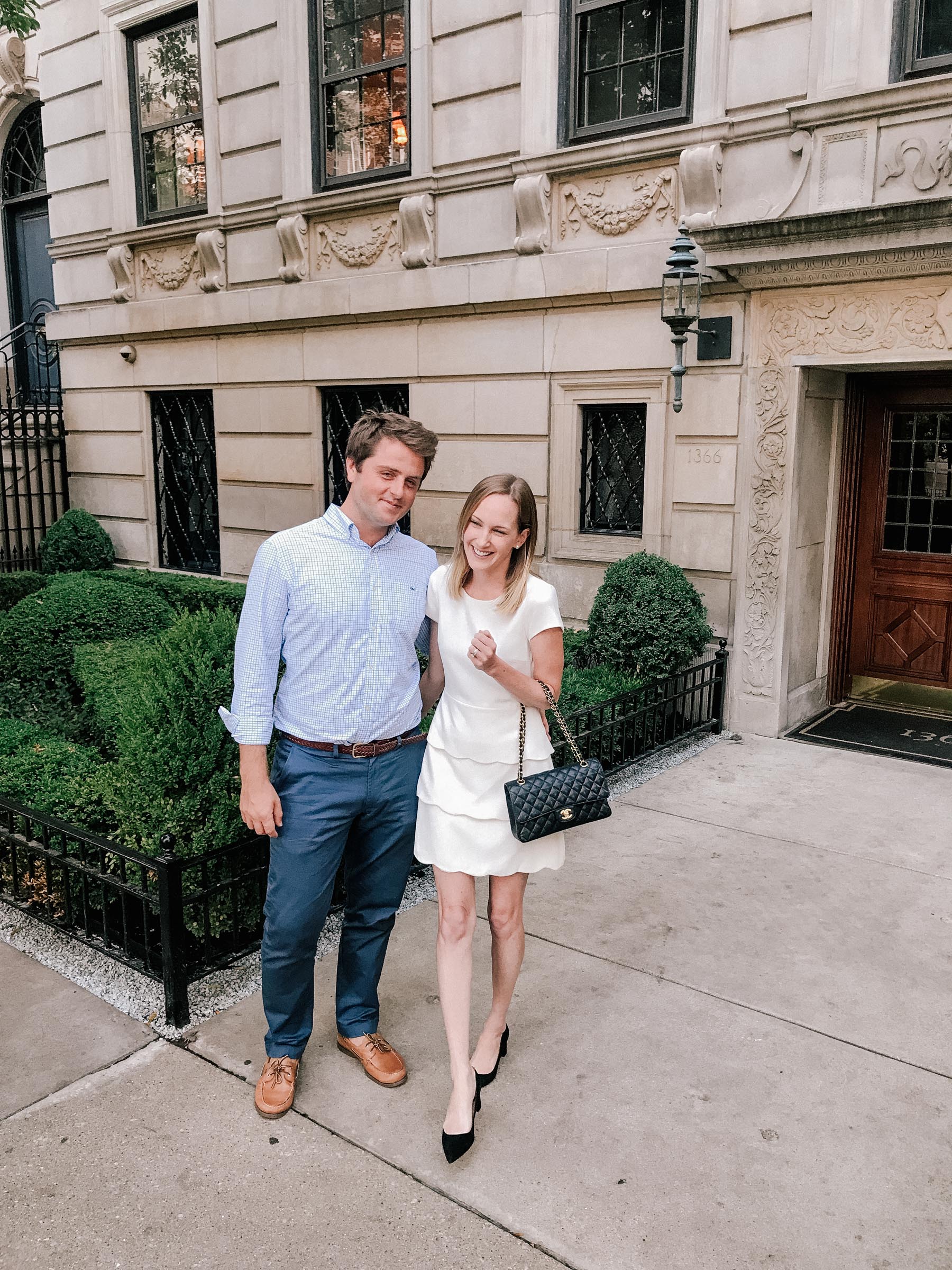 Awkward photo taken by sweet stranger. Outfit details at the top of the post.

This week's 10 most popular products
Jack Rogers on sale: The sale that keeps going. It tends to start and stop and start and stop, but this is a great deal on the most popular colors.
Burberry Quilted Jacket: The classic Burberry jacket, which I wear ALL fall and spring. (And when I'm vacationing in warmer weather locations during the winter.) I've had mine for years and I know I'll have it forever. It's timeless! (Runs small. Go up one size.)
J.Crew Navy Shirt Dress: Yassss! I love this dress because it's wrinkle-resistant and it's a fabulous transitional piece.
Favorite Dress Pants, Now in Olive Green: Dress pants that feel like pajamas! Love the new color. I reviewed them here.
Camel Blazer: My most-worn blazer!
Everlane Day Heel: CUTEST. I will tell you that at the very end of the day, the elastic starts to bother me, but otherwise I adore 'em.
Birch Lane Leather Couch: Second week running! I've been receiving an influx of questions about our leather couches! I guess because the summer's winding down, people are starting to think about home decor and furniture again? Either way, I can't recommend our couches more. I've said this countless times before, but they're magic couches. We were super nervous about ordering them since there's no way to test them out in-store, but HOLY GOODNESS. They're unbelievably comfy and they don't scratch. Like, at all. Literally zero signs of wear over our three years of ownership, and we have a toddler and miniature dachshund who are constantly jumping on and off. They're so wonderful that my parents and brother ordered them, too. You can see them styled in our home here.
Drapey Faux Wrap Top: This is the top I've been wearing out lately!
Gingham Swimsuit: I wore it here! Still can't believe I did that, haha.
Shearling Lined Bean Boots: Crazy, but it's kind of time to order your Bean Boots. This is my favorite pair because they're the warmest that L.L.Bean carries, and the leather is buttery soft. Here's my guide to buying Bean Boots from last year, and here's the original.
Leopard Flats: Oops. This is an extra one. I wore them here!
Recent blog posts
Recent Finds, 8/17