Lilly Pulitzer Bailor Dress (It was just pulled from the site, so it'll likely be included in the upcoming After Party Sale. Everything you need about that here, along with a chance to win a $100 gift card. J.Crew also makes a VERY similar dress which is awesome and wrinkle-resistant. I also own the company's sweater dress version because I apparently #cantstopwontstop with this style.) / Jack Rogers Sandals / Canon 5D Mark III (This is a GREAT alternative; nearly the same camera but lighter and far less expensive.) / 35mm f/1.4 vII Lens <– Best lens I've ever owned.
We're back with another "Recent Finds," along with musings, the week's 10 most popular products, what I'm up to this weekend, and recent interesting blog posts.
Musings
Mitch is currently working on Emma's second birthday video. Mitch has a gift for videography, but he's short on time these days. (I'm so proud of him; his company has been taking off and demanding a lot more of his time, which is why he hasn't been on the blog much over the last month.) I'm so grateful, though, that he's been carving out time to work on this project because I know we'll treasure it forever. This is the video from Emma's first birthday! (And yes: we're going to do the balloon thing ever year. Such a fun tradition!)
I'm really enjoying blogging right now. To be honest, my heart hasn't been in it for a while. I've alluded to this before, but we've been outgrowing our home, and this past spring, we decided that we needed more space. Ideally, we'd like to keep our current home and rent it out as an investment… which means saving for a new down payment. (Exciting stuff, but ugh.)
I took on a ton of blog-related work to kickstart the savings, but I ended up feeling burnt out and uninspired with my site. We've since realized that we're not in emergency mode. Yes, we're tight on square footage and we're tripping over each other, but it's far from unlivable, even with a toddler. :) The new timeline–sometime in the next year or two?–has allowed for some reinvention, too. Kelly in the City will continue to feature clothing and fashion, but it'll have less "here's what I'm wearing and the weather is _____," and more me. I think I'm going to be a lot happier, and I'm excited about revamping things. I go a bit more in depth about this in yesterday's post.
I have another "me" post going up tomorrow, so I'd love it if you'd tune back in then!
We went swimming yesterday at Midtown Athletic Club's rooftop pool. UNBELIEVABLE. We have a temporary Midtown Athletic Club membership because of a collaboration we did last year, but we admittedly go to another gym on the reg because it's right around the corner from us and all our friends belong there as well. That said, Midtown IS the nicest gym I've ever seen, and their rooftop pool scene is insane. We're going to go back as often as possible until our membership expires or the weather cools. (We're here for the remainder of August, so I think we can make this happen! Pray that this remains the case. 😂) Check out the rooftop pool in my Instagram Stories. I can't wait to go back.
Mitch and I are going to Fashion Week in New York next month for a fun project. We're only attending a couple of events because I'm generally a little intimidated by Fashion Week, but I'm excited to share more soon. Also pumped to be back in the city with Mitch for a few days!
I have laryngitis. I sound like a man, and it's not cute.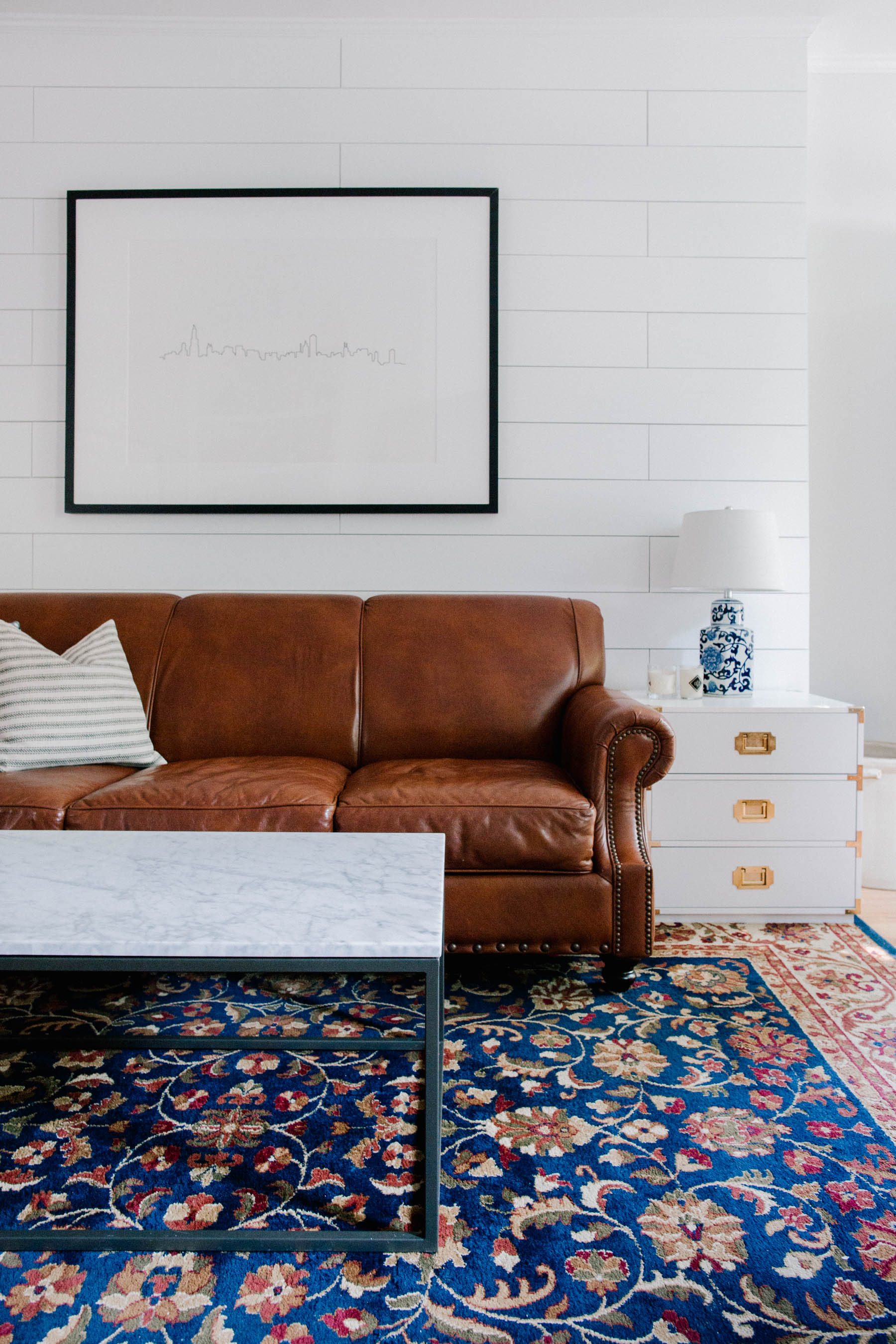 Original post with links to products. (Rug here.)
This week's 10 most popular products
Birch Lane Leather Couch: I've been receiving an influx of questions about our leather couches! I guess because the summer's winding down, people are starting to think about home decor and furniture again? Either way, I can't recommend our couches more. I've said this countless times before, but they're magic couches. We were super nervous about ordering them since there's no way to test them out in-store, but HOLY GOODNESS. They're unbelievably comfy and they don't scratch. Like, at all. Literally zero signs of wear over our three years of ownership, and we have a toddler and miniature dachshund who are constantly jumping on and off. They're so wonderful that my parents and brother ordered them, too. You can see them styled in our home here.
Matching Ottoman: Not much to say here. But it's lovely.
Camel Blazer: I do own the original J.Crew blazer, but I recently reviewed the Factory version for a collaboration with the brand. It's SUCH a gorgeous staple for the price–and one that you'll have forever. I'll say that I probably like the material of the original a bit more, but overall, it's a timeless + quality blazer for an unbeatable price. Recommendation: bring it to the tailor and have the shoulder pads removed! They're very small pads, but I always do this because I think blazers are a lot more flattering without 'em. My local tailor charges $10 for this and it's totally worth it.
Hand-Knotted Rug: A few weeks ago, we updated our living room rug. The previous one was sun-bleached, and for $200, it had served its time. I'm SO happy with the rug we chose. I also really love this one.
Funnel-Neck Top: Cute, right?! J.Crew carries the top in different colors/patterns.
Red Dress: I wore it here. Obsessed.
Drapey Going Out Top: I have it in white and navy, and I get so much use out of it! Isn't is classy?
Favorite Dress Pants, Now in Olive Green: Dress pants that feel like pajamas! Love the new color. I reviewed them here.
Leopard Flats: Leopard's a neutral and every girl needs a pair for fall. I wore them in this post.
Rockaway Jeans: Also from this post. I tried on every single pair available at the store, and this pair was my fave! (#dedication, haha.)
What's on tap for the weekend
I love how I put up an Instagram yesterday all about how we have nothing going on this weekend, when in reality we have a wedding tonight! I was out of commission for so long due to the plague that my mental calendar is off, haha. (Somehow thought that August 11th was next weekend.) I've been looking forward to this for months! Mitch and I have one of our favorite babysitters, and we're even going out for pre-wedding drinks beforehand, alone. I can't wait to celebrate our dear friend Jenny and Mr. D. — sending so much love, guys. Over the moon happy for you. <3
Recent blog posts
Everything You Need to Know About the Lilly Pulitzer After Party Sale
Preppy "Back to School" Outfits with the Larkins
A Trip to One of the World's Most Beautiful Beaches
City Living Struggles: When Friends Move Away
Recent Finds