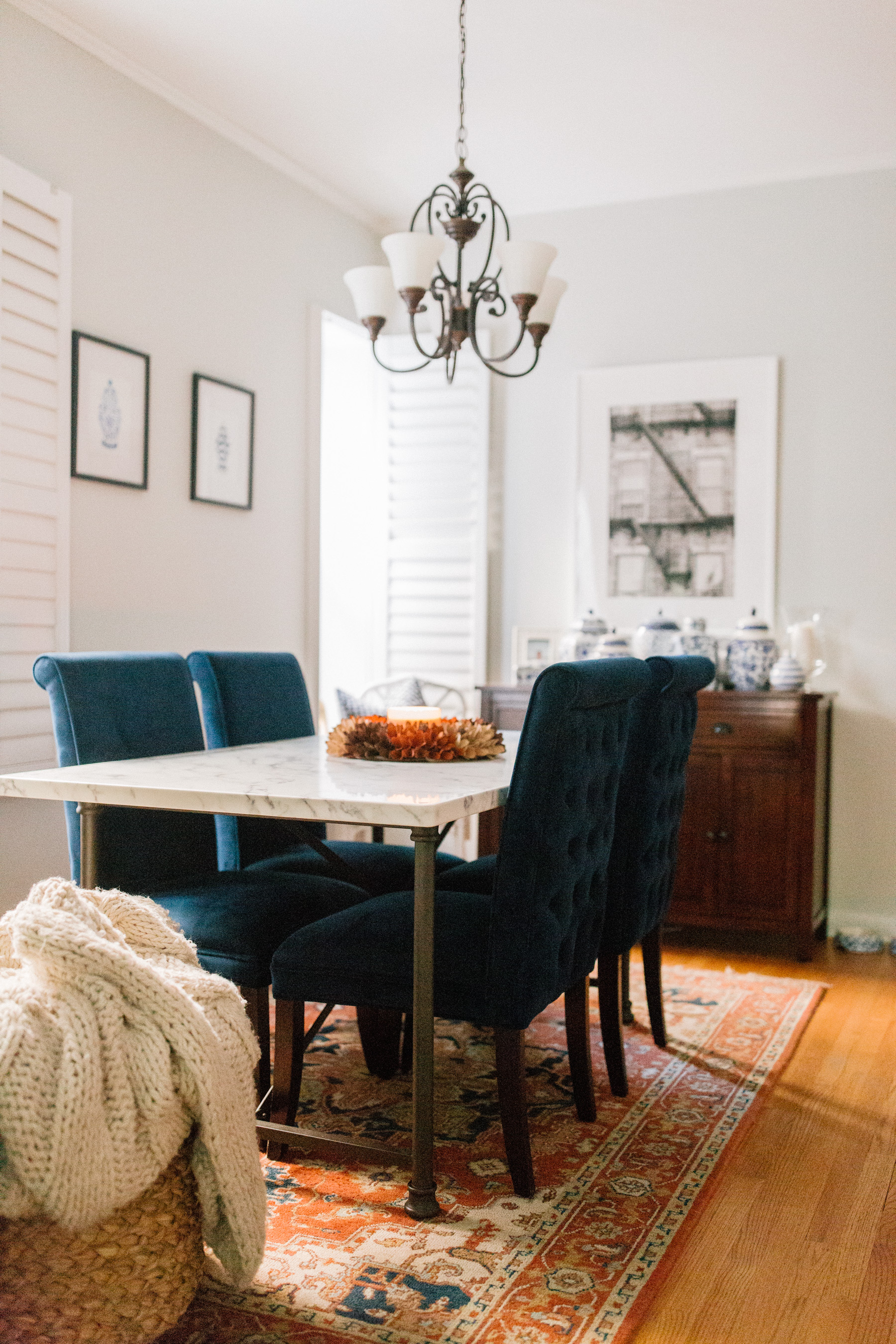 Brooklyn Fire Escape Print / Other Room Details
All artwork in post:
Solo frames: Chicago skyline in living room / Chicago skyline in Emma's Room / Giraffe / Seal / Flamingo / Twinkle Twinkle / I'm "Frond" of You / Gallery wall: Three Dogs / Map of Chicago / Three Whales / Bicycle / Pineapple / London Phone Booth / Map of NYC
Mitch here!
Did you see yesterday's home post? Now that Chicago's temperatures are returning to form, Kelly and I have assumed our rightful position in the house, where we intend to complain about the weather until springtime. And as faithful Stuck-Insiders, we've also taken it upon ourselves to spruce up our place to make the next six months of "chill" a bit more bearable. Today, I'm talkin' about artwork!
For our walls, we almost exclusively use Minted. It's the first place I check when presented with a blank wall conundrum. Minted combines crowdsourced artwork, a super-simple website, and affordable professional framing to get your design project off the ground.
Do you want your home to look professionally designed? Are you a busy person? Do you like saving money? If you answered yes to any of those questions, then Minted's for you!

Minted provides a huge platform for independent artists to sell their work, while also handling printing, framing and shipping. It features artists from all 50 states as well as from 96 countries, and in doing so, helps these artists to continue creating. (Shoutout to our friend Blair, who has a bunch of gorgeous paintings up on the site. A few years ago, she challenged herself to take up painting, and she's created some stunning pieces that are now shipping all over the world. Isn't she amazing?!) As a guy married to a photographer, I can only imagine how difficult it was to market one's images before Minted.  It's a win-win-win for everyone involved. Especially for less creative individuals like myself who just need something nice to put up on the darn walls!
We've worked with company a few times over the years. You'll notice that we typically opt for simple black or white frames, but Minted offers more than a dozen framing options if you want to get a little fancy. You can also customize spacing, mounting and matting within the frame. In the end, I can guarantee you'll find an option that fits your space! But be careful: the site is addictive. ;)
But let's get to some of my favorite pieces that you'll find around our home: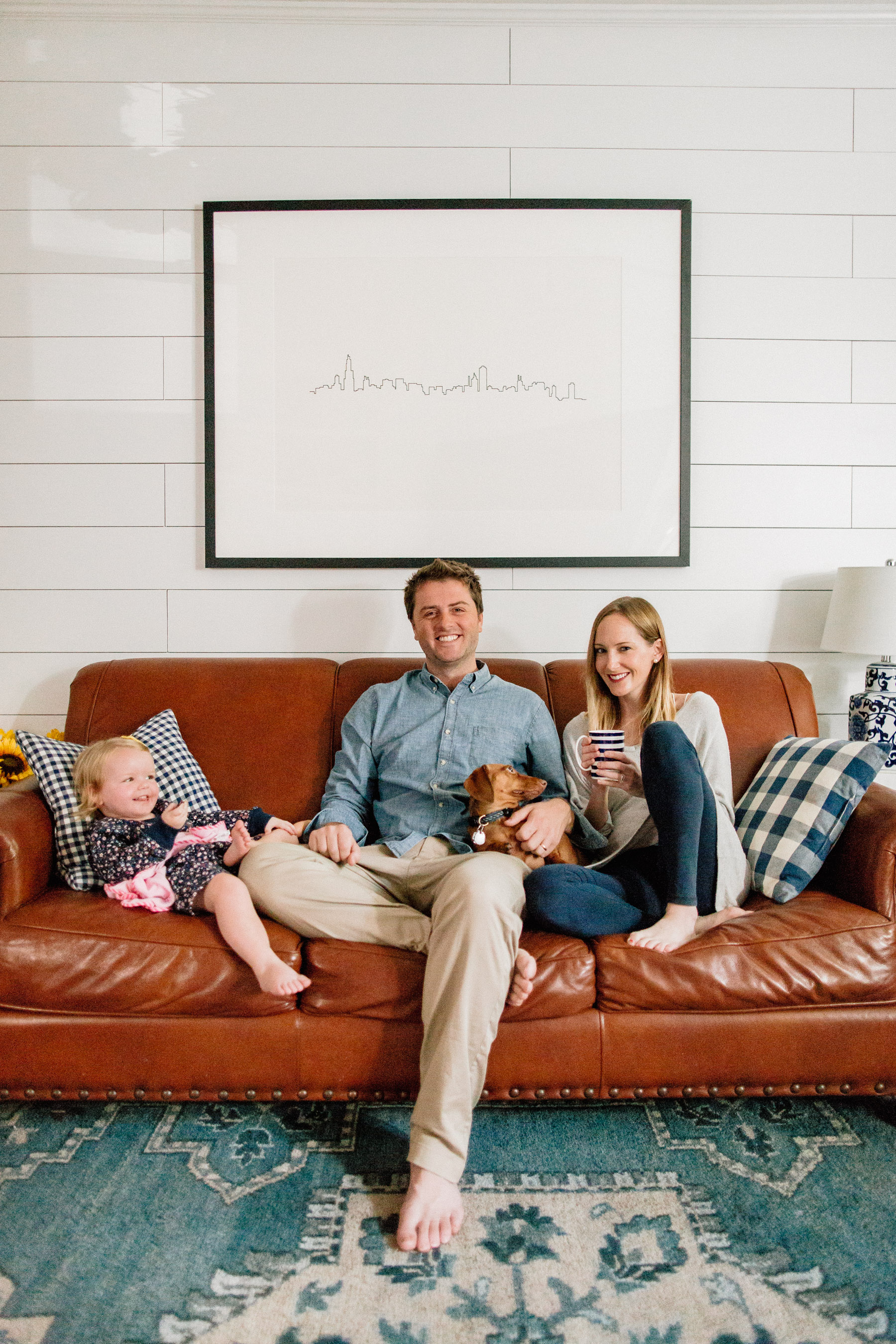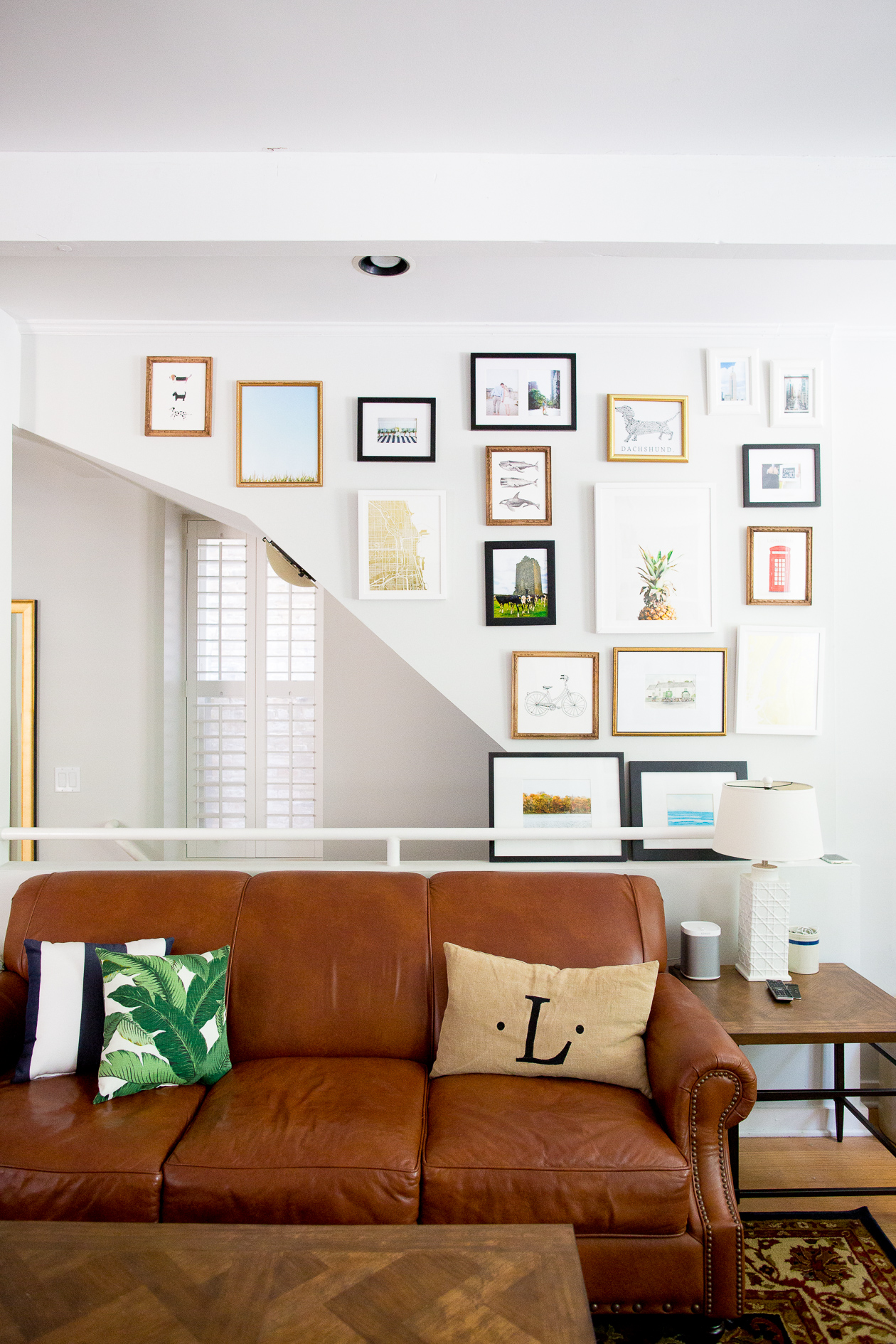 Chicago Skyline Print / Other Room Details
Gallery wall: Three Dogs / Map of Chicago / Three Whales / Bicycle / Pineapple / London Phone Booth / Map of NYC
Living Room
We've actually redecorated our living room with Minted a couple times. First, was the infamous gallery wall (also here) that prominently featured a few Minted frames. Though they seem so casual, gallery walls are a lot of work, and without Minted, I doubt we could've pulled this one off!
Due to safety concerns with Emma, we recently renovated the room and closed off that wall, though. The new shiplap design (full blog post here) was too busy for another gallery wall, so we chose a simple silhouette of Chicago, matted in a black frame. Honestly, it looks very much like Kelly in the City's logo, and I'm not sure how we didn't notice that before ordering, haha. (A few readers brought it to our attention after the fact!) But we love the look, and it's a conversation-starter, so whatever. Happiness. :)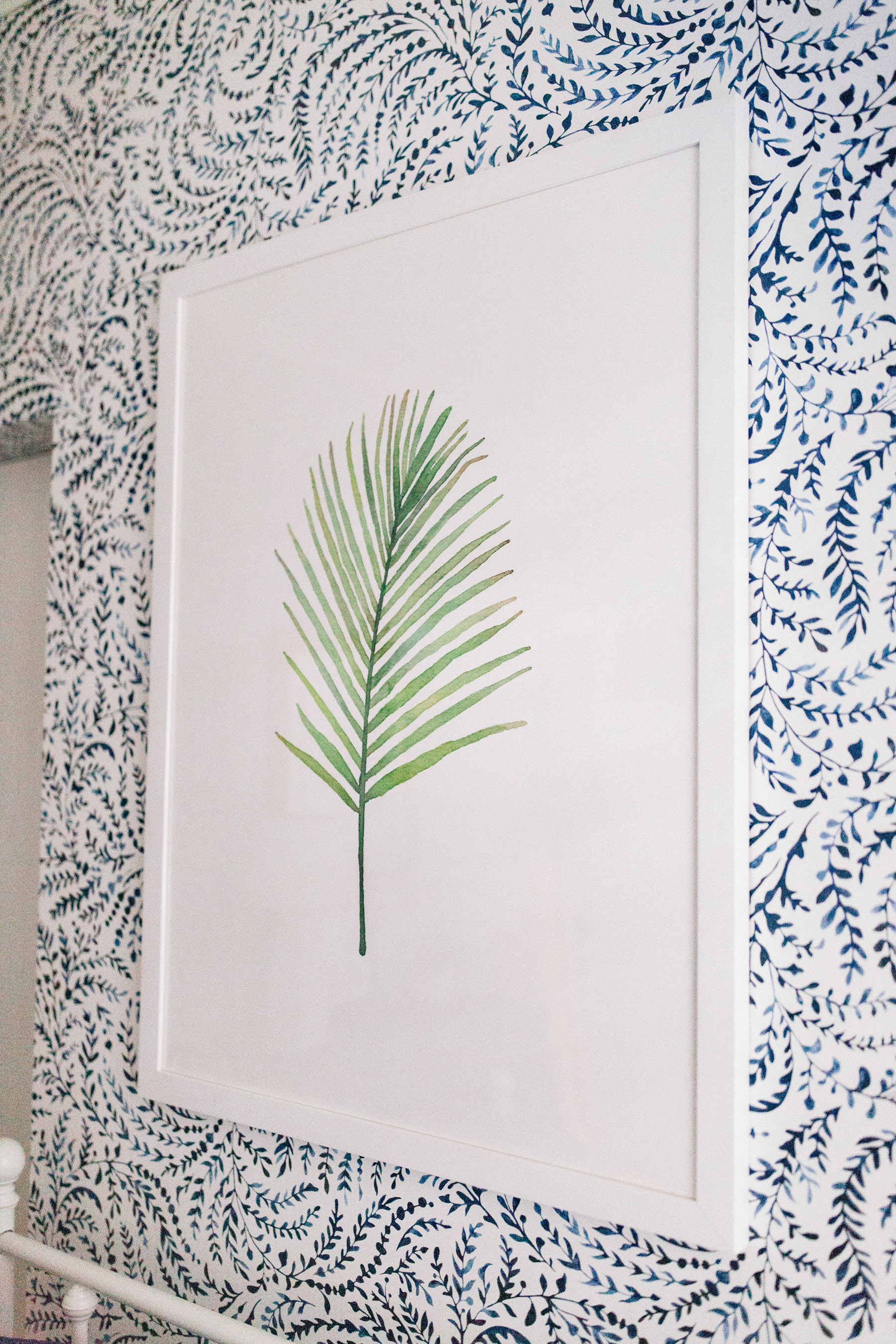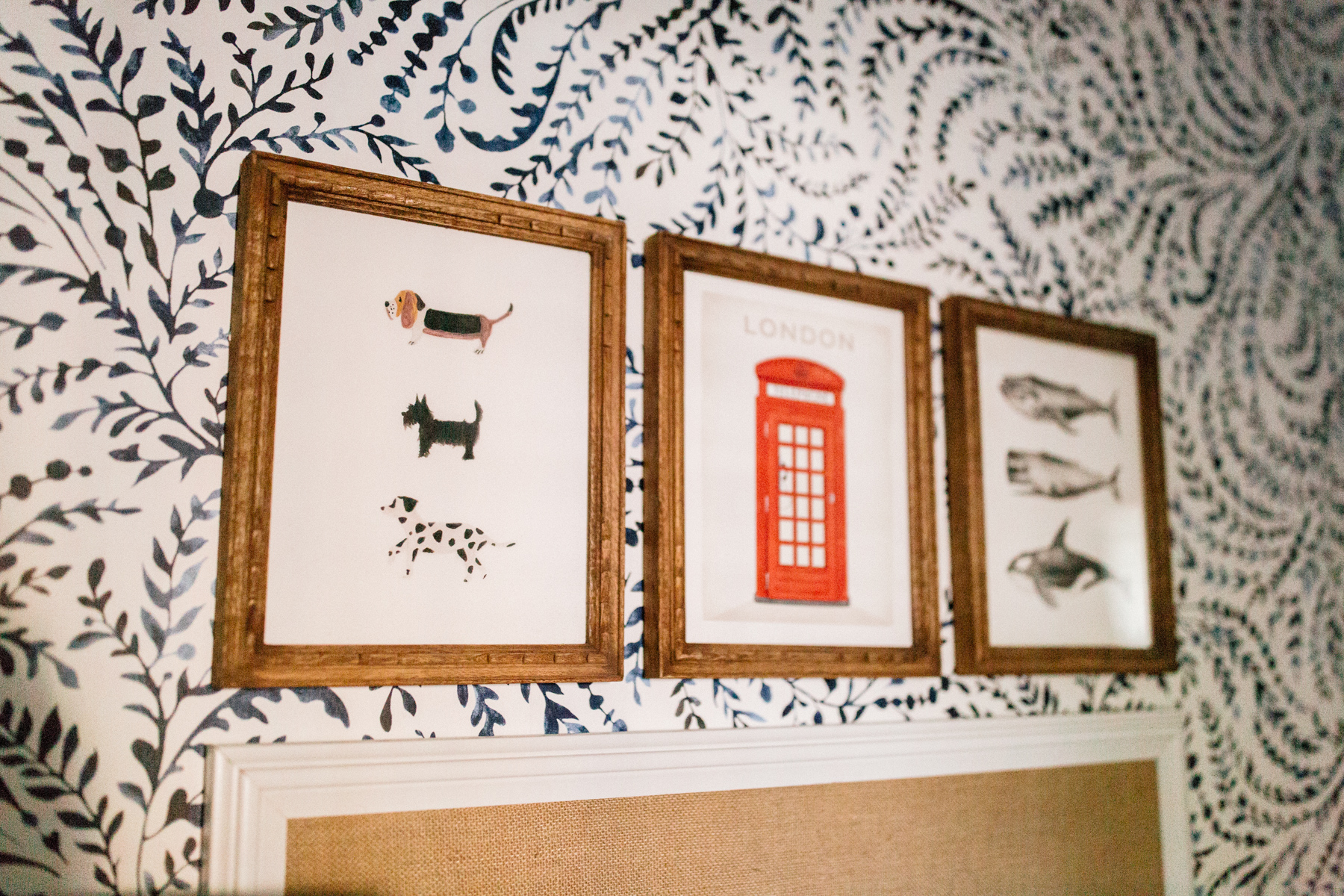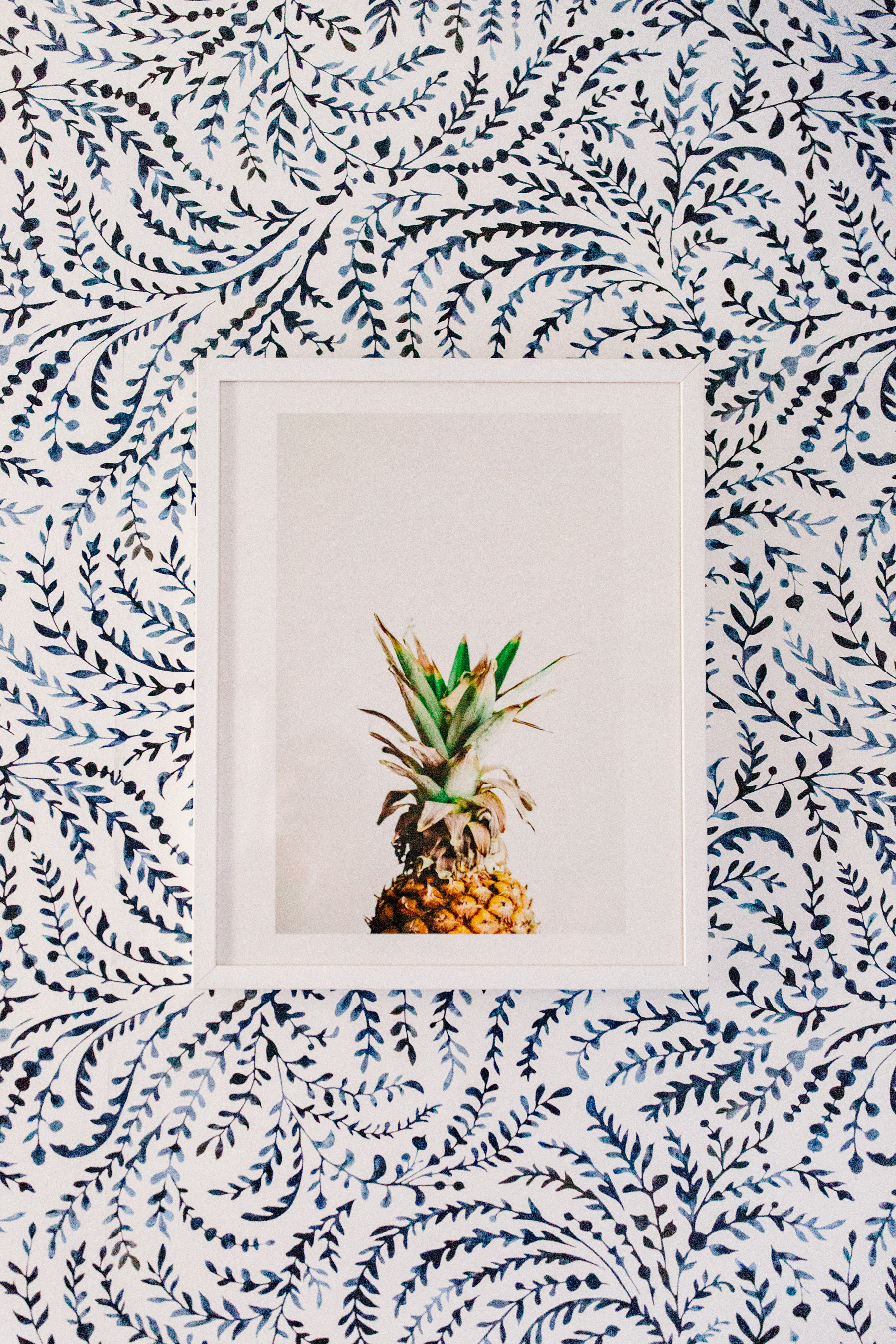 I'm "Frond" of You / Three Dogs / Three Whales / Pineapple / London Phone Booth / Other Room Details
Office
Kelly is still working on her redesigned office reveal post, but consider the above pics a sneak peek. Yes, the I'm "Frond" of You frame used to hang in our dining room, but we couldn't resist the simple color and feeling of this frame in the office. While I don't want to say too much, it's my favorite room in the house, and I'm Frond of You matted in a simple white frame fits the space perfectly.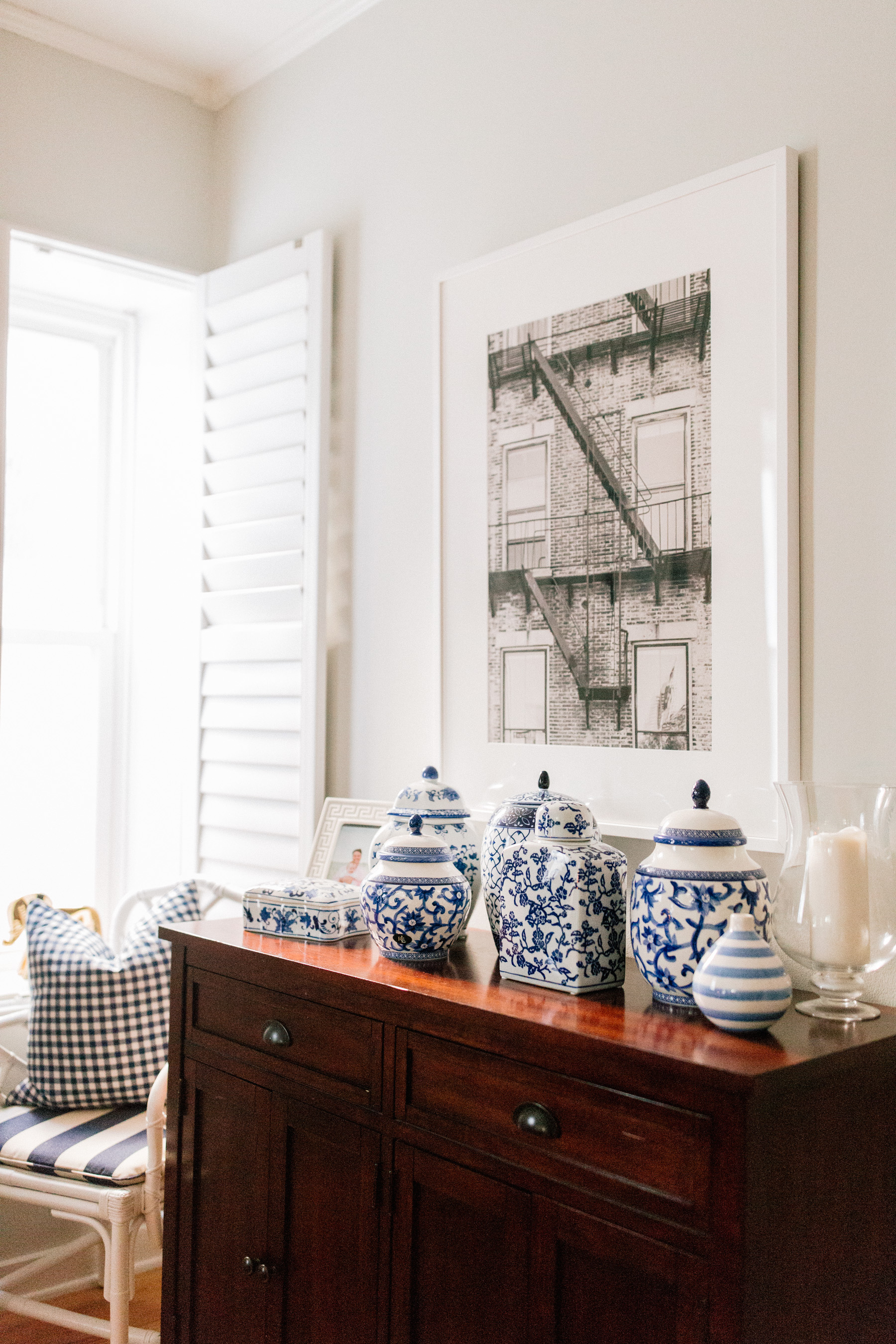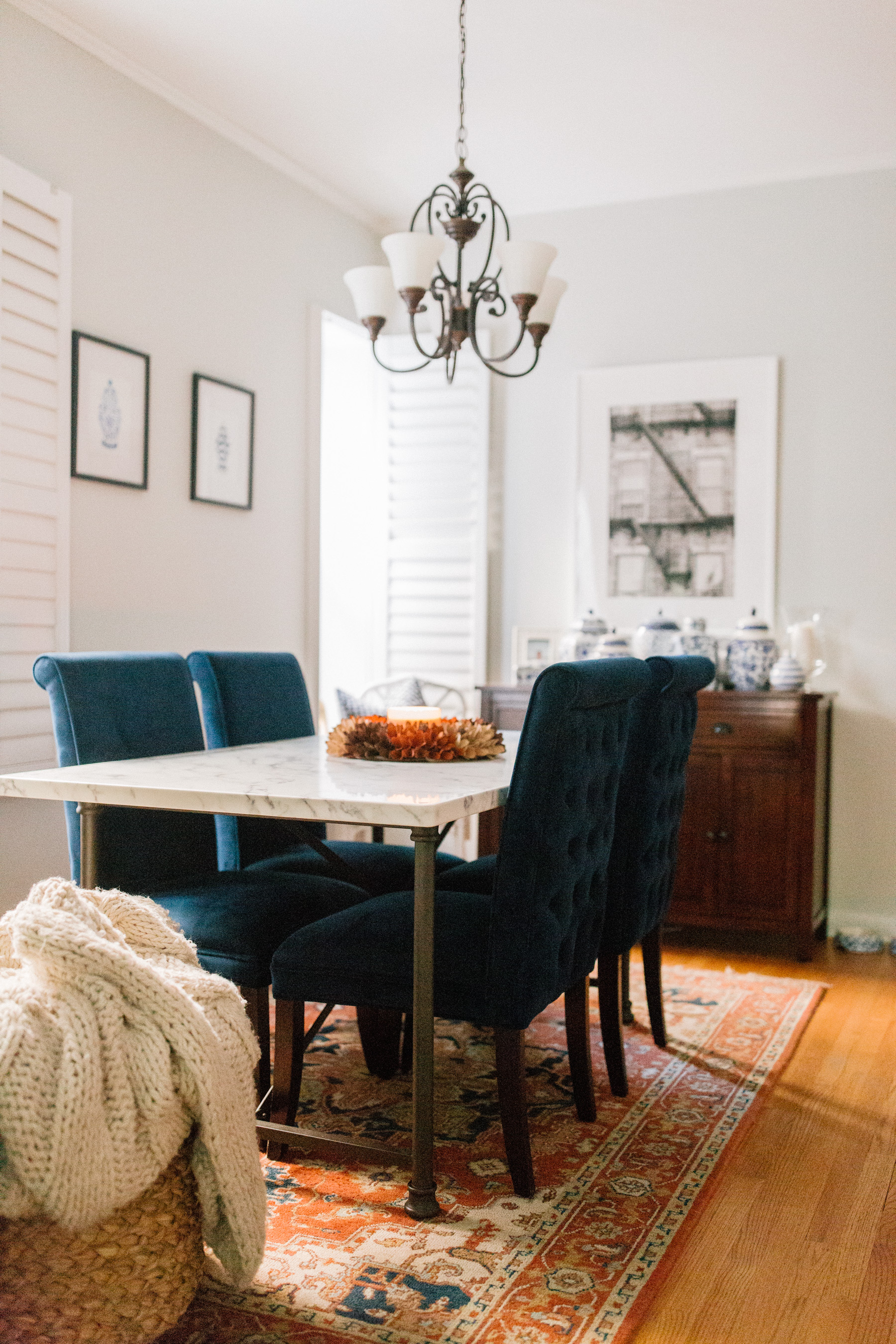 Brooklyn Fire Escape / Other Room Details
Dining Room
Our dining room has a tough job. All at once, it's a play room, second office, art studio… and, you know, a place to eat meals and stuff. It's the first thing you see when you walk in the house, and we scoured Minted for the perfect piece of artwork because of that. We wanted something that reminded us of New York but also wasn't obnoxious now that we live in Chicago. ;) I think we pulled it off perfectly with this photo of a Brooklyn fire escape.
Btw: This is what the dining room used to look like. It's come a long way, hasn't it?!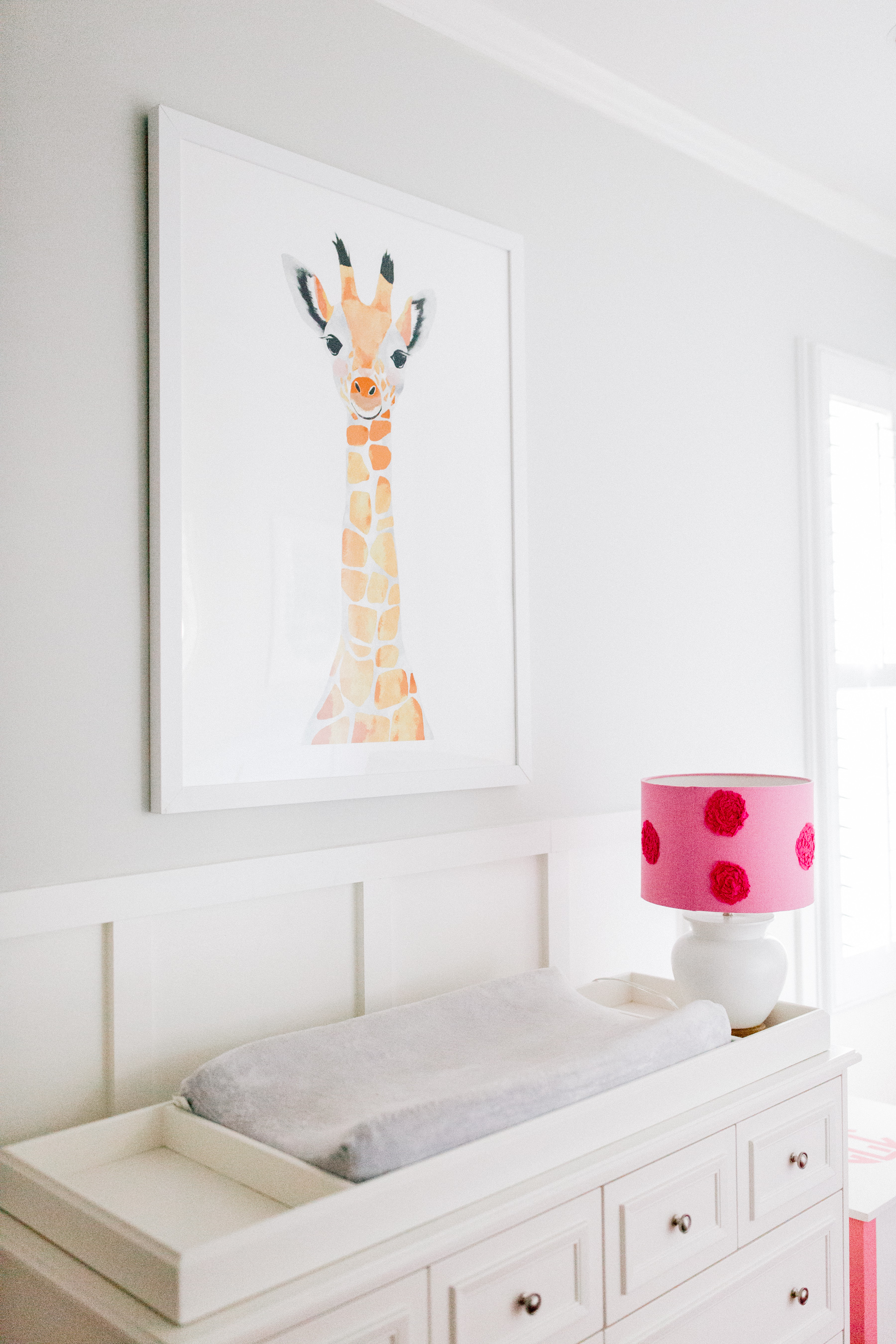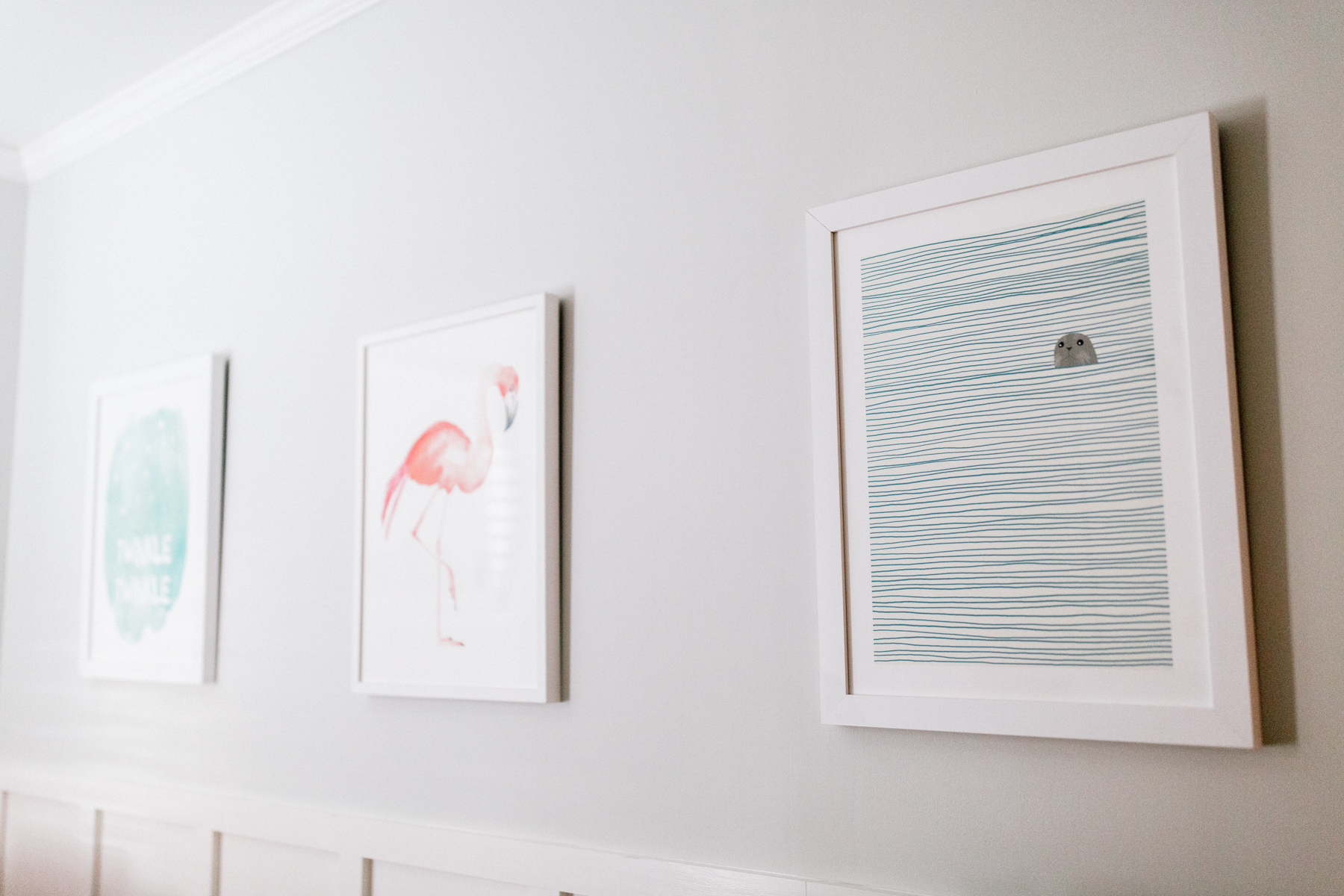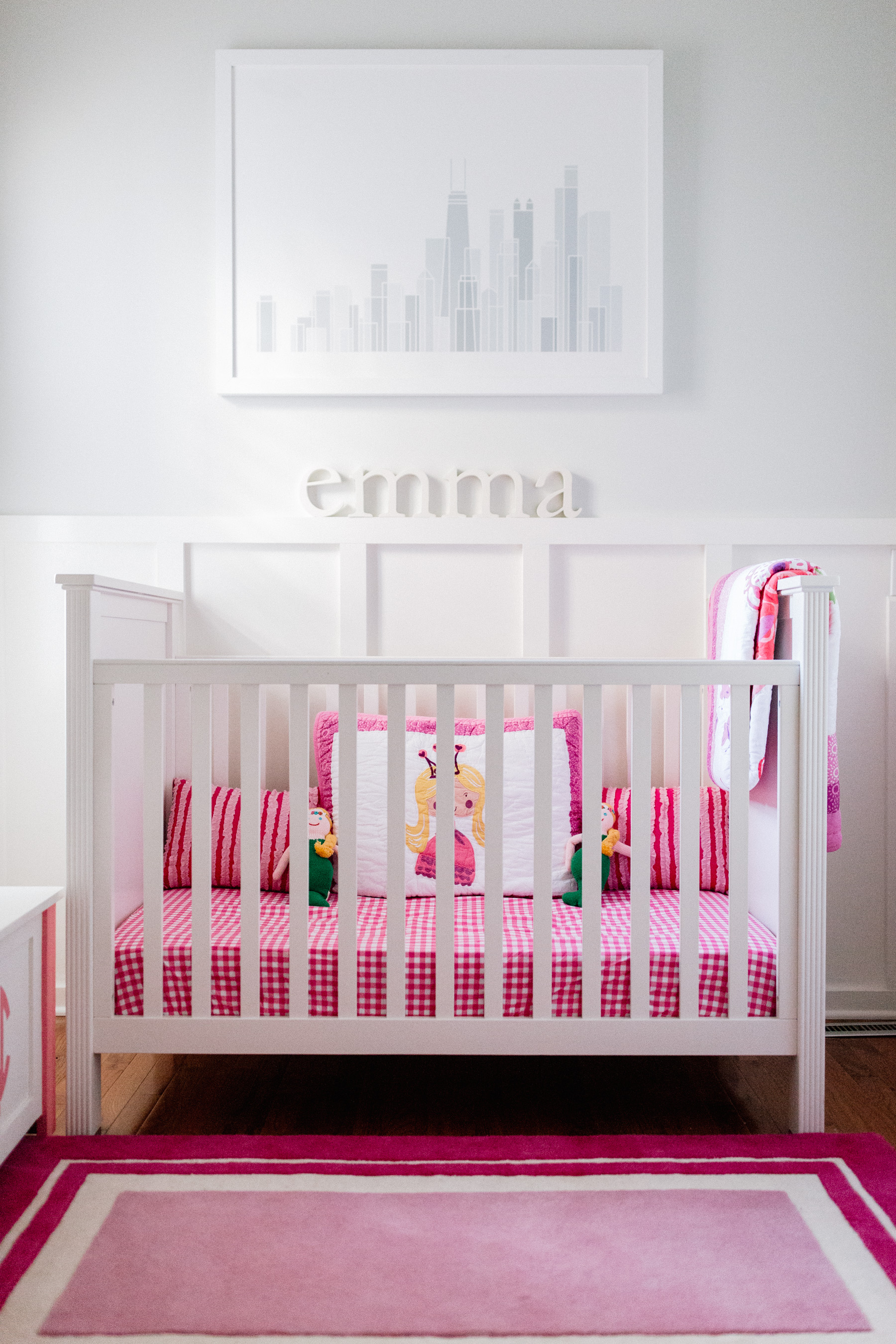 Chicago Skyline / Giraffe / Seal / Flamingo / Twinkle Twinkle / Other Room Details
Emma's room
We've featured Emma's nursery plenty on this site, but it's slowly transitioning to a little girl's room. (See yesterday's post for more photos!)
We've decided not to change out the frames, though, as they've proven to be a huge hit over the last two years. Emma wakes up talking about them every day. When I tell you that they're also conversation-starters, I mean it:
I live in Chicago! 
Mommy gave me that giraffe! He lives in Africa! And the Lincoln Park Zoo!
I see seals at the zoo, too!
Daddy gave me that flamingo!
I suppose it won't be long before Emma is rebelling against the cutesy animal art in her room in favor of "boy band" posters and whatnot, but for the time being, they're absolutely perfect.

In conclusion…
We're the kind of people who tinker with a space until it feels like home, and Minted is our partner in crime of choice. The site is the perfect embodiment of "work smarter, not harder," as I simultaneously don't have the time to scour the countryside for unique pieces of art, but also want to have a great-looking place. Thanks, Minted, for making this busy family's home truly feel like home!
Mitch. Out!
This post was sponsored by Minted, but all opinions are my own. As always, thank you so much for supporting the partnerships that keep Kelly in the City up and running!