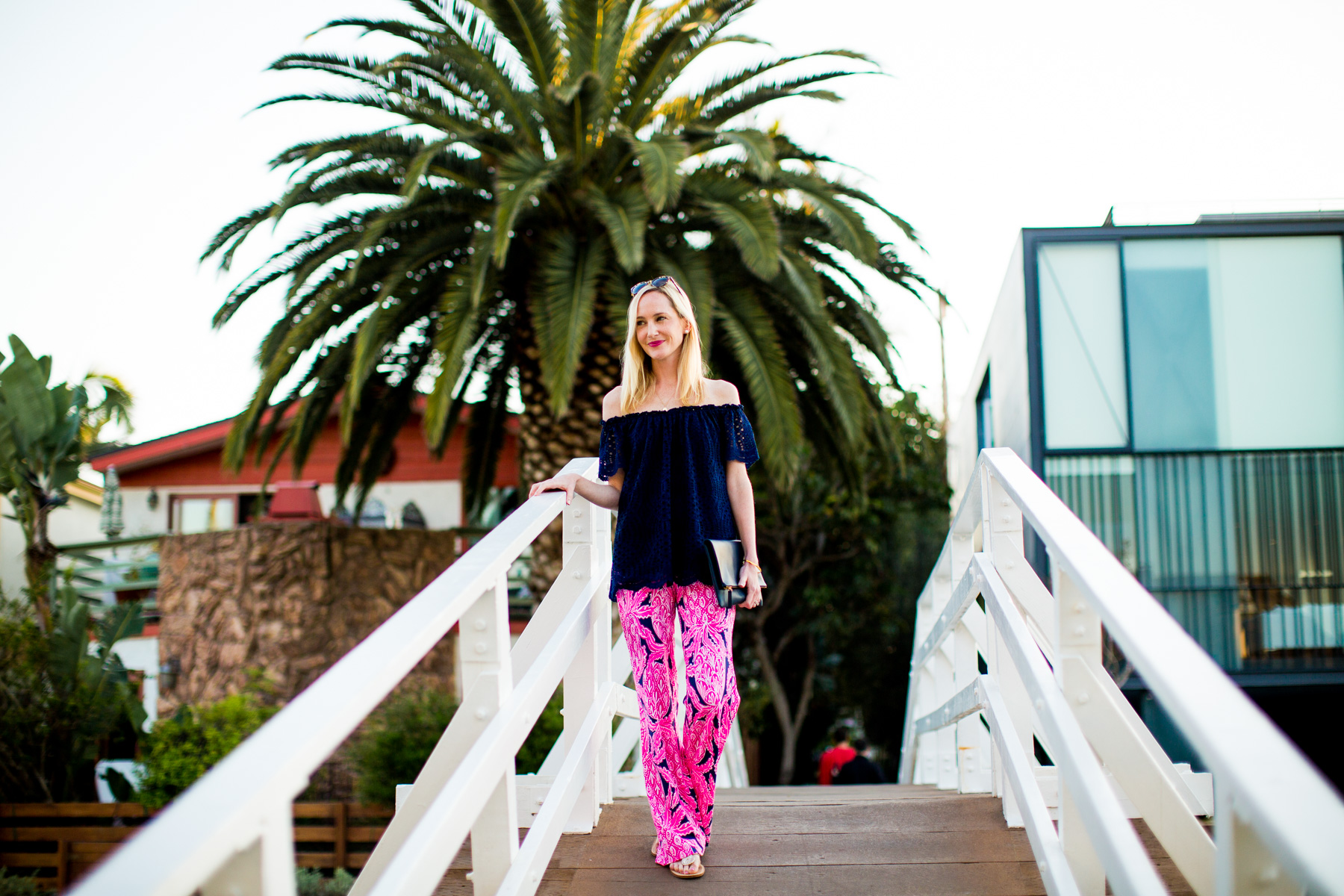 Lilly Pulitzer Pants (they come in navy, too!) and Off-the-Shoulder Top (The top is sold out, but this just became available! Nearly the same, just in white. I also love this top and this top from Lilly–have them both and ADORE! And this top and this top are amazingly close, too!) / Jack Rogers (On major sale right now! And how cute is the bow and navy striped versions?! And speaking of Jack Rogers, I hear these are the best rain booties of all time.) / Everlane Clutch c/o
I really can't tell you how hard I've been working this week to get myself to a good place work-, house- and baby- and life-wise. I know: I keep talking about how our trip to California and the plague set me back, but goodness. How DO parents catch up after stuff like that?! Am I doing something wrong? Or is it just a very slow process? (Is this normal?!)
I feel like things need to get quite ugly before they get better in the Larkin Household, haha. (Yep. I cried. But then I ate a bag of M&Ms and felt SO much better.) Yesterday was a real turning point, though.
A little background as to how I now handle blogging and freelance work:
I'm taking on a certain amount of work per season, and trying my best to cap it at a certain point. While I do think I did a good job with being reasonable this spring, I recently fell behind, specifically on a giant freelance writing project, and then a bunch of smaller stuff. Emma's still getting enough sleep, but she's only napping for one or two 45-minute stretches during the day, and she's waking up a couple of times throughout the night… which is how the crying/M&M incident happened, haha. (Truth: I'm eating more of them as I type this. Walgreens had a sale. Marketing works on me.)
In complete distress, I holed myself up in our bedroom when Mitch got home from work and literally stayed there for six hours. At first, I just stared at the computer and my agenda, unable to figure out where to even start. But I eventually got my groove back, and I submitted loads of work. IT FEELS SO GOOD! (A big thanks to Mitch for being the best dad ever.)
One thing I'm a little bummed about, though, is that I haven't really gotten around to writing solid California posts. We did a LOT while we were there, but I keep putting it off because I want to do a good job and know I don't have the time to do so right now. But I guess that's okay, right? I'm going to write a big "Where We Ate, What We Did and Where We Stayed in LA" post soon–maybe I'll be able to write it over the weekend while Mitch is in New York. ;) For now, though, I'll just share some pretty photos from the Venice Canal Historic District–one of my favorite spots we visited.
Because we stayed at the Inn at Venice Beach, which is located right around the corner from the canals, we spent a good amount of time wandering the grid. (Here's a post I did during the day.) I loved it, and as I mentioned before, I adored photographing the plants. I know my mother-in-law (who's in training to become a Master Gardener) would have gone nuts! The plants I'm sharing in this post aren't too weird, but take a look at these.

The clothes:
Anyway, we snapped these pictures before heading out to dinner one night. I wore my absolute favorite off-the-shoulder top from Lilly, which is unfortunately sold out… but this lookalike just became available, which is nearly the same, just in white. (Totally considering nabbing it for the summer before it sells out!) If you're looking for navy, though, I also love this top and this top from Lilly. I have them both and adore 'em! And this top and this top are amazingly close, too!
As for the pants, they're Lilly's Georgia May Palazzo Pants, which also come in navy. I really can't tell you how comfortable they are. They look dressy yet feel like sweatpants, which is PERFECT for me, especially considering my newfound obsession with these leggings. (Here's the full post.) I'm wearing a size small for reference, btw.
Lastly, my favorite Jack Rogers are on sale and shouldn't be missed at this price! (They run TTS.) Though I have to admit that I'm definitely interested in trying the the bow and navy striped versions, of course not on sale. Boooo. Anyone have 'em?! Are they comfortable?!
Okay, Kids. I'm out. Follow along with me on Insta Stories today; I promise not to cry on camera. ;)
California Posts You May Have Missed:
The Cutest Maxi Dress in Redondo Beach
That Time Emma Saw the Ocean and Freaked Out
Mitch's Take on Flying with a Baby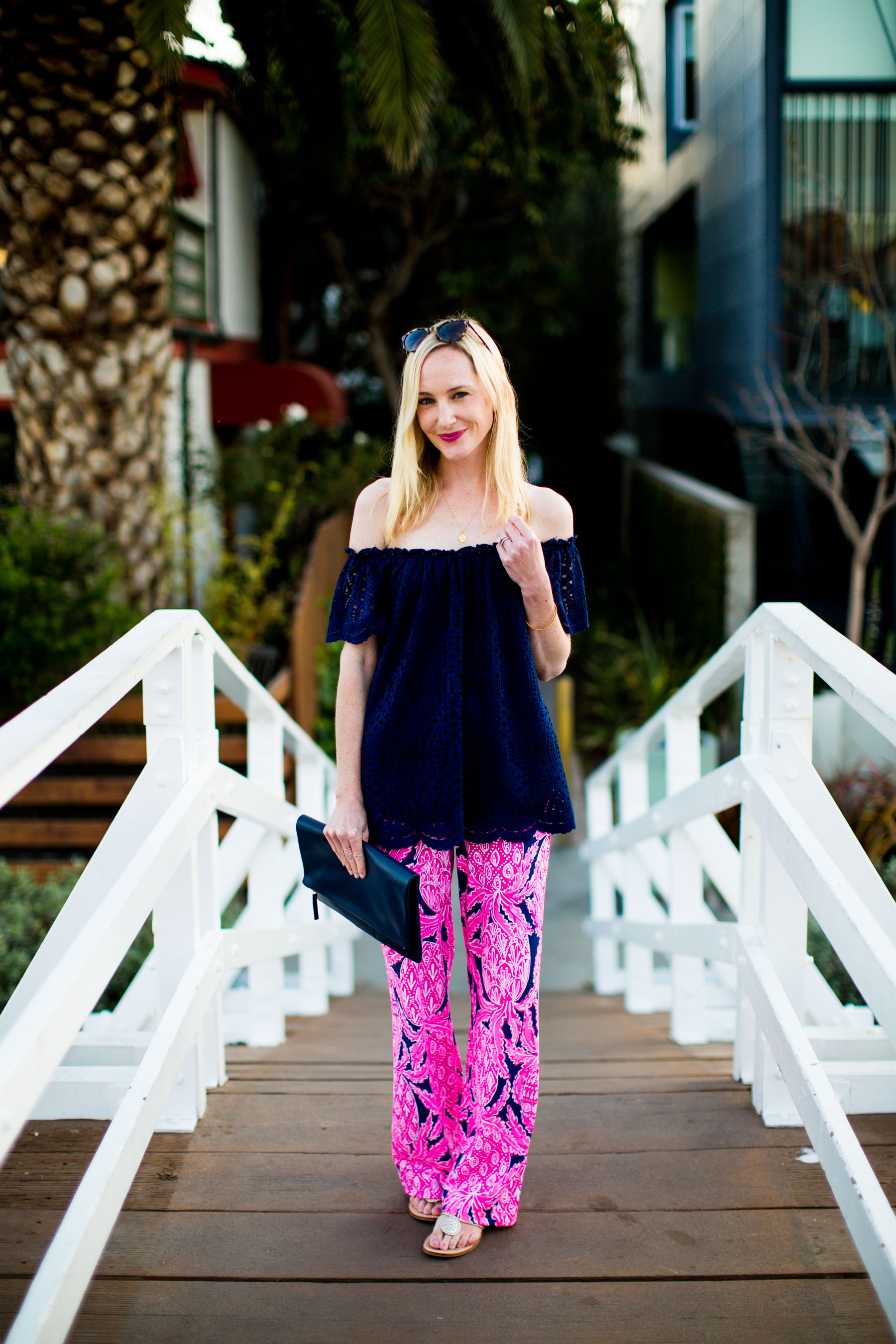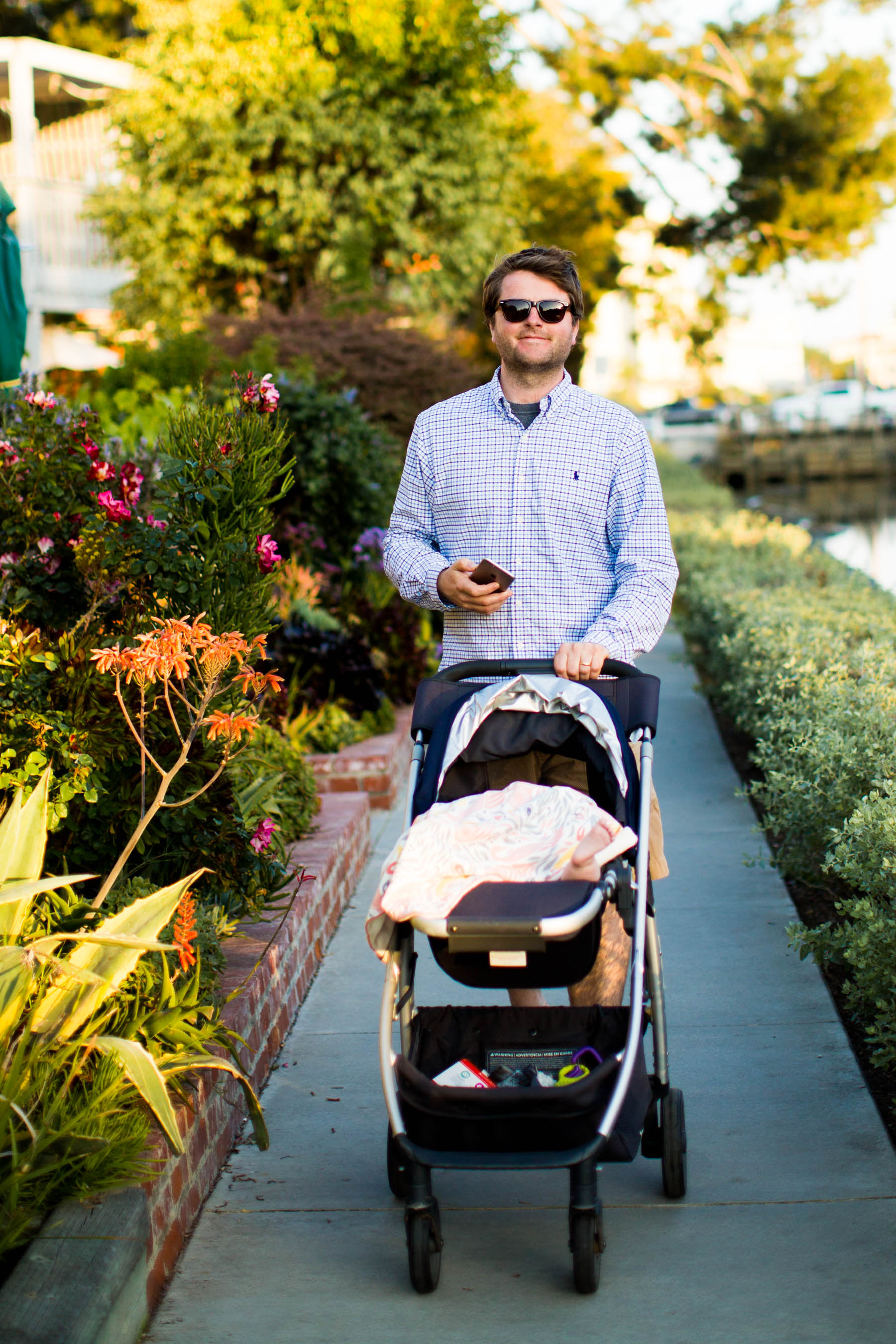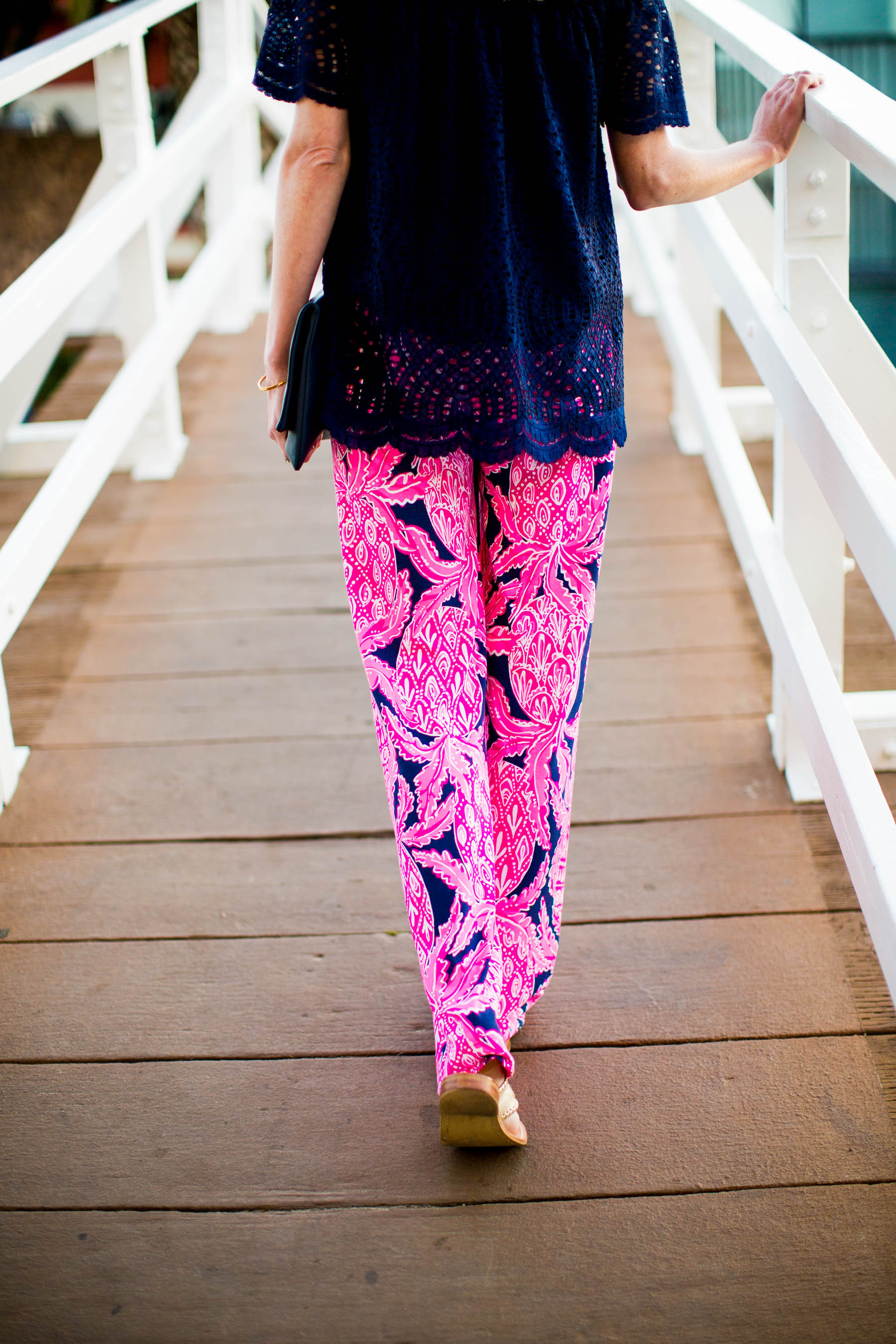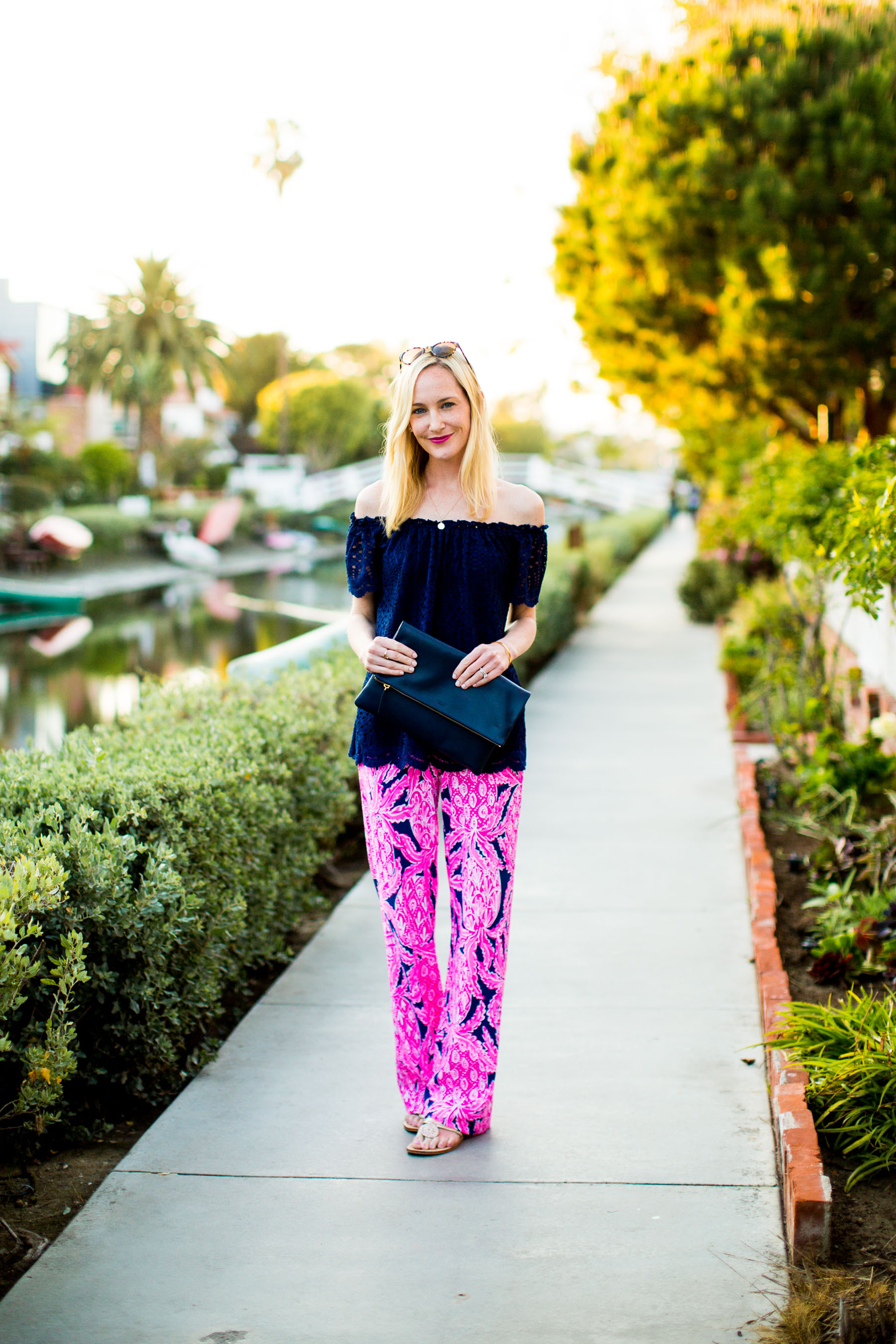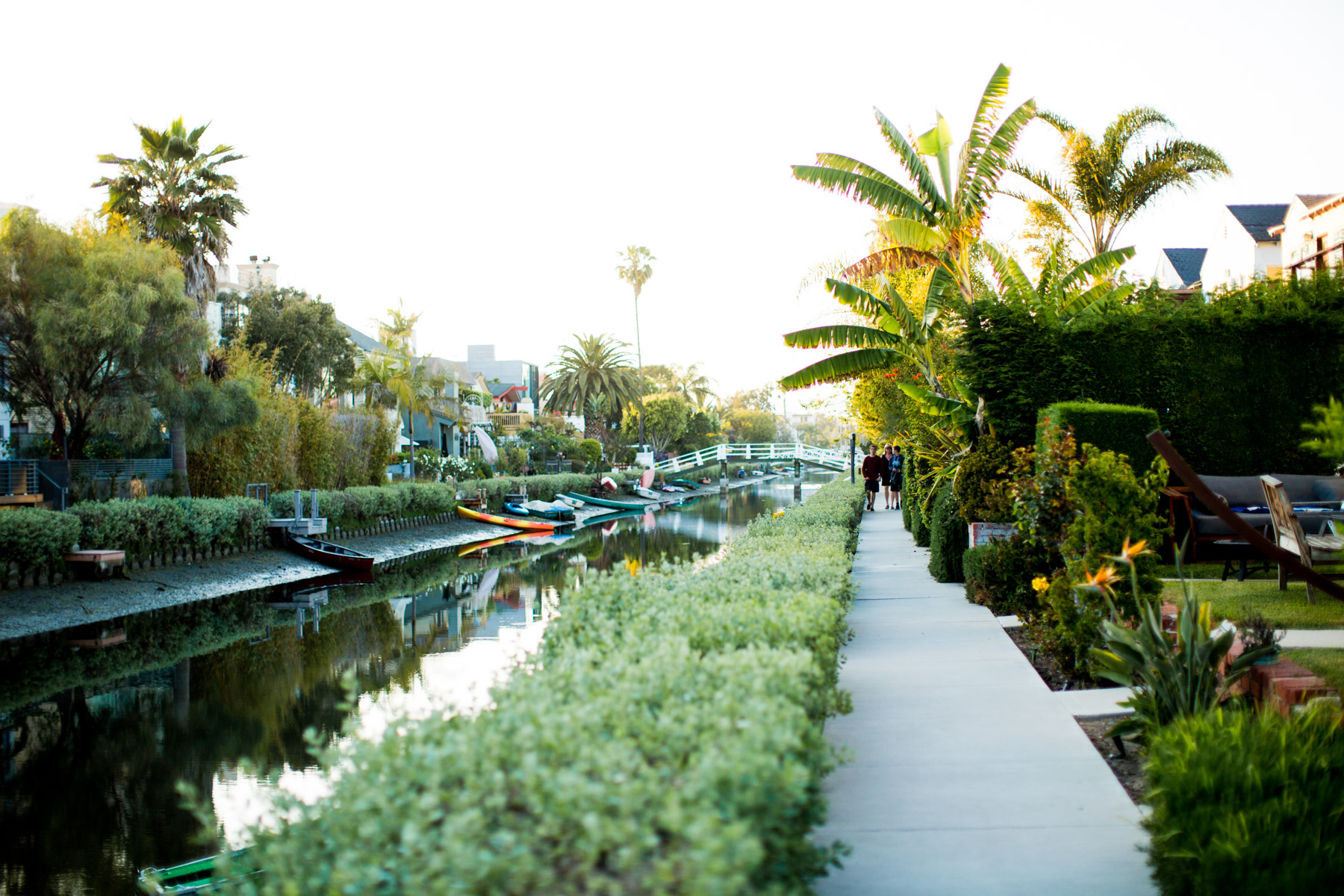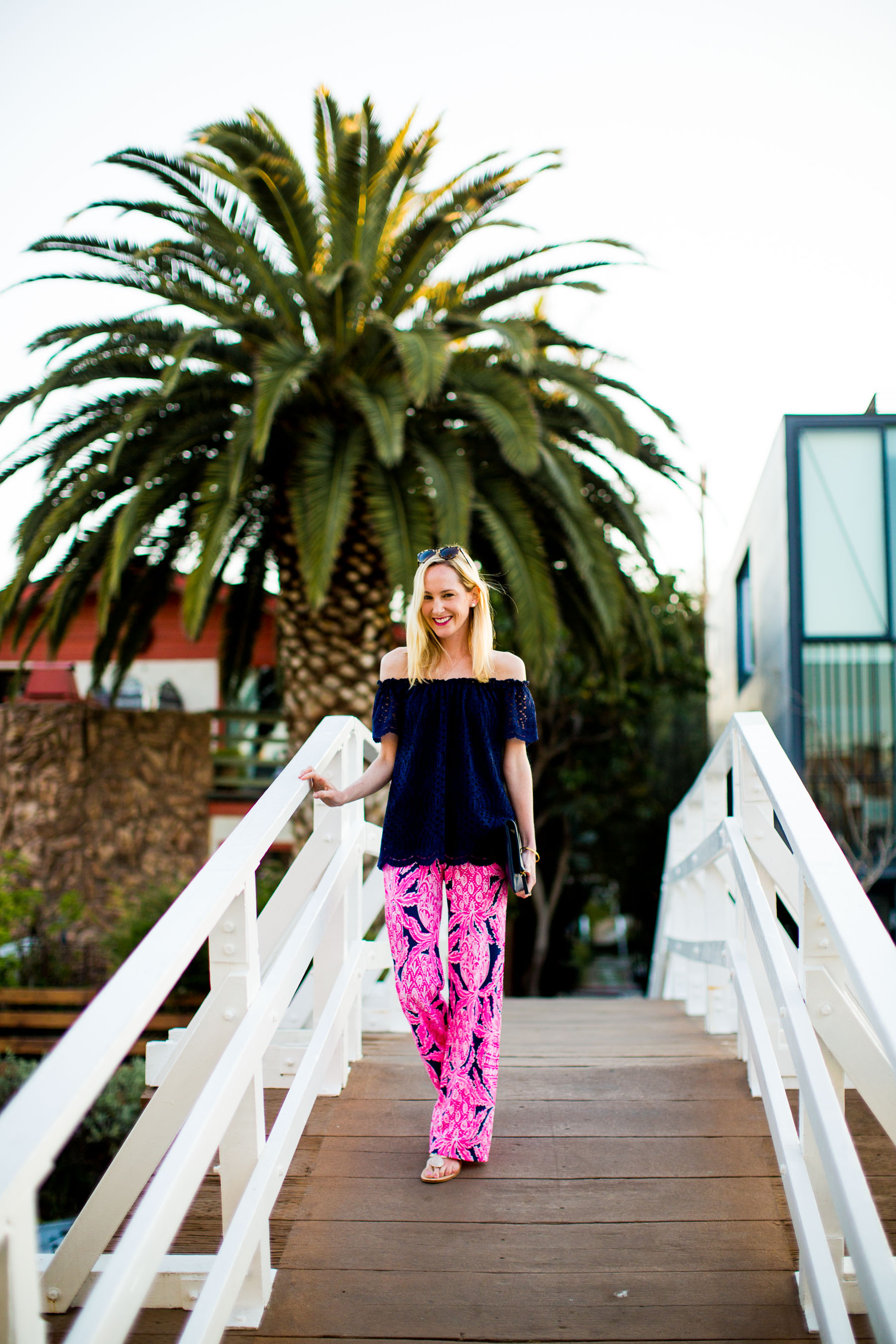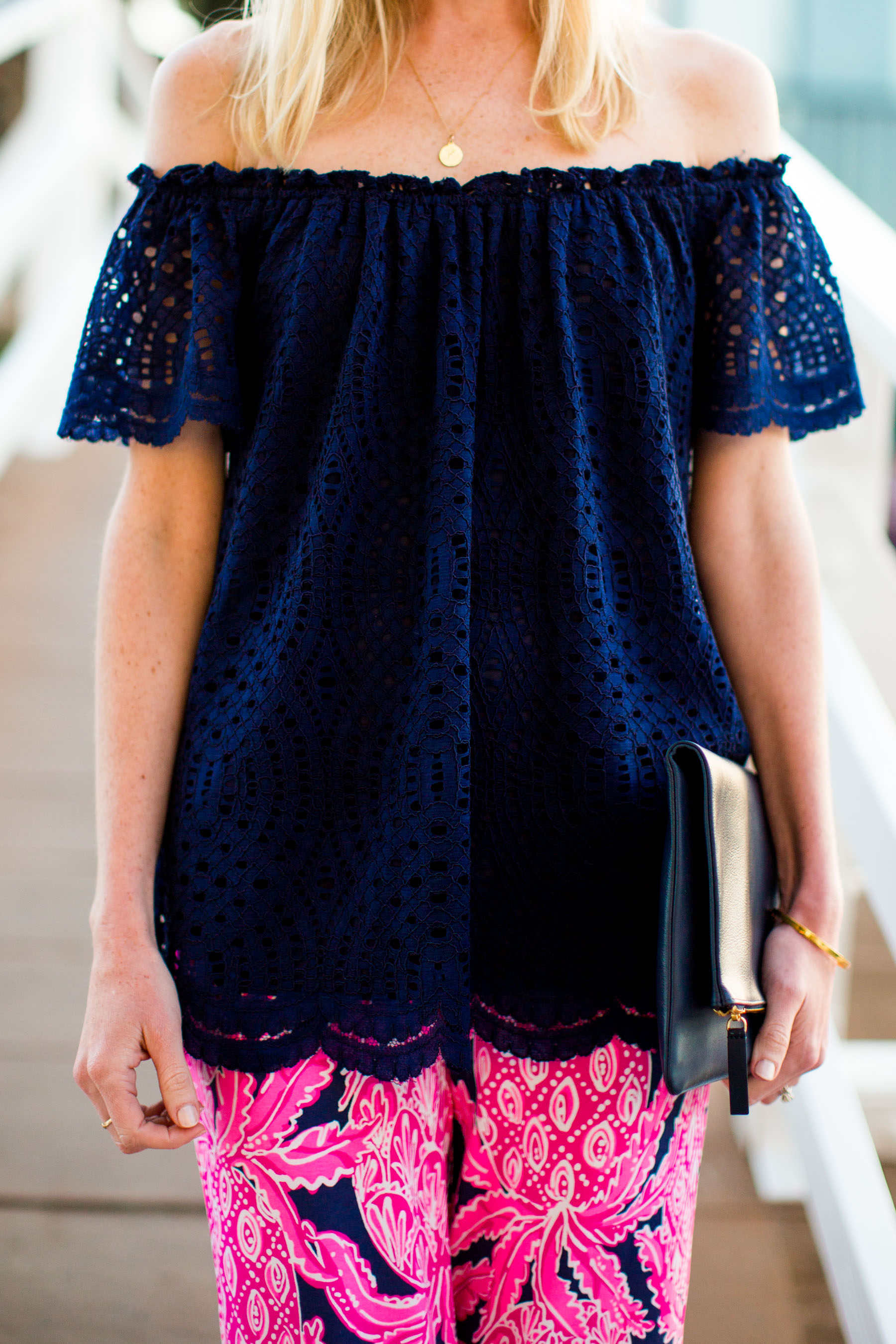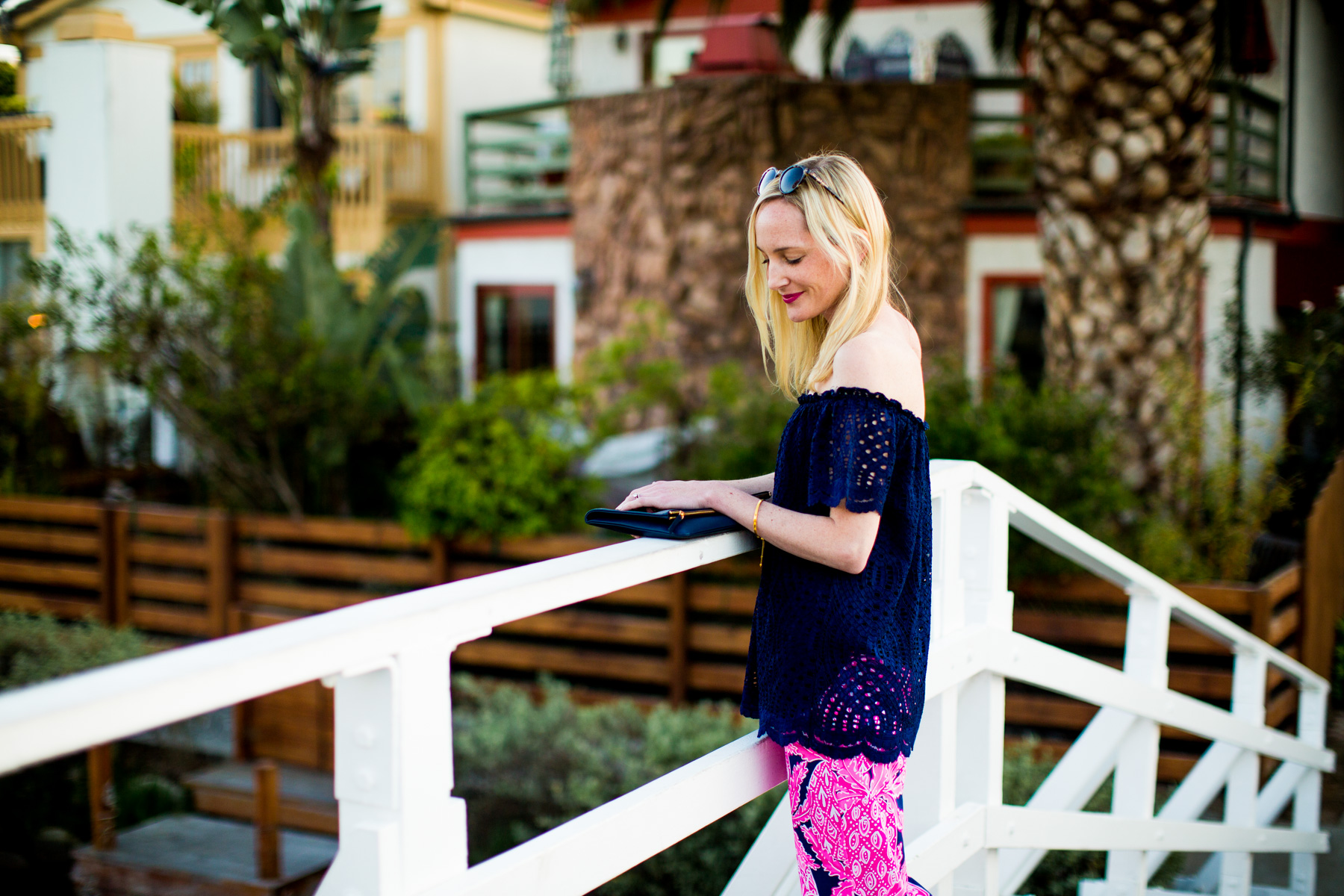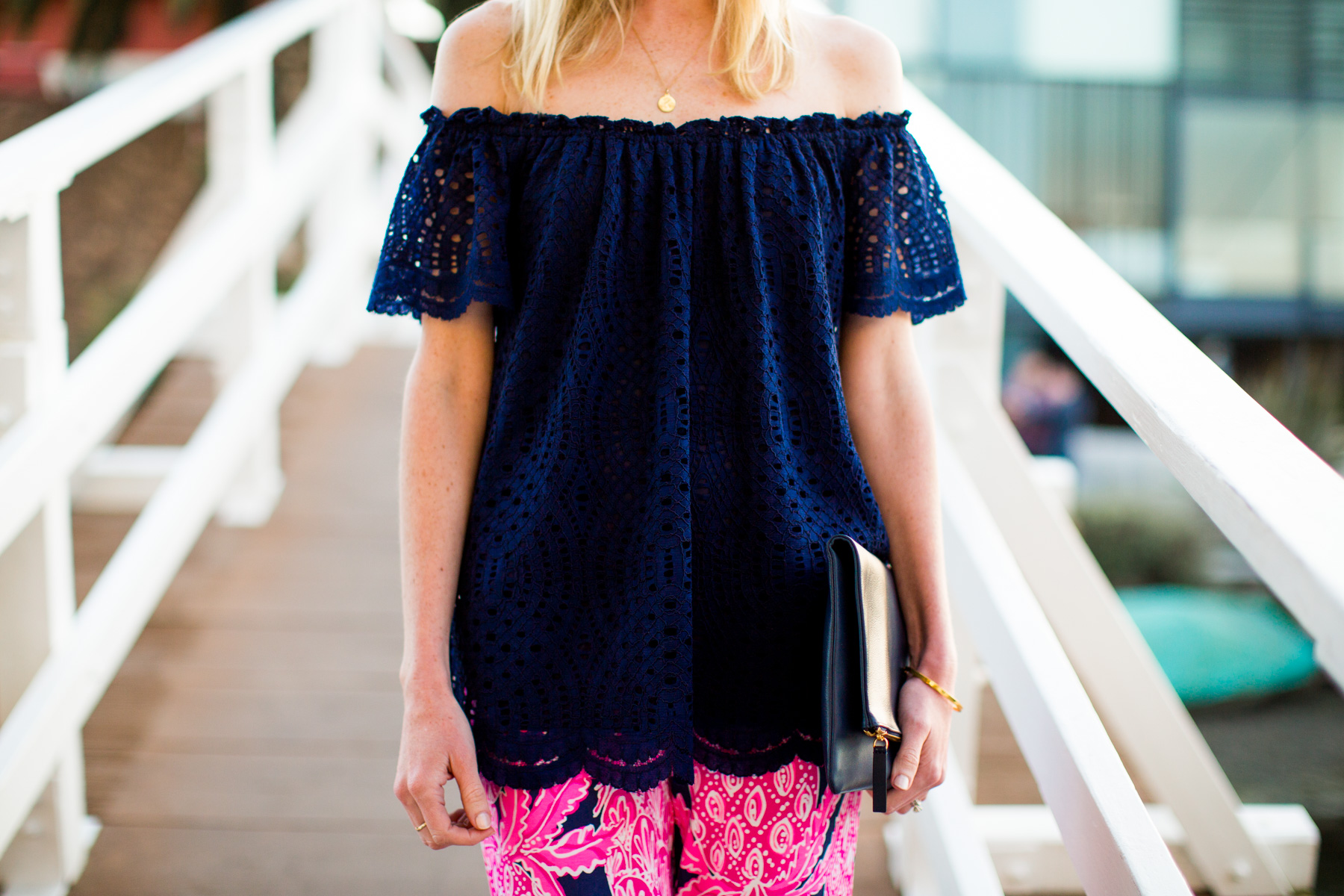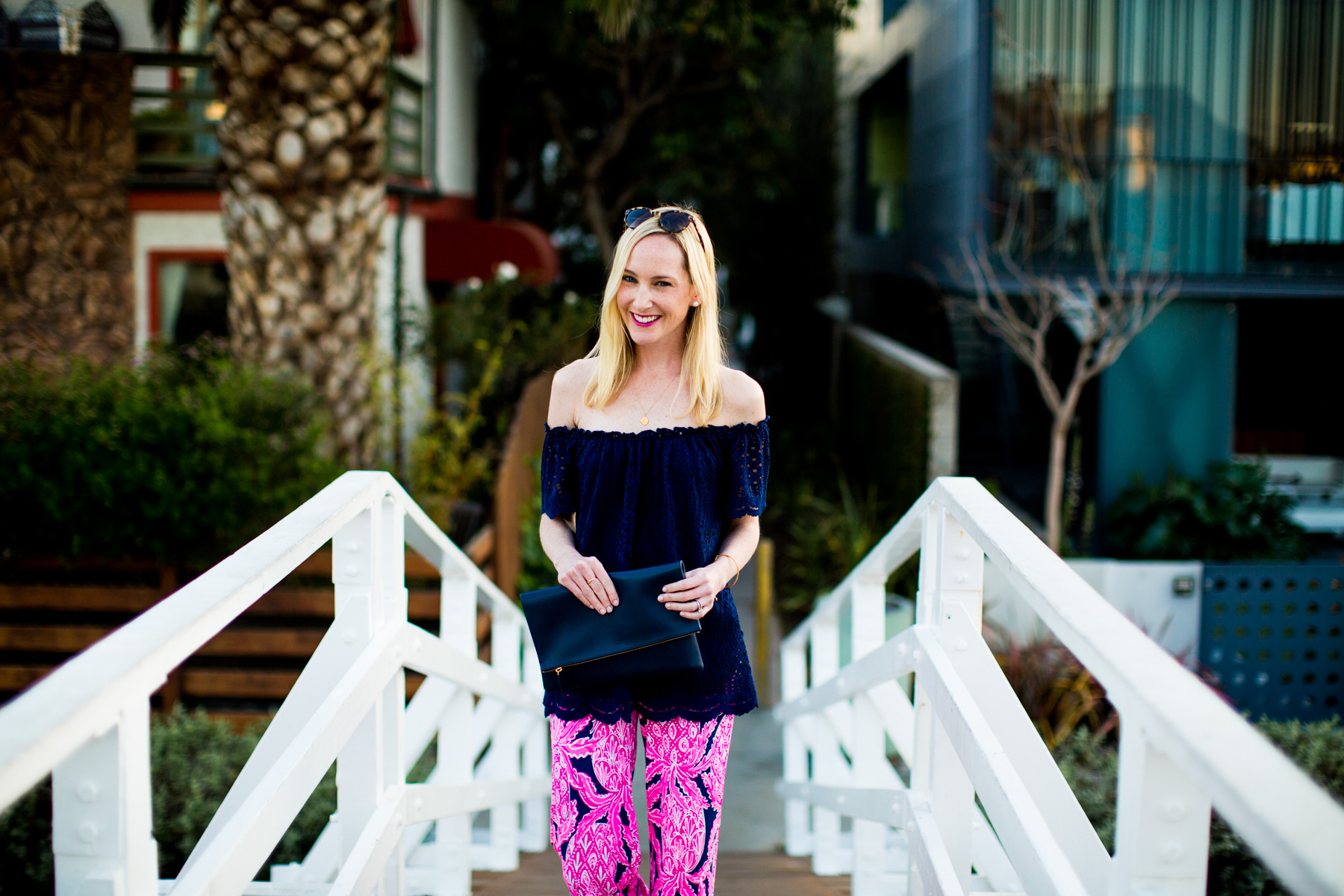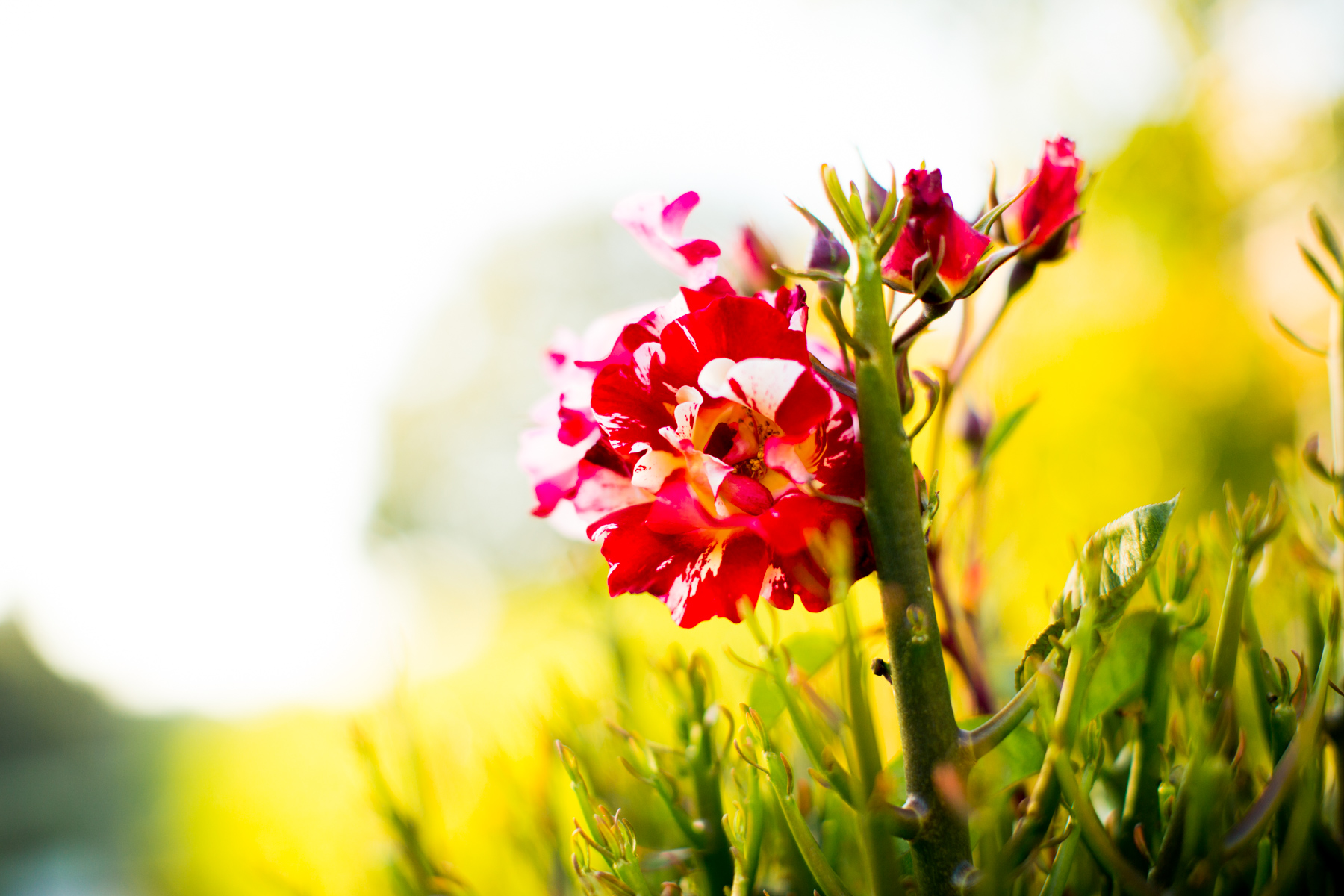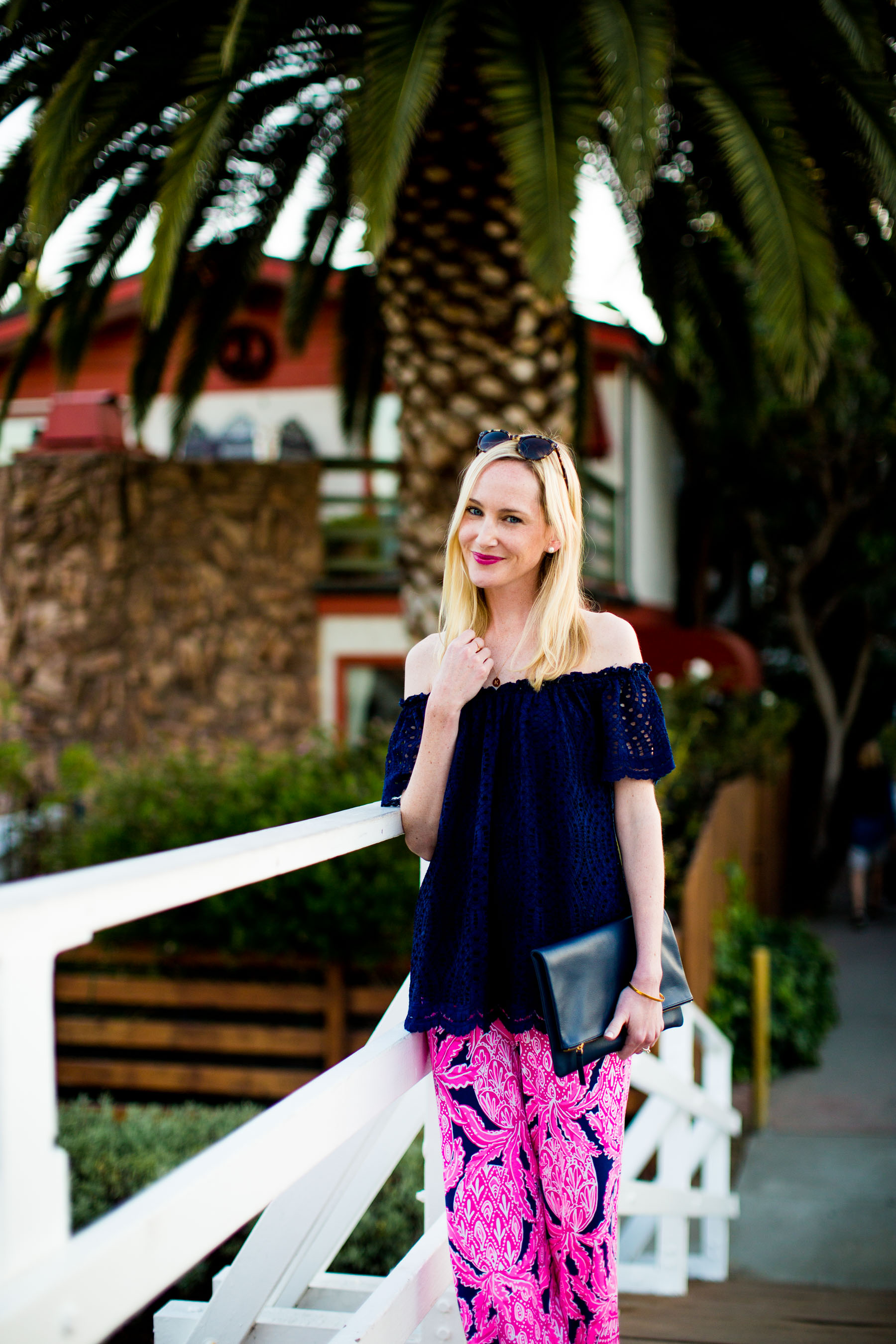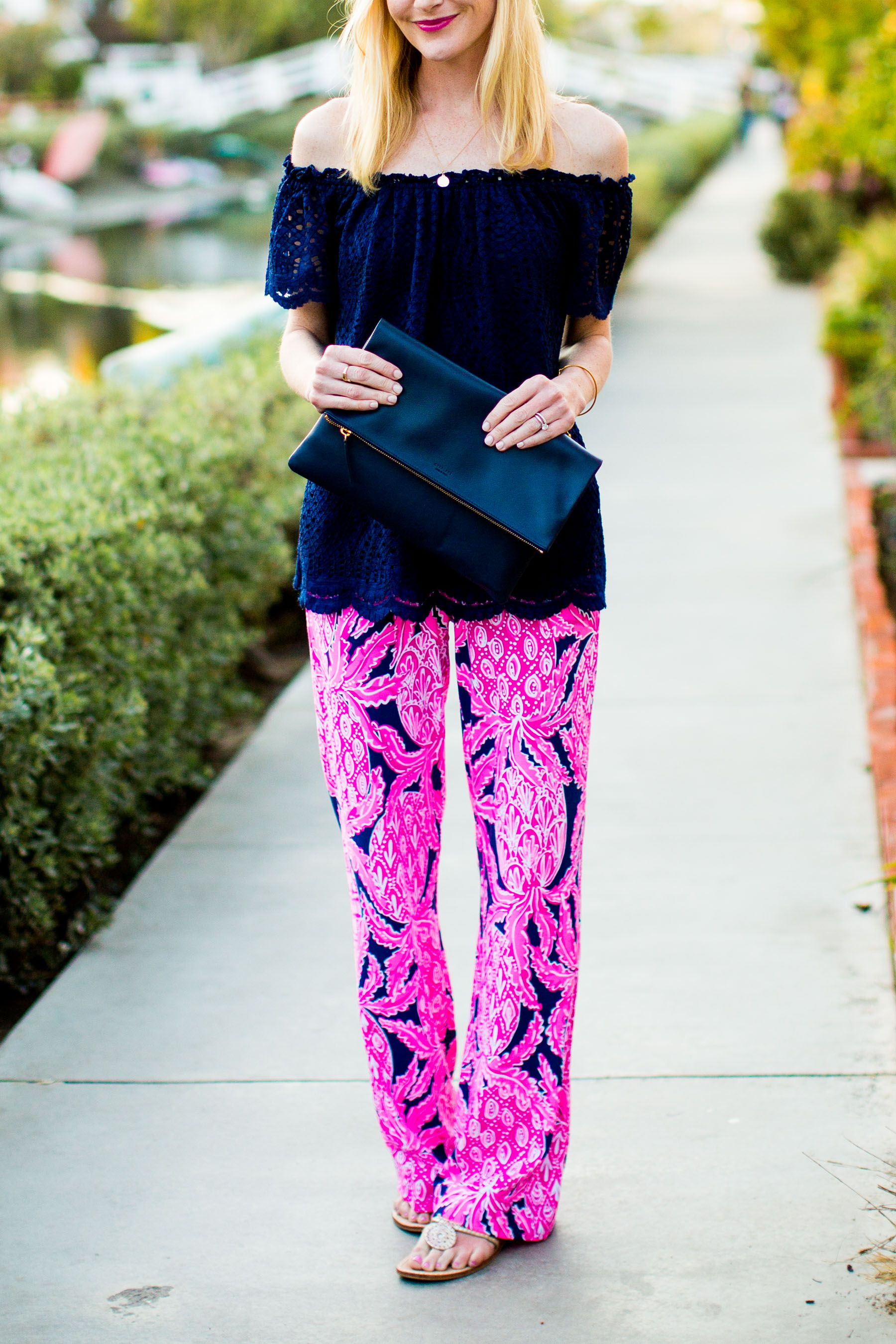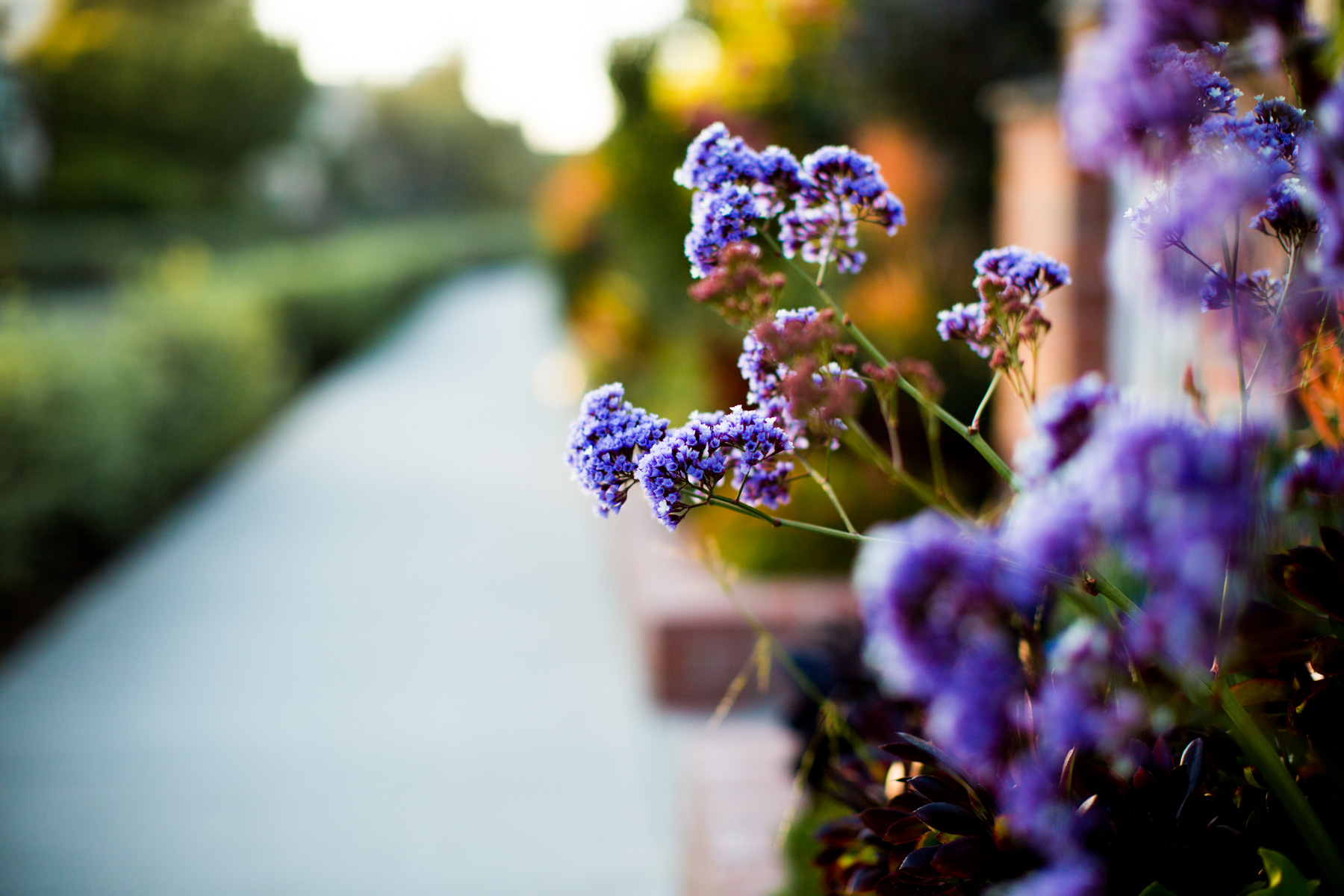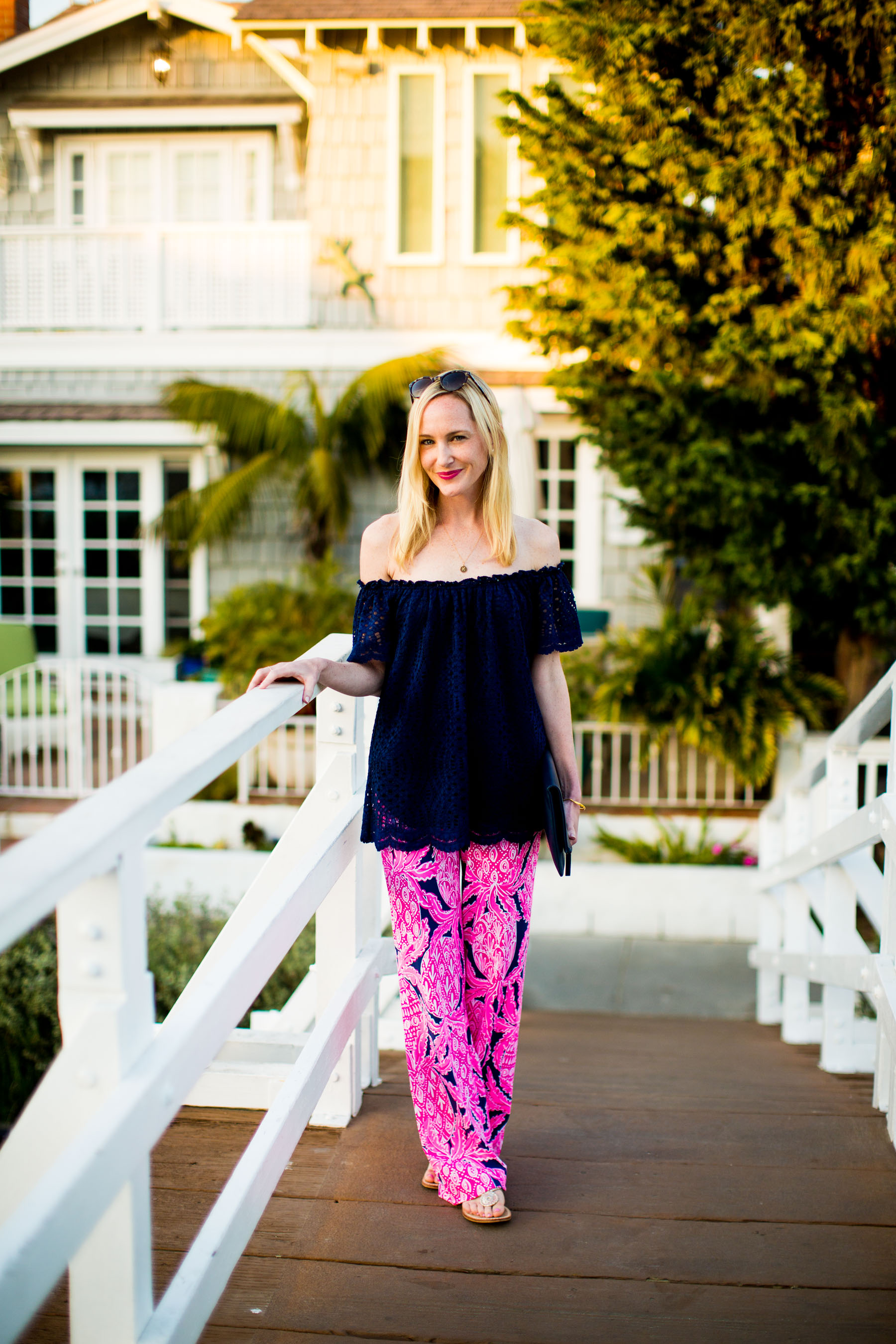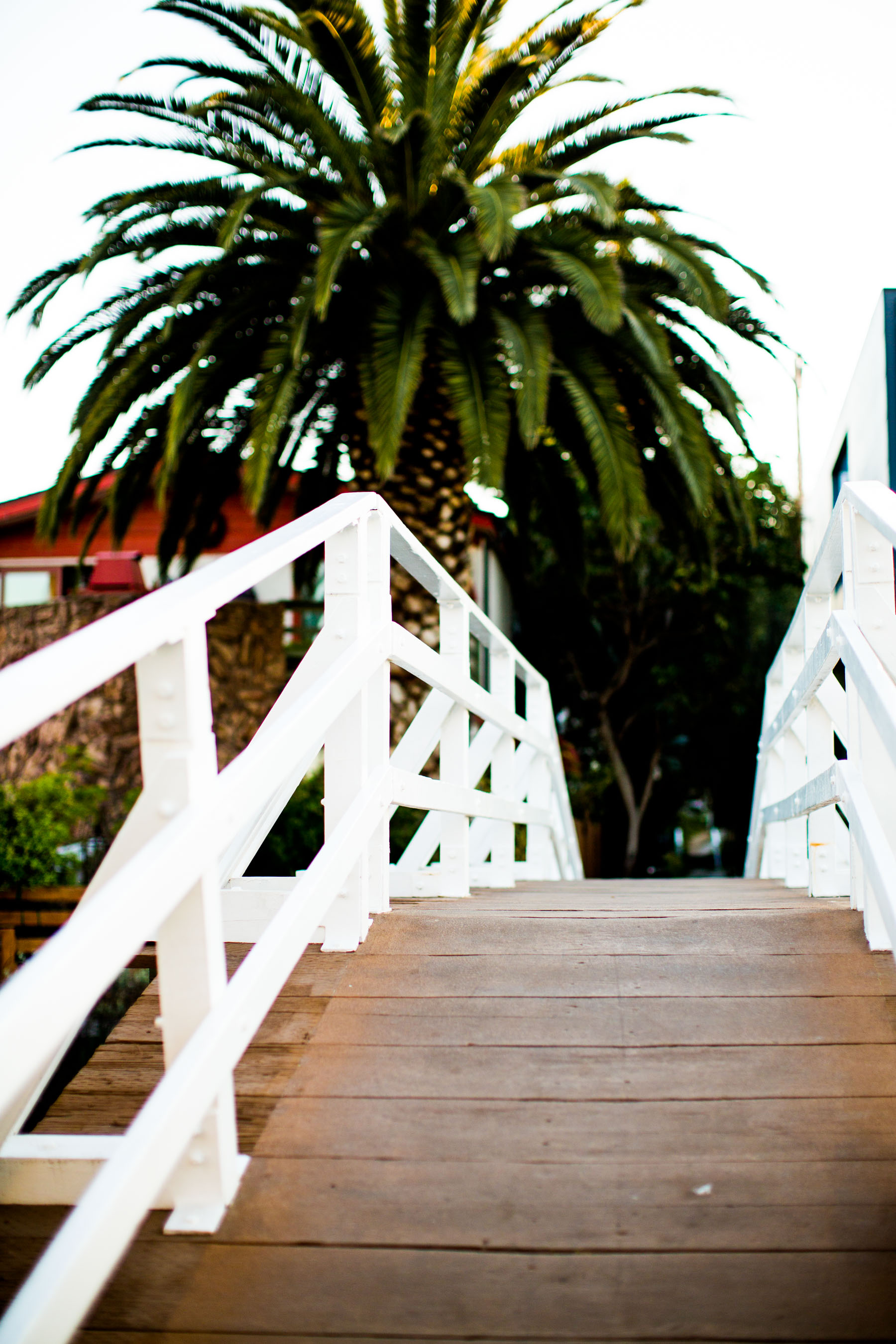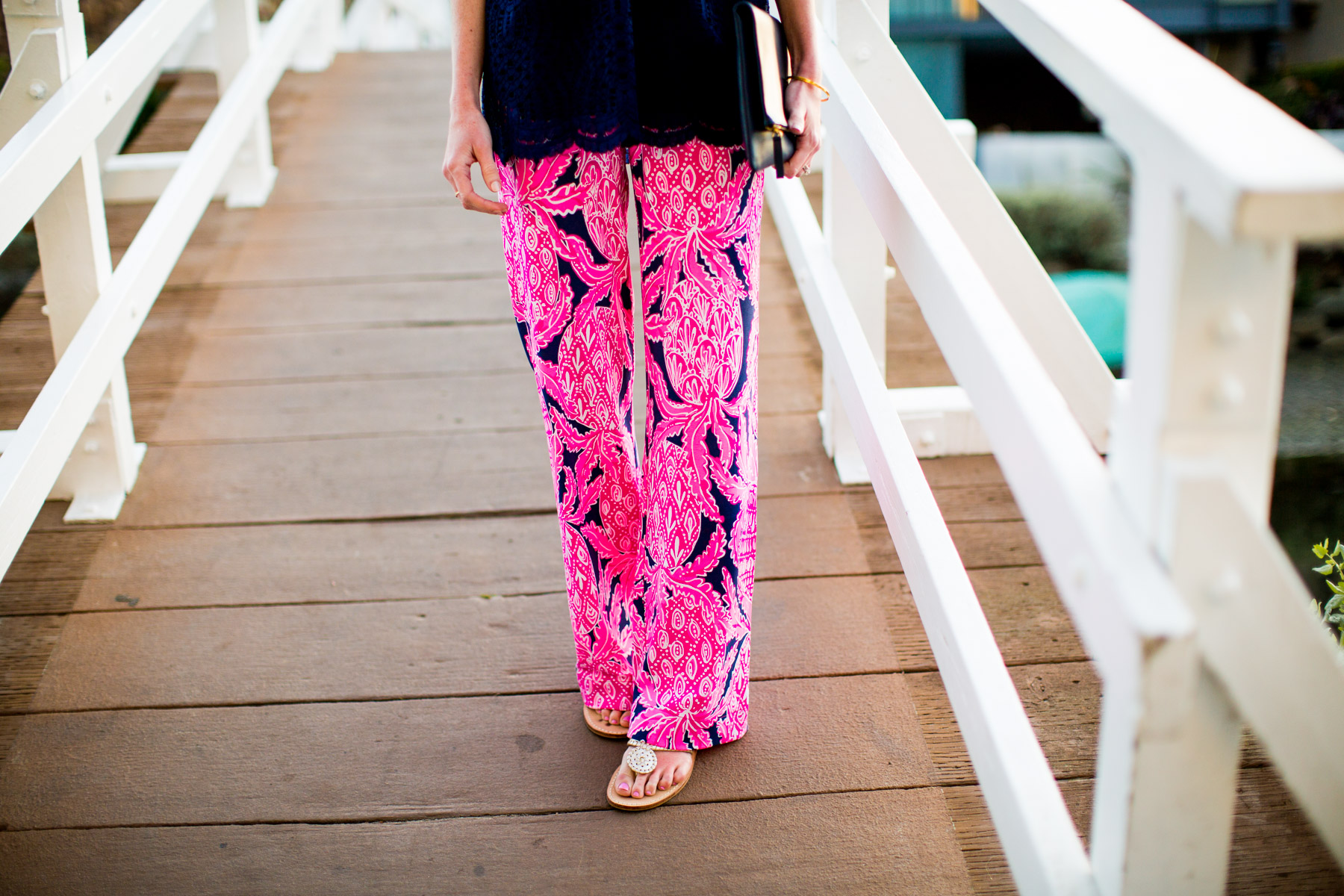 Shop the post:
Lilly Pulitzer Pants (they come in navy, too!) and Off-the-Shoulder Top (The top is sold out, but this just became available! Nearly the same, just in white. I also love this top and this top from Lilly–have them both and ADORE! And this top and this top are amazingly close, too!) / Jack Rogers (On major sale right now! And how cute is the bow and navy striped versions?! And speaking of Jack Rogers, I hear these are the best rain booties of all time.) / Everlane Clutch c/o