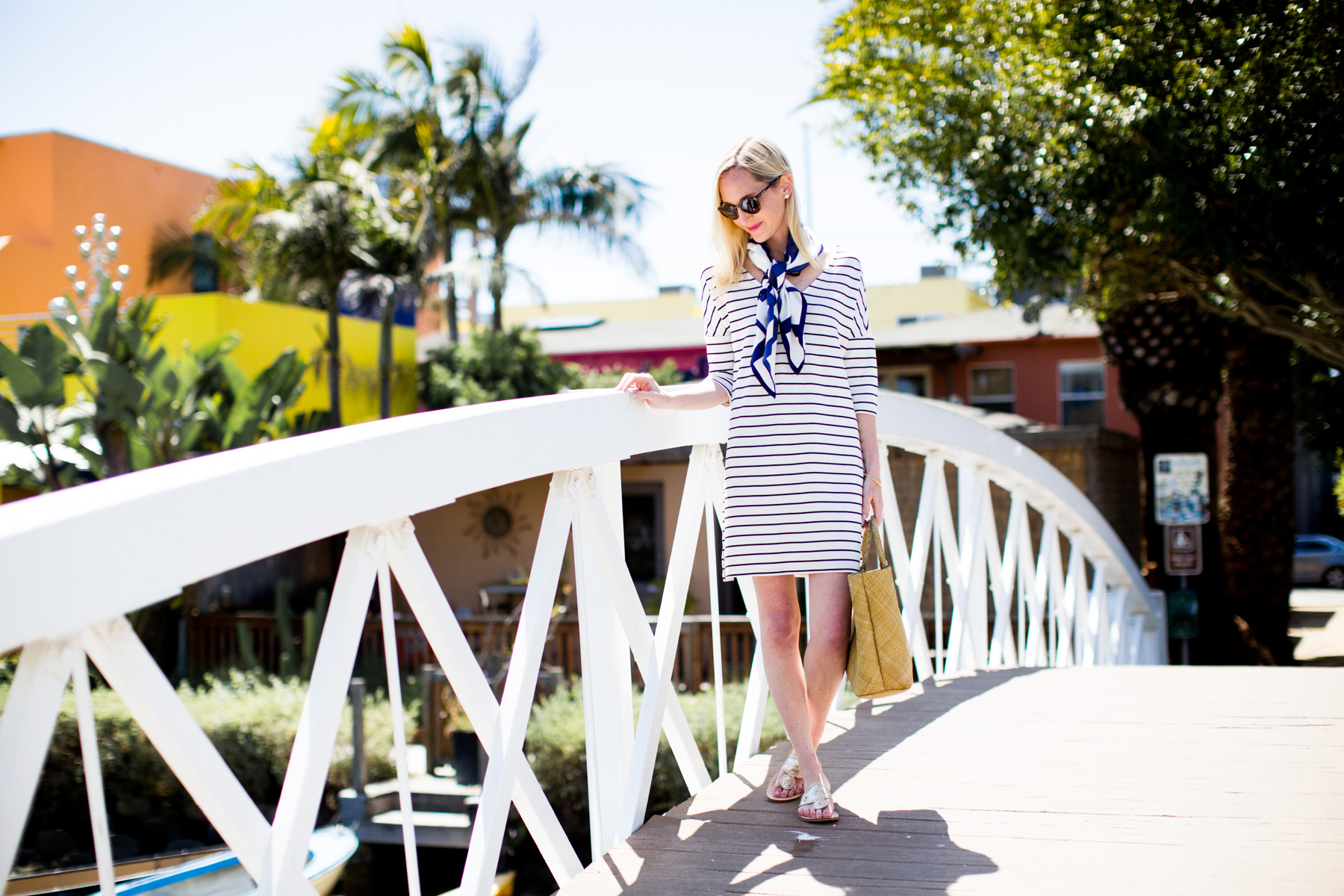 The Perfect Striped Dress (On sale! Use code "EVENT17" for 20 to 25 percent off and free shipping during the Shopbop Sale. Here's the sleeveless version.) / Straw Tote c/o Tuckernuck (Also comes in rainbow and green, and I LOVE this pink tote.) / Gingham Scarf / Jack Rogers Sandals (Also love these, these and THESE.) / Monica Vinader Bracelet c/o / Burberry Quilted Jacket (This one is great, too. Looking for something warmer? Hello, Barbour.)
Oh my goodness. I just realized that in yesterday's (rushed) post about the huge sale, I wrote that I was "hopping on blog." YIKES. Lesson learned: no more late-night blogging sessions. ;)
Anyway, I had a couple of posts lined up for today and tomorrow, BUT a couple of outfits I wore while here in California are part of the huge Shopbop sale going on right now, so I thought I'd share 'em! Plus, vacationing with an infant is very much what you'd expect: by about 8 p.m., you kind of need to be back in your hotel room because it's bedtime. (Except for last night, since we were in Disneyland. We let her stay up late!) So here Mitch and I are, eating takeout in bed, talking on GChat so we don't wake the baby, and writing a post. (Darn it. I'm at the late-night blogging again, haha.)
Okay, I have so much to say…
So let's do this bullet point-style:
Yesterday's post went up late, but I'm really excited that so many of my spring go-to products are currently on sale! (Use code "EVENT17" to take 20 to 25 percent off and to get free shipping.
I bought this striped dress during the last big sale, and I'm pretty pumped that it's included this time around, too. It's PERFECT. (Here's the sleeveless version.) I'd been saving it to wear in California since Chicago hasn't had very much dress weather yet… and let me tell you: it's everything I thought it would be and more. First of all, the inside is lined with this very light terry material, making it breezy yet cozy at the same time. (It was 75 degrees when we snapped these pics, and the dress was just right.) I also love that it has longer sleeves. Yes, I'll wear off-the-shoulder tops and dresses if they're adorable, but I'm far happier in tops and dresses that have sleeves, as I get cold in July. Finally, I love how flattering and swingy it is. It's by far my most flattering striped dress, so get ready to see it a LOT in the coming months. ;) Apologies in advance! (Remember: use code "EVENT17" to take 20 to 25 percent off and to get free shipping.)
The Larkin Family spent the last couple of days in the Venice Canal Historic District in California, and it's been truly amazing. To be honest, I didn't even know this place existed before I got here. I knew about Venice Beach, but I'd never heard of the amazing canals. (Name should've given away, but nope, haha.) Guys, the area is so quaint and beautiful. It really can't be missed the next time you're in Los Angeles. Mitch, Emma and I spent a few hours just roaming the grid, and almost instantly fell in love with the vibe. I think our favorite part was how beautifully manicured the properties are. And the plants! Goodness, they're cool. And weird. Very weird. I felt like I was experiencing Planet Earth or something! ;) By the way: we stayed at the Inn at Venice Beach, and the location was fantastic. More on that later!
I really can't wait to write a post about our experience at Disneyland with Emma. I'll never forget it. And spoiler alert: I cried a gazillion times. I love, love, love our family and I love, love, love being Emma's mom.
We're going whale watching tomorrow in Newport Beach! (Maybe? Mitch, is it Newport Beach? Where are we right now?!) Wait until you see Emma's little outfit.
Bah! Banana Republic's gingham line is crazy good. I've been wearing this gingham scarf everywhere… you'll see it tied to my straw bag soon! Also loving the flats, tank, shirt and dress.
We just checked into the Redondo Beach Hotel and I never want to leave. Everything is blue and pretty, and the attention to detail is off the charts!
Overall, I think our trip is going great! Yes, there have been a few minor mishaps, and I think we'll do some things a little differently when we take our next trip. But so far, I'm really proud of us. As newbie parents, we're doin' okay!
At the bottom of this post, you can see some of the things I'm thinking about purchasing from the Shopbop sale. :) (You can also see some of my favorite spring staples that are included in the sale here.) What do you think? Does anything catch your eye, too? Help me decide! ;)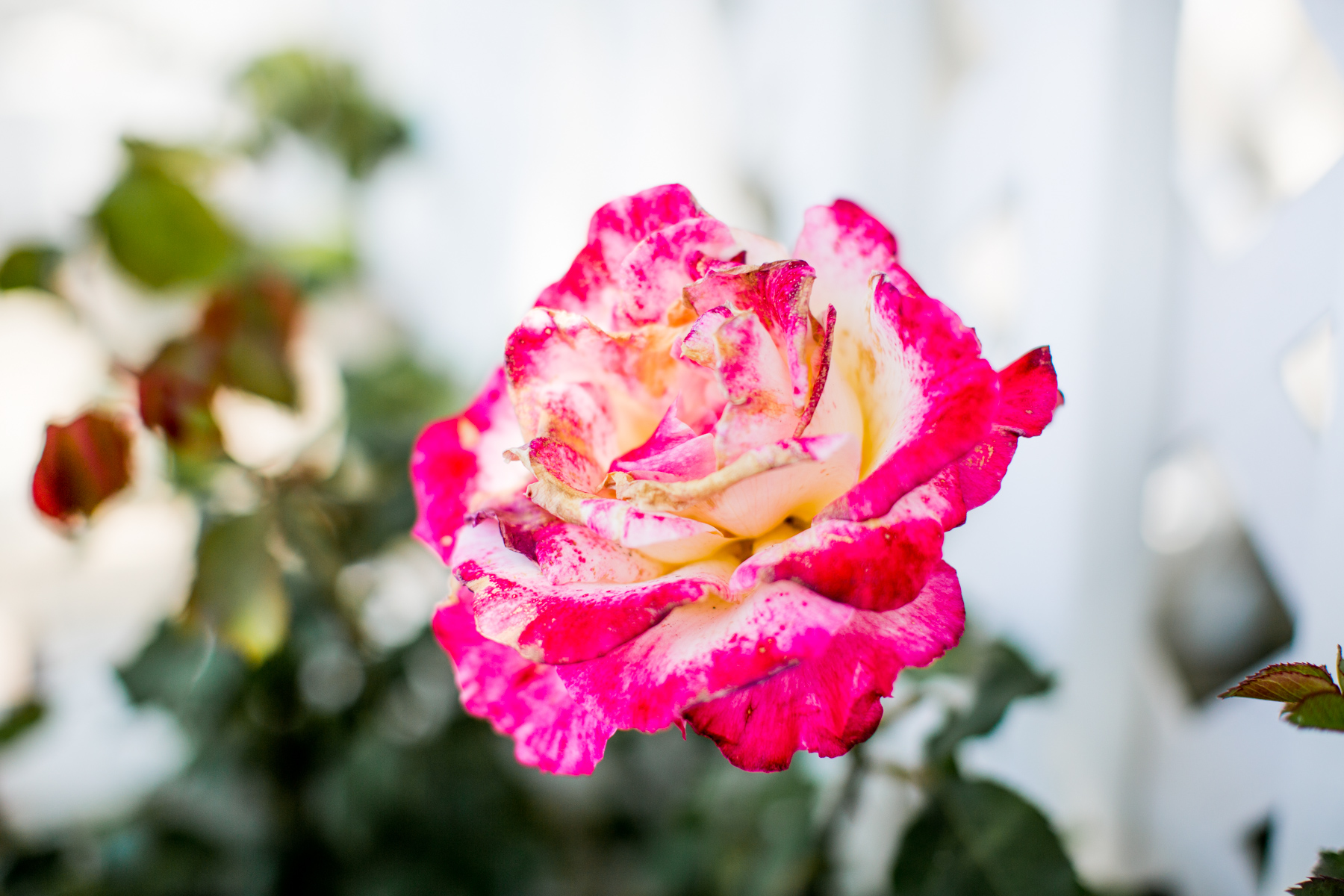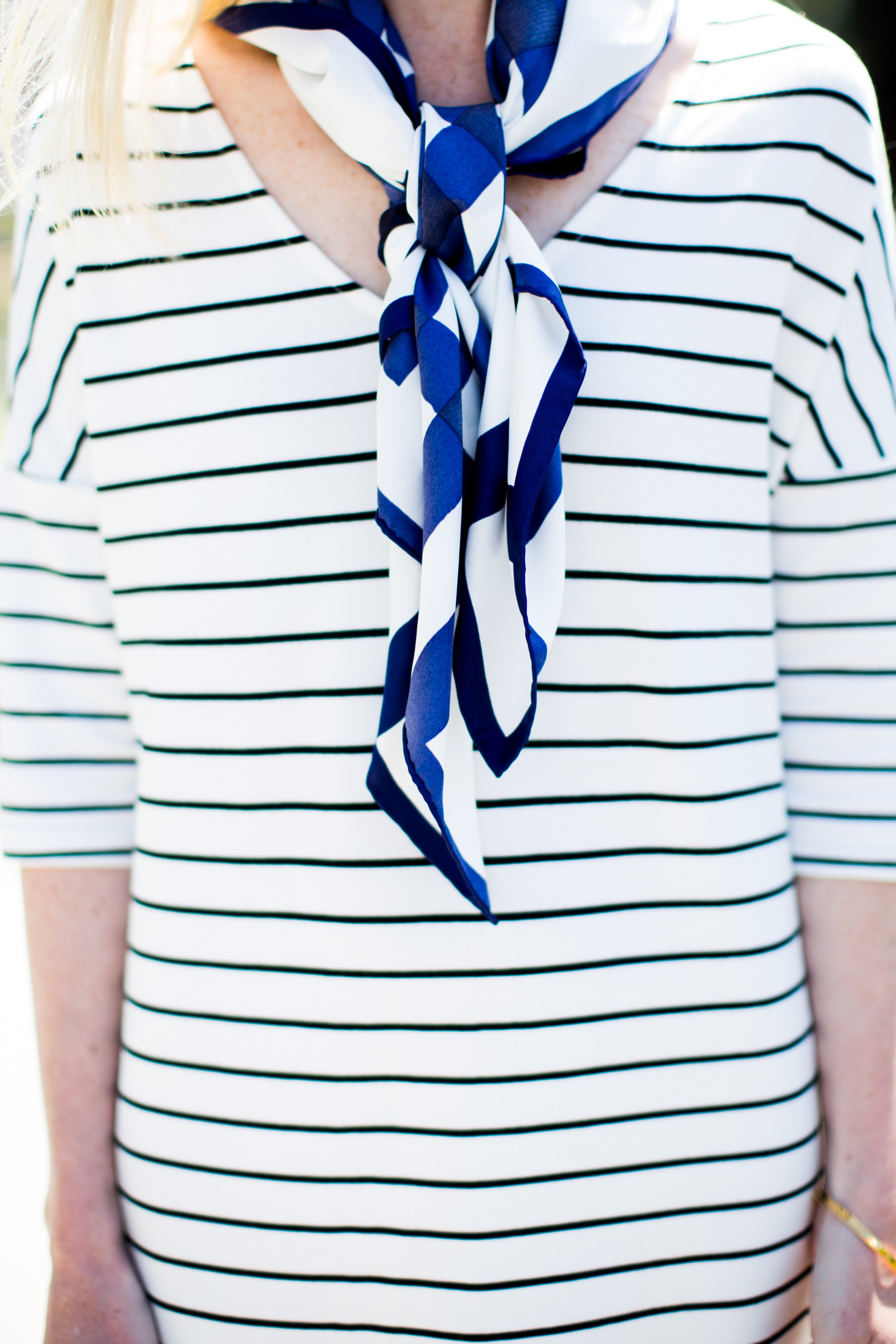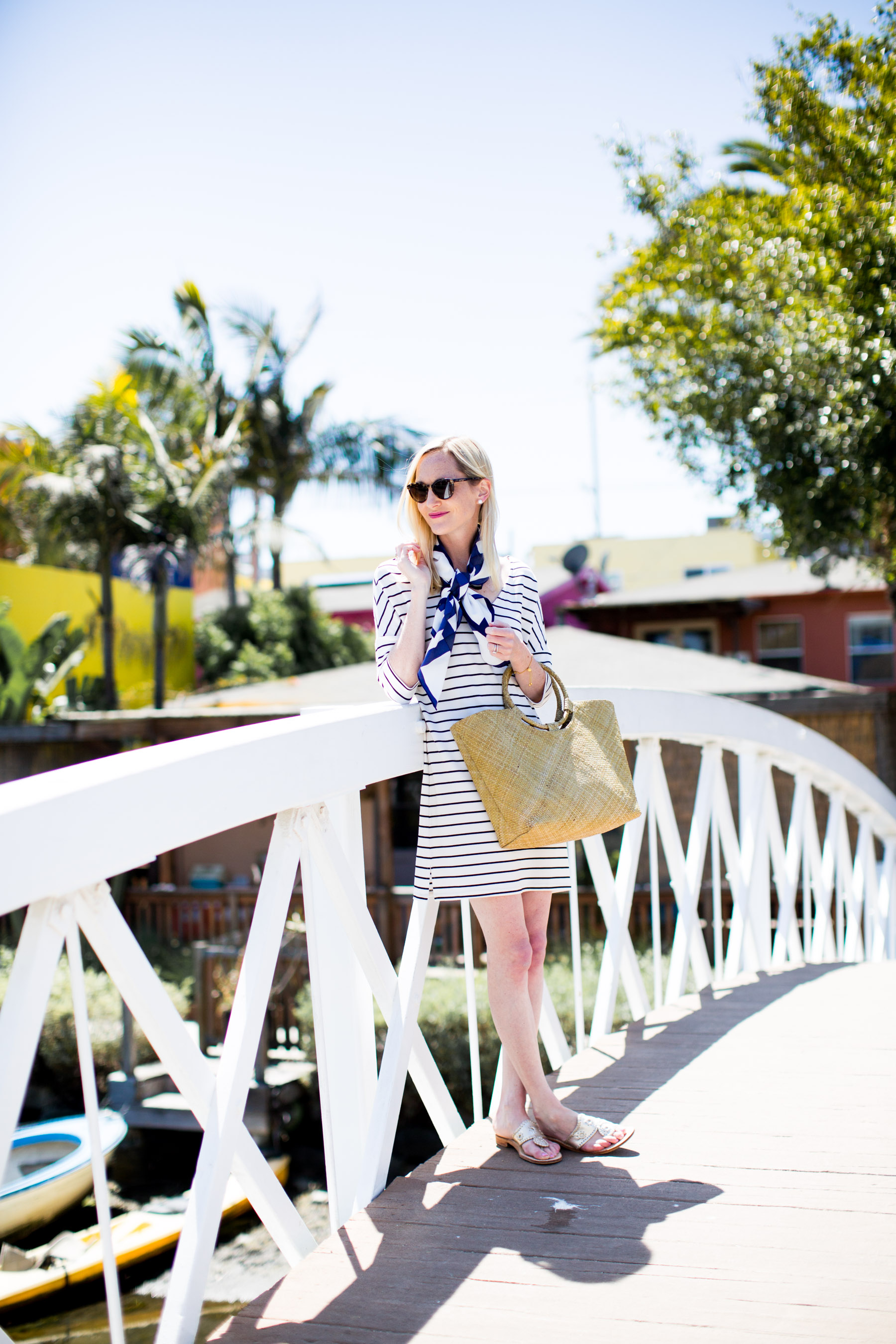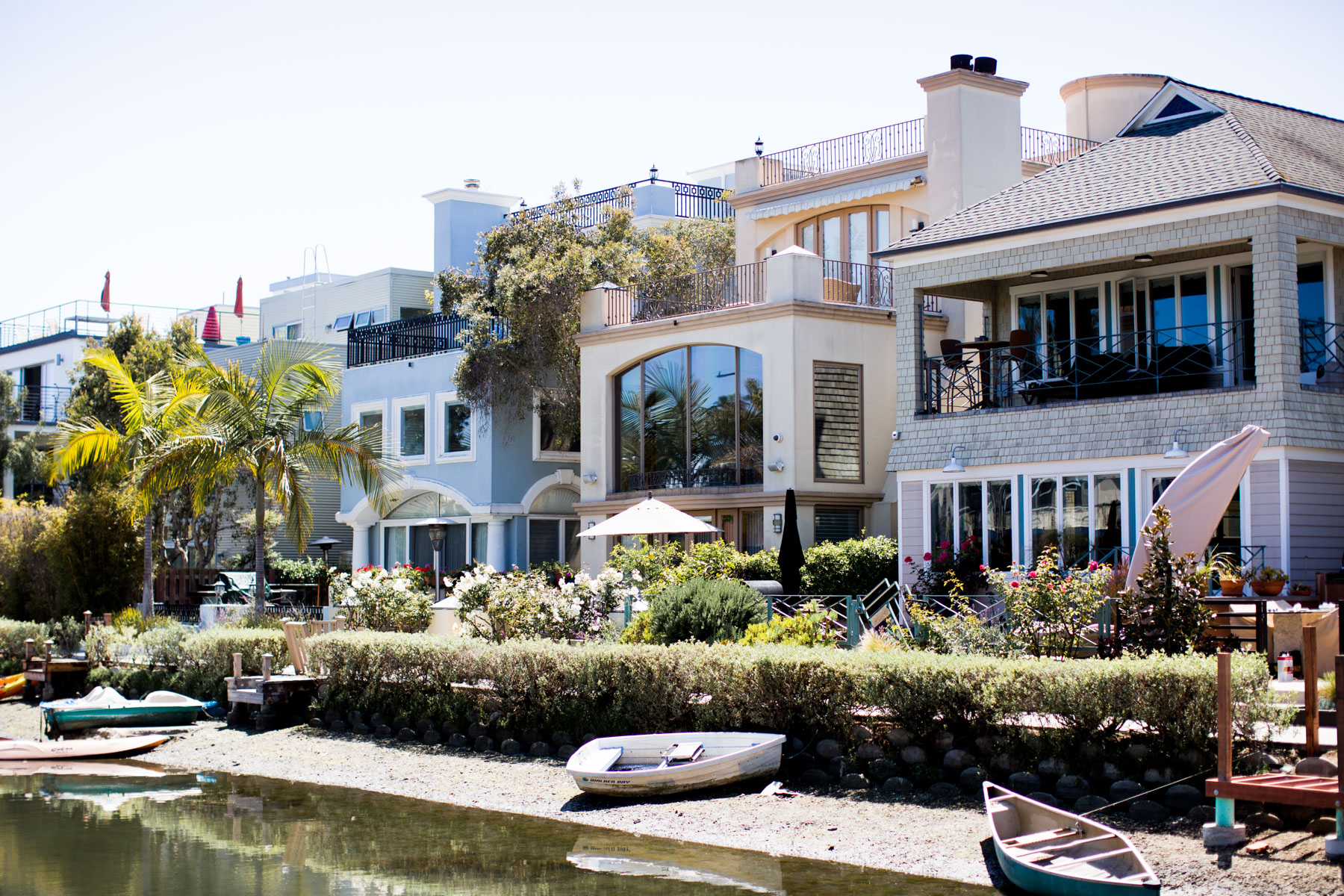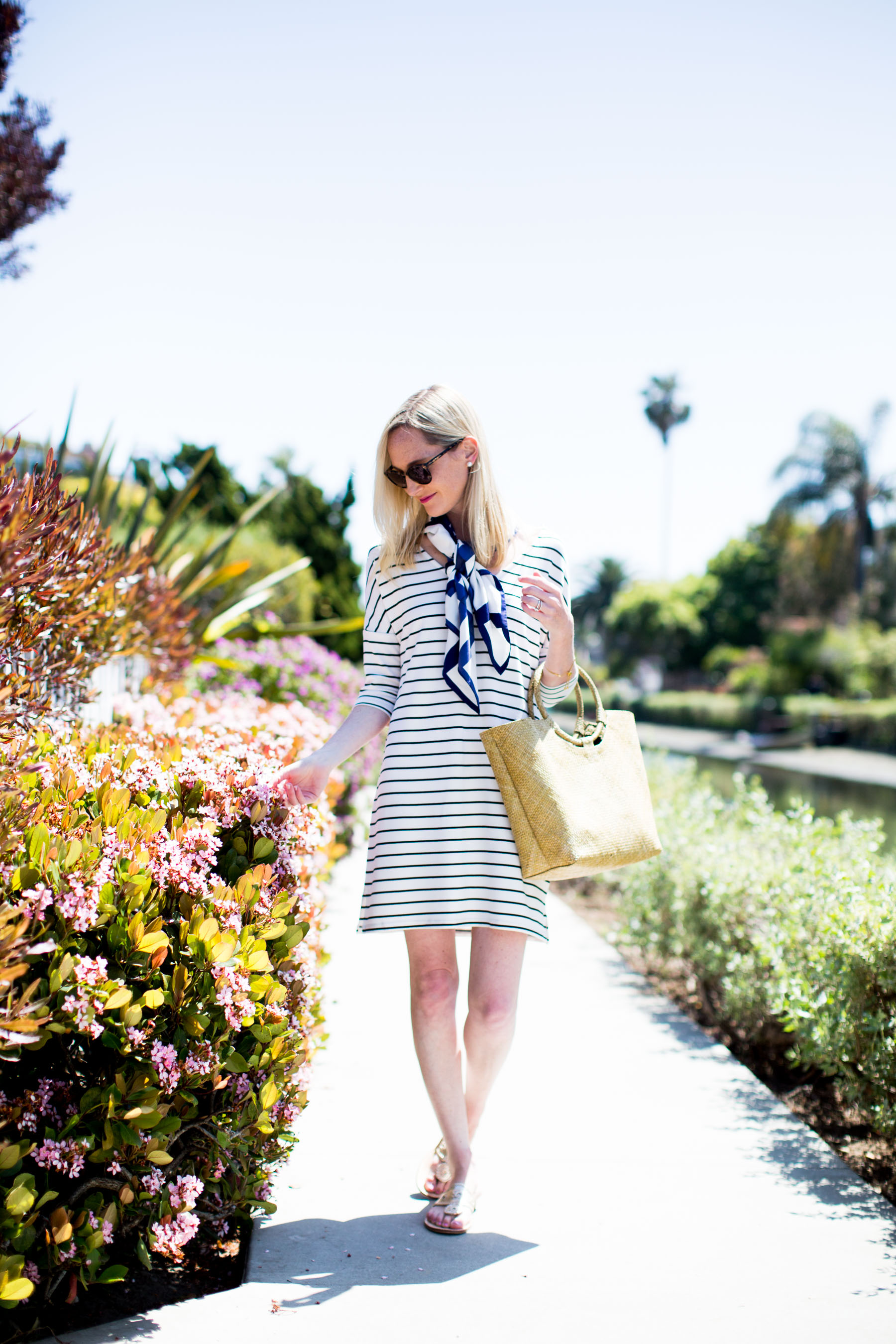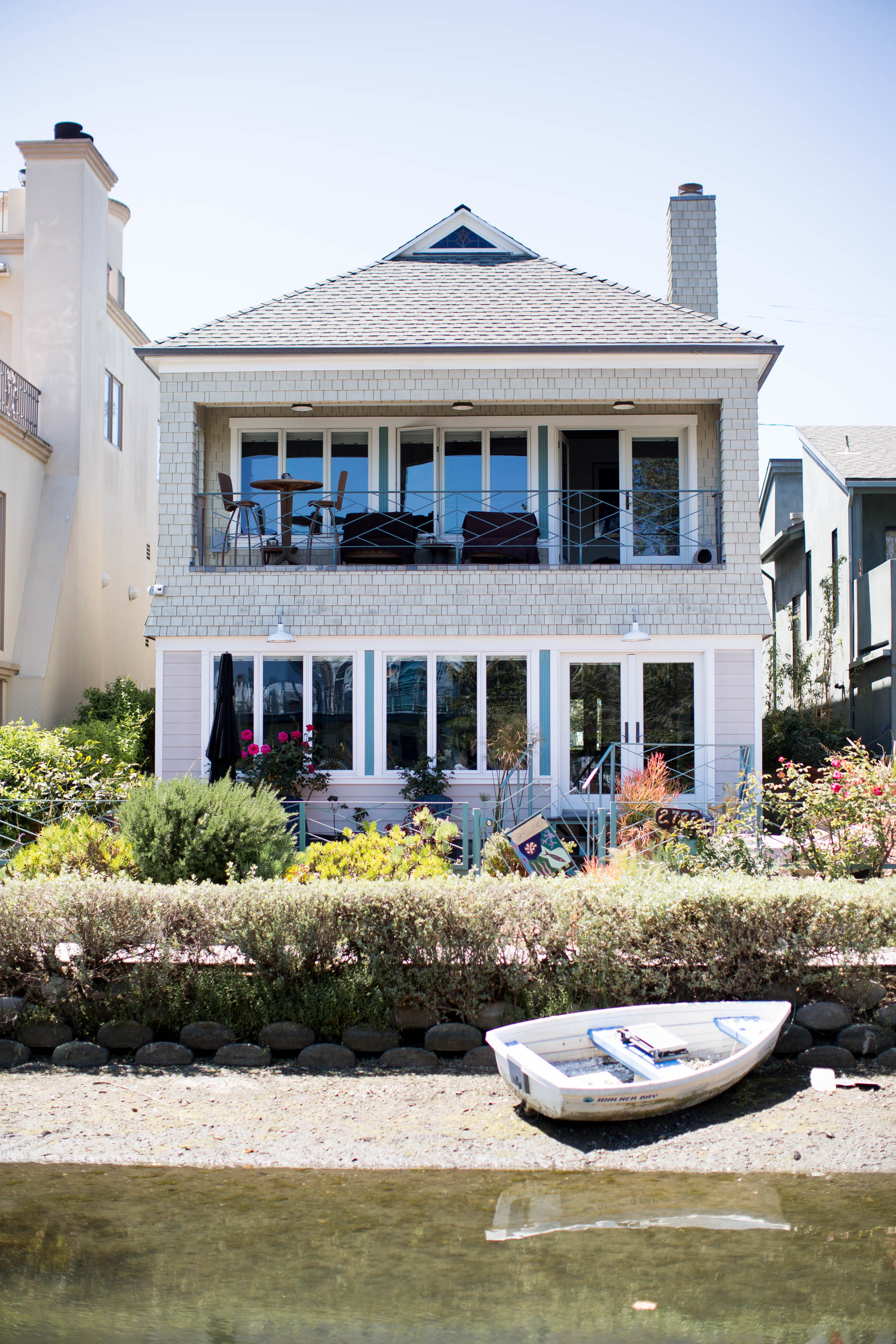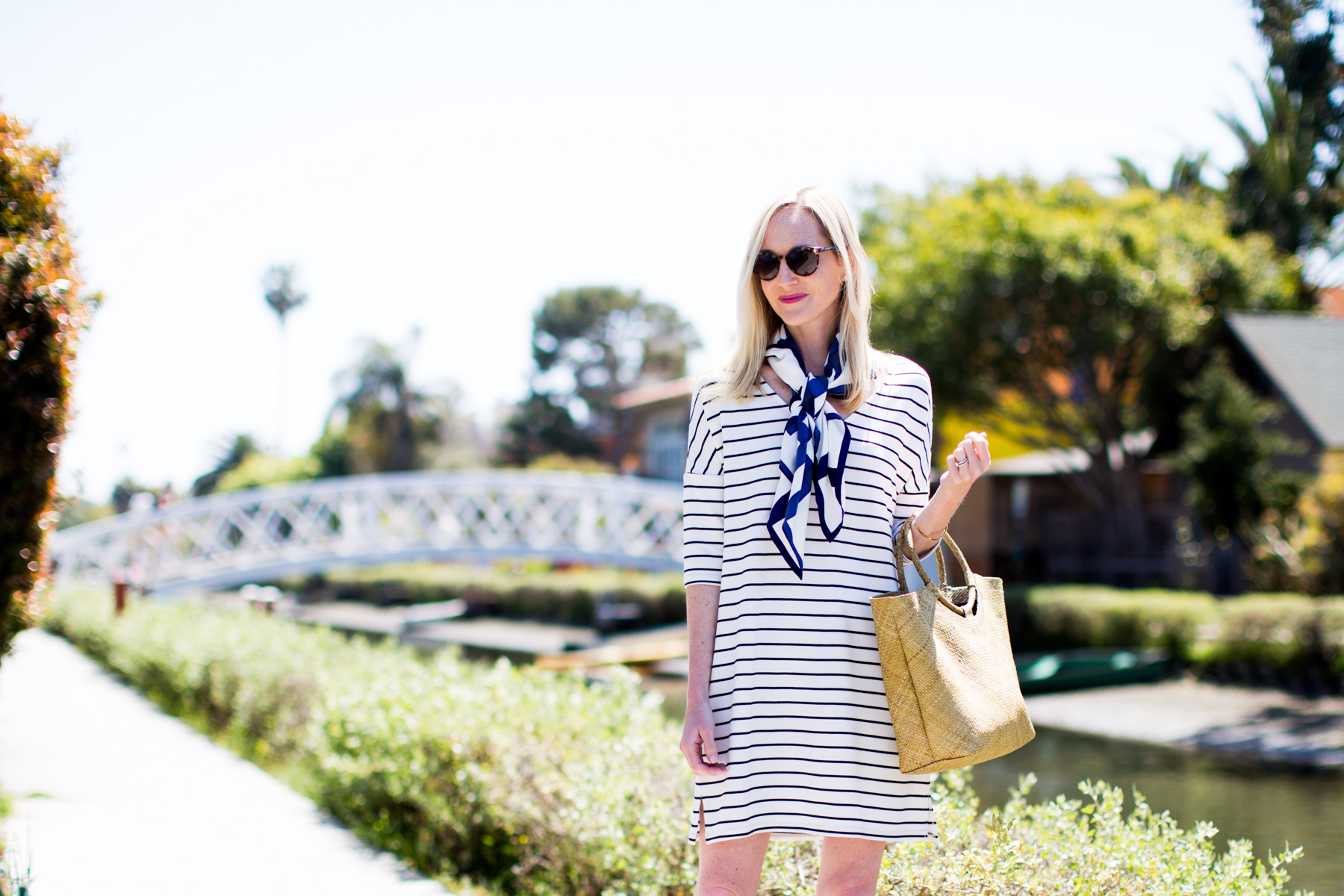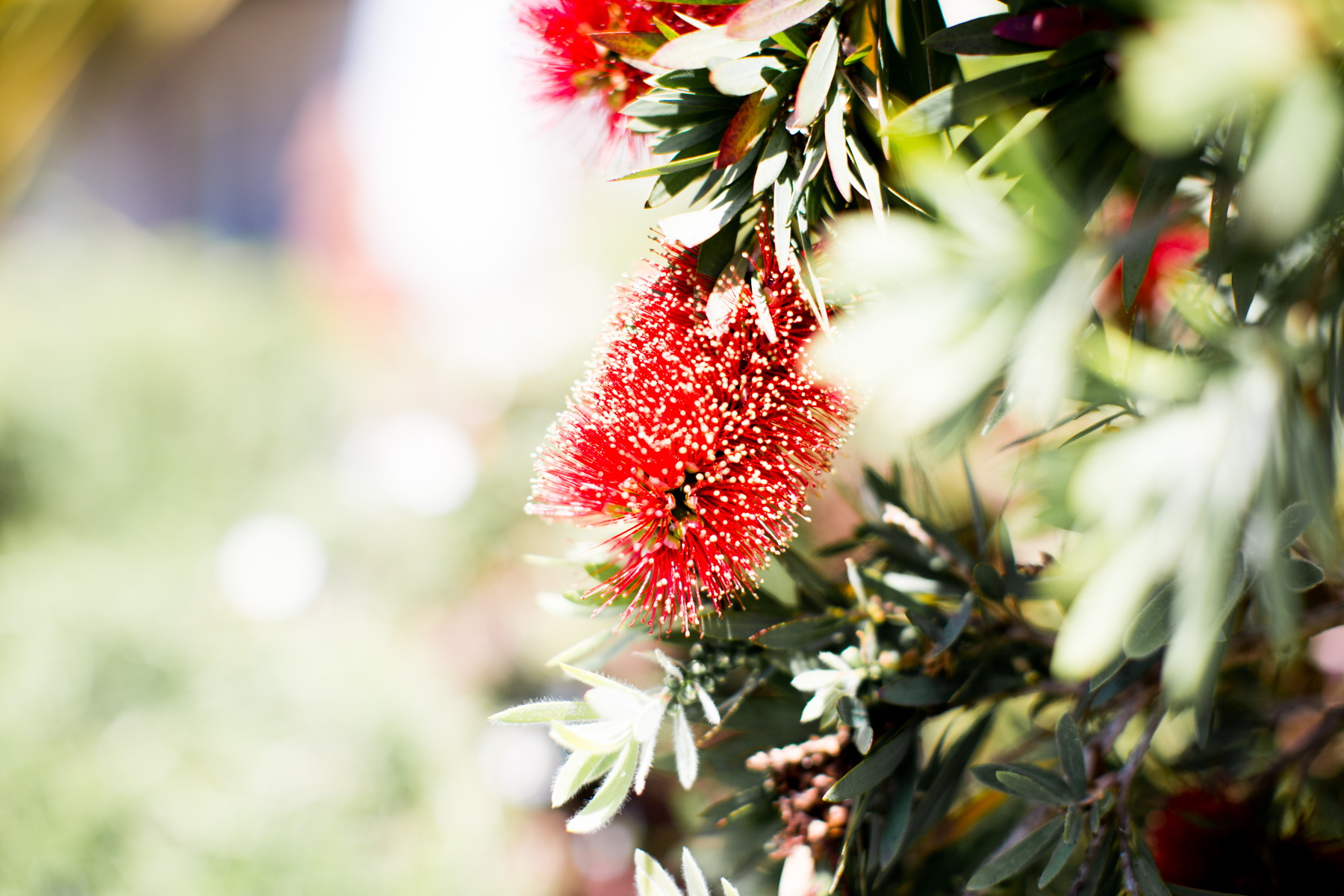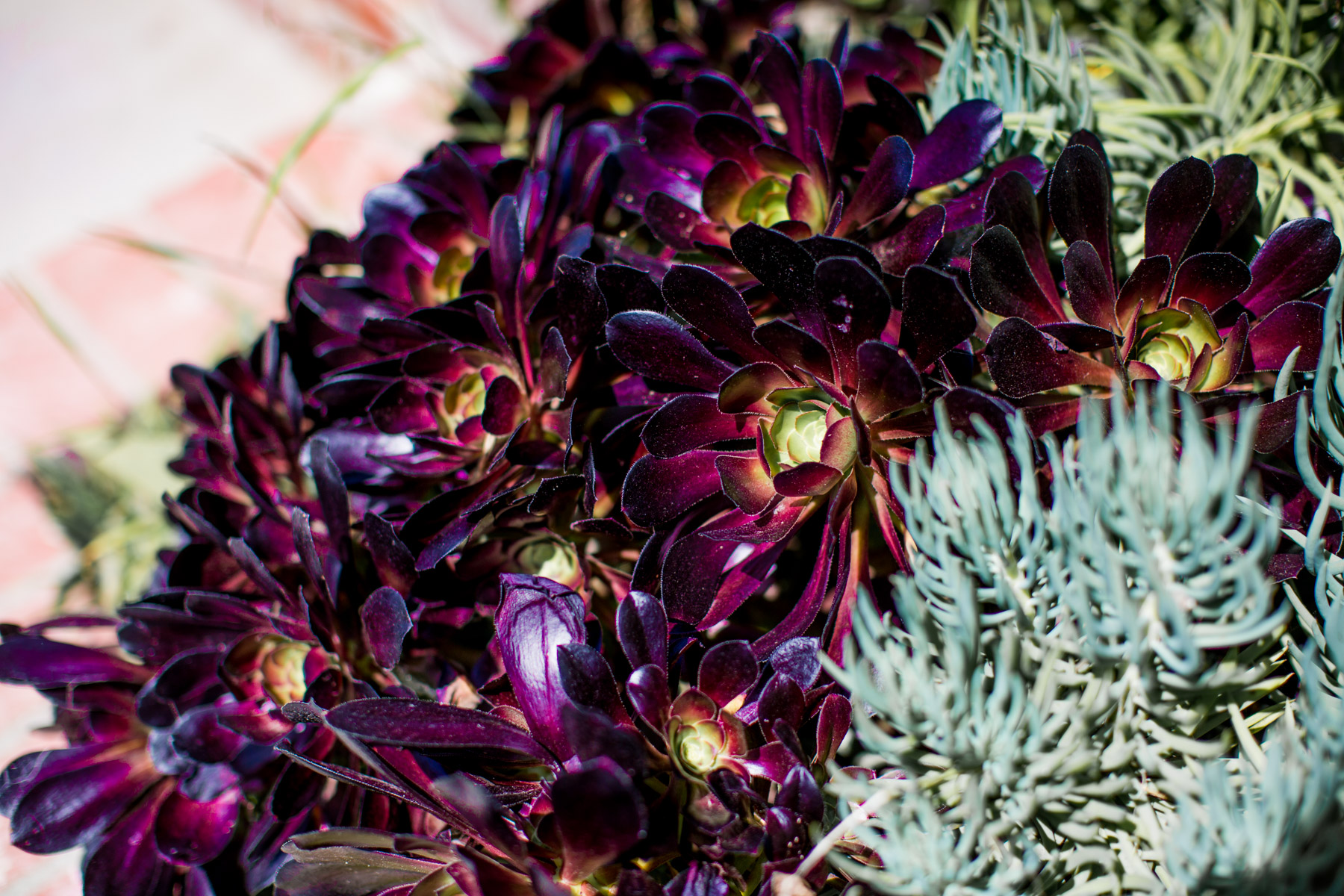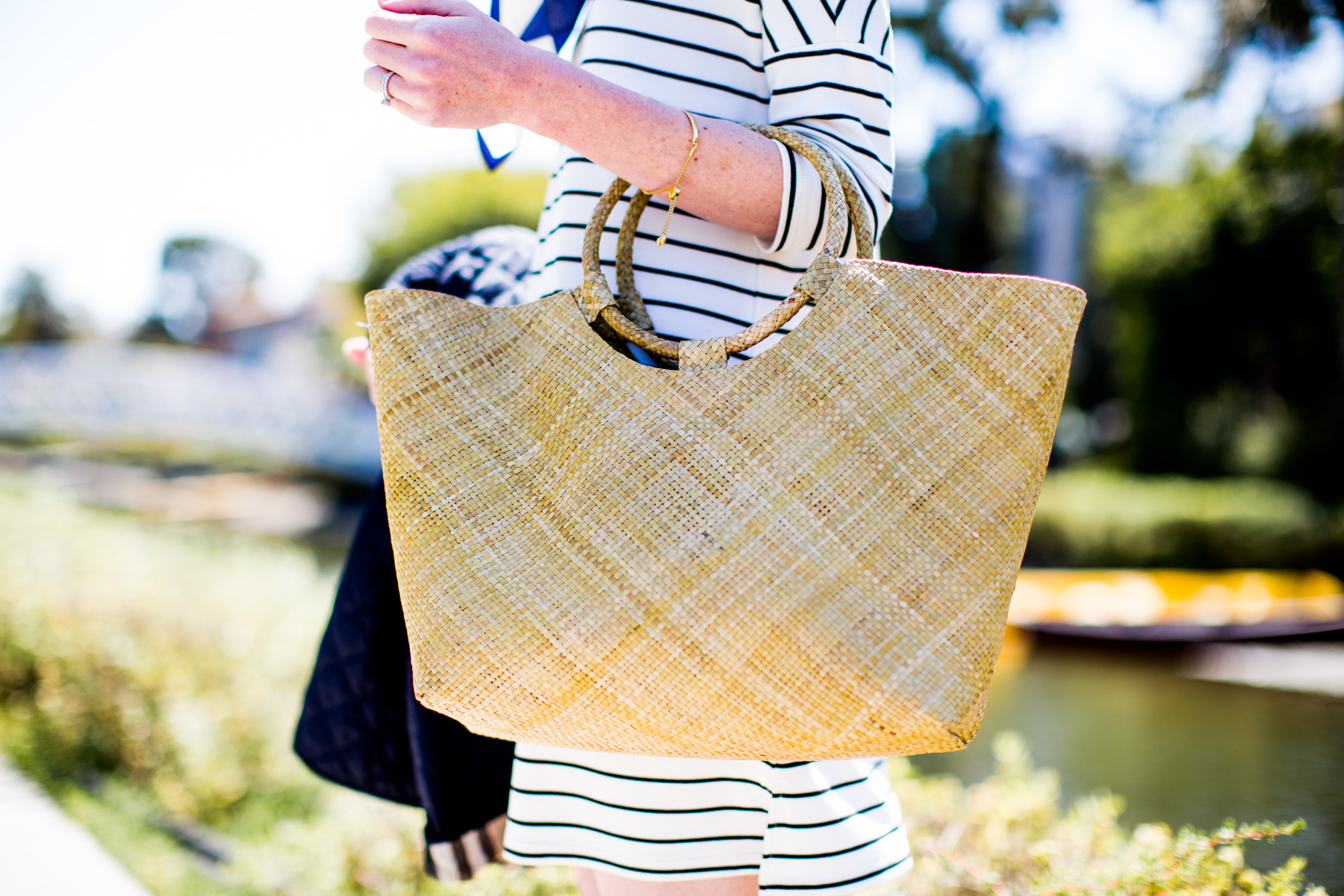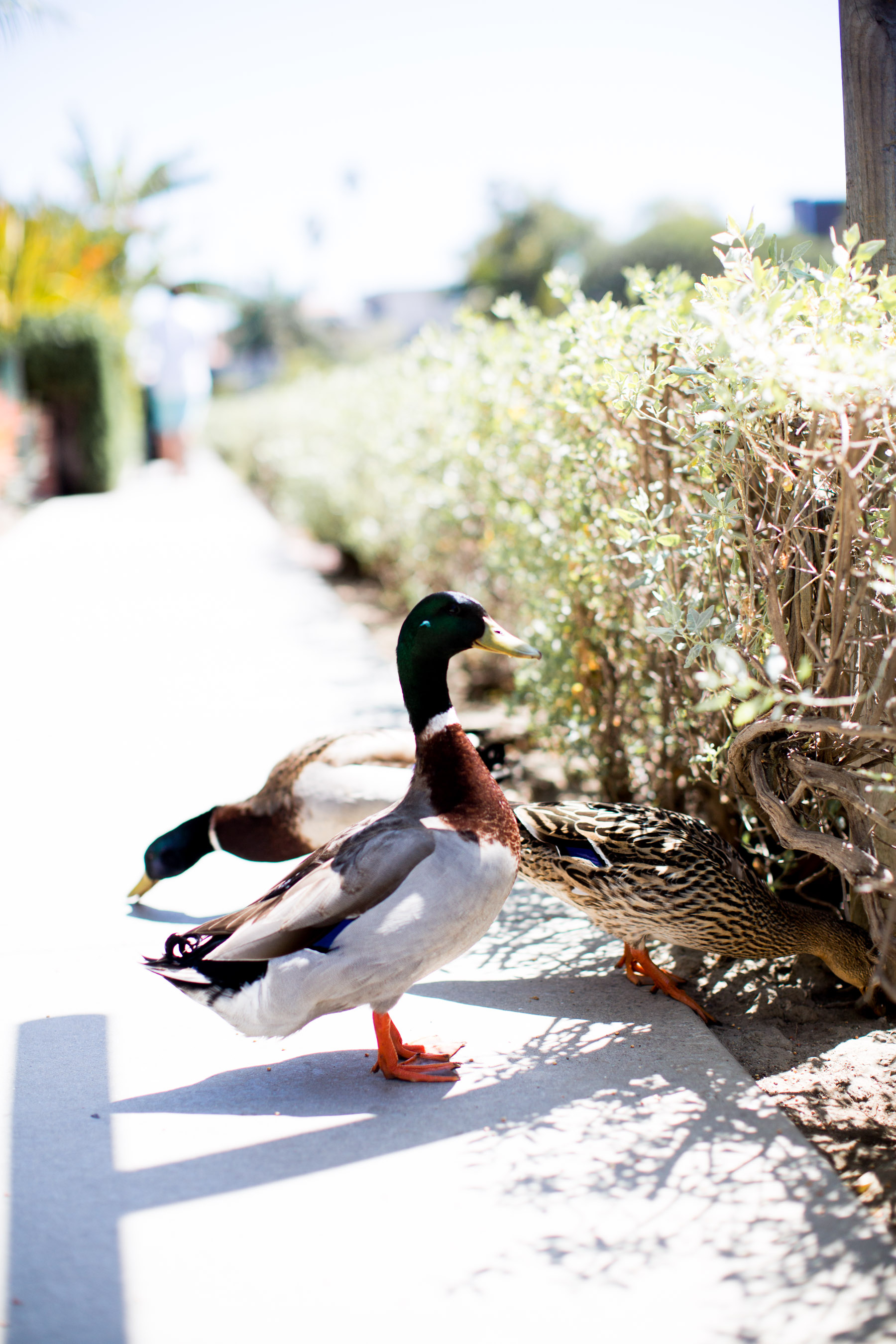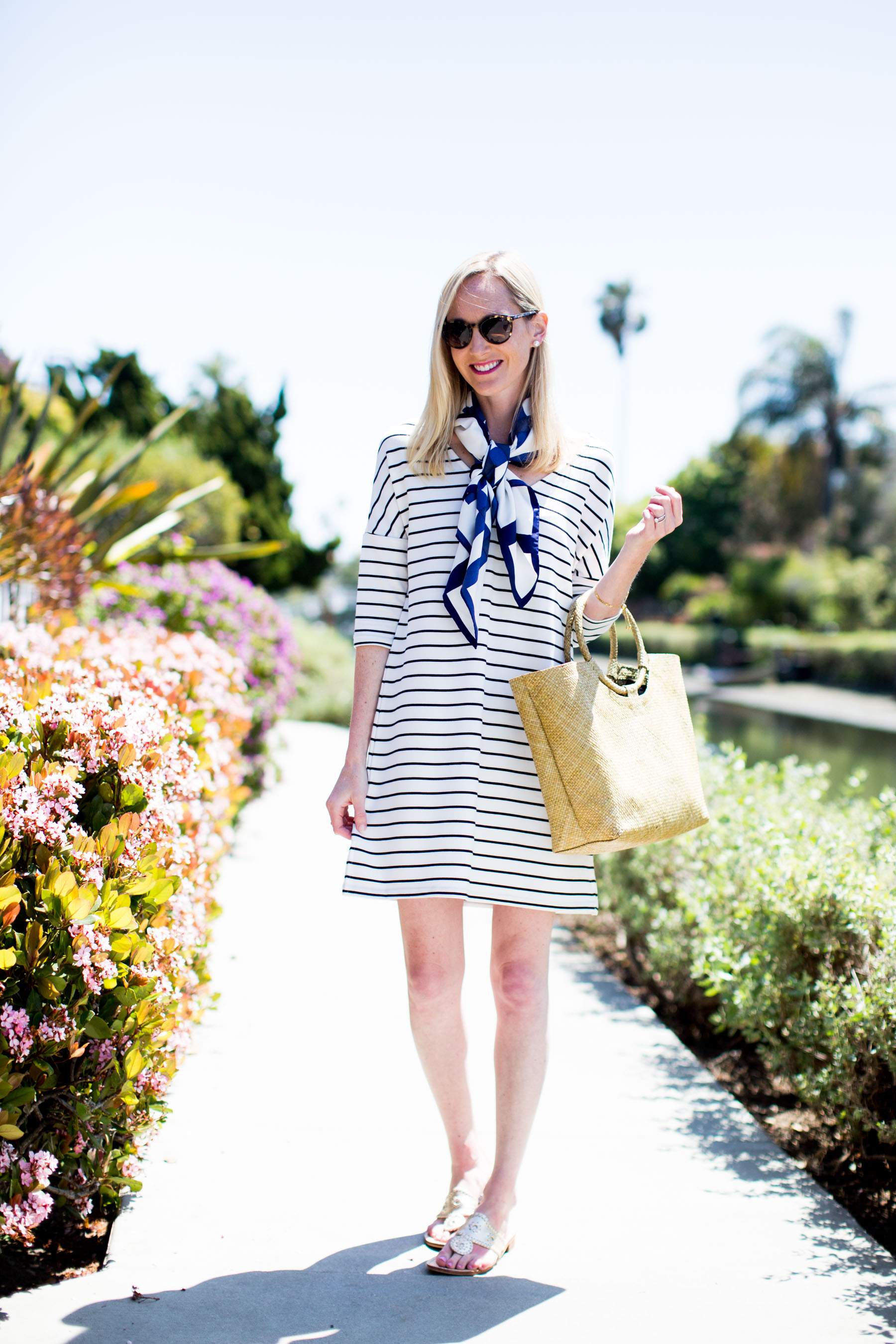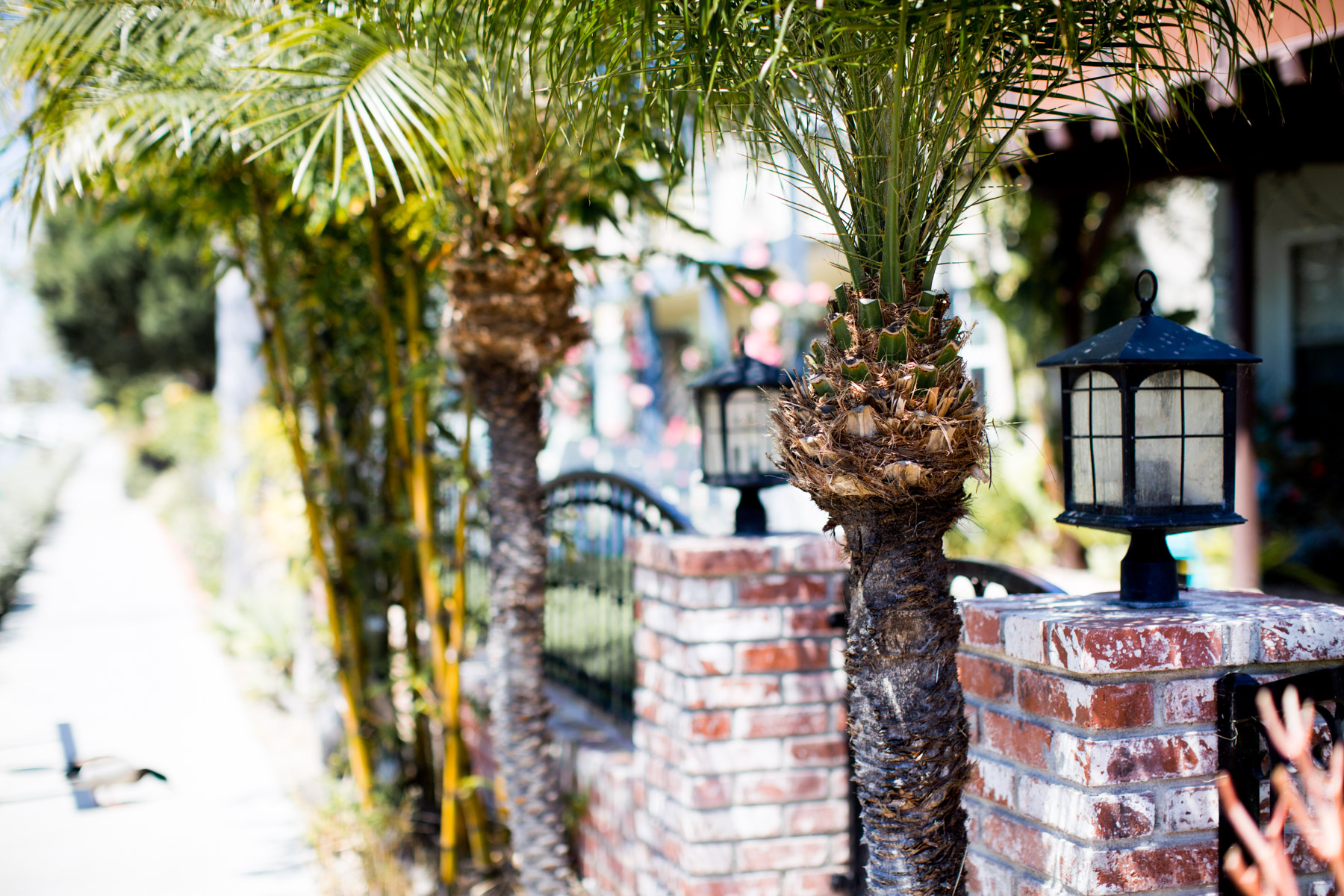 Shop the post:
The Perfect Striped Dress (On sale! Use code "EVENT17" for 20 to 25 percent off and free shipping during the Shopbop Sale. Here's the sleeveless version.) / Straw Tote c/o Tuckernuck (Also comes in rainbow and green, and I LOVE this pink tote.) / Gingham Scarf / Jack Rogers Sandals (Also love these, these and THESE.) / Monica Vinader Bracelet c/o / Burberry Quilted Jacket (This one is great, too. Looking for something warmer? Hello, Barbour.)
Kelly's Shopping List: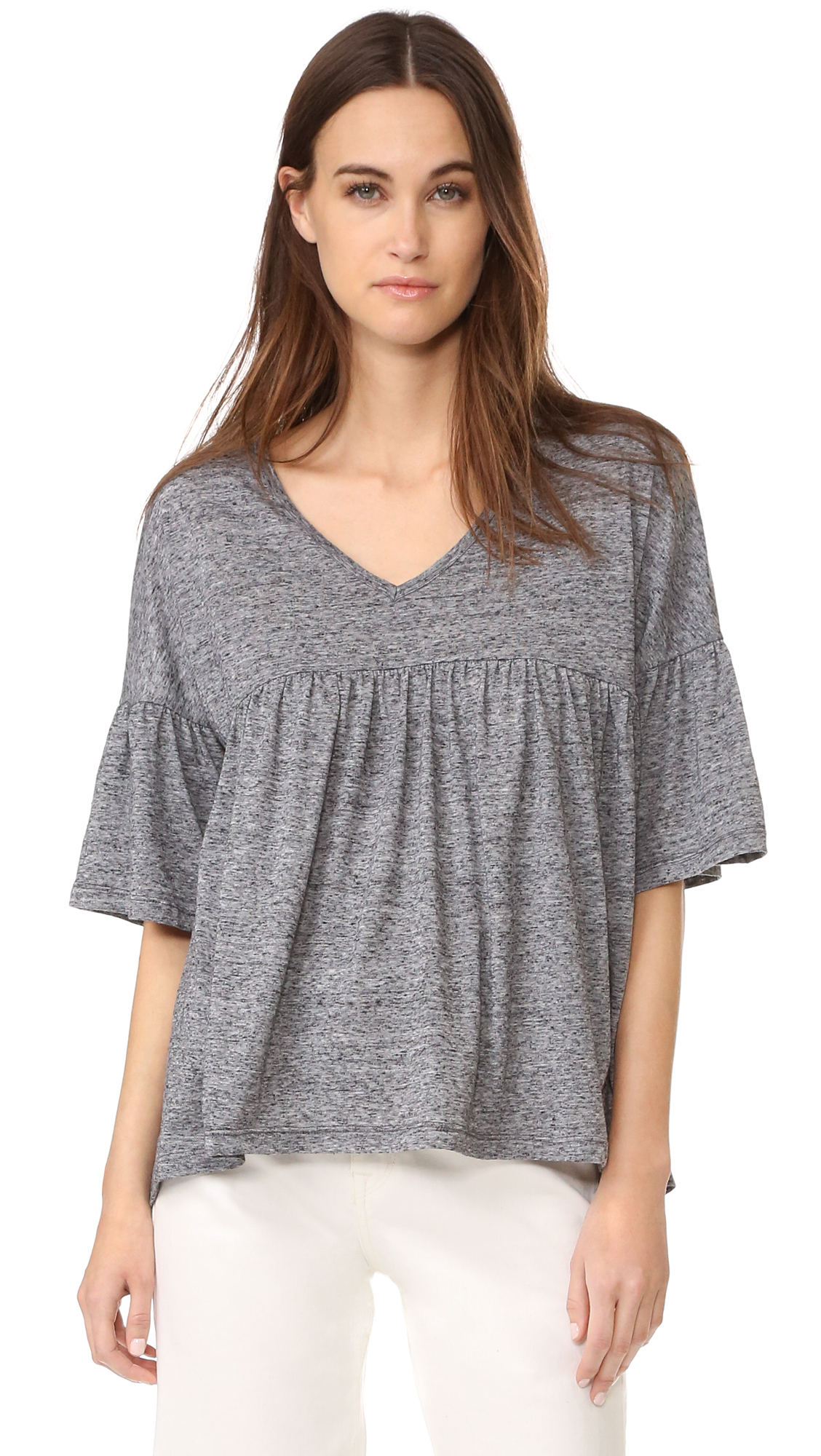 If I get my act together, I'll maybe have a post up tomorrow in which I'm wearing this top. It's also perfectly swingy, and, paired with block heels and white skinnies, very classy! Remember: Use code "EVENT17" for 20 to 25 percent off and free shipping during the Shopbop Sale.