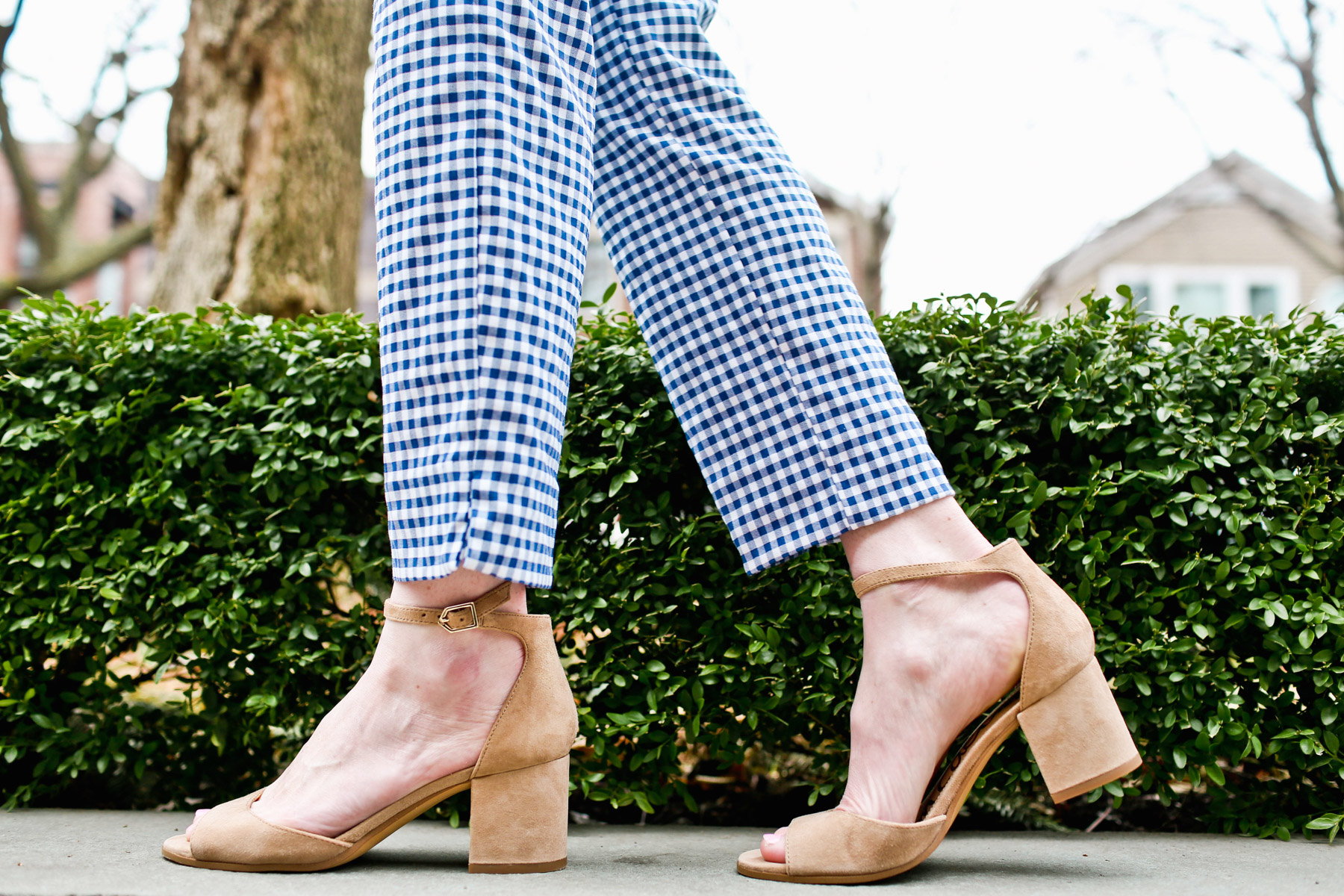 Chunky Sandals (Last day they'll be on sale! Use code "EVENT17" to take 20 to 25 percent off and get free shipping. Also love them in hot pink, navy, jute and black.) / Scalloped Top (On super sale today! Dress version here) / Gingham Pants (Similar here, here and here. And here's the shirt version.) / Navy Clutch c/o Everlane
Last night was so much fun: we hung out with our friends who now live in Newport Beach, and we watched the sunset from their balcony. (More on that soon.) Tomorrow afternoon, though, we're headed back to Chicago, where things undoubtedly look like this, haha. But we're trying to focus on all the excitement and trips and warm weather (hopefully?!) just around the corner. :)
Since I'm heading out the door for our second-to-last day in sunny California, a few thoughts in bullet points:
I can't WAIT to share everything we did in the Los Angeles area! I won't lie: we were a little overwhelmed by just how much there was to do (and see!) here, and we feel like we did maybe a fifth of what we could have. But we're also glad that we took it slow, introduced ourselves to a new area of the country, soaked up the sun, and spent some quality time together. One thing's for sure, though: we're coming back next year. And thank you so much for all of your recommendations! Mitch and I agree that we would have been lost (quite literally, a few times) without them. :)
I'm obsessed with this scalloped top, which is 50 percent off today. It's SO much better than the original because it's machine-washable and affordable. I might own it in three colors. ;)
Today is the last day of the giant Shopbop sale! I made a big list of my spring staples–all of which are included–here, and yesterday, I talked about what I'm thinking about purchasing. (Don't worry. Not everything, haha. Just a couple of things.) Remember to use code "EVENT17" to take 20 to 25 percent off and get free shipping. Did you nab anything awesome from the sale?!
Here are my faves:
Use code "EVENT17" to take 20 to 25 percent off and get free shipping.
These pink pumps are a must for spring outfits.
I get so many compliments on this top!
Ditto on this one.
These are my favorite sandals. (I mean, they're scalloped!) They're pricey, but they're worth it. I save them for special occasions. ;) I also love the brown and gold pairs as well as the wedge version.
It was love at first sight when I saw this ruffled chambray top. Paired with white jeans, it's a springtime staple–something I can wear over and over again!
A couple of Tory Burch Miller sandals are included: this gold pair and this striped pair.
This tiered top is another favorite "statement" shirt. The ruffles are killing me this year. What happens next year when ruffles and gingham and scallops are no longer the rage?! Gotta stock up… ;)
I'm not sure if everyone freaked out as much as I did when this clutch came out this year, haha, but man. It's perfect. The perfect way to add gingham to a gingham-less outfit. (Yep. Aware of it. I have issues.)
I am a Tote Girl through and through. And my Madewell tote has been a staple for years.
These tasseled mules are some of my faves this year, as they blend that classic, preppy look with a current trend. They run TTS, too. (They also come in black.)
The ric rac top is also included! It really reminds me of my mom, as she used to sew with ric rac when I was a kid. :) Happy memories, for sure!
I love these white skinny jeans so much that I actually own two pairs. They're super soft yet they don't stretch out, and they're completely fitted but so comfortable. Hands down, my favorite white jeans of all time! They run TTS.
These are my everyday jeans, I desperately want to try this wash and this wash in my favorite cut, and I've been told that this darker pair is off-the-charts amazing.
Ferragamo is included, too. :) These are my favorite low heels and here they are in other colors. I also love the flat version… especially in the navy!
This is SUCH a steal on my favorite chambray top of the season, as it's already on sale.
I can't tell you how much wear I get out of these block heel sandals in hot pink. They're REALLY comfortable, as the heel height is relatively low… yet they give me that extra bit of height that makes my outfits look a bit fancier. I'm also obsessed with the jute, navy and tan versions. They come in black, too.
The Clare V. Leopard Clutch is the bag I always reach for at night. It's perfect, because it goes with nearly everything. It's also incredibly well made and has stood the test of time. Oh, and it surprisingly fits a TON! It also comes in gingham and a brown leather.
More faves here:

Remember: Everything above is part of the Shopbop sale, which ends today! Use code "EVENT17" to take 20 percent off orders under $500 and 25 percent off orders of $500 or more.
Shop the post:
Chunky Sandals (Last day they'll be on sale! Use code "EVENT17" to take 20 to 25 percent off and get free shipping. Also love them in hot pink, navy, jute and black.) / Scalloped Top (Dress version here) / Gingham Pants (Similar here, here and here. And here's the shirt version.) / Navy Clutch c/o Everlane
Photos by Cassandra Eldridge