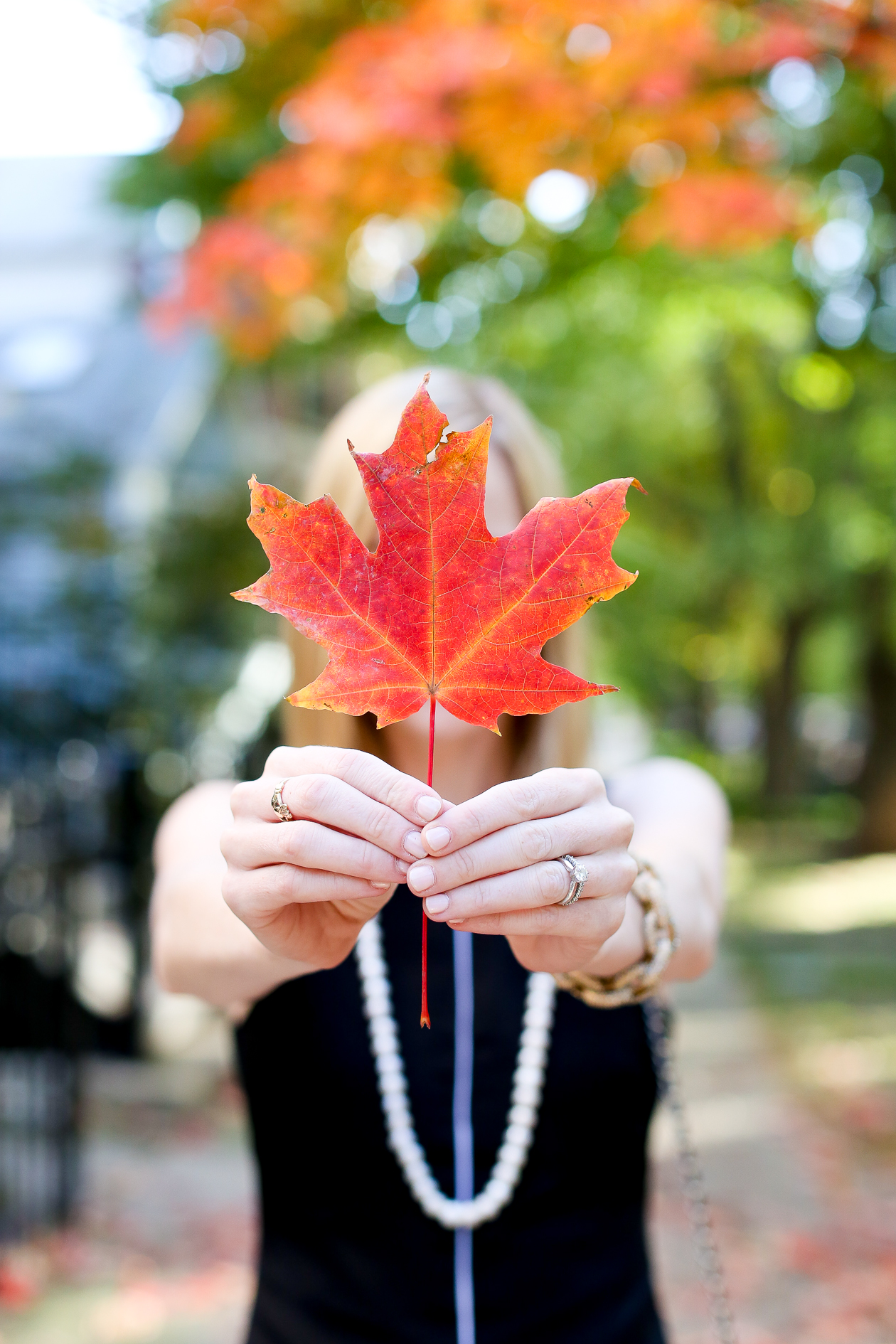 This post was sponsored by Burt's Bees, but all opinions are my own. As always, thank you so much for supporting the partnerships that keep Kelly in the City up and running!
Guys, I'm so excited about fall. Last fall was the best of my life: the weather was insanely perfect and lasted well into December, we took a bunch of incredible trips, and we found out we were pregnant. This year, though, I'm pretty sure we're going to top all of that. We have more excursions planned, layers are going to be my post-baby body's best friend, and Emma is actually with us!
Because I'm so excited about the change of seasons, I thought I'd dedicate today's post to the "fall things" I'm most excited about:
Long walks
There's no better time to be outside in Chicago than the fall. I typically take three to four long walks every day: one in the morning, one during the afternoon, and one or two at night. I know, it seems a little excessive. But it's my time with my family, and I love catching up with Mitch as we stroll through Lincoln Park, admiring and appreciating the beautiful fall colors and decorations. (Emma and Noodle adore it, too.) If you've never been to Lincoln Park before, fall is the time to come!
Pumpkin spice lip balm
Recently, I discovered Burt's Bees Pumpkin Spice Lip Balm, which is infused with naturally conditioning beeswax and beneficial nutrients, and I can't get enough. I love the smell of pumpkin spice in the fall–I mean, who doesn't?!–but I can't drink pumpkin spice coffee all day, especially considering that I'm currently nursing. I can, however, use my Burt's Bees lip balm with reckless abandon. ;)
The smells is amazing: not overwhelming, just subtly there. And my lips have never felt softer! The limited edition lip balm, available for a short period of time, is exclusively at Target. You can find it in the Burt's Bees section in the Natural Beauty aisle!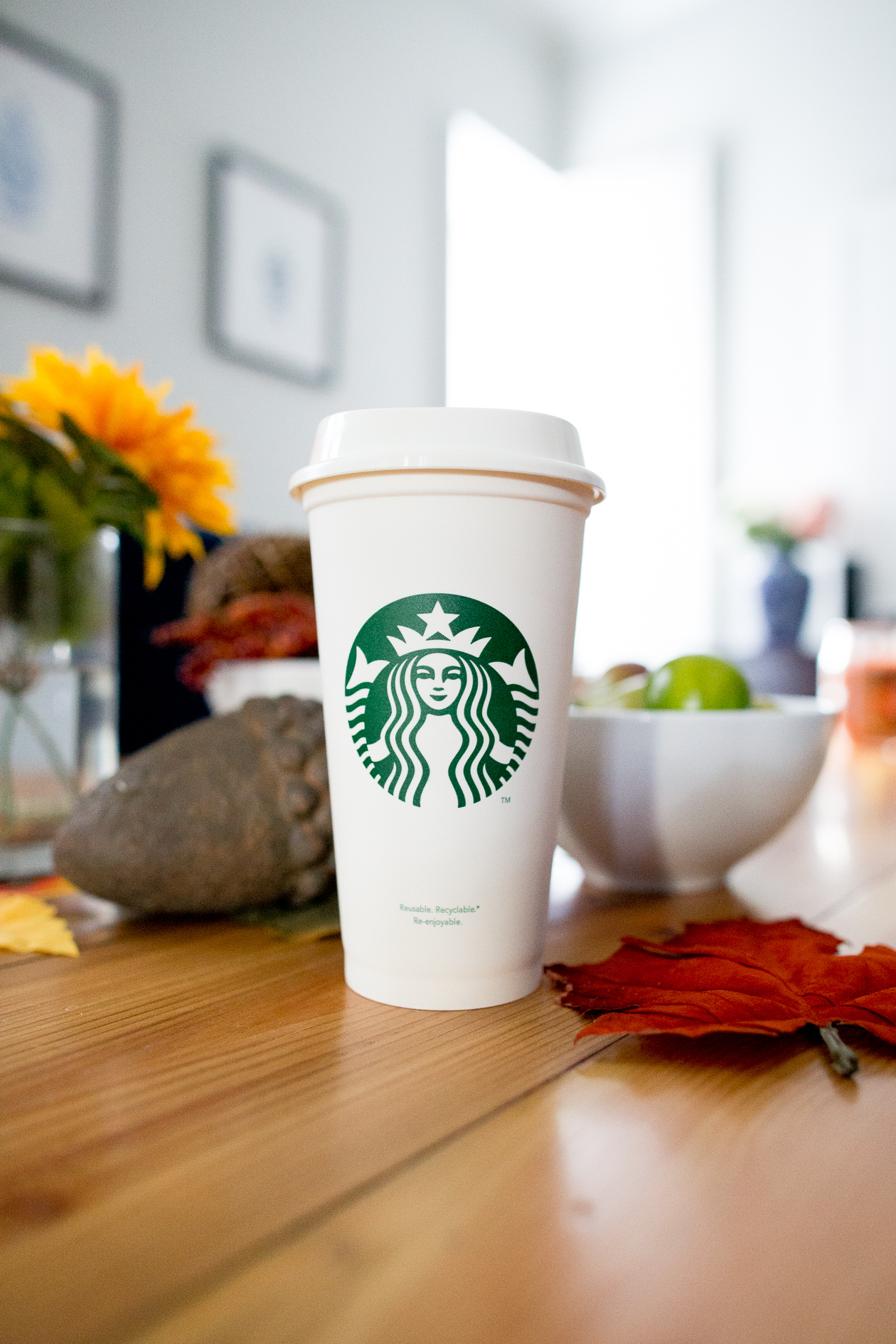 Pumpkin spice coffee
It's finally here! There's just nothing like it. For a special treat, I'm a big fan of Starbucks' Instant Pumpkin Spice Latte packets, as they're super easy to use–even if you usually only have one free hand, like I do! On warmer days, I'll go for Starbucks' Pumpkin Spice Frappuccinos, which are individually packaged and ah-mah-zing. For everyday coffee, Dunkin' Donuts' Pumpkin Spice Ground Coffee is my go-to. (And yes: I might own a reusable Starbucks cup, haha. What?! It reminds me of fall!)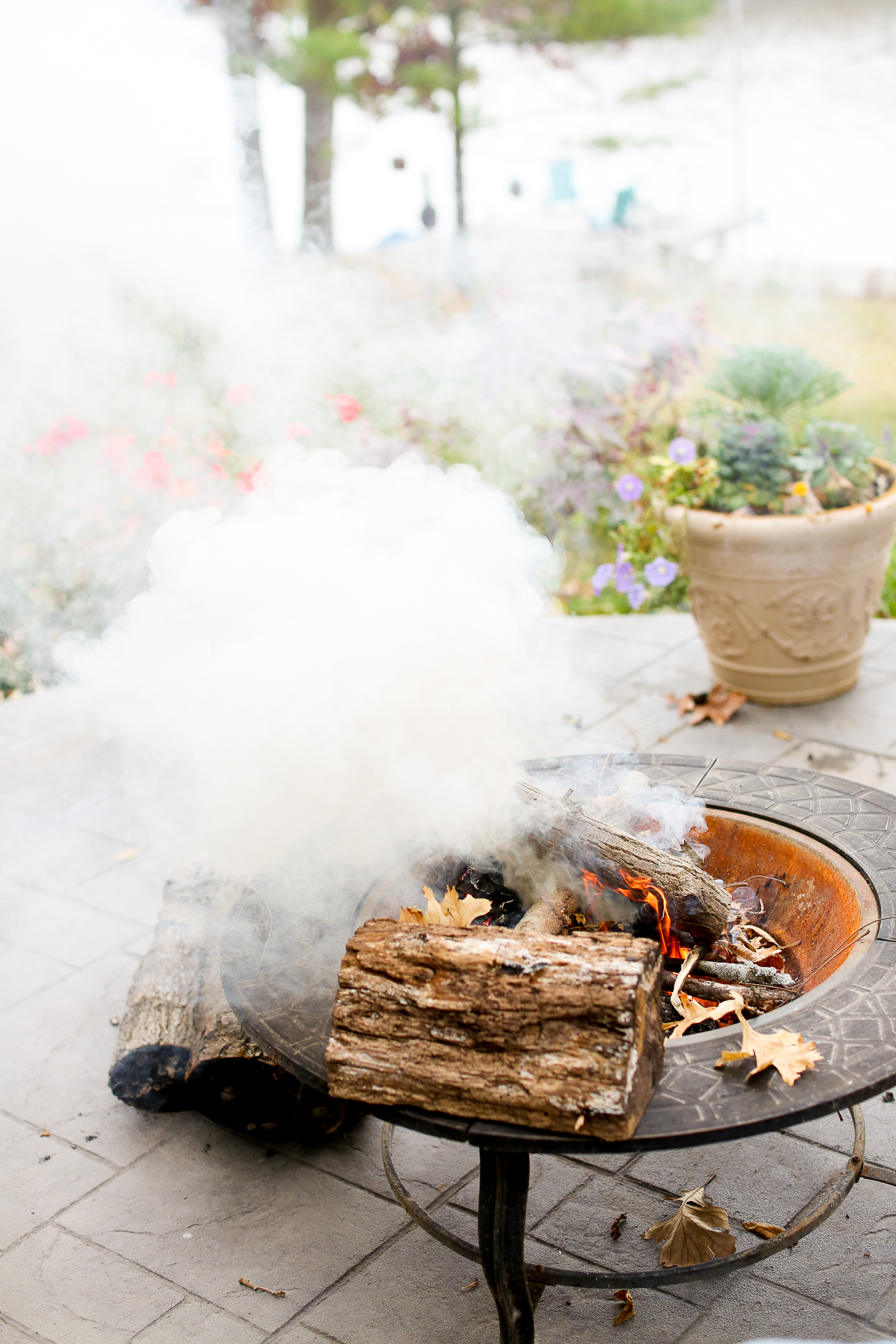 Bonfires
When I first started visiting Mitch's family in Illinois, I thought it was so cool that they had bonfires on the regular. Where I'm from, this is totally illegal. Even in Ocean City–the perfect spot for a bonfire, if you ask me! Anyway, the Larkins have tons of bonfires in the fall, and they're the highlight of our trips to the lake. Everybody bundles up, and we roast marshmallows and even have dinner around them. I'm counting down the days until our first one of the season, for sure!
On a somewhat related note, Mitch and I have a wood-burning fireplace in Chicago. :) While we'd originally hoped for gas, and even priced out what it would cost to install a gas one, we're so happy we decided to keep the wood-burning one. The smell…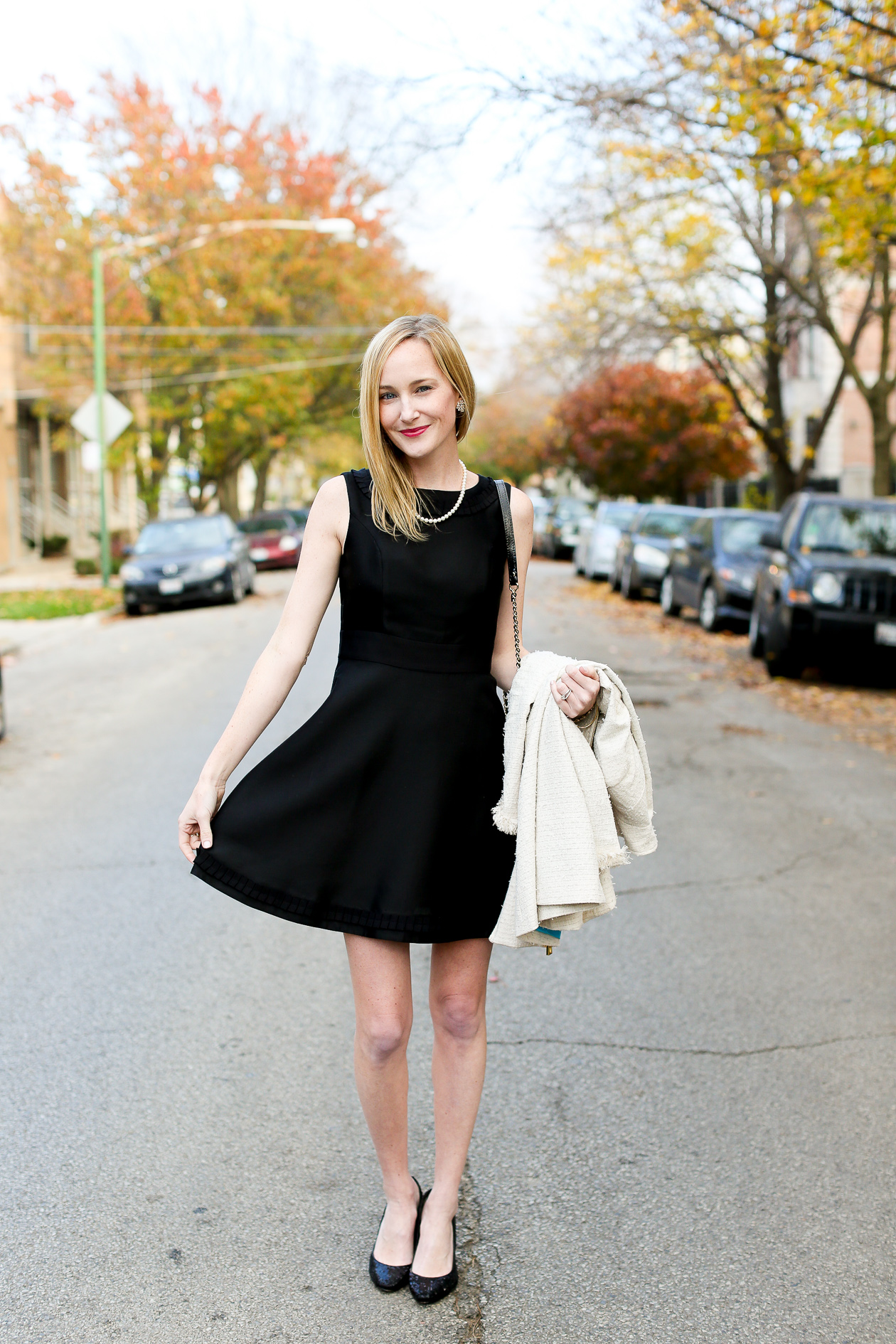 Thanksgiving
This Thanksgiving is going to be the BEST, as my brothers, Grammie and extended family are going to meet Emma! We're driving back to the East Coast for it (cross your fingers for us!), and I'm over-the-moon excited to hug my fam and introduce our little girl to everyone. (I might have Emma's outfits already purchased/planned.) I'm a little nervous about how the actual drive is going to go, but Thanksgiving flights are outrageous right now, and Mitch and I are trying really hard to save this year, as last year took its toll on our bank account.
Not sure what I'll actually be able to fit in for the holiday, but this Sail to Sable dress from last year is still a favorite and top contender. Just need to get myself to the gym…
Decorating for fall
Because we don't have a ton of space in our little half-townhouse, my mother-in-law hooks us up with decorations every season and holiday. So sweet! During our last trip to the lake, she gave me three bags of fall decor, which I immediately spread around the house. ;) Doesn't it look adorable? We've been blasting "October Road" by James Taylor and keeping the windows open to let the crisp air waft through. I love fall.
Looking for fall decor? Target has great stuff!
Plaid shirts
In particular, flannel plaid shirts. I'm nearly always cold (except when I'm pregnant, apparently!), so flannel shirts are my best friend during the colder months. I love how cozy and easy they are. Regular plaid shirts, however, are also extremely useful for the beginning of fall when the weather is a bit warmer.
As you've probably noticed, I own way to many plaid shirts. I'm going to try to pair down my collection this year, but my favorite plaid shirts come from J.Crew (first pic — old shirt), Uniqlo (second pic — old shirt), Tuckernuck, J.Crew Factory, L.L.Bean, Nordstrom and Madewell. This year, my eyes are on the Perfect Shirt in Navy Stewart Plaid, this Uniqlo shirt in both colors, and this Uniqlo shirt in red and blue, L.L.Bean's "Scotch" Plaid Shirt in EVERY color (make sure to select "Regular" if you're not petite), this one from Madewell, this buffalo check one from Madewell, this navy shirt and another navy shirt from Rails, this Current/Elliott check shirt, and this buffalo check one from J.Crew Factory. :)
See? It's a sickness…
Barbour jackets
Admittedly, I'm a Barbour jacket addict, and the obsession really shows in the fall. While I have a bunch from few partnerships with the company, I love that you really only need one Barbour. They last a lifetime, and they're timeless! My all-time favorite is the quilted navy Beadnell (read about why here), but I also love the classic waxed Beadnell (recently featured here). My favorite places to buy Barbour are via Nordstrom and Tuckernuck.
Blanket scarves
It's now socially acceptable to wrap yourself in a blanket and call it fashionable. I'm so on board. This is my favorite blanket scarf this year, and here are my tips on how to wear it!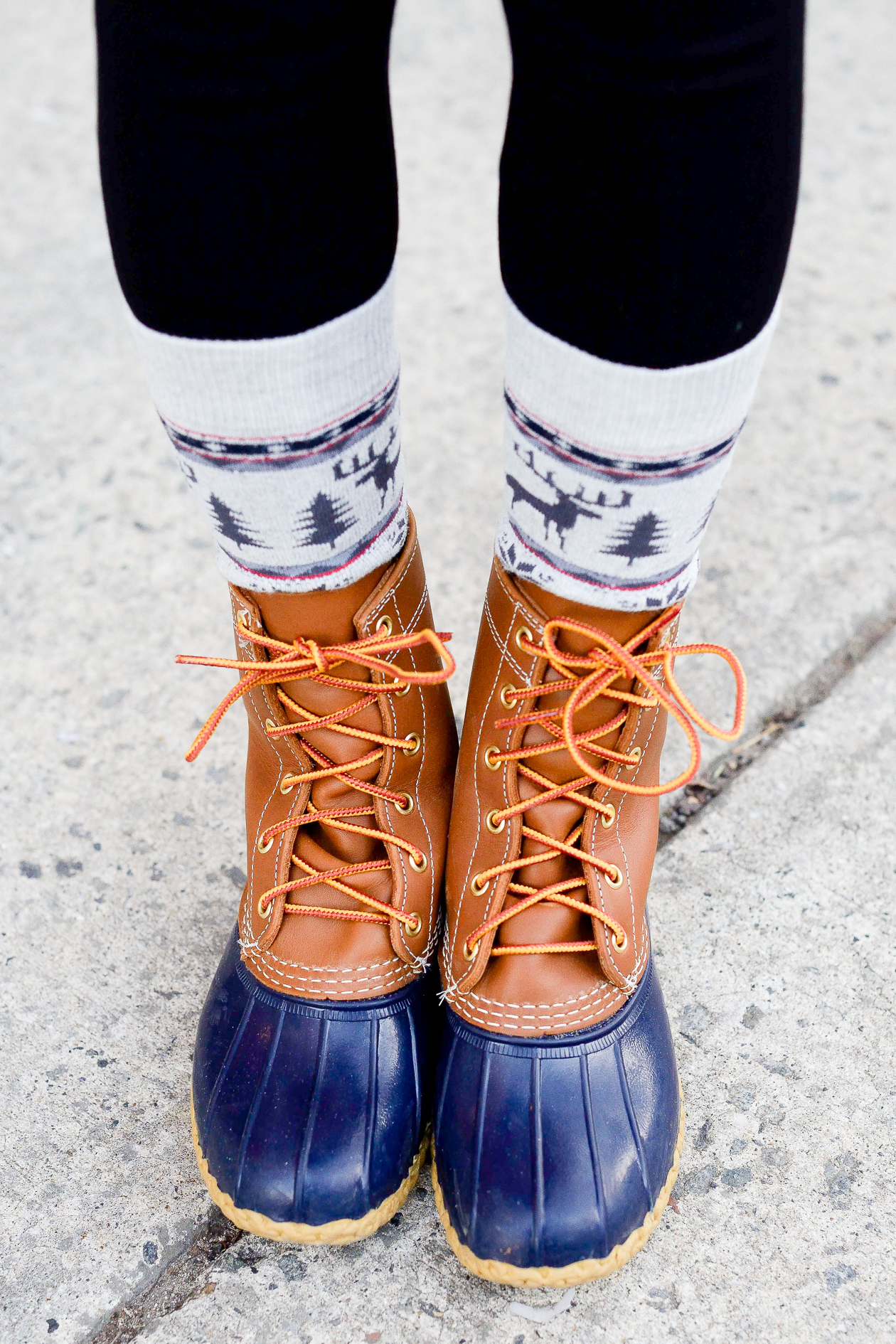 Bean boots
Please excuse my ridiculous socks, but the time is now to order your Bean boots! They sell out very quickly, and they're usually backordered, so definitely do it now. I know I couldn't survive fall without my pair! If you're looking for some guidance, read my post on buying Bean boots.
Larkin Family Fall Fest
This tradition is one of my all-time favorites. Larkin Family Fall Fest is happening a little early this year: on the first weekend of October, and I'm really looking forward to it. :) Think: cozy layers, coffee on the docks, those bonfires I was talking about before, trips to the Larkins' farm, pumpkin picking, and doughnut-making.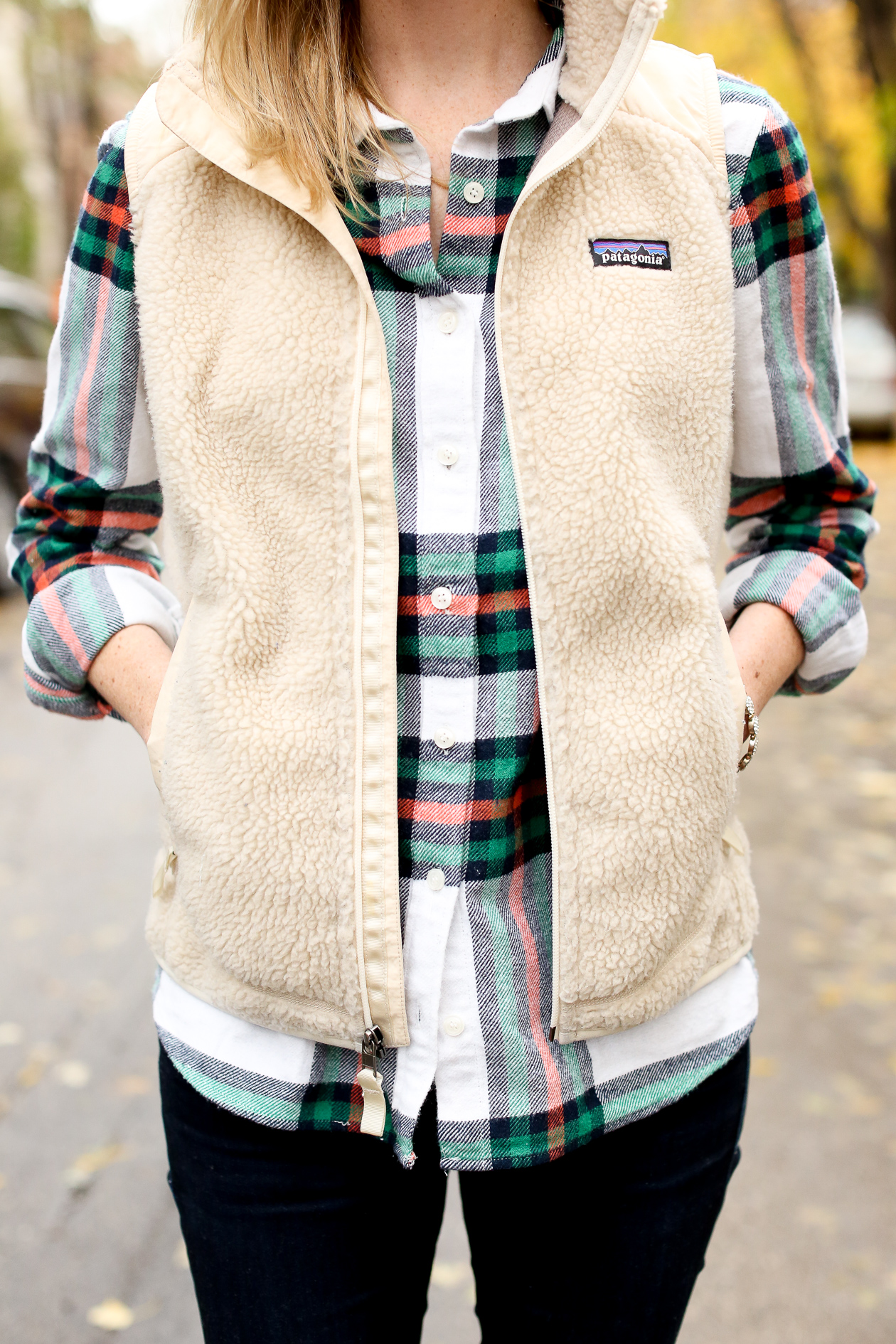 Vests
I am a vest girl through-and-through, and I'm a little embarrassed to admit just how many of 'em I own. ;) My all-time favorite is my old Patagonia one (similar here and here), but I just bought this plaid Barbour one, and I love the newest J.Crew Excursion Vest!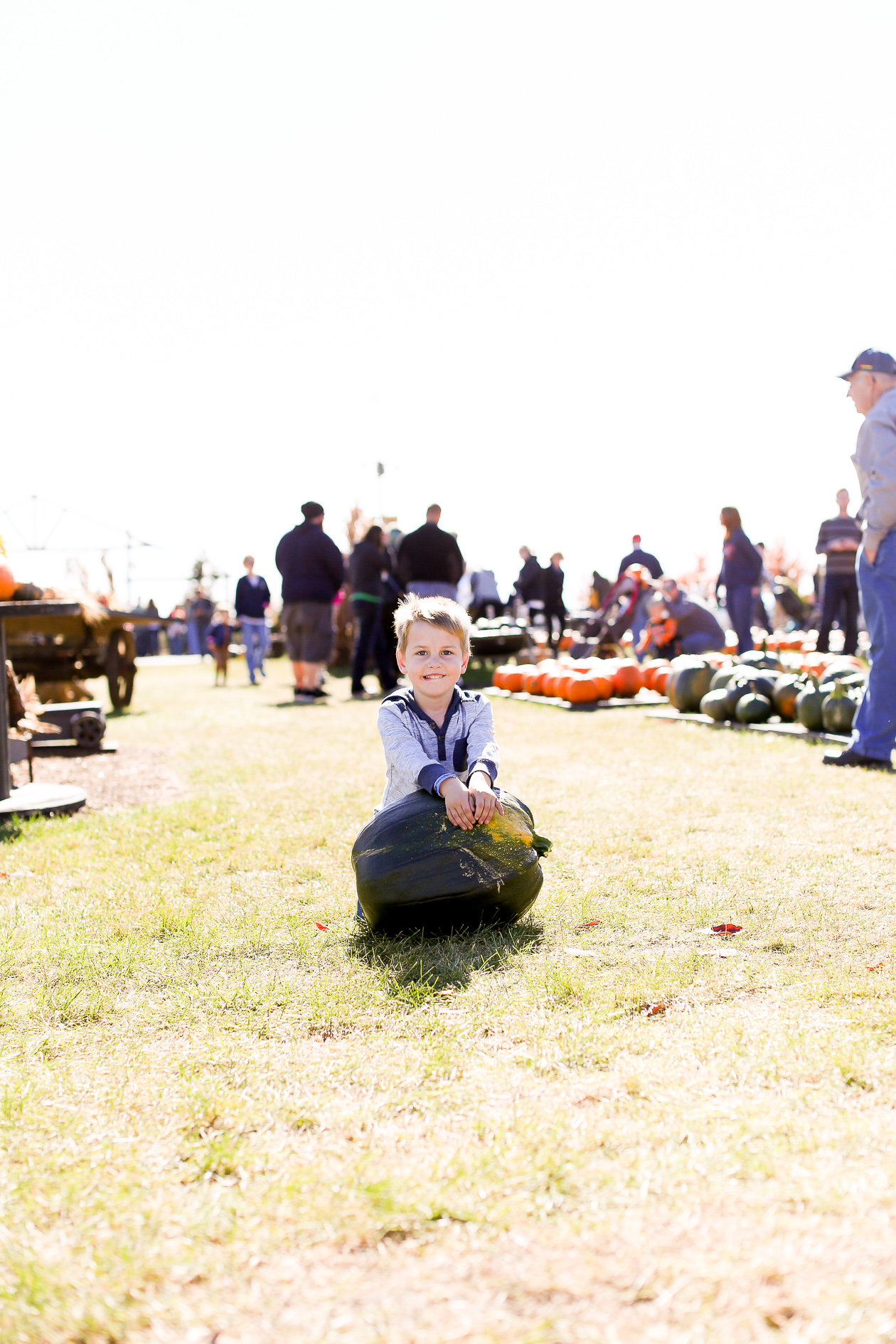 Pumpkin patches
How cute is my nephew, Cameron? Now that we're homeowners with our own front door, I can't wait to line the stoop with pumpkins!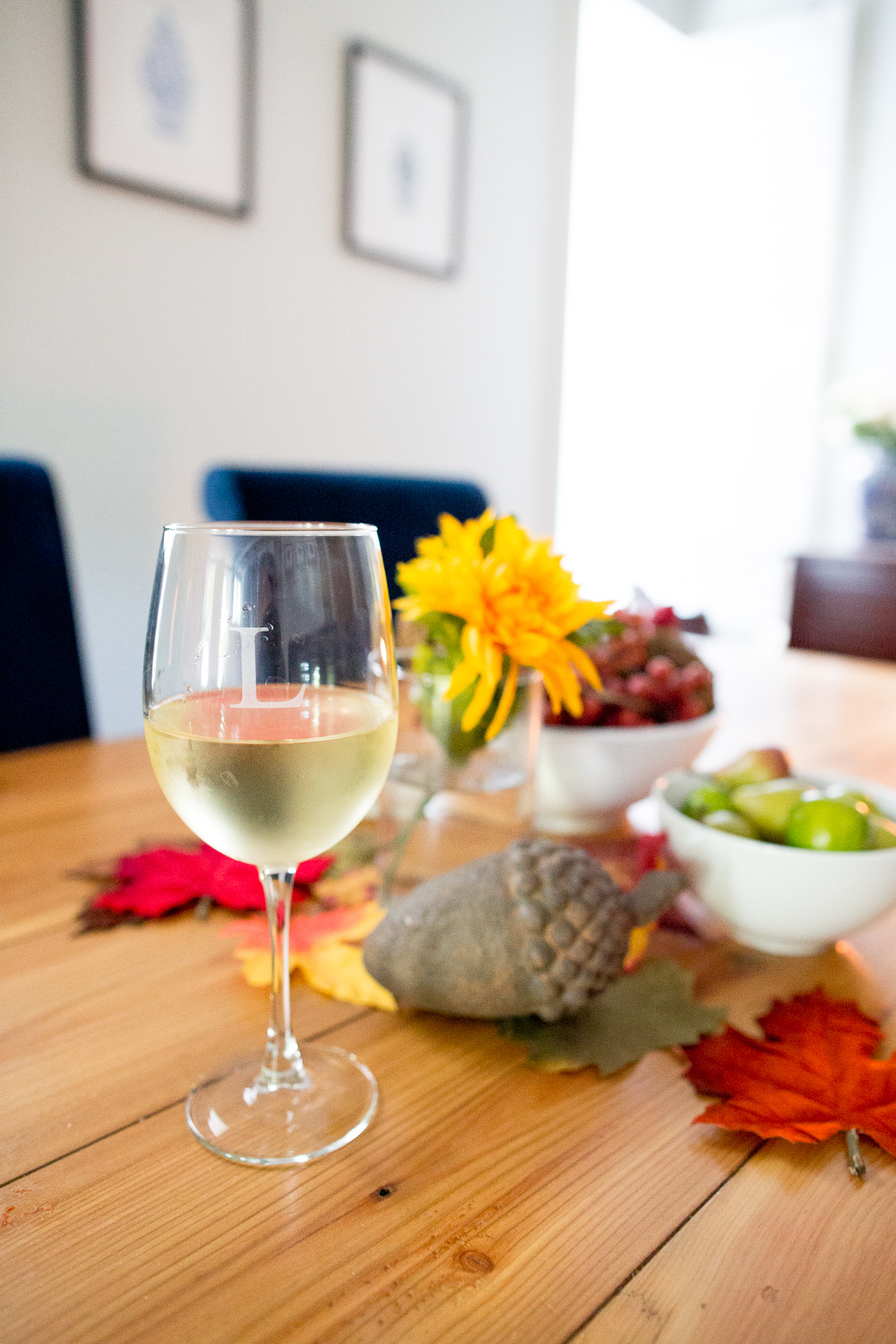 Fall wines
Truth: I don't know anything about wine. And I don't discriminate; I love all of it, during all seasons.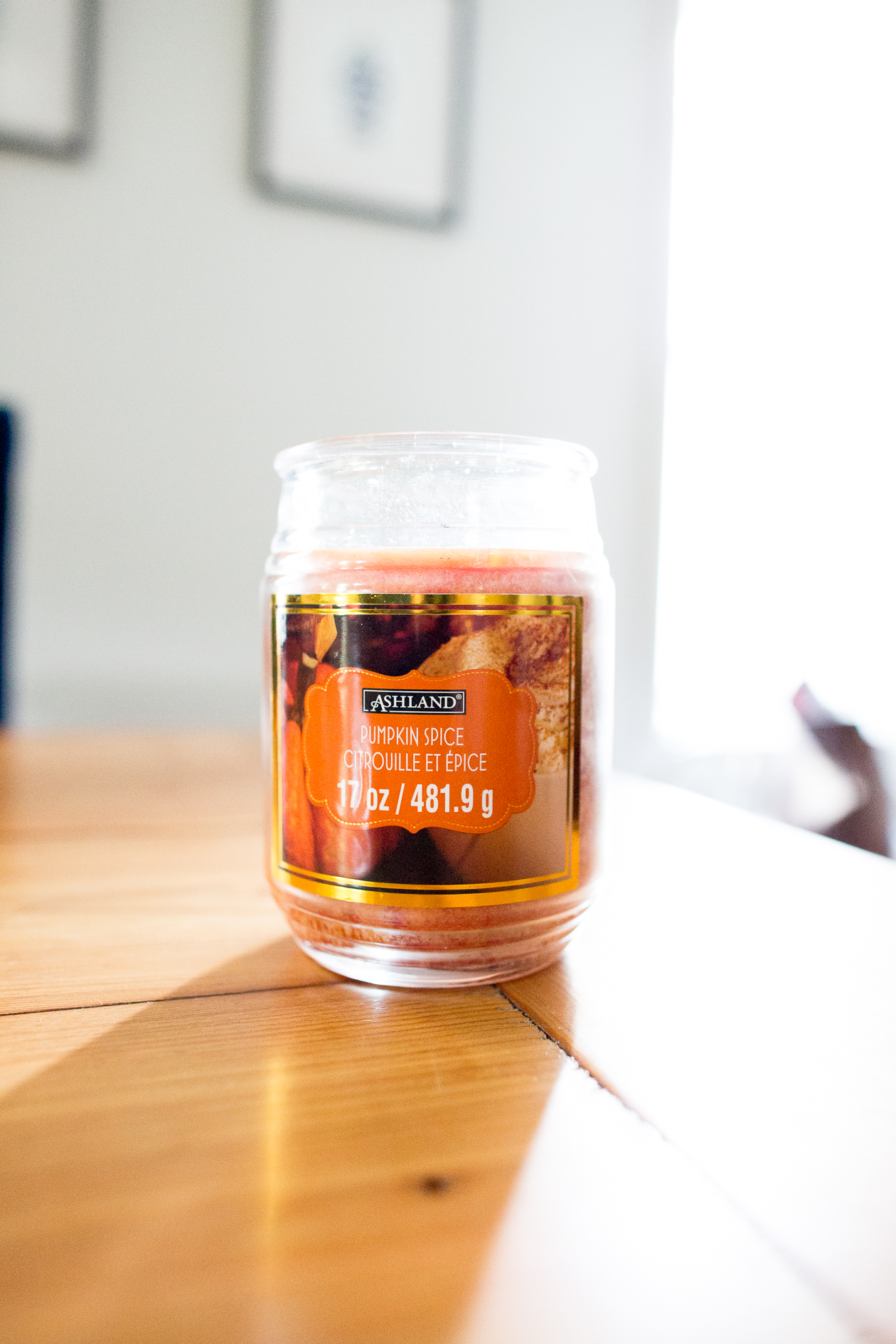 Fall candles
Hi, my name is Kelly and I have a candle problem. Which is why I'm constantly on the hunt for good deals on 'em. I just go through them so quickly! My favorite place to find affordable ones is Target.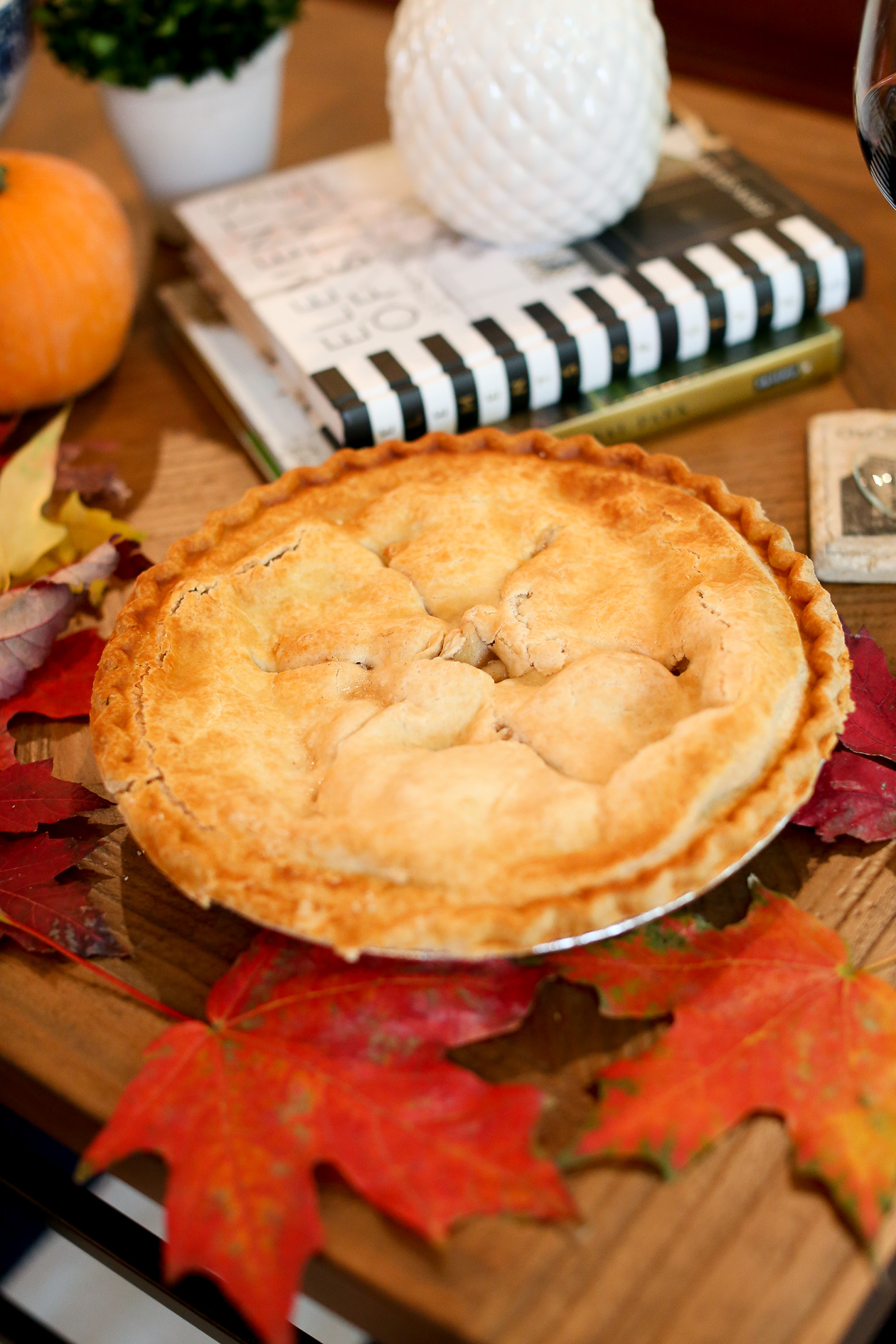 Cooking

I didn't make the above pie. But for I minute there, I had you thinking I did, didn't I?! Mitch does most of the cooking in our house, while I do the cleaning. It works well for us, as Mitch doesn't understand the difference between decluttering and actual cleaning, and I'm completely useless in the kitchen and can't follow a recipe to save my life. Needless to say, I'm looking forward to Mitch's fresh breads, slow-cooker meals, and incredible soups!
Booties and over-the-knee boots
Last year, I wound up with my dream over-the-knee boots through a fun partnership. (Swoon!) But how great is this more affordable pair?! (Here's a navy version, too.) I also love this pair, this pair, this pair and this pair. In regard to booties, Lands' End makes my favorite pair! (More colors here!) I'm obsessed with these, too.
Fall colors
I feel incredibly luckily to live in a urban neighborhood that has so much greenery. When the fall comes, the colors are insane! I bring my camera nearly everywhere with me to capture the beauty. Get ready for a lot of fall photo shoots!
What "fall things" are you most excited about?!