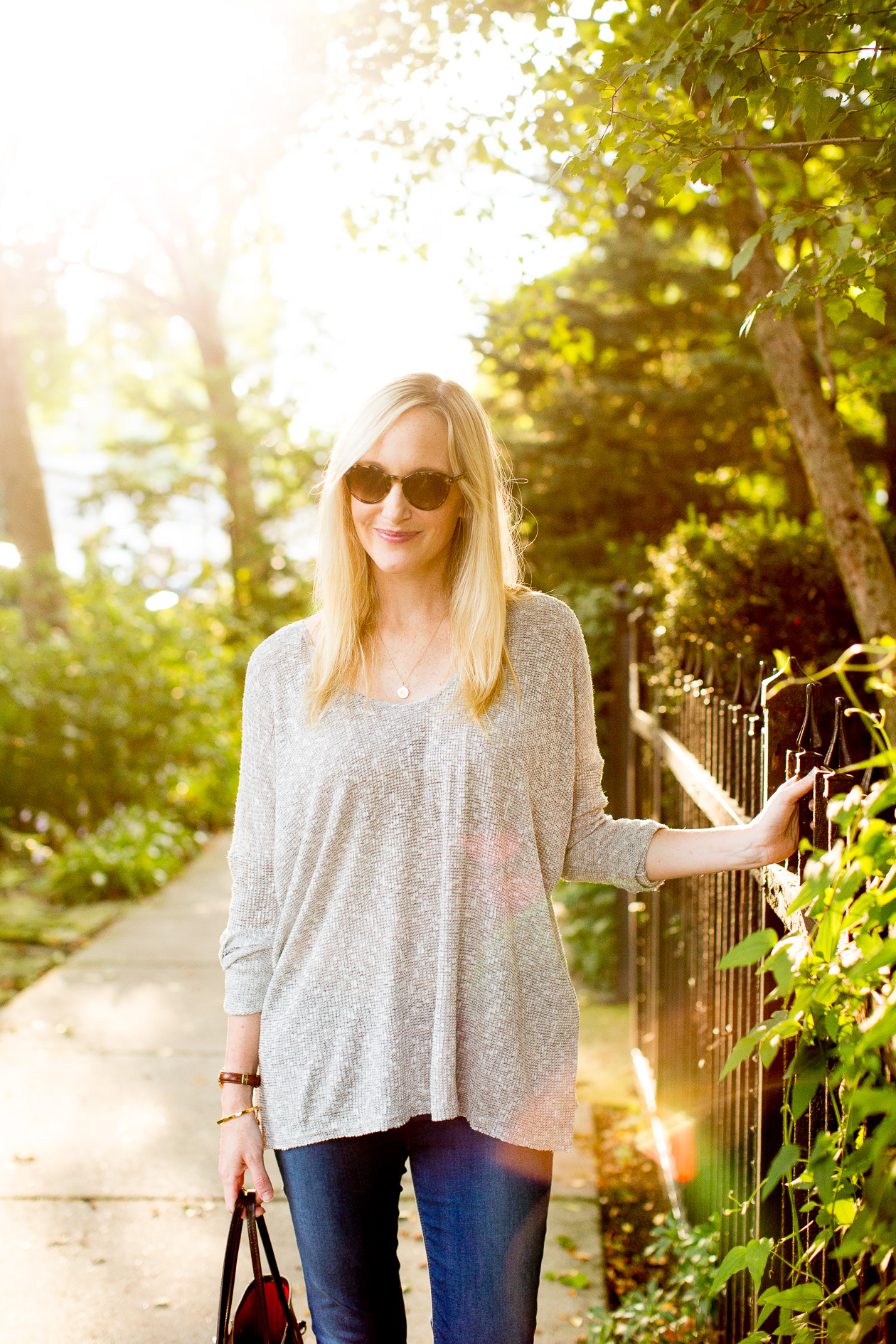 Cozy Waffle Top / Hudson Jeans (Loving these, these, these and these!) / Coach Loafers c/o (Newer styles here, here and here) / Louis Vuitton Tote (Buy here, here, here, here, here or here) / Similar Sunglasses / Daniel Wellington Watch c/o / Nearly Identical Necklace / Monica Vinader Bracelet c/o (Also love this one)
Over the last few weeks, I've realized the importance of owning some really comfortable clothing as a new mom. And now that fall is finally (kind of) upon us, owning some comfortable and relatively warm clothing is important, too.
Hello, best top ever.
I ordered it on a whim when I was fed up with not being able to fit into 99 percent of my fall wardrobe, and I'm SO happy I did. Yes, the top is on the pricey side. But it's worth it. It's ridiculously flattering, super soft, and beyond cozy. Honestly, if it came in additional colors, I'd order all of 'em!
(Mitch is probably sitting at work going, "Thank god it doesn't come in additional colors.") Heh.
I discovered Culture Phit when I was pregnant because the brand has some great non-maternity maxi dresses that work for pregnancy, too. And now I'm totally addicted, even though I'm not preggo anymore. The brand carries exactly the kind of stuff that you see featured in those swoon-worthy cozy-looking fall fashion pins, and the softness is unreal. I own this dress, too, and it's a fave. Everything is crazy flattering, too–especially if you have some problem areas that you'd like to disguise!
(Note: It runs pretty big. I'm wearing a size small, and I'm NOT a size small right now. I'd say order either your regular size or one size down, depending on how loose you like your tops.)
See?! Told you I was working hard to change up my style this fall!
Also, my apologies for the crazy hair. Humidity + babies don't make for great 'dos.
Anyway, I had the BEST weekend. My mom has been here since last Wednesday, and I've been loving it. We spent the better part of Friday running around Chicago together (with Emma, of course!) and getting some projects done at Jess' place (where these photos were taken) until Dad arrived later that night. Friday night was so fun: pizza and wine back at the house with Mom, Dad, Mitch, Jess, Neal, Emma and Noodle, and we all stayed up way too late laughing and catching up. ;) On Saturday, Mitch and I attended Chicago Gourmet with Kit and Lauren, and then we met up with my parents and Emma at The Dawson and Piccolo Sogno–both fantastic restaurants that you must visit! (Their outside spaces are particularly magical.) Yesterday, Mitch and I stopped by Chicago Gourmet for a few more hours; had dinner at Tarantino's with Mom, Dad and Emma; and spent the rest of the night at home, soaking up together time.
It was SUCH a great couple of days (did I mention that?!), and I loved watching my parents with Emma. I'm not even hormonal anymore, and I teared up more times than I can count!
Dad boarded a plane to New York early this morning, and I'm already sad. Counting down the days until Thanksgiving…
Outfit details:
Cozy Waffle Top / Hudson Jeans (Loving these, these, these and these!) / Coach Loafers c/o (Newer styles here, here and here) / Louis Vuitton Tote (Buy here, here, here, here, here or here) / Similar Sunglasses / Daniel Wellington Watch c/o / Nearly Identical Necklace / Monica Vinader Bracelet c/o (Also love this one)