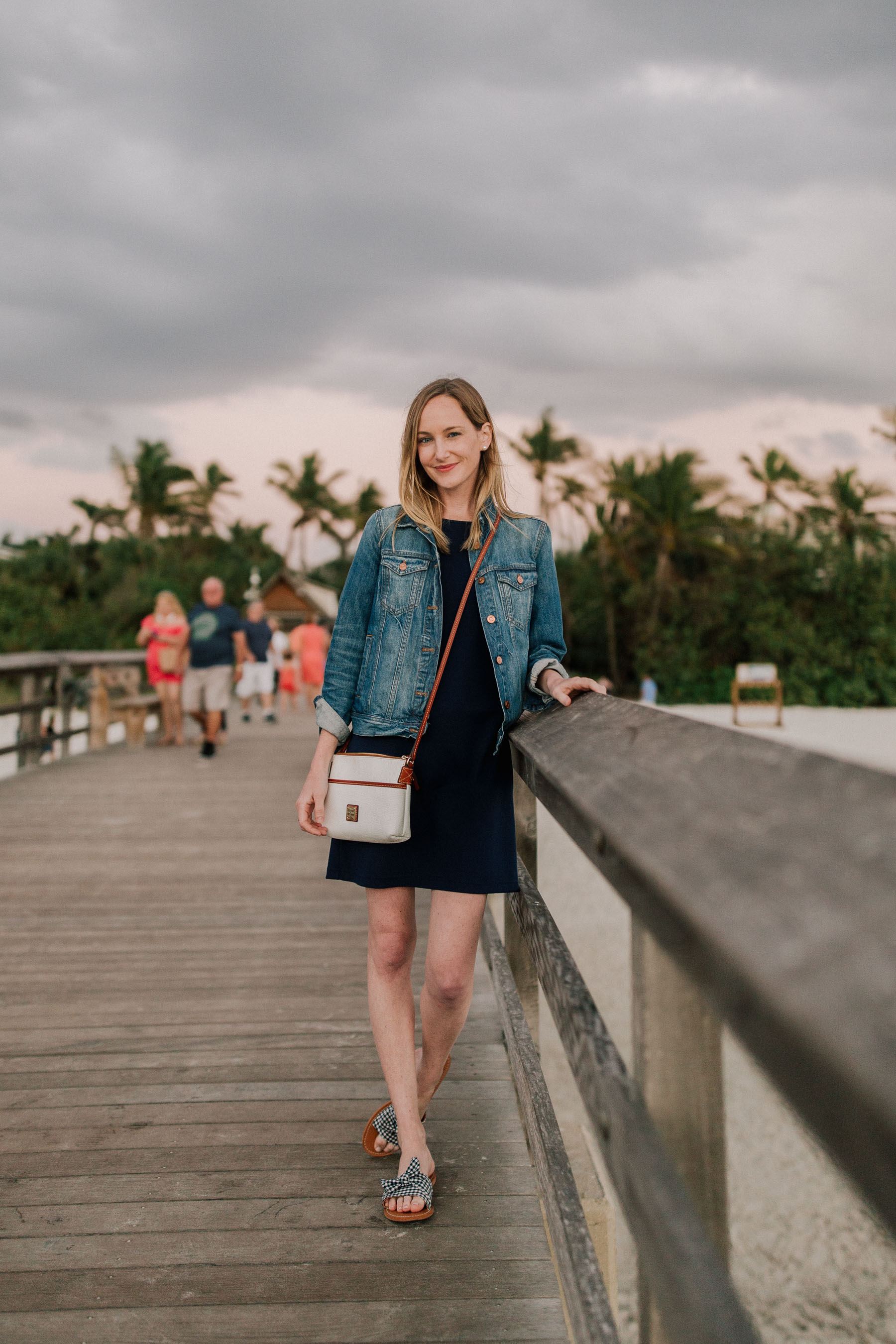 Denim Jacket / Tuckernuck Dress c/o (It comes in black and a striped version, too! Also love this similar one, which also comes in pink.) / Gingham Bow Slides (On sale! And dying over this pair–OMG–and this pair.) / Dooney & Bourke Crossbody (Also love this one and this one!) / Similar Sunglasses
Mitch here!
As a guy from the Midwest, it's truly surprising how much of my adult life has been spent on the beach. I know what you're thinking:
Mitch. I'm pretty sure Chicago has beaches. Did you know that?
Yes, Chicago has a few sandy ice cubes that masquerade as beaches in the summer; it's true. But they are more Lake Shore Drive onramps than beaches in my opinion. I'm talkin' about ocean beaches with crabs and stuff. I'm talkin' about staring upon the vast ocean's drifting currents and incredible waves to dream of unknowable depths.
Each day at the ocean is different and exciting with questions like:
Will I see a dolphin today?
What just touched my leg? Was it a monster?
Is that wave large enough to break my back in half?
So today, I'm taking a sandy trip down memory lane along with my top three favorite beach memories to distract us both from the nightmarish winter that's still going on outside.
1. Our first beach vacation as a couple
If you haven't picked it up from the pages of this blog, Kelly is a very family-focused person. And I'm not just talking about me and Emma. Kelly takes the job of "Cousin" more seriously than I take almost any relationship. I mean, I have cousins and all. At least I think I do, but I don't like visit them or anything. (KIDDING, guys. Love you.)
But Kelly really does, and truly feels that they're basically her siblings. So we visited them on Nantucket for our first trip as a couple, and I came to understand why. Kelly's cousins (and aunt/uncle) are super cool, as is spending a summer on ACK. I walked into the house like, "Whatup, everyone?! I really hope I don't embarrass myself this weekend!"
Nantucket is a unique place, and we had fun all over the island, but this particular memory involved a jeep with deflated tires, and flying out to the end of a beach in the middle of the Atlantic Ocean. This particular beach was filled with seals, and this particular Midwesterner had his freakin' mind blown.
So I apparently pulled off the whole "meet the cousins" weekend in great style… at least I think I did. Actually, I haven't been back to Nantucket in like six years. Wait a second! (Jokes. I need to stop getting married, moving across the country, and having kids.)
2. Proposing
Kelly went deep into the proposal story here, but I'd like to focus on the more beachy aspects of it today. It may come as a surprise to the uninitiated, but New Jersey is beach central, and in a lovely way. Kelly grew up on the same Jersey Shore beaches you've heard so much about, though her family chose Ocean City–the family friendliest Shore town–as their happy place. When I found myself with a diamond ring in my pocket, I knew exactly where to hand it off.
The problem was that if I suggested a drive to Ocean City, Kelly would've gotten all suspicious. So I needed to:
Ask her dad for her hand in marriage and then ask him to let us use the beach house. (He said yes.)
Inception-ize Kelly into suggesting a Shore trip to me as if it was her idea.
Have Kelly get permission from her dad for the trip.
I'm not a good liar, but I went about this clandestine ring delivery operation like James Bond. It all went perfectly up until step #3, when Kelly called her dad for permission.
Kelly: Hey Dad! We're really stressed at work and think a weekend in Ocean City would be a nice way to relax. Can we use the house?
Kelly's Dad: Hell no.
I'm still not sure why he did that to me.
But anyway, Kelly finagled permission and I somehow still pulled off the proposal right in the middle of Kelly's favorite beach. We jumped around and screamed, and then sat on the beach dreaming of the wedding and the rest of our lives while staring out at the ocean. It'd be tough to beat that beach memory.
3. Emma's first real beach day
Emma has done some beaching in her life. From California and New Jersey to Oregon and Florida, this kid really gets around. But up until now, she's been more focused on eating sand than playing with it. She was just too young to enjoy it! Too terrified to go near the water, and I was too scared of the sun to let her stay out long enough to really do anything.
But not in Florida.
Emma has apparently reached "beaching maturity" over the winter because on our recent trip to Naples, she was the QUEEN of the beach. She climbed the sand dunes, built castles, splashed around a tidal pond and even took a walk on a sand bar.
Of all the incredible beach memories I have in my life, playing with Emma in the sand has got to be tops. I think it felt so special because on that beach I got a glimpse of what the rest of my beach days will be like. And honestly, I can't wait to get back out there!
Mitch. Out!
Shop the post:
Denim Jacket / Tuckernuck Dress c/o (It comes in black and a striped version, too! Also love this similar one, which also comes in pink.) / Gingham Bow Slides (On sale! And dying over this pair–OMG–and this pair.) / Dooney & Bourke Crossbody (Also love this one and this one!) / Similar Sunglasses