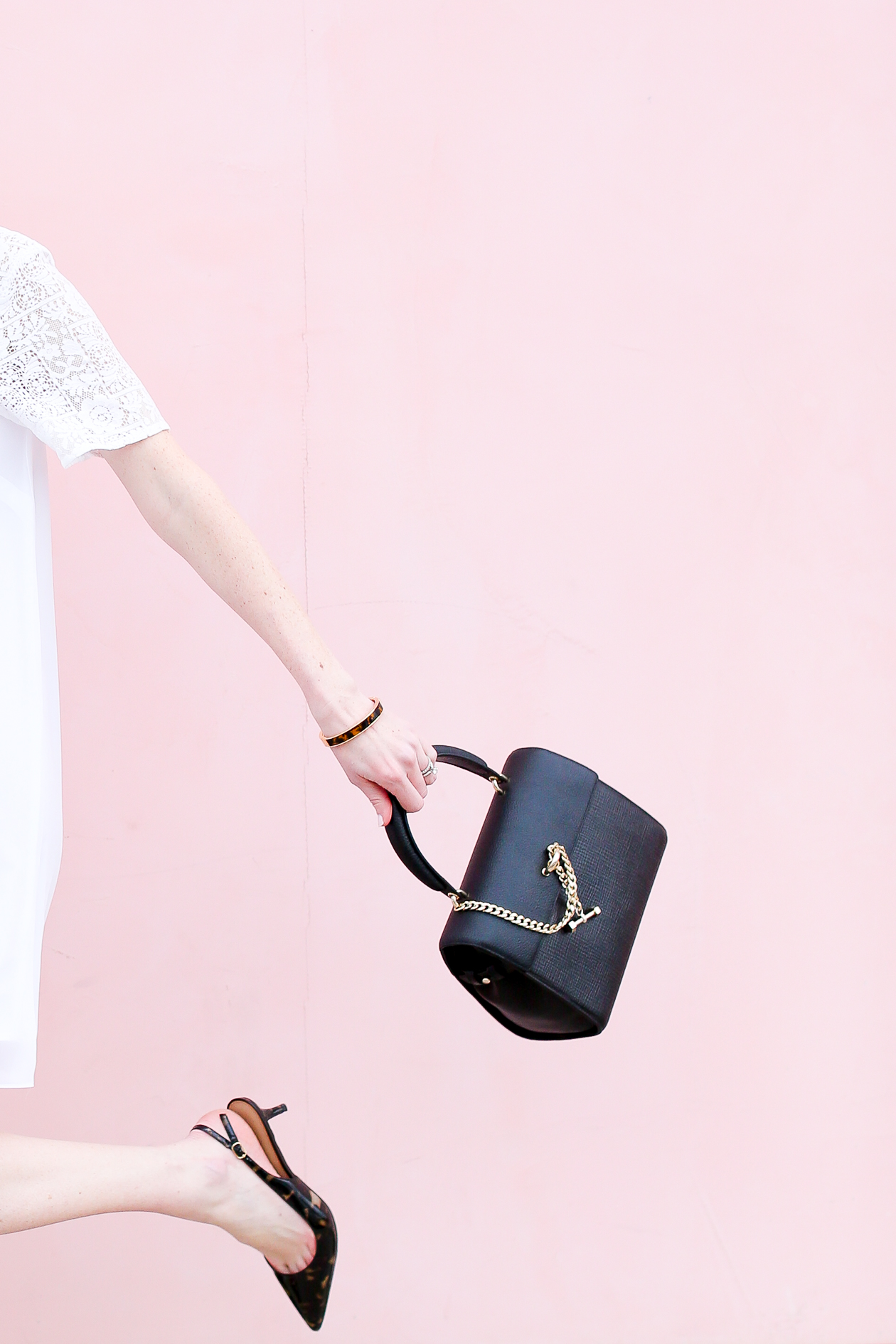 Luana Italy Bag c/o (Also available at Saks) / Ann Taylor Singback Pumps c/o (On MAJOR sale! Also love the regular tortoise pumps, which I featured here! Yes. I'm obsessed.) / J.Crew Tortoise Bracelet / Similar Sunglasses / Little White Dress c/o (See fave little white dresses below!)

Happy Saturday, guys! I have to admit: this week nearly killed me, and I'm really excited to actually have some fun. No trips to Home Depot, no meetings with contractors, no running around the city for freelance photography projects, no editorial deadlines, and no overwhelming to-do lists.
Also: it's been ridiculously rainy in Chicago over the last couple of weeks, and this day, this day and this day were our only real breaks from the gloom. So today, I'm digging into the depths of my computer's archives, and pulling out photos from some sunnier times. Because this girl has been living in her Hunter boots and yellow raincoat, and is completely unwilling to stand in the rain for photos.
In other news, how incredible is this bag?! Luana Italy (also available at Saks) sent it to me a few weeks ago, and I can't get over its adorableness. And don't we think it's a little edgy for me?! I mean, it's black. And it has a chain. And I love it. (Gasp!) Totally killin' it with those 2016 goals, haha…
Finally, since this is clearly a stream-of-consciousness kind of post, a huge shoutout goes to my brother who's off to Europe for a graduate school course. I'm so proud of you, Danny. Have so much fun, and take all the photos. Can't wait to see you and hear your stories when you get back!
…I think tomorrow calls for a "Life, Lately" post, because I have so much more to tell you guys, but everything is pretty random. ;) So with that, be sure to check back in tomorrow. Off to brunch! What are you up to this weekend?!
Shop the post:
Luana Italy Bag c/o (Also available at Saks) / Ann Taylor Singback Pumps c/o (On MAJOR sale! Also love the regular tortoise pumps, which I featured here! Yes. I'm obsessed.) / J.Crew Tortoise Bracelet / Similar Sunglasses / Little White Dress c/o (See fave little white dresses below!)