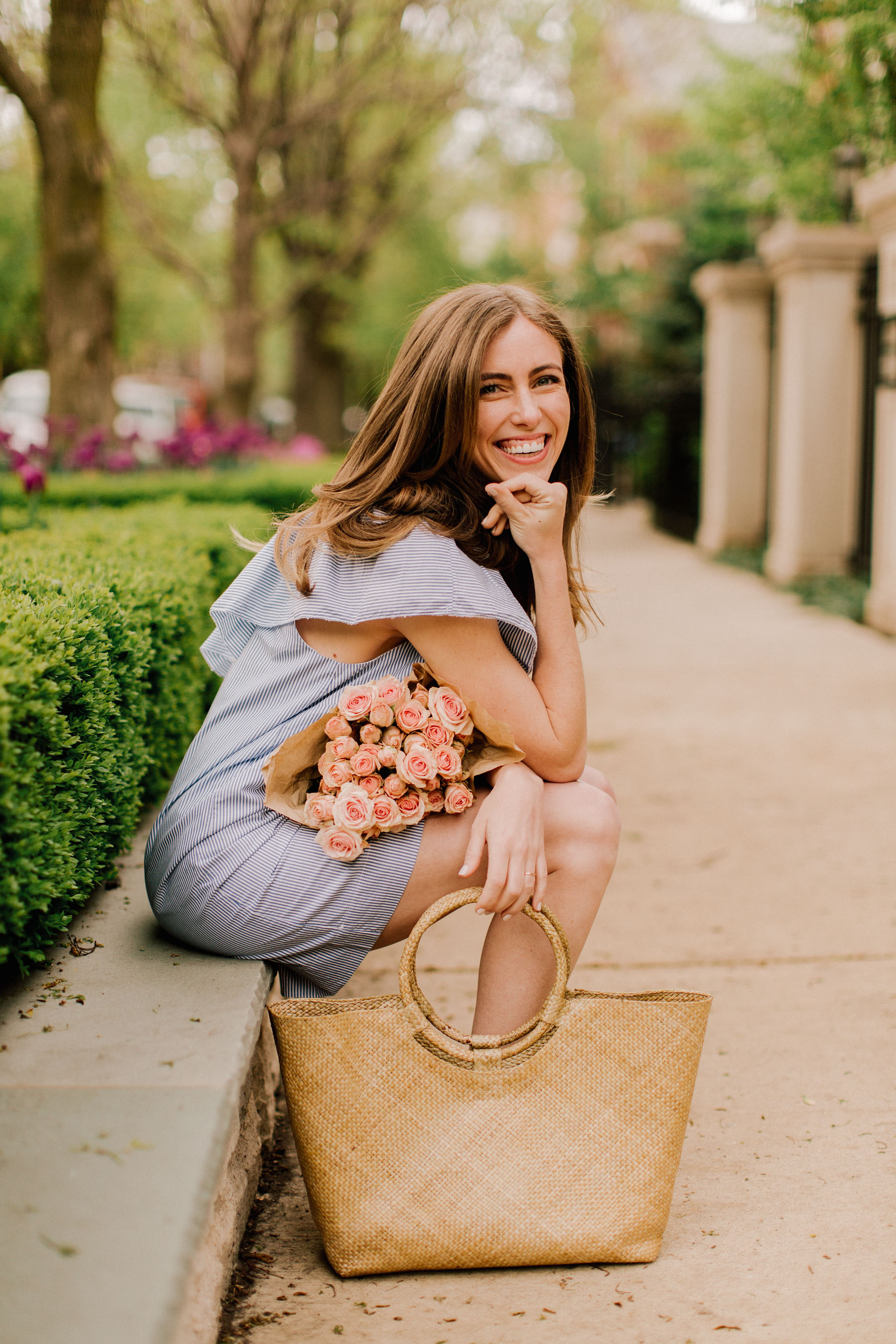 Tuckernuck Tote (Old, but obsessed with this newer one!) / Abercrombie Dress (Old, but love this similar dress as well as this one, and THIS SKIRT! Side note: Have you seen this pink trench? Love the classic version, too!) / Superga Sneakers (Love the striped version as well.)
Did you catch our final kitchen reveal? It was one of our favorite blog posts of all time! Which is why I really wanted to take some time today to formally introduce you to one of my very best friends here in Chicago:
Kira of Kira David Design.
I know. I talk about her a lot here on the blog. That's because a) she's an absolutely fabulous person who brings so much happiness to my family, and 2) she's changed the way I think about design.
I consider myself to be a relatively artistic person. Some of my favorite hobbies include photography, writing, reading, playing the guitar (poorly), and maintaining this blog. Yet I really struggle with design. And it's taken me a long time to realize that it's just not my strong suit. I'm clearly right-brained, but no; the best I can do when it comes to design is find something on Pinterest that I love, and then attempt to copy it, haha. Design simply doesn't come naturally to me. And that's okay!
I met Kira a little over a year ago. I was super pregnant, and hosting an event with Mitch at a department store in downtown Chicago. Kira and her fabulous mother–Hi, Maureen!–were essentially the only people who came, and I'm pretty sure they're the reason I didn't get in a lot of trouble for the whole thing. ;) Thanks, guys!
At the failed event, I learned that Kira grew up flipping houses. She and her family would move into a home with "good bones," spend a few years renovating it until it looked like something out of Architectural Digest, and then move on to the next project. This girl had a couple of decades of design experience under her belt (which is far more than most people our age can say!) and she truly loved the "work."
Mitch and I were instantly smitten with Kira and her fam, and we were SO excited when Kira offered to help us finish up our master bathroom project. We had a bunch of unanswered questions, and she was so incredibly helpful and kind! And, I mean, just look at the final result. Kira is the one who encouraged me to be brave and go with that black grout! Amazing.
And then we had this weekend. I won't babble on and on about it, as I covered the gist of it here. ;) But let's just say that a little over a year ago, we found some lifelong friends in Kira and Tom.
OKAY. Enough sappiness. Really quickly, though: I took these photos last spring, and recently came across them while cleaning out my hard drive. How stunning is Kira?! 
But let's talk about why you need Kira David Design to tackle your next home project.
She's extremely reasonable
Before Kira, never in a million years did I ever think I'd hire a designer. That seemed like something a baroness would do, and a baroness I was not. But KDD is actually very affordable, and I always say that the company is perfect for people in their 20s and 30s. Yes, of course Kira tackles projects for everyone, but she completely understands where our generation is coming from because she's in it! Have a tight budget? Kira accommodates for that and respects it.
She'll actually save you money
Again, before working with Kira, I assumed that hiring a designer would simply add to the already astronomically high bill. Instead, though, KDD saved us money. Why? Well, we didn't have to worry about shady contractors doing terrible work or straight-up disappearing on us. (Happened to us multiple times before Kira came along!). She has a team of incredible contractors she trusts and relies on, and they get the work done right, the first time. And because of the relationships she's built with these contractors as well as with other various companies, she gets you the best price for labor and products.
You'll be less stressed
Renovation projects are stressful. They require time and money, and all the while, you're somewhat displaced while they're going on. (Even if that just means you're unable to use your kitchen, for example, while construction is being completed.) But Kira is more than a designer. She's like a wedding planner, only for renovations. She handles the scheduling, phone calls with contractors, and coordination of everything else that comes along with tackling a home project. And if you're paralyzed by the thought of making "wrong" decisions, she'll narrow things down for you. Yes, there are a zillion knobs to choose from, but considering you like this style, I think you'd love choices A, B and C. Do you like any of these? Game changer!
The project will move more quickly
HOLY. When Mitch and I hired an independent contractor on our own to renovate our master bedroom and bathroom, we figured the project would take about a month. Fun fact: it took the better part of a year. Had Kira officially been on the team, I know everything would have been wrapped up in a matter of weeks. Like I explained before, Kira is the wedding planner of renovation projects. She stays on top of everyone involved, and she makes sure that significant progress is made on a daily basis so you can start enjoying your home's new features as soon as possible. The importance of this cannot be overemphasized.
She'll "get you"
Kira's design style isn't preppy. It's amazing, and I adore literally everything she designs. But our styles are admittedly a bit different, despite the adorably preppy getup she's sporting in these photos. ;) You know what I love, though? Kira gets into my head, haha. She climbs right in there when we're taking on a project together. She researches and learns. She'll dig up all her knowledge from design school and her extensive experience in order to create something that I, personally, will love. She never tries to push her own style on me. Instead, she focuses on her energy on creating preppy masterpieces that Kelly Larkin will love. And can I tell you? I LOVE them. ;)
You'll get a professional, gorgeous product
I think the photos speak for themselves (see our list of home projects below!) but the end result is always something incredible. These aren't cookie cutter, I-can-find-this-anywhere designs I'm talking about; they're thoughtful and inspiring and beautiful.
You'll gain a new best friend
Listen. I get it. Making new friends is difficult as an adult! But I guarantee that after working with Kira, you will have gained a new best friend. She's one of those people who spreads happiness wherever she goes; she's warm and welcoming; and she makes everyone feel comfortable. Of course, you don't have to renovate a room in your house to meet her. You could always just email her. That said, if you do need to tackle a project, you'll likely have a ton of fun doing it and gain a new best friend if you go with KDD. :)
Kelly in the City home projects by KDD:
The Golden Girl Blog home projects by KDD:
Living Room (& other updates)
Kira, I love you. And I'm so incredibly proud of everything you've accomplished with your design company. Thank you for turning our home into something we absolutely adore, and I can't wait to watch your story unfold. Interested in hiring KDD?! Get in touch here: Kira@KiraDavidDesign.com.
Shop the post:
Tuckernuck Tote (Old, but obsessed with this newer one!) / Abercrombie Dress (Old, but love this similar dress as well as this one, and THIS SKIRT! Side note: Have you seen this pink trench? Love the classic version, too!) / Superga Sneakers (Love the striped version as well.)
SaveSave