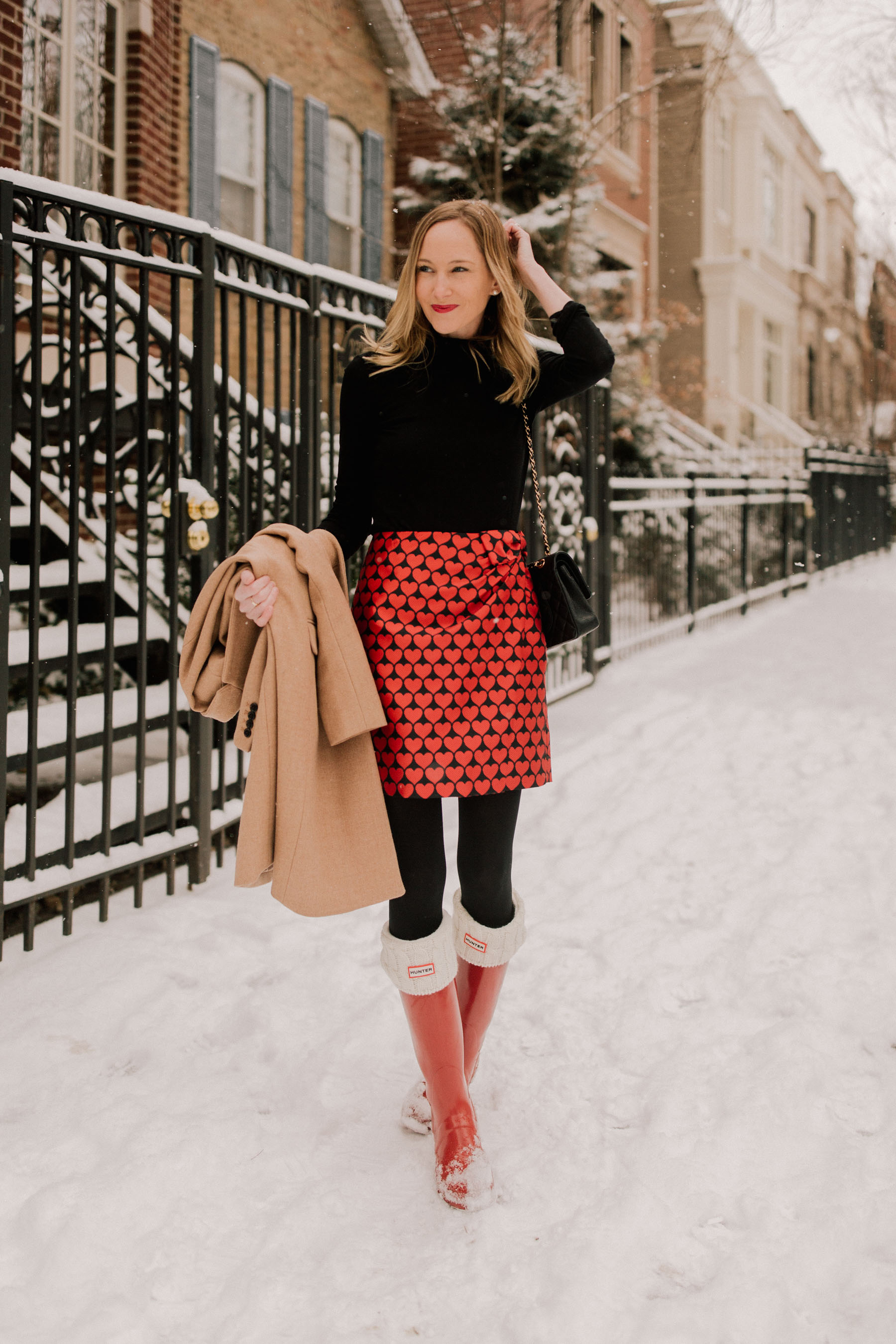 Heart Skirt (Also available here on sale! And how cute is this heart-printed nightgown?) / Topcoat (Also available here. Looking for a great camel coat? Try this one, this one or this one. Also really love this unique one!) / Chanel Bag c/o StockX (Read about it here! Similar bags here, here, here and here. And here, haha.) / Black Turtleneck / Hunter Boots and Boot Socks / Black Tights
My parents volunteered to watch Emma so Mitch and I can go out on Valentine's Day together. While I usually don't get too excited about February 14th, I'm pumped about this one. First, we're in desperate need of date nights. Second, we're going to be in Naples, Florida for it! I envision wearing ❤ the skirt you see in these photos (also here on sale)… with a black tank and sandals. Boots schmoots! Snow schmow! Coat schmoat!

Actually, though, let's talk about camel coats for a minute. They're really difficult to find this time of the year, as they all tend to sell out. But above, you can find some of my faves.
I'm off to bed! In case you missed it over the long weekend, I wrote a post on how to be productive on Mondays, Mitch wrote a post about a very weird 60-degree snow day, I shared the cutest velvet overalls, and I shared my online shopping list.
See you back here tomorrow! ❤
Shop the Valentine's Day Outfit:
Heart Skirt (Also available here on sale! And how cute is this heart-printed nightgown?) / Topcoat (Also available here. Looking for a great camel coat? Try this one, this one or this one. Also really love this unique one!) / Chanel Bag c/o StockX (Read about it here! Similar bags here, here, here and here. And here, haha.) / Black Turtleneck / Hunter Boots and Boot Socks / Black Tights