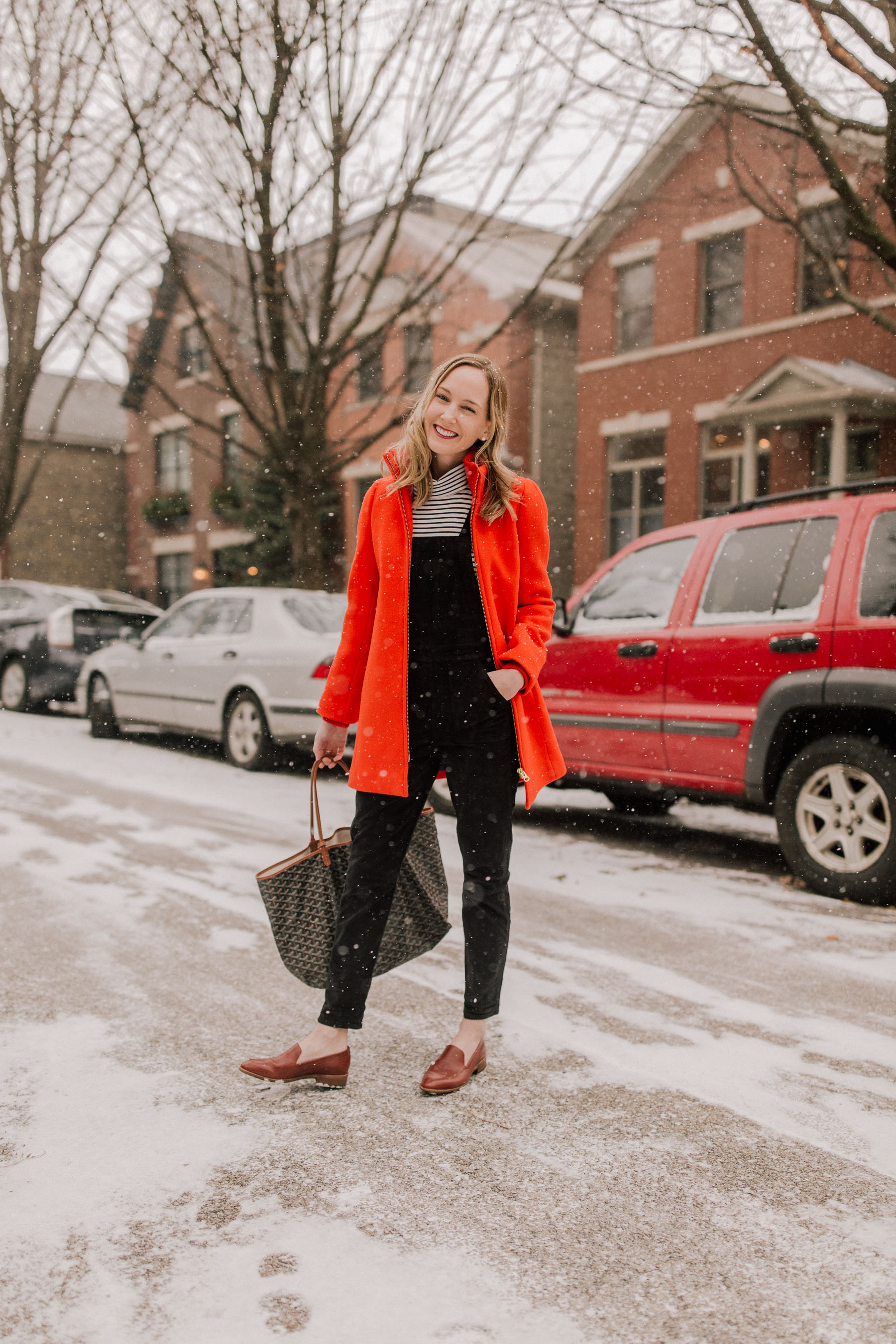 Madewell Velvet Overalls (Also available here.) / Striped Turtleneck (Also love this one, on sale with code "STAYCOZY." This one is great, too.) / Leather Loafers (On sale with code "STAYCOZY." Also available at Nordstrom. And this awesome pair is on sale with the same code.) / Red Coat (Here on sale.) / Goyard Tote
Work-free weekend, woo!
I'm so excited about today's festivities. We're celebrating Mitch's grandmother's 90th birthday, and I just adore her. I really wish that she and Grammie lived closer so they could be best friends. (Hi, Gram. Love you so much.) It's going to be great time, and I truly hope that when I'm 90 years old, I can say I lived the kind of life that Gigi did. One filled with kindness, sincerity and love.
It goes without saying that I'm proud to have married into a family with a matriarch like her. ❤️
Anyway, Mitch and I got caught in a snowstorm on the way "home from work" yesterday, and we happened to have our camera along with us. Temps were pretty warm earlier in the day, hence my favorite loafers (on sale with code "STAYCOZY" today!) — but I really need to ask Alexa about the crazy weather more often, haha. Either way, I only had to walk two blocks, and it was kind of fun prancing around in the snow without my usual arctic gear. But yeah: I don't recommend this outfit for snowstorms. 😉
A few quick notes about look:
Overalls: I KNOW. Seems like something I wouldn't go for, but when I saw them, I felt like I could get on board… and I love them. I got so many compliments throughout the day, I think because they're different but not insanely different. I can kind of only imagine wearing them with a striped turtleneck, but let me know if you have other ideas. (Also love this one, on sale with code "STAYCOZY." This one is great, too.) Sizing: I'd go up one size. I usually wear a size XS in Madewell, and I took these in a size small.
Loafers: Again, not ideal best snow gear. And as I warned you in a recent post, you're seeing them far too often on this blog. BUT THEY'RE SO WONDERFUL, and I want you to know about their wonder, hahaha. Seriously: they're super cushioned, they require zero break-in time, they're buttery soft, their backs don't rub, they're weirdly warm, they run true to size, and they're adorable. (Like I mentioned, they run TTS. I'm wearing a size 7.5, which is my usual size.)
Red Coat: Every January and February, I find myself looking for a "statement coat." One that allows me to stand out in a sea of black coats. This is my current obsession, and you can also find it here! (Runs TTS. Wearing a size 0 here.)
Hope you have a wonderful weekend! And happy birthday, Gigi!
Shop the post:
Madewell Velvet Overalls (Also available here.) / Striped Turtleneck (Also love this one, on sale with code "STAYCOZY." This one is great, too.) / Leather Loafers (On sale with code "STAYCOZY." Also available at Nordstrom. And this awesome pair is on sale with the same code.) / Red Coat (Here on sale.) / Goyard Tote
SaveSave