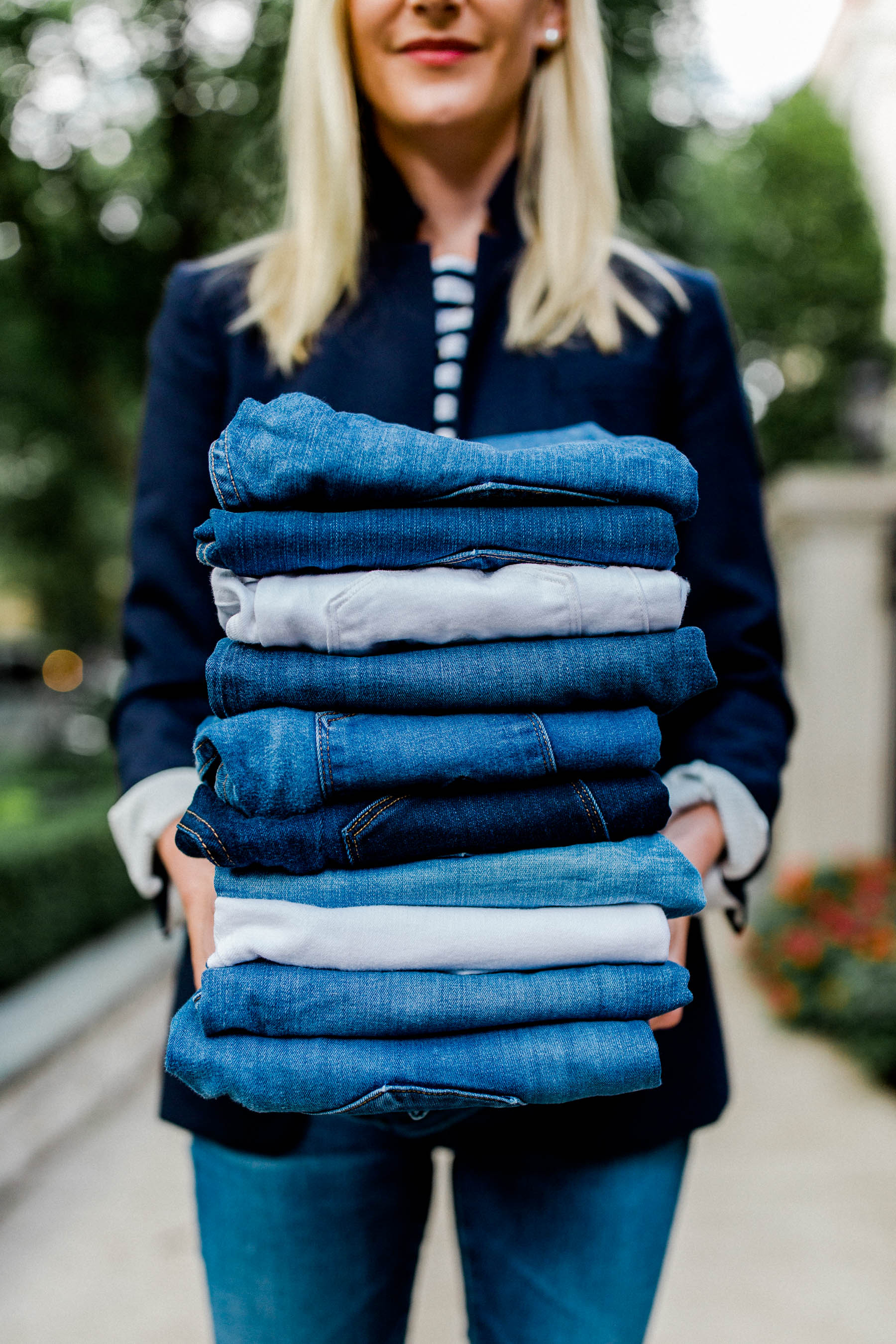 I'm a jeans girl. I think it all started when my ex-boyfriend and I broke up a long, long time ago. As lots of newly single girls do, I chopped my hair off first. And then I bought a new bag (this one in navy) and my first pair of nice jeans… for a fresh start. Because yes, ladies. All you need to survive a nasty breakup is a different haircut, a new bag and great pair of jeans. It's just that easy. ;)
And then I met Mitch! Coincidence?! I think not.
Except Mitch does say that all my jeans look exactly the same. So…
All jokes aside, I've always worked in super lax environments, save for that one stint I had as a newspaper reporter covering murder trials. (Little-known fact about my life: I covered this murder many moons ago. Yikes is right.) During most of my time in the editorial field, for example, jeans were the unspoken uniform. And when I started teaching, my usual jeans + heels + blouse look was considered "dressing up." I frequently had to tell the administration that I was not, in fact, interviewing for jobs elsewhere. (Though I probably should have been. ) And then I started working from home, which obviously lends itself to jeans #alldayeveryday. And now I'm a full-time mom, which I feel needs no explanation. Wave in the jeans!
Anyway, as you likely gathered from the title of this post, I'm here today to review my 10 favorite pairs of jeans. It took Mitch and me a long time to shoot and write this, haha, so I'm really excited to finally hit publish! But before I start, let's address a few things:
YOU OWN 10 PAIRS OF JEANS?! Yes. I do, and I realize that this makes me sound insane. But I'll be transparent and say that a lot of them came my way through various blog projects and partnerships. Before I started this site, I owned four pairs of jeans, which is a much more reasonable number. (One lighter wash, one darker wash and two pairs of white because it's impossible to keep white jeans clean.) So I'm definitely not saying that you should own 10 pairs as well. I'm simply saying that there's a little bit of magic in finding the perfect pair. (I mean, have you ever read The Sisterhood of the Traveling Pants?) Like I suggested before, great jeans have the power to make you feel fantastic!
Where does one keep 10 pairs of jeans? In one long drawer of my dresser. I fold them once and then roll them a little, and they all fit nicely in there.
The goal of this post is to help you guys find a great pair of jeans. So because of that, you should know a few things about me: I wear a size 25 or 26 depending on the brand. I have a long torso and shorter legs, so very often, I need to get my jeans hemmed. This is why I so often go for "ankle cuts," as they usually hit at just the right spot. I also think my hips widened after I had Emma, and now I struggle with finding jeans that are comfy around the hips yet form-fitting around my thighs and calves.
All 10 pairs are carried at Nordstrom. Quite the coincidence, huh?! Nordstrom is our partner for today's post, but I think that this just speaks to that warm and fuzzy feeling that most of us have about the retailer. I know–that statement is a little over the top. But Nordstrom seems to carry everything. While I freely admit that I won't need another pair of jeans for like a decade (or longer), I also admit to browsing Nordstrom's denim collection way more often than I should. Oh! I should note that Nordstrom offers free shipping and returns, too. This is fabulous when you're shopping for jeans. If a pair doesn't work, it's totally fine! Simply send them back.
I do realize I shouldn't have worn a blazer for these photos. Looking at them now, I realize it covers up too much of the jeans. Bah! Sorry, guys. I didn't see it at the time. Maybe one day I'll redo this whole thing!
Mitch is providing commentary on each pair. So even if you're not crazy about denim like I am, you'll probably enjoy this post. ;)
Okay! Here we go:
Kelly's review: WHAT A DEAL! BlankNYC has long been a favorite of mine because I feel that the brand's price point does not match its quality. The jeans truly feel like $200 jeans, in terms of fit, softness and stretchiness. I will say that they stretch out a little after a few wears, but the best part is that you can wash AND dry them, and they won't shrink. They simply bounce back to their original size. I don't know about you guys, but I LOVE jeans that I can dry without worrying about shrinkage. Who has the time or the space to air-dry jeans?!
Also worth mentioning: while they're incredibly soft and stretchy, they're also thick. I can wear them in the fall and winter without freezing!
Finally: The wash! It's difficult to find a pair of jeans in a lighter wash these days. I'm obsessed.
Sizing: I'm wearing a size 26 and I think they're just right. They could probably be hemmed, but I kind of like the slouchy look around the ankles.
Mitch's review: You know who does have the time and space to air-dry jeans? Mitch. I typically air-dry my jeans by never washing them and just wearing them every day until the smell goes away. If I take them off, Kelly washes them or throws them away and replaces them without me knowing. Not washing jeans has plenty of advantages! Color preservation… no shrinkage… time saver. Who's with me?! (I'm guessing no one.)
Kelly's review: All hail the Hudson Nico, available in tons of different washes and lengths. I'd say that this is my favorite pair of jeans for the summer, yet they're awesome for the spring and fall, too. (Huge fan of wearing white jeans year-round, btw.) They're lightweight and stretchy, and they feature a fun "raw hem" that gives me a little edge while not drawing too much attention. (I didn't have to get these hemmed.)
Sizing: I'm wearing a 25, but they're a little loose. I almost wish I'd gone with a 24?! Though I admit that I haven't tried the 24, and that pair could be too small.
Mitch's review: I would stain these jeans before I even made it out of the bedroom. How do you guys do it? I used to keep a "stain emergency" change of clothing in my desk, in the car or in my backpack. Sometimes I'd wear two pairs of pants just in case. Maybe I should stop eating chicken wings for breakfast.
Kelly's review: Certainly the preppiest, most classic pair of jeans I own. They're a little bit tighter around the waist, and I have to admit that I wish there was a little more room in there. ;) But holy goodness are they soft for $115. They're also not skin-tight, which is great now that I'm a little older and can't wear skin-tight jeans all the time. No hem.
Sizing: I'm wearing a size 25 in the ankle cut, and I could not go any smaller.
Mitch's review: Is it not strange that we all wear blue pants on a near-daily basis? How did this become the standard? I mean, I dig it, but if given the choice, I'd opt for fewer Smurf-inspired outfit choices.
Kelly's review: Here's the darker wash of the Hudon Nico, too. These jeans were great during the first trimester of my pregnancy, and for the months following Emma's birth. They're very forgiving, and they're soft. (Are we sensing a trend in the kind of jeans I like?!) They're also more of mid-rise cut, which I don't often go for–but so helpful for problem tummy areas.
Sizing: I'm wearing a 26 and wish I'd gone with a 25. I had to hem these.
Mitch's review: These jeans are like the opposite of baggy. This kind of thing would pass for long johns back in the day. Don't get me wrong: I'm all about skinny jeans these days, especially when Kelly is wearing them. I just long for those baggy jean days because A) I have a tub of them in the back room and B) It's hot out there! (Edit: Kelly just told me that all these jeans are "skinny jeans." Hmmm… I need to be more perceptive. )
Kelly's review: LOVE, LOVE, LOVE. As you can see, I wear them all the time, and that's starting to show. I've owned this pair of jeans for years, though, and they remain my go-to "going out" jeans. I may have hemmed them a little too short, but I still adore them. They're soft yet structured; they're forgiving around the waist; and they don't stretch out.
Sizing: I'm wearing a size 26 and they're spot on.
Mitch's review: Listen. I've tried the dark jeans thing. I've played that game. I've rolled those dice. The last time I bought a pair of dark jeans, the ink stained my hands and Kelly thought I was having a heart attack. (True story.) We were halfway to the hospital before we realized that I wasn't dying but instead dyeing. Know the risk!
Kelly's review: These have been my favorite jeans for the last couple of years. They're cropped, but as you can see, they fit me like ankle jeans. (No hem.) They're the softest jeans I own, and they have a VERY forgiving waistband, which was beyond helpful in the months following Emma's birth. They were the first jeans I could get on after she was born, and it felt so good! Still wear them all the time.
Sizing: I went with a 26 which was great for a long time, but now that I'm over a year out from childbirth, I wish I'd gone with the 25.
Mitch's review: Do you notice how I shot Kelly's right butt cheek instead of her left in these jeans? Don't you wonder why we did that? Well, you should.
Kelly's review: My favorite white skinnies. Technically, I own two pairs because of this, haha. But they're fabulous! They make my legs look much longer than they actually are, and they're crazy soft and stretchy yet hold their shape for a long time. I can also wash and dry them without worrying about shrinkage. I will say, however, that underwear is fairly noticeable with them, so be sure to wear nude or lace undies with them. WORTH IT, though. So comfy!
Sizing: I'm wearing a size 26 and I wouldn't change that.
Mitch's review: White jeans. Again, if I walked out the door in white jeans, they'd basically be tie-dyed with stains by the time I got home. Luckily, as they wouldn't be white for long, I could use them after Labor Day. #winning
Kelly's review: If I'm being honest here, this pair is my least favorite. I like them, but they're just a little impractical with the buttons on the butt (ouch!), and I don't love that the ankles aren't tapered. But I keep them around as they're the closest thing I have to a pair of boyfriend jeans… though they may need to find a new home soon.
Sizing: I'm wearing a size 26 and they're fine! I think they're supposed to have a looser look.
Mitch's review: Why do we call them a "pair of jeans"? Why is it plural? It's one thing! "Pair of shoes" I understand because there are two of them. We don't say "pair of t-shirts" or "pair of sweaters," though.
Kelly's review: I received these jeans recently, so I haven't featured them on the blog yet. But I can't get over how long they make my legs look! If you read my bullet points above, I have a long torso and short legs, and I think you're supposed to want the opposite. ;) Nevertheless, the "Le Skinny de Jeanne" jeans have a wonderful elongating effect, and "Jeanne" is my middle name–making me love them even more. Something you should know: they aren't as stretchy as the rest of my jeans; they're more structured and denim-like. They don't stretch out and their thickness makes me feel like they'd keep me warmer in the colder months. That said, I probably wouldn't take a super long car ride in 'em.
Sizing: I'm wearing a size 25 here. They fit, but I kind of wish I'd gone with the 26 for extra room.
Mitch's review: If I were in the market, this is the pair of jeans I would buy. They aren't dark enough to make your wife think you are dyeing, but they're properly dark. After a few washes, these jeans will be perfect. I buy jeans for what they will become. I buy jeans with a sense of #hope and #optimism. I BELIEVE in these jeans like I believe in America. If we just trust in each other, there is no limit to what we can achieve! #MitchforPresident2024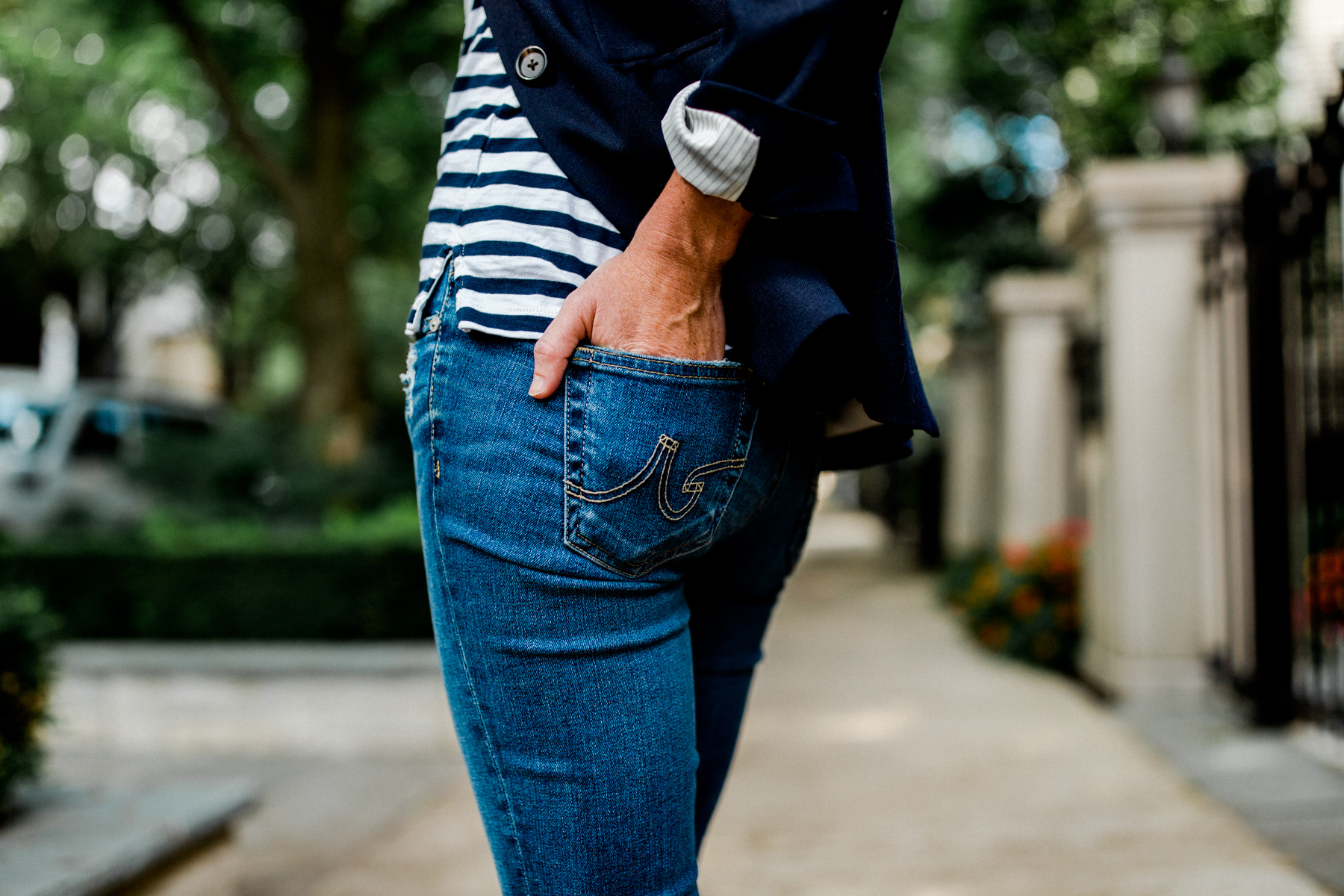 Kelly's review: Right now, this is my favorite pair of jeans. I love them. Kind of surprising, as they have that distressed area on the upper right-hand corner, but I feel like it gives me an edge, haha. Also, most of my tops and sweaters are on the longer side, so you usually can't see that anyway. I didn't need to get this pair hemmed, yet they hit at just the right spot due to the ankle cut. And my legs look long in 'em! Oh–and they're stretchy and soft. Could not recommend more.
Sizing: I'm wearing a size 25 and they're just right!
Mitch's review:  Are you guys still with us? This is the 10th pair of jeans, after all. For what its worth, these are the best jeans in the world, but I doubt that any of you are reading this. Too bad for you. You missed out, and you're going to be stuck with subpar jeans forever.
Other outfit details:
J.Crew Blazer and Striped Tee / Sam Edelman Pumps / Kate Spade Initial Necklace
What's your favorite pair of jeans?! Did I miss any gems?!
In collaboration with Nordstrom. As always, thank you so much for supporting the partnerships that keep Kelly in the City up and running!