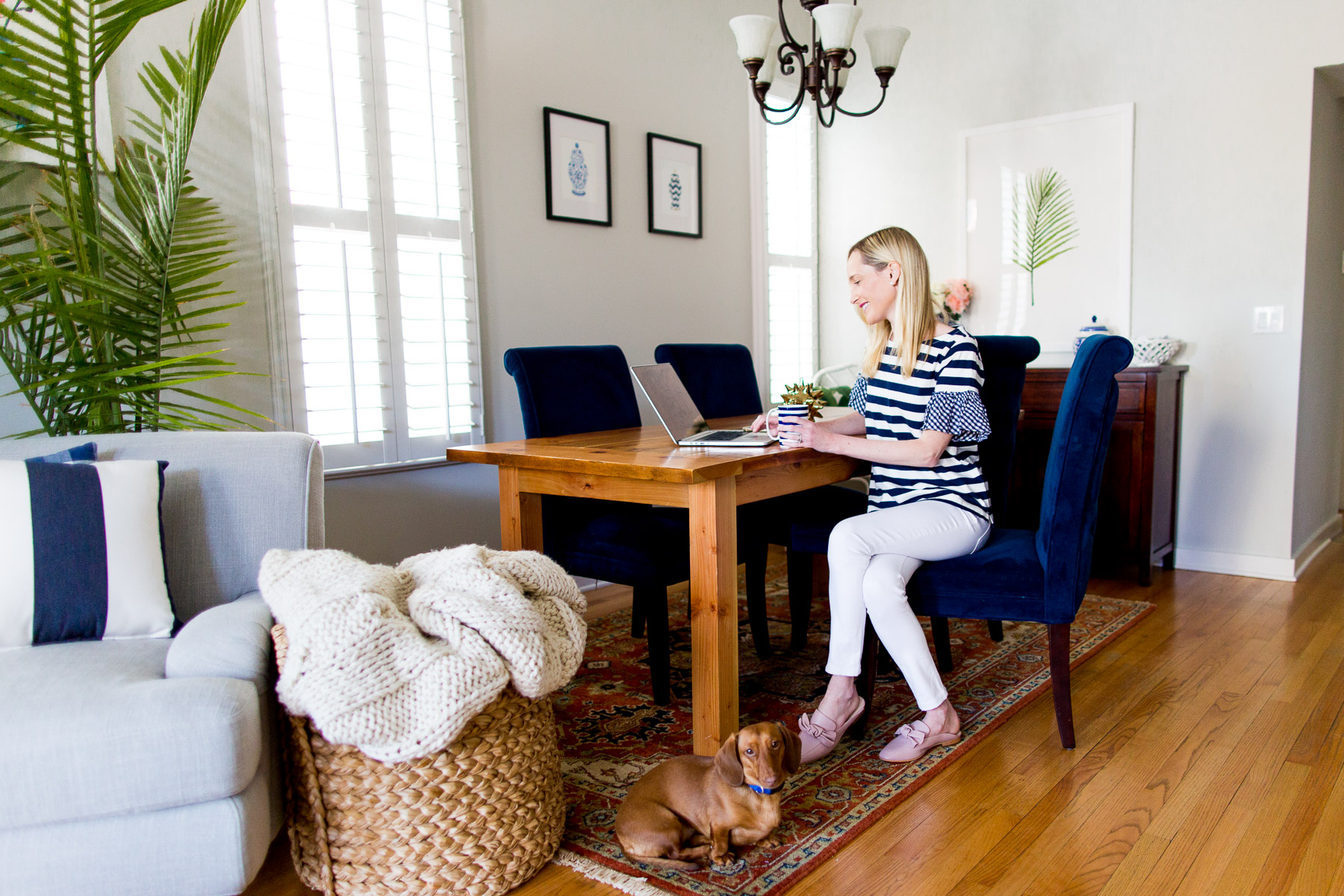 New rug from DwellStudio! Wearing: Bow Mules / White Skinny Jeans / Ruffled Gingham & Striped Top
If you've been following along this blog for a while, you know that our first year of homeownership was insane. The flood definitely forced us to move very quickly with renovation decisions, as did getting pregnant. But by the end of that first year, we'd pretty much "finished" every room. (With the exception of the kitchen, which is still very, very yellow. Oy. And our master bedroom, which we're almost done with.) After years and years of bouncing from one apartment to the next, we now finally live in a space that we can call our own, and we truly feel at home here. While it's tiny, most of the house is a reflection of us, and every room tells a little story.
Mitch's family has this thing called "Favorite Past-timing." It's when you stand back and admire your work after finishing a big project. You know: you paint the garage, and when you're done, you pull up lawn chairs and sit down to take in the magic. Mitch and I do this constantly with our home, too. We find ourselves walking around the house, just marveling at how far we–the people who once didn't know how to close a fireplace flue–have come with it.
"Oh my god. Remember painting the wainscoting? It must have been 2 in the morning."
"Installing that toilet paper holder was one of the greatest feats of my life."
"I can't believe that this bathroom used to have zero storage. How is it possible that you've filled all these shelves? What is this stuff?!"
We're so proud. Still, I sometimes get a little bummed that we had to rush through so much of the renovation and decorating process. And I think it's just my personality to want to switch things up from time to time. I'm obviously not buying new furniture anytime soon, and rearranging what I already have doesn't really work, as there are only so many configurations that work in our small home. I've realized, though, that nothing is permanent. Okay, some things are permanent. (Like that furniture!) But switching up rugs and bedding and decor every once in a while? Totally doable, and all have the ability to make our place feel new and different.
Recently, I teamed up with DwellStudio to fix a few "problem areas" in our home–or parts that I felt like weren't "us." I found out about DwellStudio through the Birch Lane website; I'd been a HUGE fan for a few years, and I'd outfitted so much of our house with BL. DwellStudio, though, had a twist on the classic, preppy vibe that BL and our home had goin' on, and a lot of what I found on the DwellStudio's site was just what I was looking for.
If you're new to DwellStudio, some of my favorite products are those found in "Objects," "Baby Bedding," and "Rugs" — and on my wish list are: this pillow cover, this duvet cover, this blue rug, this blanket-style rug, and this horseshoe crab letter opener. Take me back to the Shore! We also own these campaign end tables and love them.
Isn't everything adorable? It's also stuff that I haven't seen elsewhere, which is really nice, as I often see the same products again and again these days. Finally, Mitch and I have been crazy impressed with the quality. Upon arrival, all our products were in perfect condition, and everything's held up extraordinarily well. It's worth noting that we're a bit tough on our stuff, too. ;)
Anyway, let's get to our home updates with DwellStudio, shall we? First up: Emma's nursery!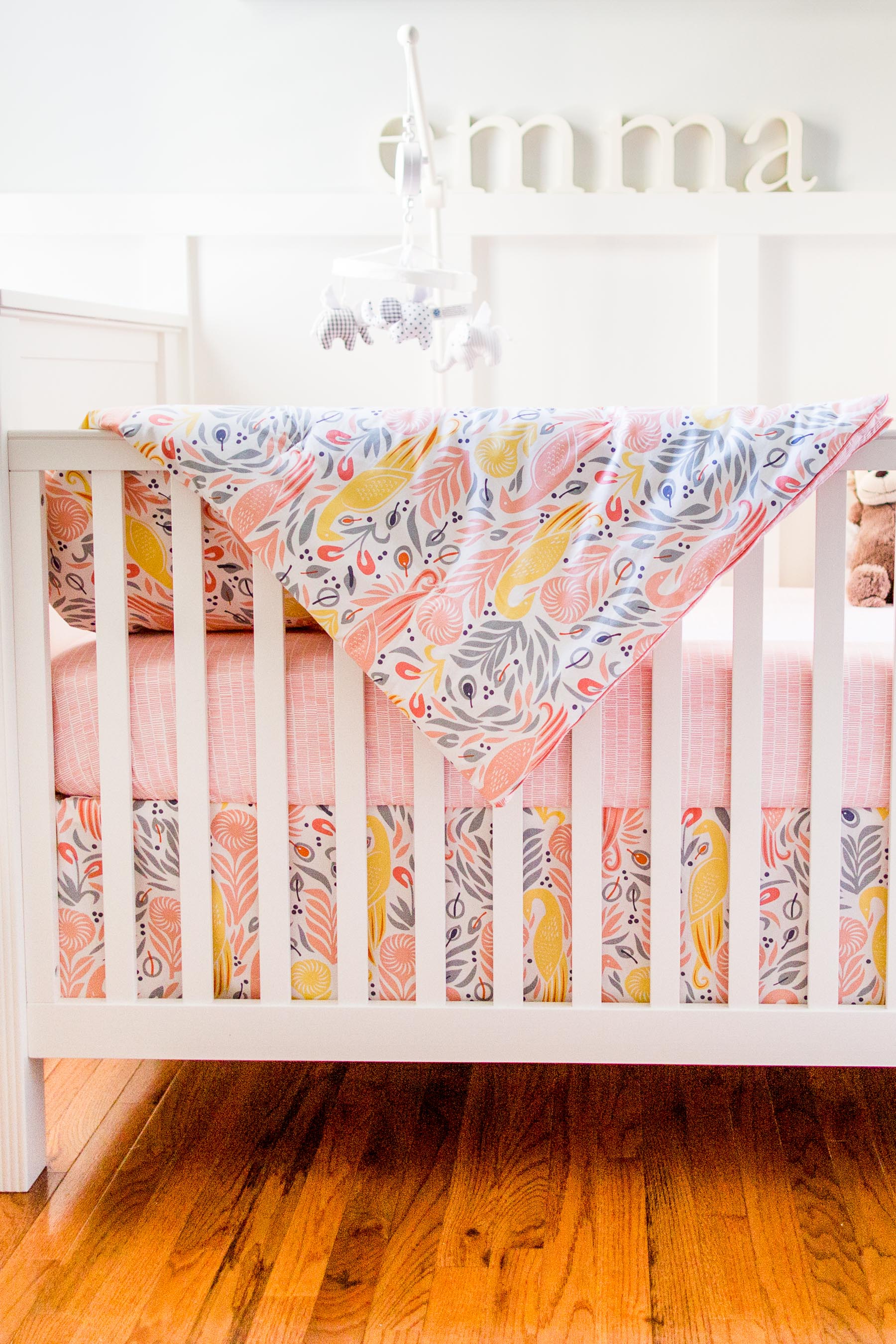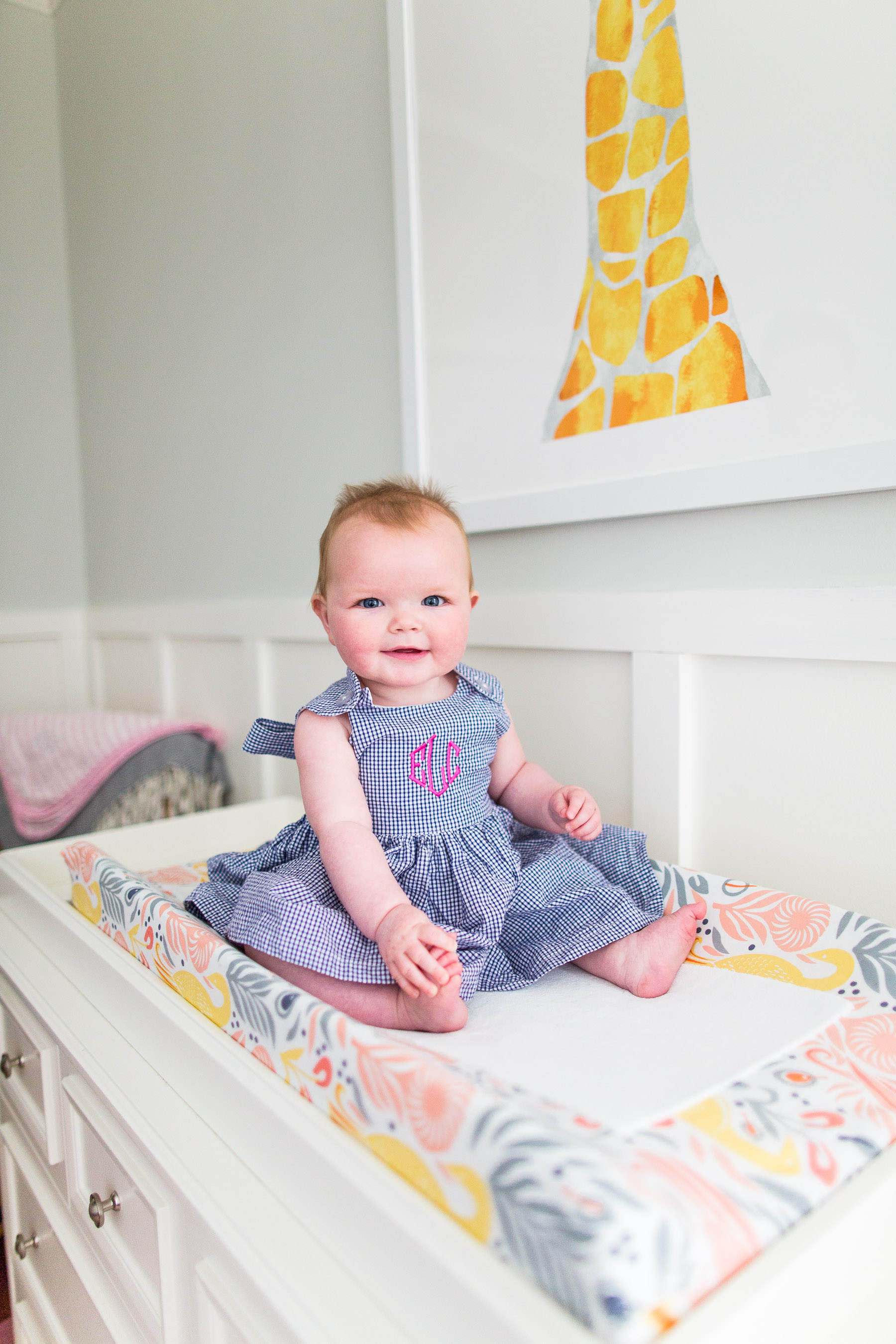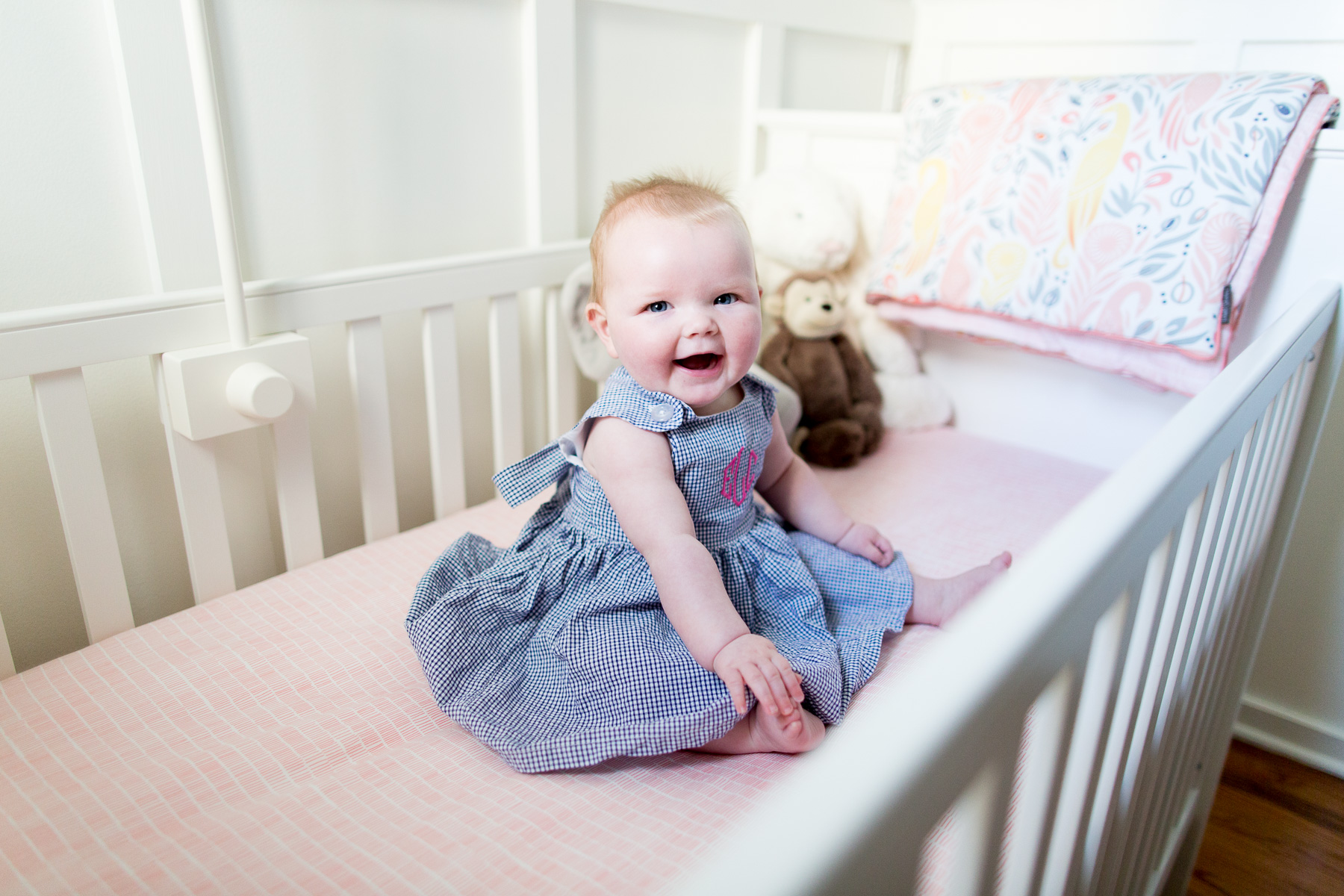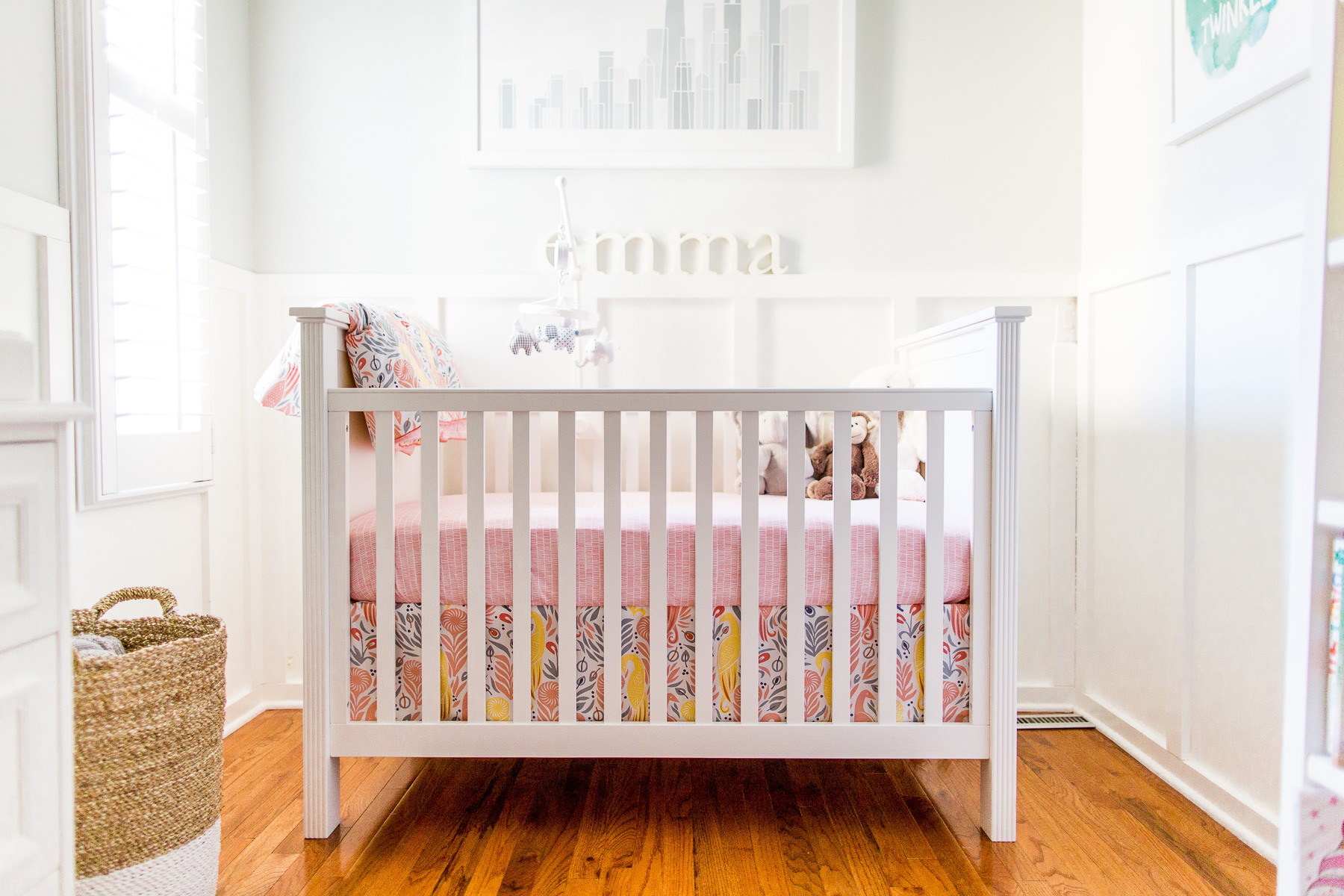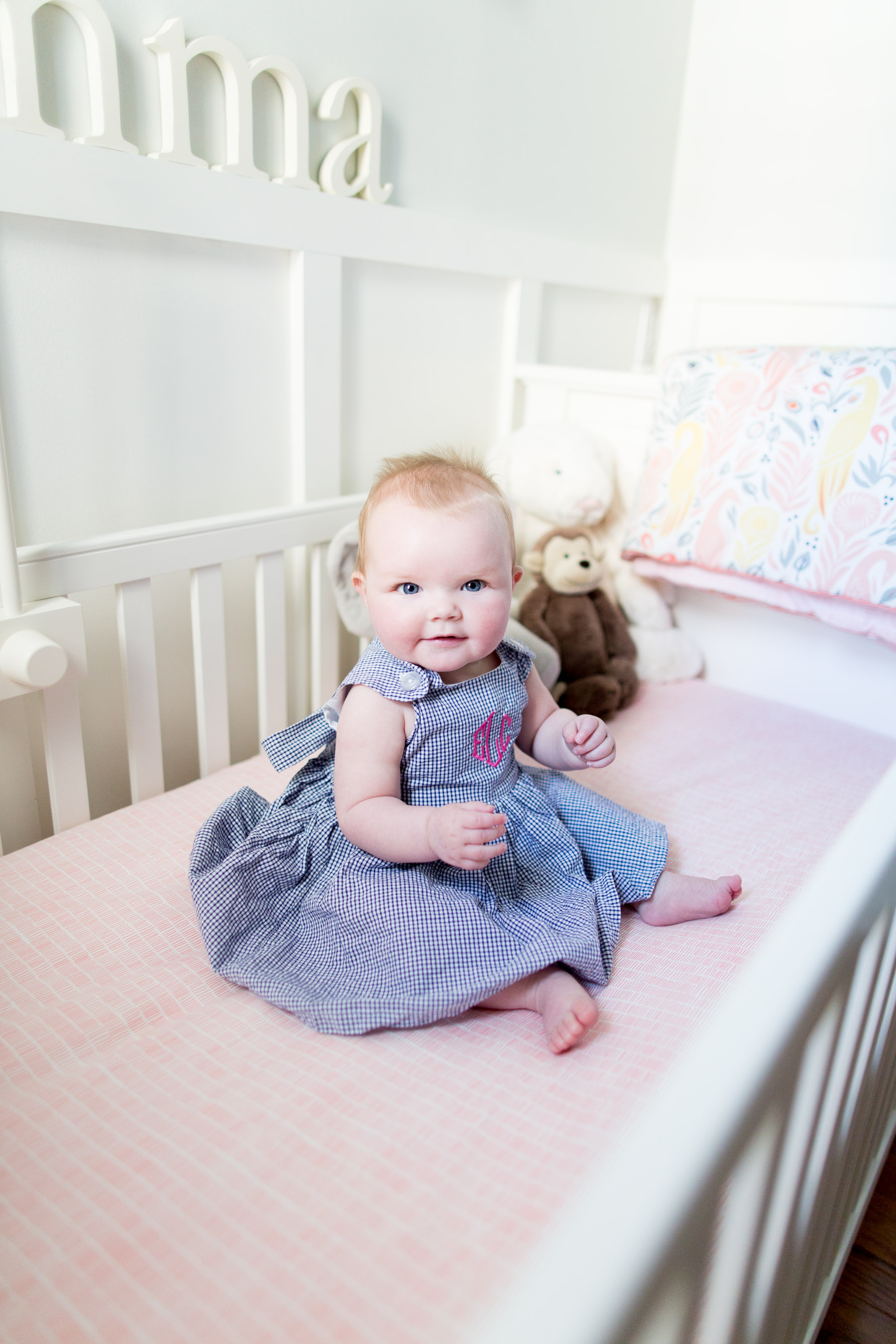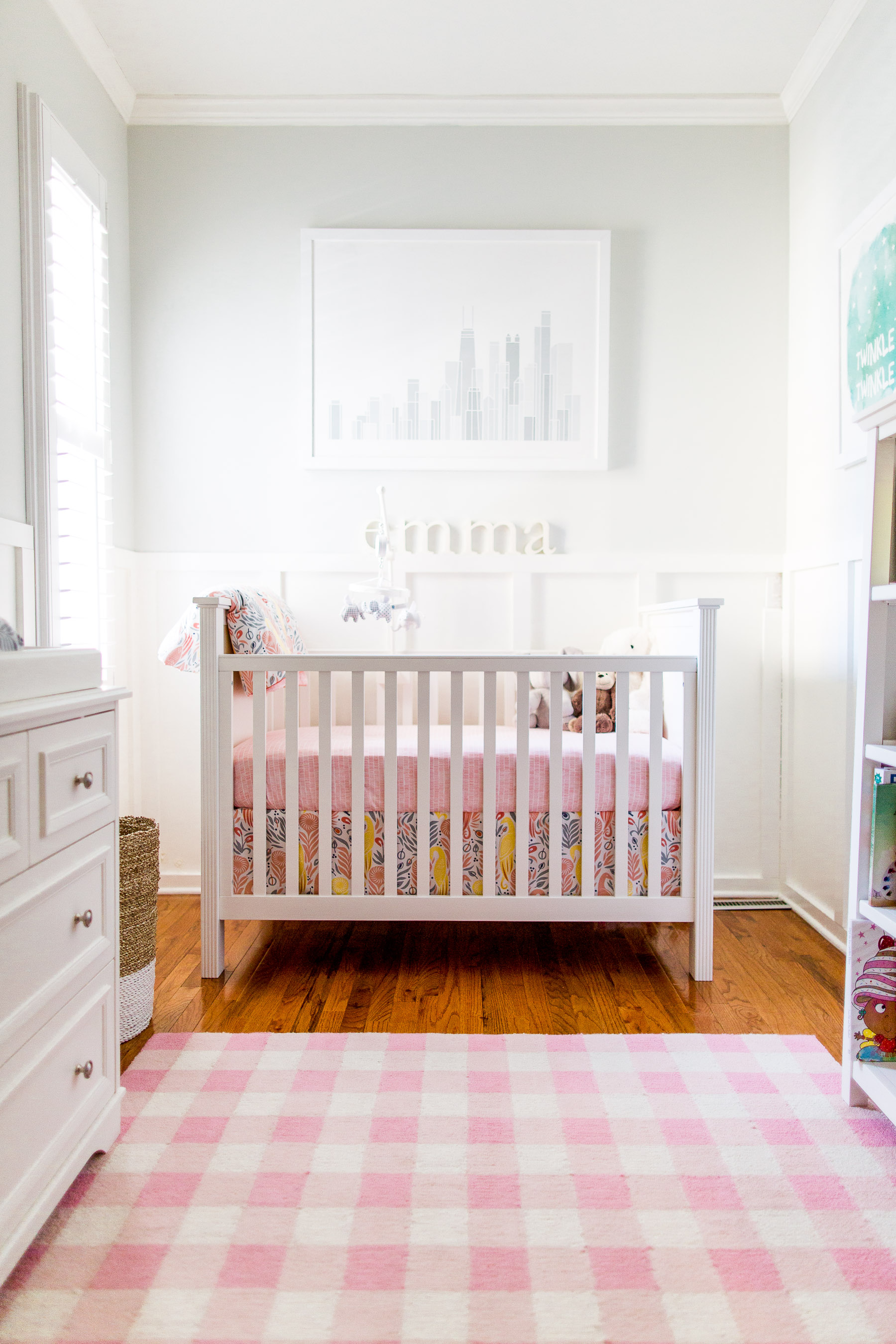 Featured products: Fitted Crib Sheet, Fitted Crib Sheet x 2, Stroller Blanket, Quilt/Play Blanket, Changing Pad Cover, Terry Hooded Bath Towel
Nursery bedding
As you guys probably remember, we opted to not find out what the baby's sex was while I was pregnant. It was all very exciting, but I'll admit that decorating the nursery was a struggle because of the gender mystery. Before the birth, we decided to go with a gray and white color scheme, and you can see that here. And then Emma was born, we worked to make the room a little more girly, and here's that post. Yet it still just wasn't… pink enough for me.
Since I went for a super preppy gingham rug (from Birch Lane, actually!), I'd been wanting something a little more modern to balance out the room–but I also wanted pink! I instantly fell in love when I saw DwellStudio's "Boheme" line of baby bedding. Every product complemented the next, and I adored how soft and plush it all was. Have I mentioned that Emma has the tendency to topple over these days? We're constantly surrounding her with giant blankets so she doesn't hurt herself, and I tell you: good ones are hard to find!
While I obviously gravitate to classic styles when it comes to home decor, I'm sure you can tell that my Chicago girlfriends are rubbing off on me. I love their boho style, and think their homes are so cool. I actually came SO close to buying a Persian-style pink rug for the nursery a few months back because of them! But then I caved when I saw the gingham. Gingham's always been a weakness, haha. Anyway, the "Boheme" bedding really reminds me of something my girlfriends would pick out, and that makes me think the room is now far cooler than it used to be. ;)
A few things to note:
FYI: DwellStudio carries a ton of other lines of baby bedding. Check it out here!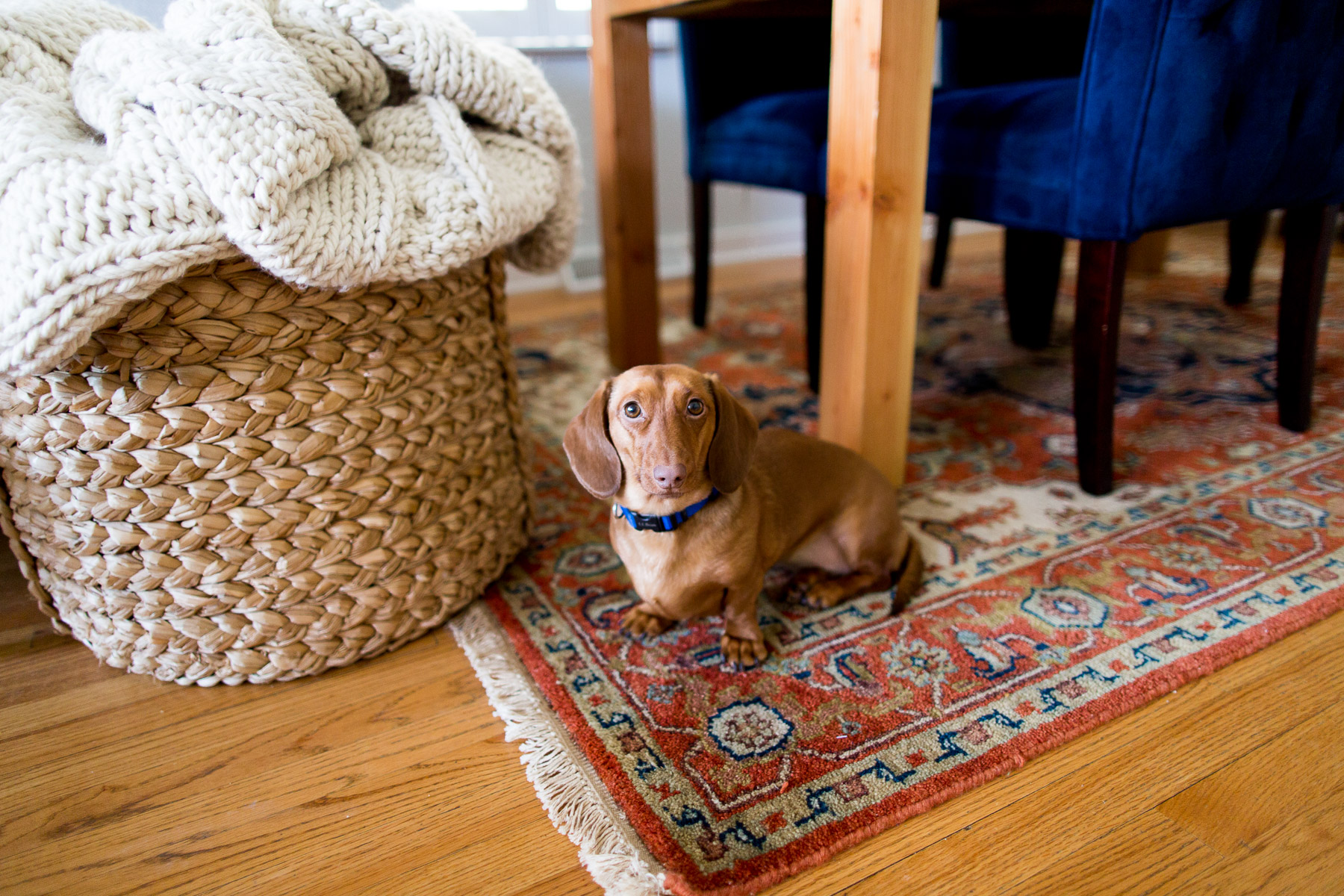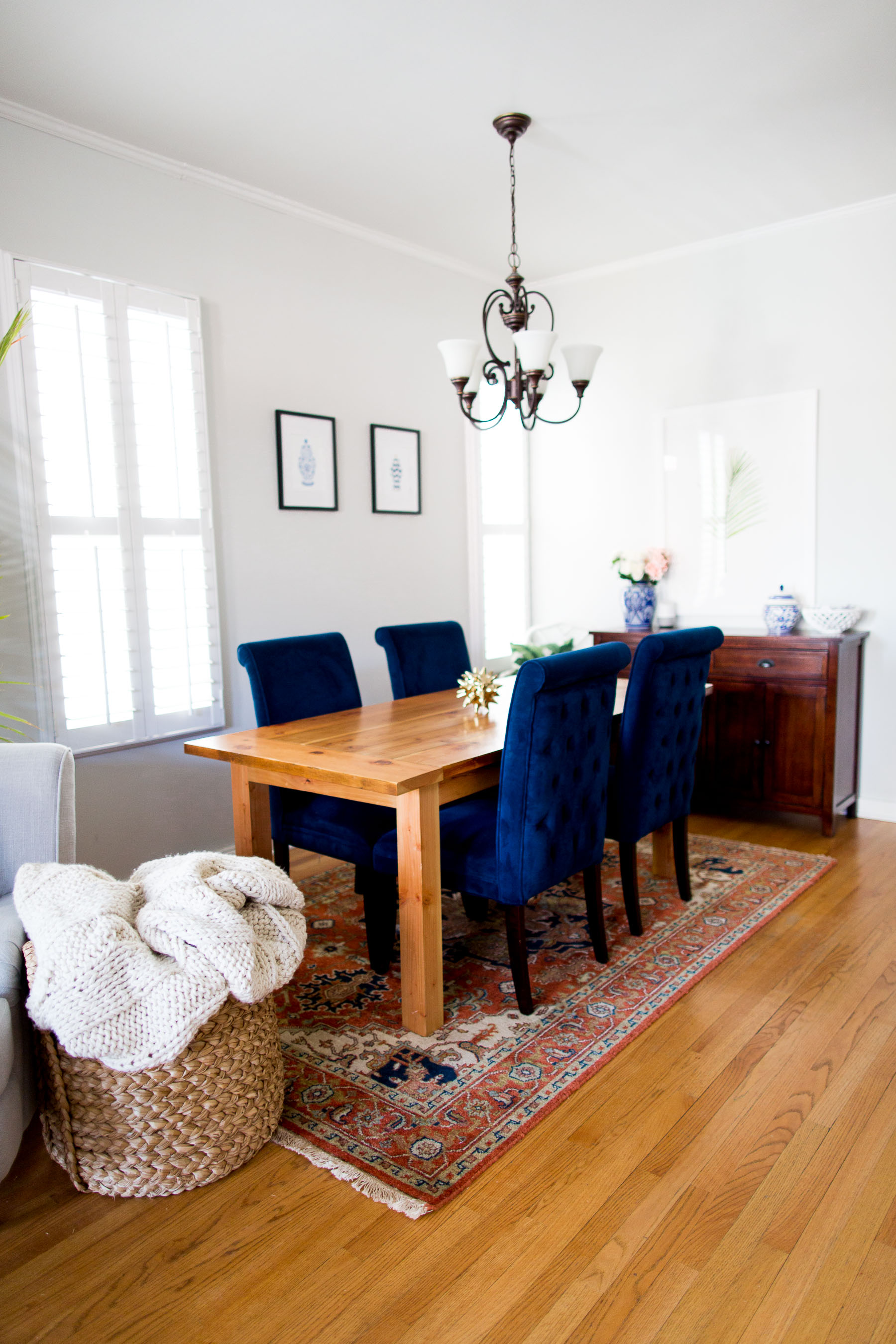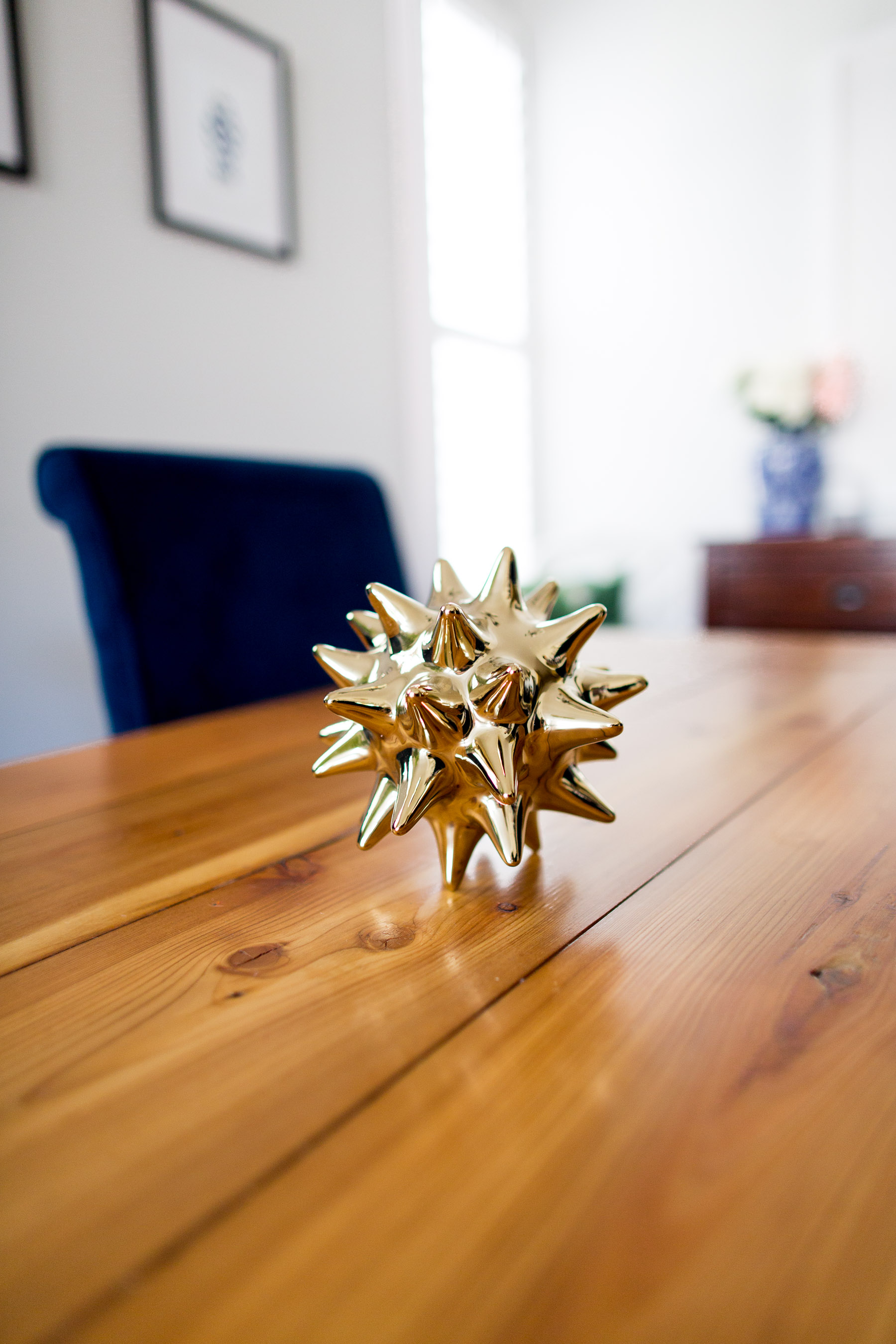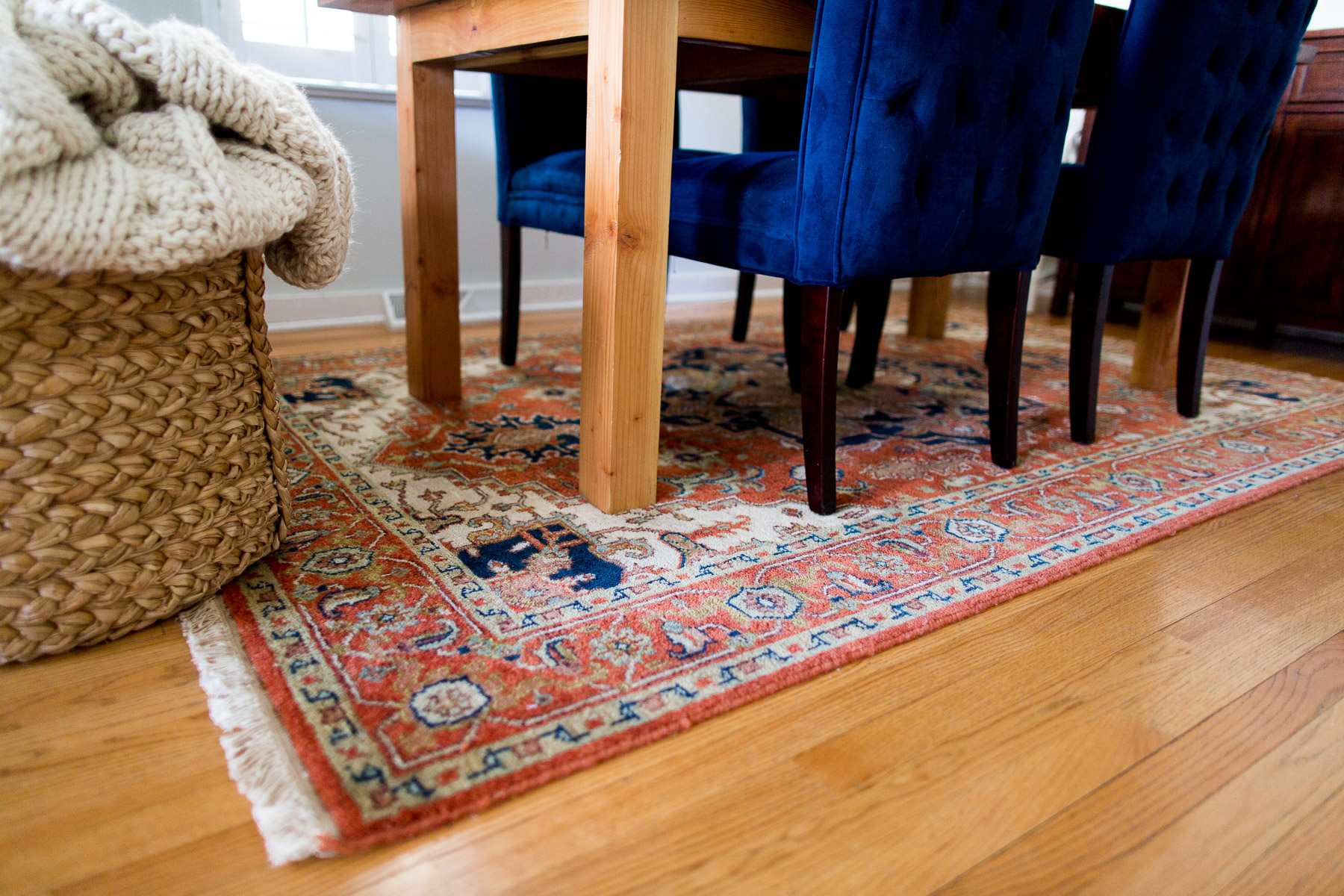 Featured product: Rug
Dining room rug
I kid you not: I'd been drooling over this rug, hand-knotted in New Zealand from 100 percent wool, for the longest time before Dwell Studio and I decided to write a post together, and I squealed when it arrived. It's gorgeous. I know: our living room rug is not gorgeous. But it's a super high traffic area, and I was nervous about putting something nice in there. We've had the Dwell Studio rug for over a month, though, and I can't get over how durable it is.
Noodle romps around on it all the time, and Emma actually sits by my feet and plays with her toys down there on the reg, too. It's held up SO well, and I almost wish I'd gone with the larger version and put it in the living room instead! But whatever: I had grown to really dislike the ikat one we'd had under the dining room table previously, and was looking for something more grown up. I can't even tell you how obsessed I am with the Dwell rug. Ahhhh! Still can't get over it. I know I'll have it for a lifetime.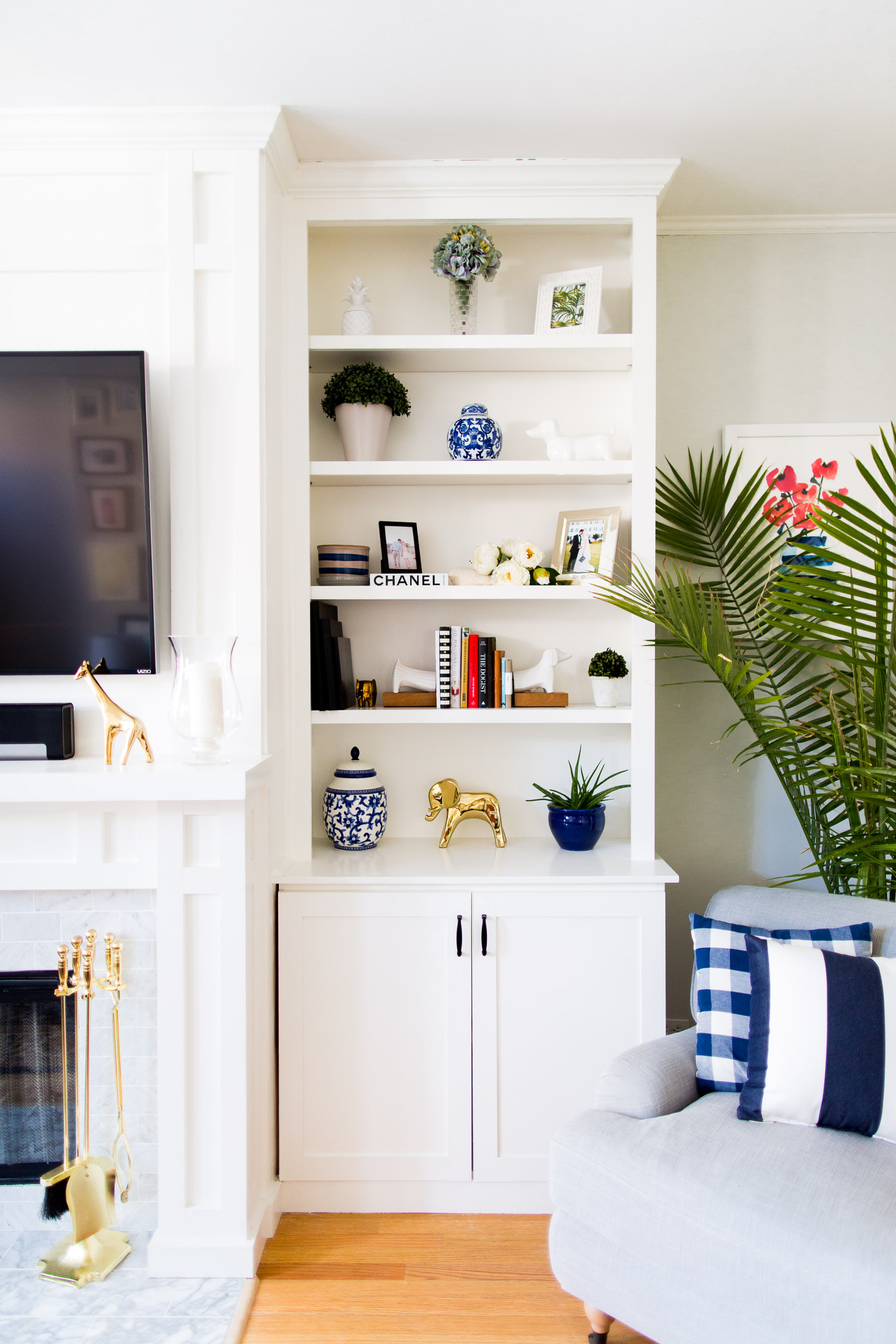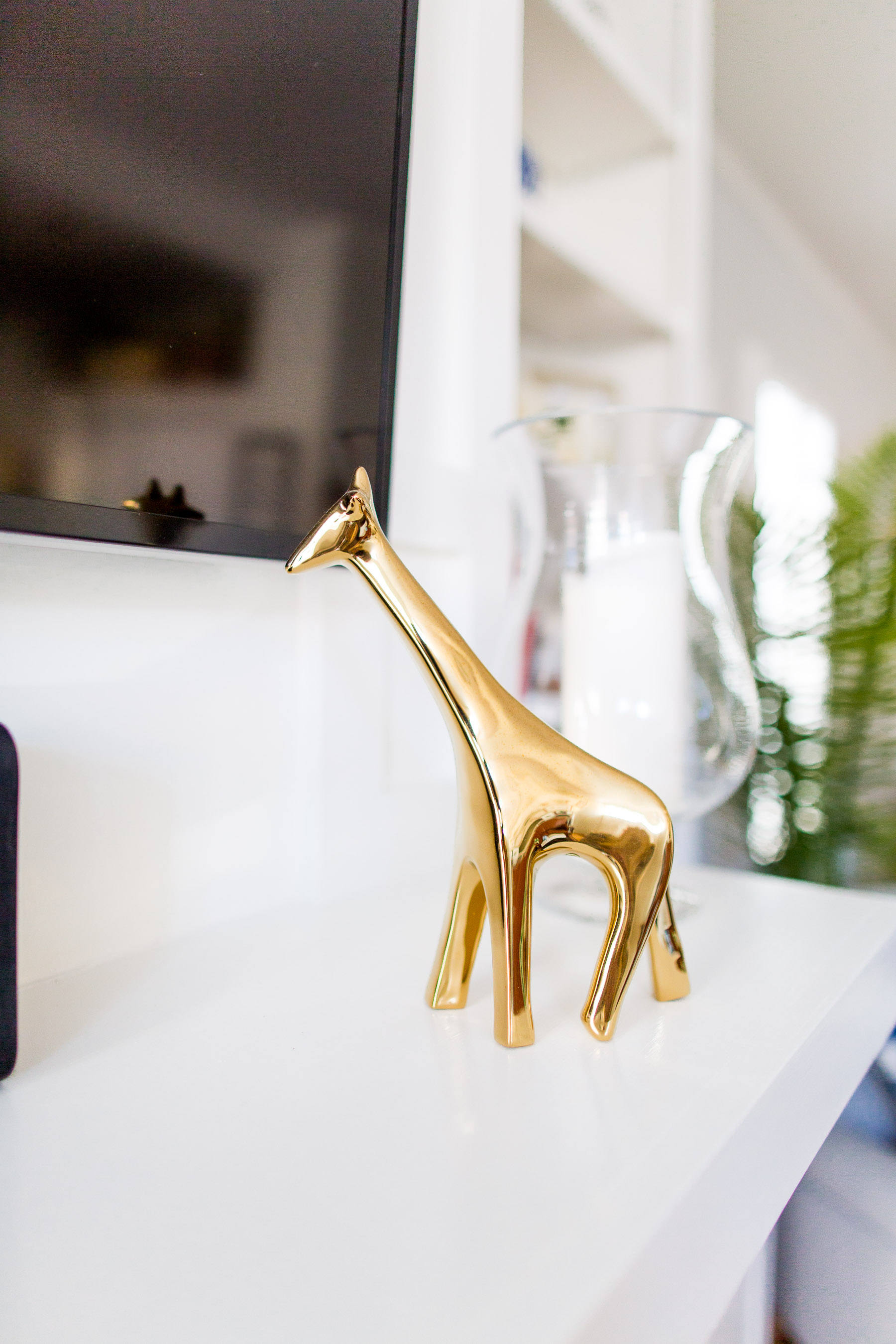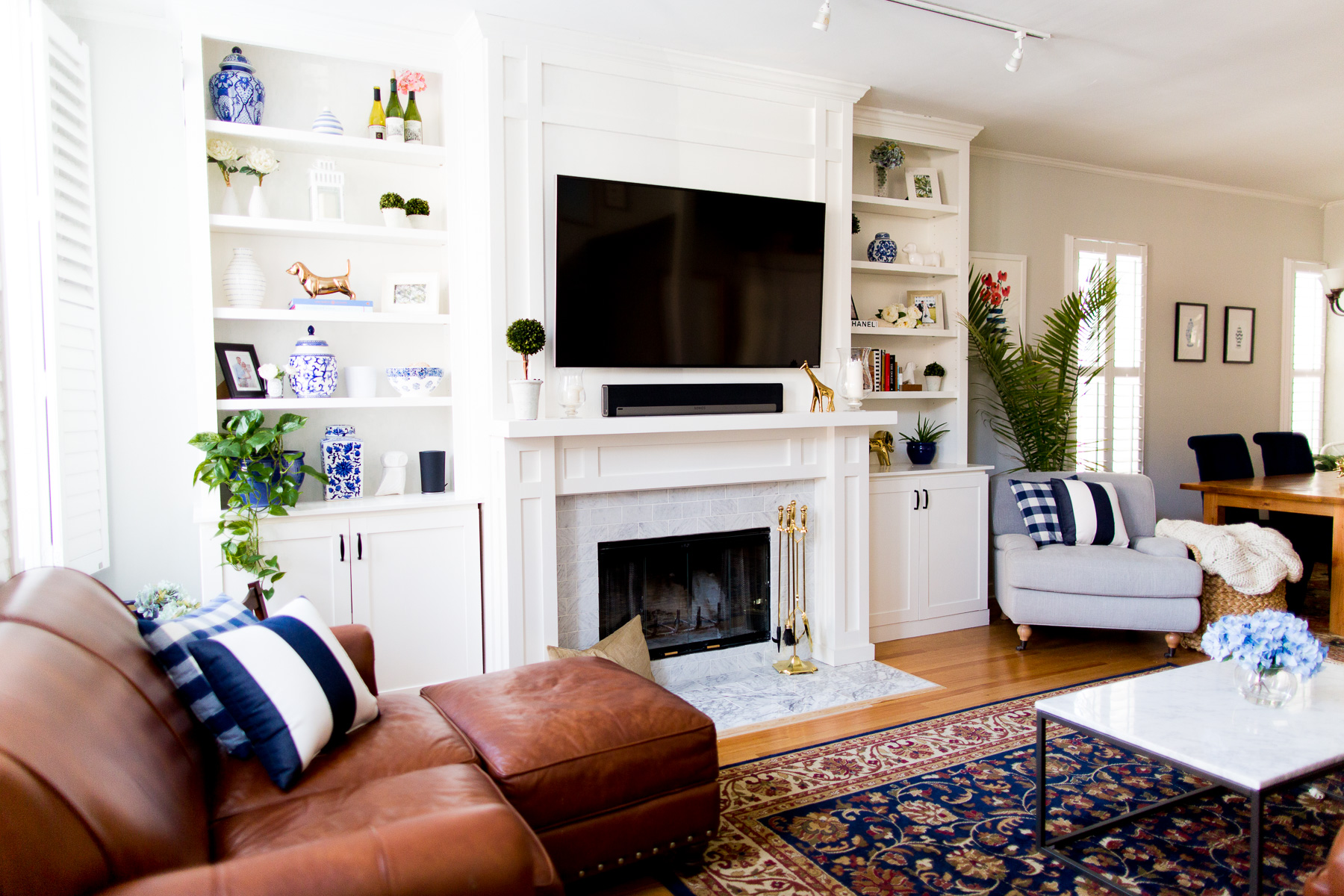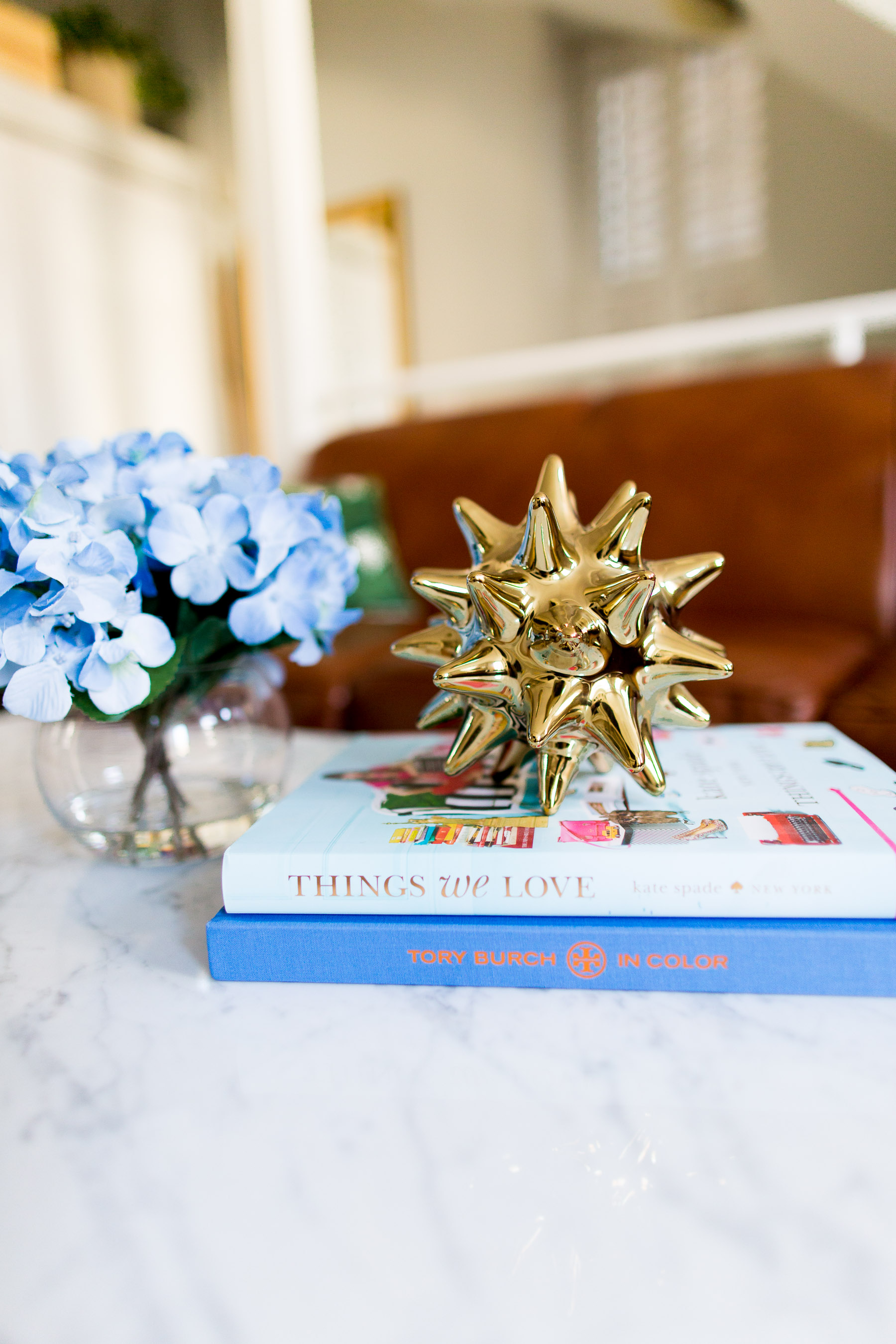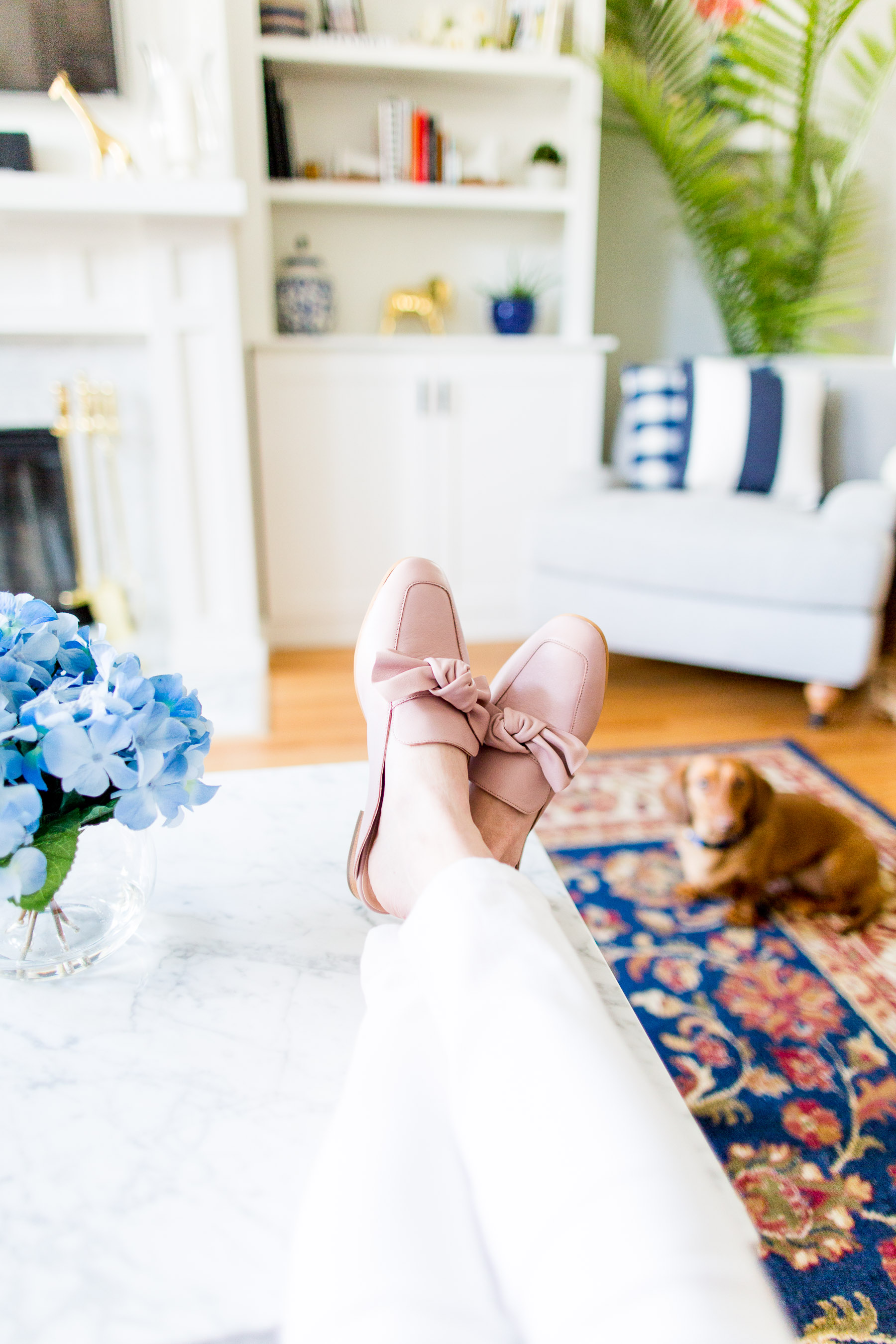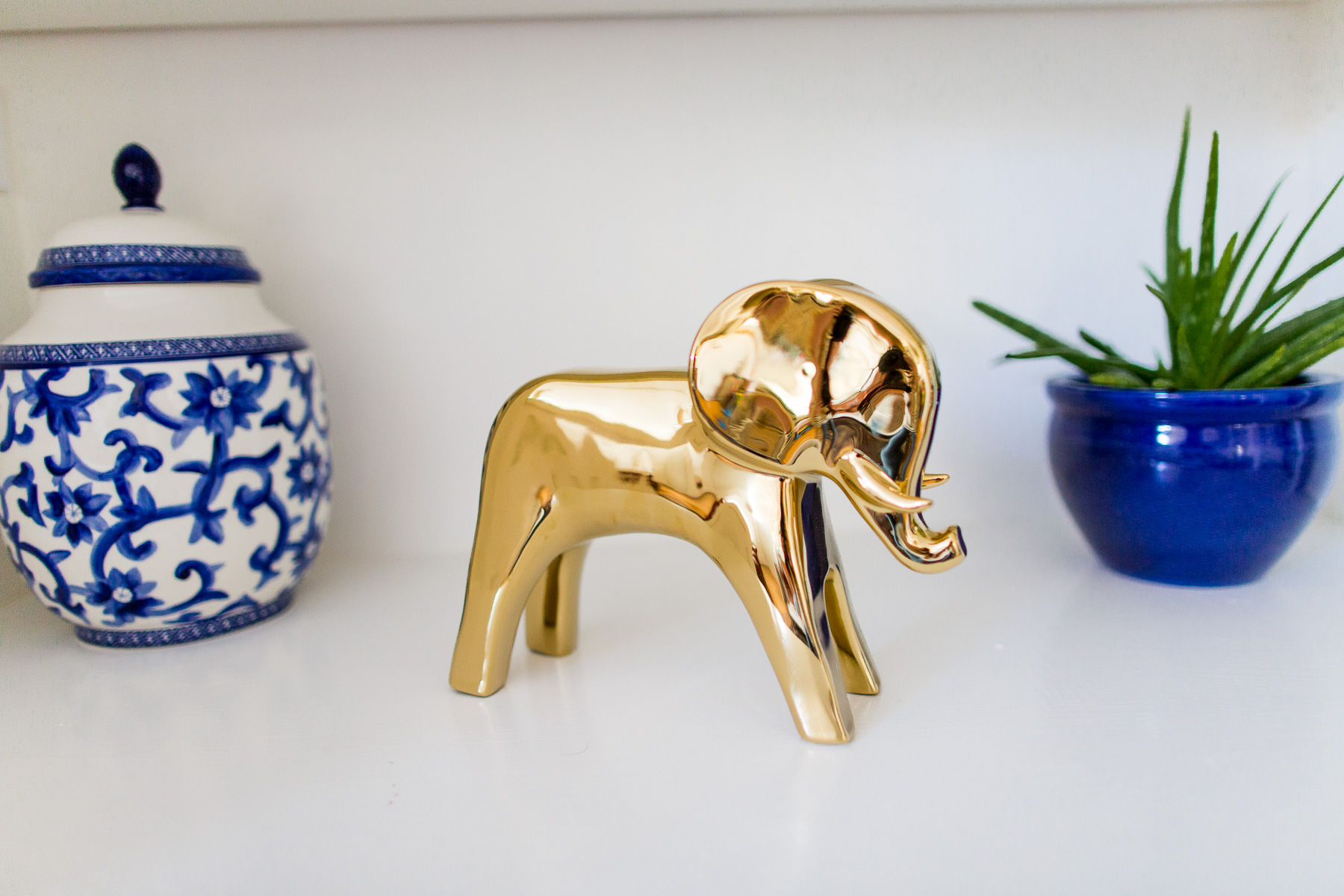 Featured products: Urchin, Elephant and Giraffe
Decor
I love meaningful brass figurines, as weird as that sounds. Mitch gives me a few new ones every Christmas, and I'll admit that it's become somewhat of an obsession, haha. But I'd been trying to find some larger gold objects for the bookshelves in our living room, as you couldn't really see the smaller ones, and was so happy to discover DwellStudio's line of gold objects! The urchin reminded me of Ocean City, the giraffe reminded me of the Bronx and Lincoln Park zoos, and I've simply always loved elephants, as my mom often talked about how cute it was that they "held tails" while I was growing up. :) Elephants were also the original theme of the nursery back when we didn't know we were having a girl. Happy memories, for sure!
I should also note that I'm constantly moving the urchin around, as it adds so much to whatever space I'm looking to change up. Today, it's on the coffee table. Tomorrow, it might be on the dining room table. The following day, it might be on the buffet. I might need to invest in a few more… ;)
How do you freshen up your home without buying new furniture?!
This post was sponsored by DwellStudio, but all opinions are my own. As always, thank you so much for supporting the partnerships that keep Kelly in the City up and running!