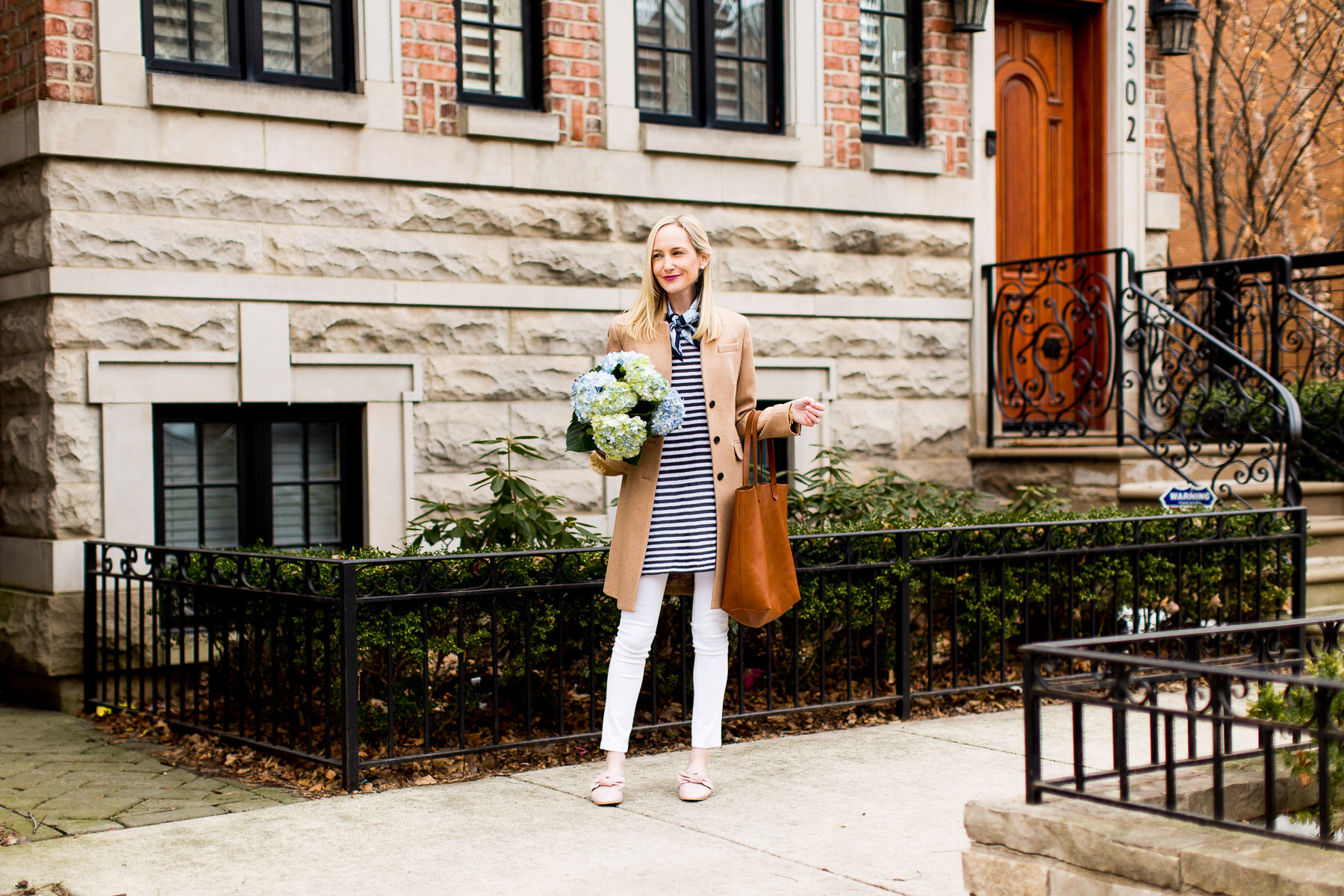 Eileen Fisher Top / Similar Rag & Bone Jeans / Bow Mules / Leather Tote / Similar Scarves here, here, here and here / Topcoat
Okay, I'm a day late. But I totally forgot that yesterday was the first day of spring until Mitch arrived home from school and mentioned it. Which is funny, because Emma and I spent the entirety of the day outdoors. We ran errands, we hung out with our neighbors, we went to the bookstore, and we even signed ourselves up for "mommy and me" gym classes. What a little warm weather will do for productivity and happiness, am I right?!
Anyway, I'm pretty happy it's spring–as I'm sure you are, too. So in honor of the "holiday," I thought I'd share a few things I'm excited for this season:
Seeing family
This coming weekend, our little family is headed down to the lake to see Mitch's parents, and we're planning to take a trip back home to see my immediate family soon. (We're thinkin' Memorial Day Weekend!) While we recently saw our families at the baptism, we're in need of some QT with everyone. I can't wait for hours of coffee drinking on the porch!
Stripes
It's time to break out the stripes, guys. I recently picked up this striped tunic from Eileen Fisher, and I know it's going to be a staple this spring. It's a little oversized, making it perfectly flattering when paired with white skinny jeans, and it's made from organic linen, which means that it doesn't wrinkle easily when I'm constantly picking up Baby. ;) And, of course, it's from Nordstrom–my favorite retailer of all time. Nordstrom offers THE best customer service I've ever experienced as well as free shipping and free returns, making ordering completely stress-free. You can check out Nordstrom's complete line of Eileen Fisher right here. I have my eye on this striped tunic, this gingham scarf and this red rain coat.
Exploring Chicago with Emma
As I mentioned, Emma and I spent a lot of time outdoors yesterday, and I'm looking forward to doing more and more of that. A few months ago, Emma got fussy very easily on walks. Now, though, she's happy as a clam. Of course, she does have her rough days (don't we all?!), but for the most part, she's up for exploring, which is really fun. My dream is to be able to have her sleep in the stroller while I work at a nearby coffee shop during nap time. Any more seasoned moms out there want to weigh in? Totally impossible, right?!
White jeans
The Rag & Bone jeans I'm wearing here are an older pair, but Nordstrom just came out with a white version of the "Capri" jean! (I talk about why I love the cut so much here.) Swoop them up now; they're sure to sell out quickly. But really: is it socially acceptable to replace all my jeans with white jeans?! While they're impossible to keep clean with a baby, I feel like they make all my outfits pop!
Outdoor dining
There's nothing that Mitch and I enjoy doing in our city more. Give us a few strings of twinkle lights, a high chair, a couple of glasses of cheap wine, and a deep dish pizza, and our Friday night is made. We had a taste of outdoor dining (with Baby) a few weeks ago, and it exceeded our expectations. Even Emma is happier!
Cleaning & organizing
Holy moly, guys. Our house isn't dirty anymore, as we recently hired a much-needed cleaning service. (We restructured our budget to allow for it, because we needed it.) But it's disorganized. We get rid of a ton of stuff almost every spring, and I'm ready for this season's purge! Right now, I'm looking forward to cleaning out the hallway closet the most. SO MUCH UNNEEDED STUFF IN THERE.
Big trips & day trips
We're headed to Los Angeles in a few weeks, and then I'm headed to Dallas with my Chicago girlfriends. And like I mentioned earlier, we're planning on spending a lot of time down the Shore and on the lake with our families. I'm also excited about taking a day trip to the North Shore. Mitch and I take one every fall, but we decided that we should take one this spring, too. It's just such a fun and easy trip!
Open-back and open-toe shoes
HELLO, Cutest Shoes Ever. I know. You're super tired of hearing me talk about how great these things are. But they're truly amazing. Buttery soft, tons of padding, and they don't slip off my feet. They also run completely true to size. I'm going to stop talking, but really, guys: I've tried a lot of mules this season, and these are the best! (Also love these, but I'll admit that they're not quite as comfy.)
"Stoop sitting"
One of our favorite activities is sitting on our stoop and chatting it up with passersby. We're so grateful that we live in such a friendly community, and try to take every advantage of it. We've actually made some of our best friends from "stoop sitting," as we call it, and I'm pumped for this year's round! I love getting to know those who live on our block as well as those who frequent the nearby restaurants.
Long walks
Something I love about Lincoln Park is how centrally located it is in Chicago. We can walk downtown, to Old Town, to the lake, to Bucktown/Wicker Park, to Wrigleyville and to the Southport Corridor areas–just to name a few. We tend to hibernate in the winter, but we hit the ol' dusty trail every spring, and visit all the neighborhoods. We've done a little exploring over the last few weekends, but I'm excited to make our long walks a more regular thing!
What are you looking forward to this spring?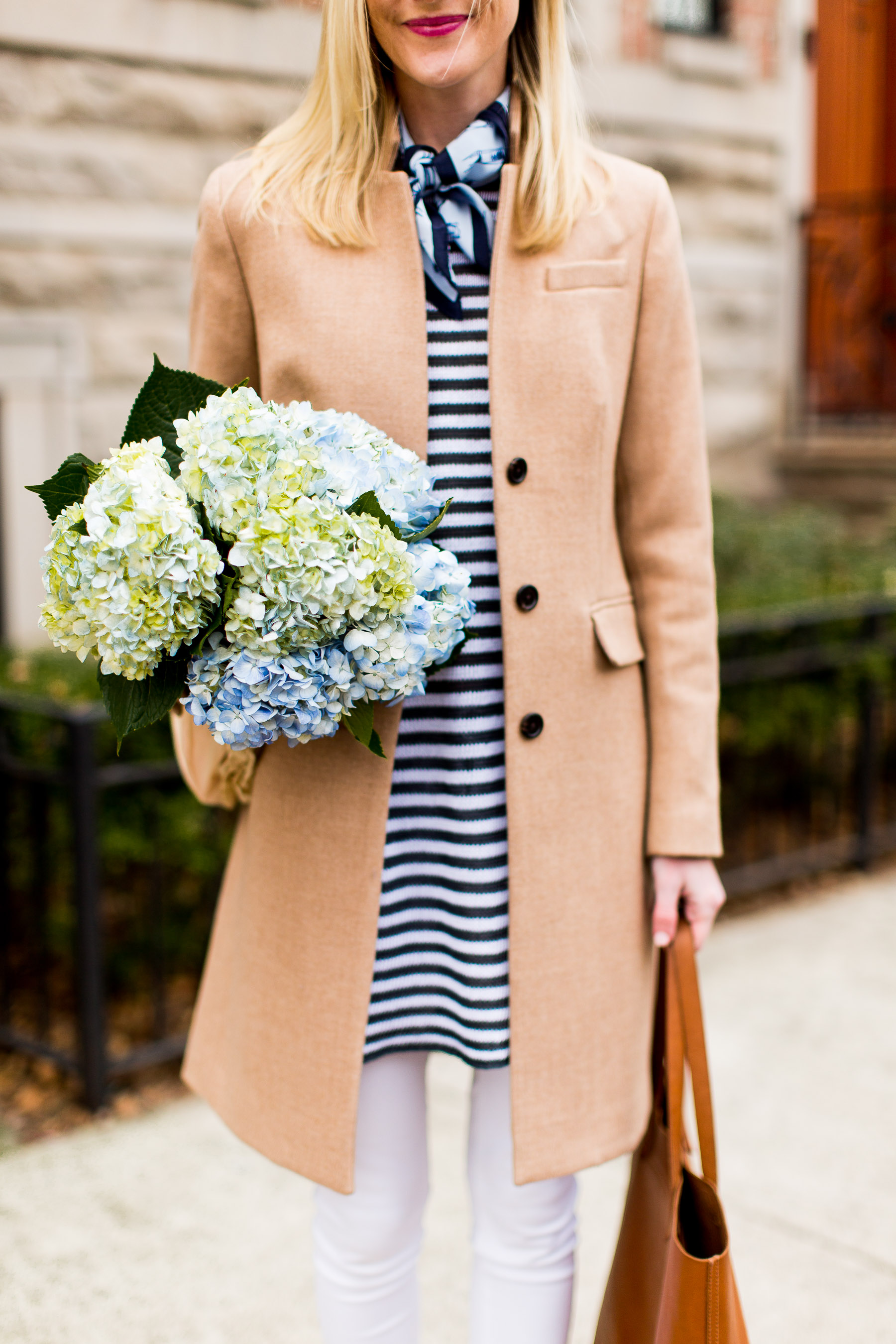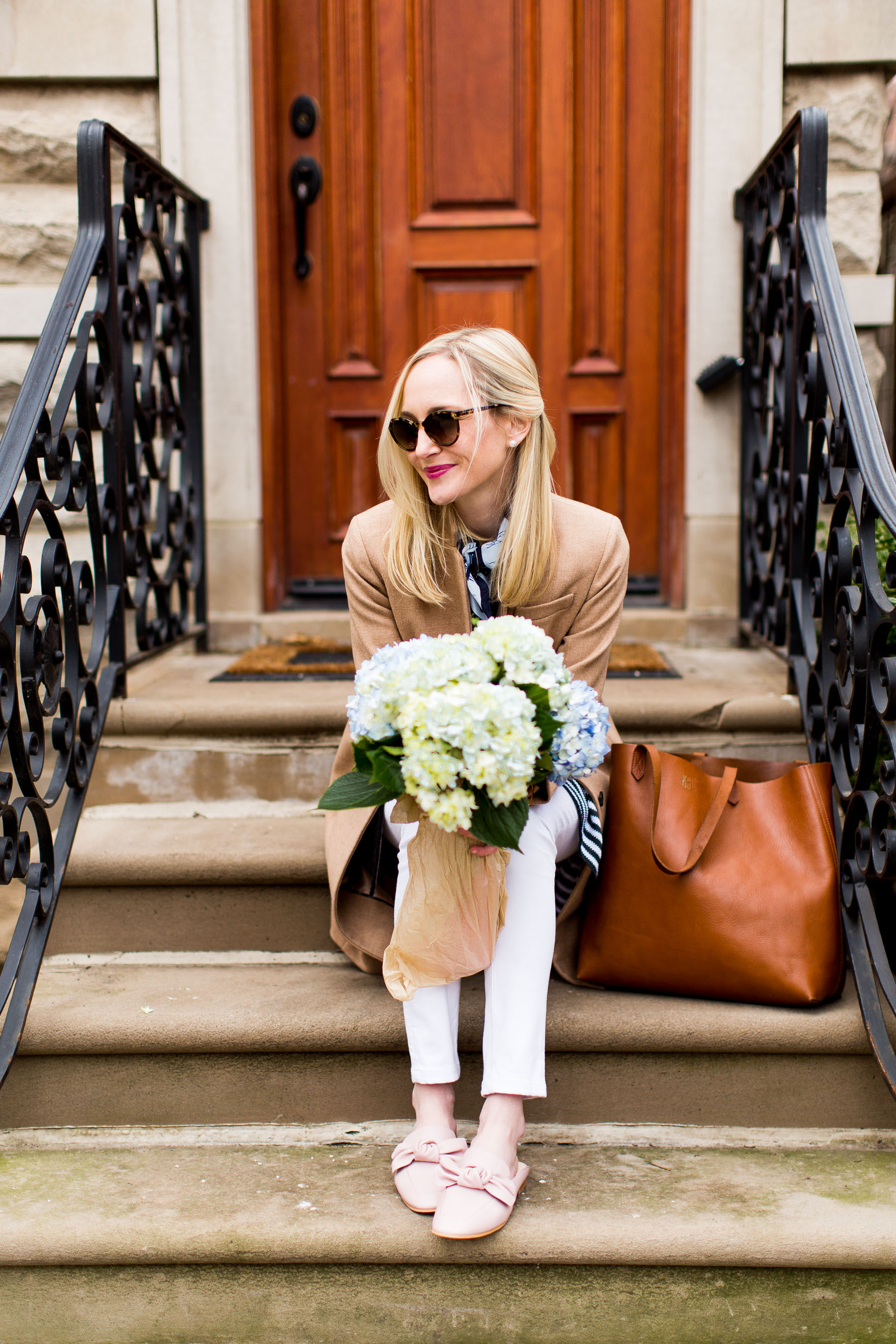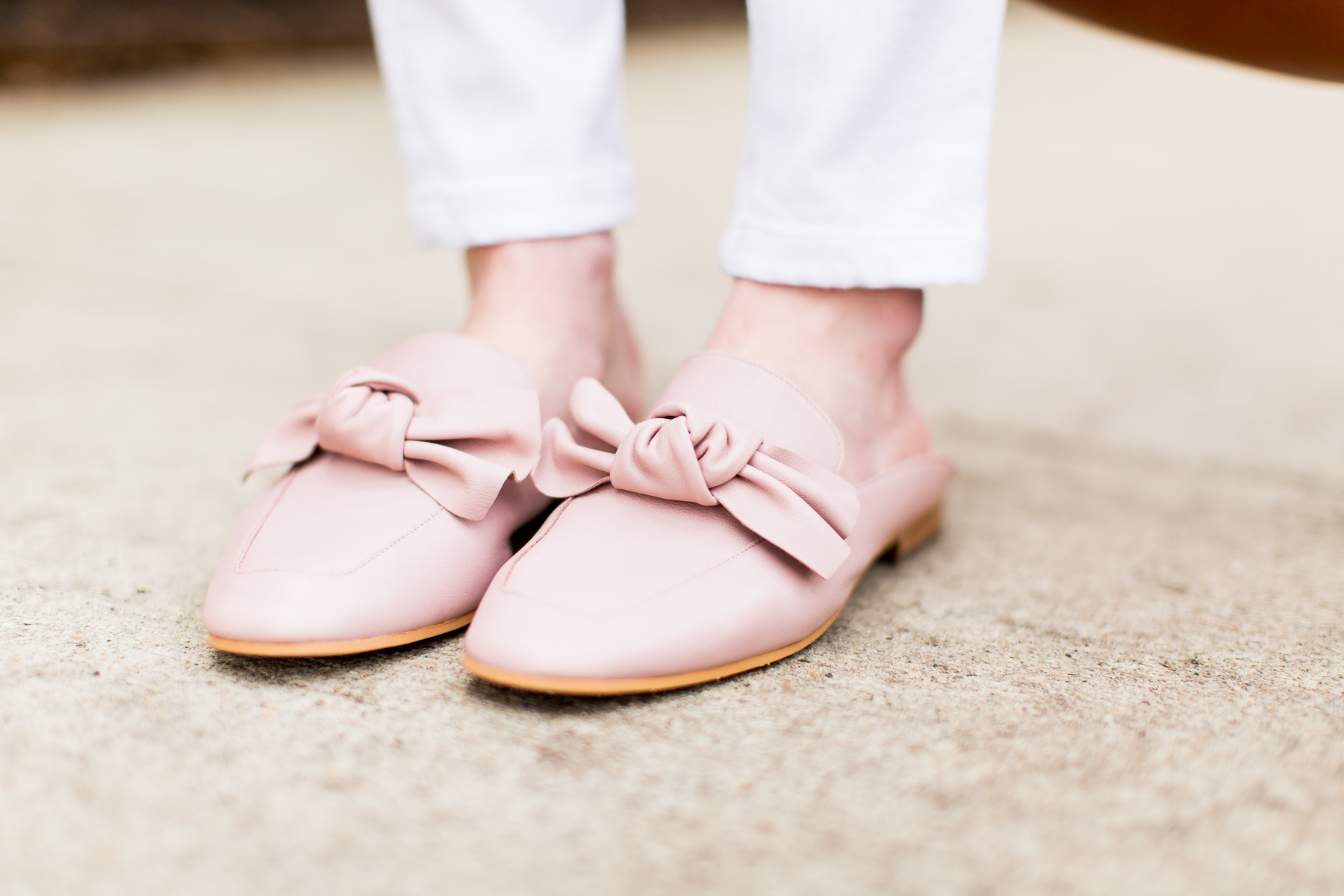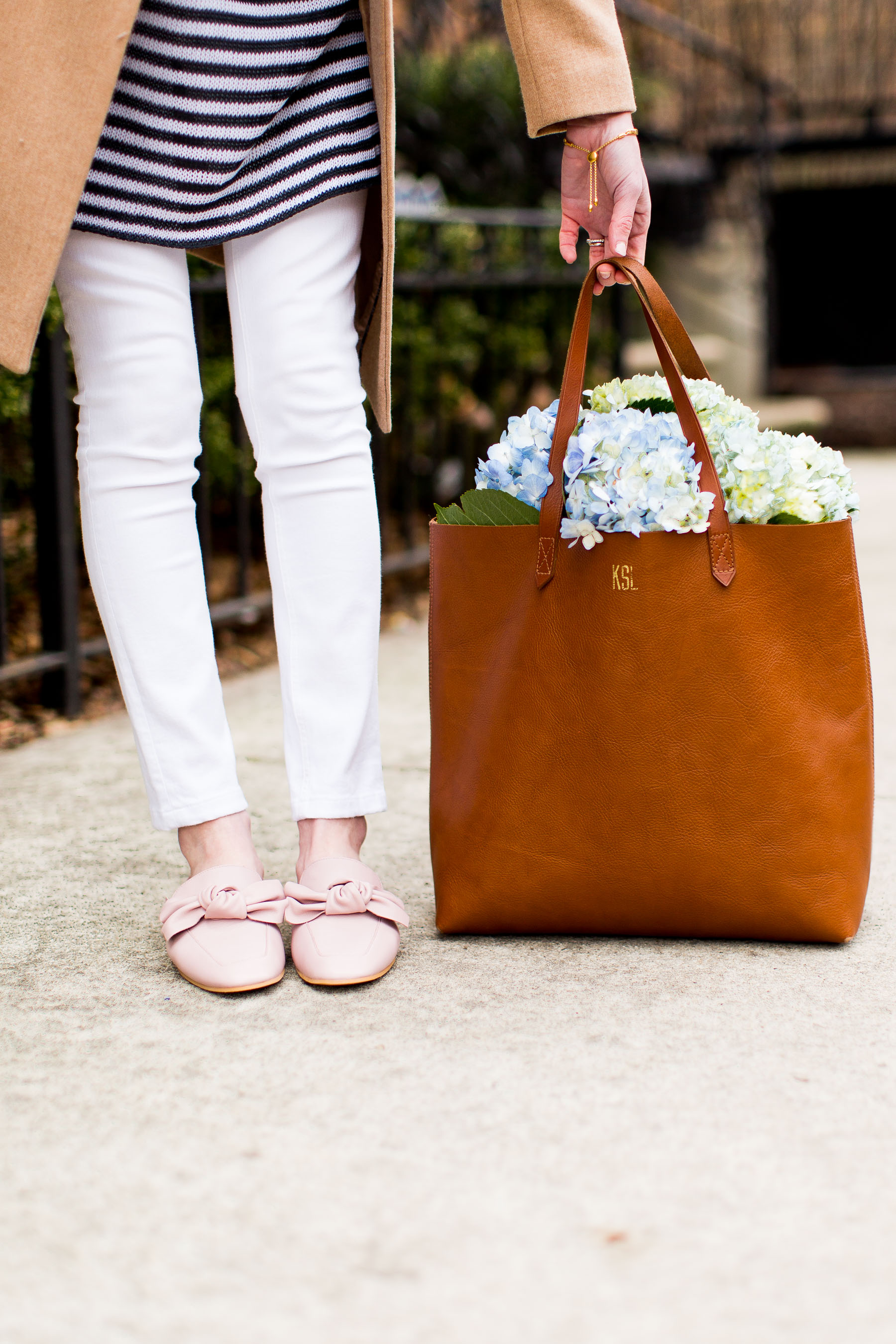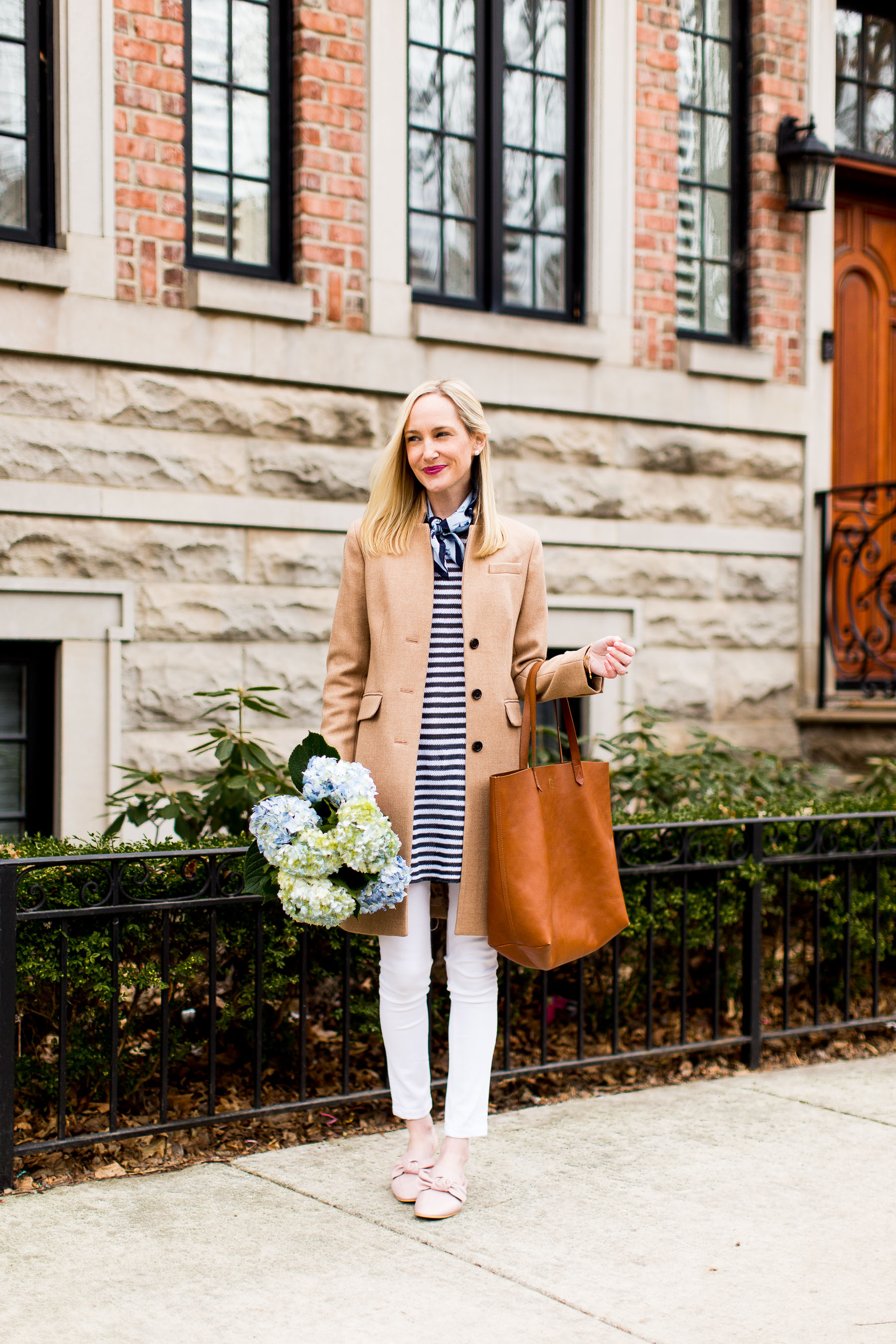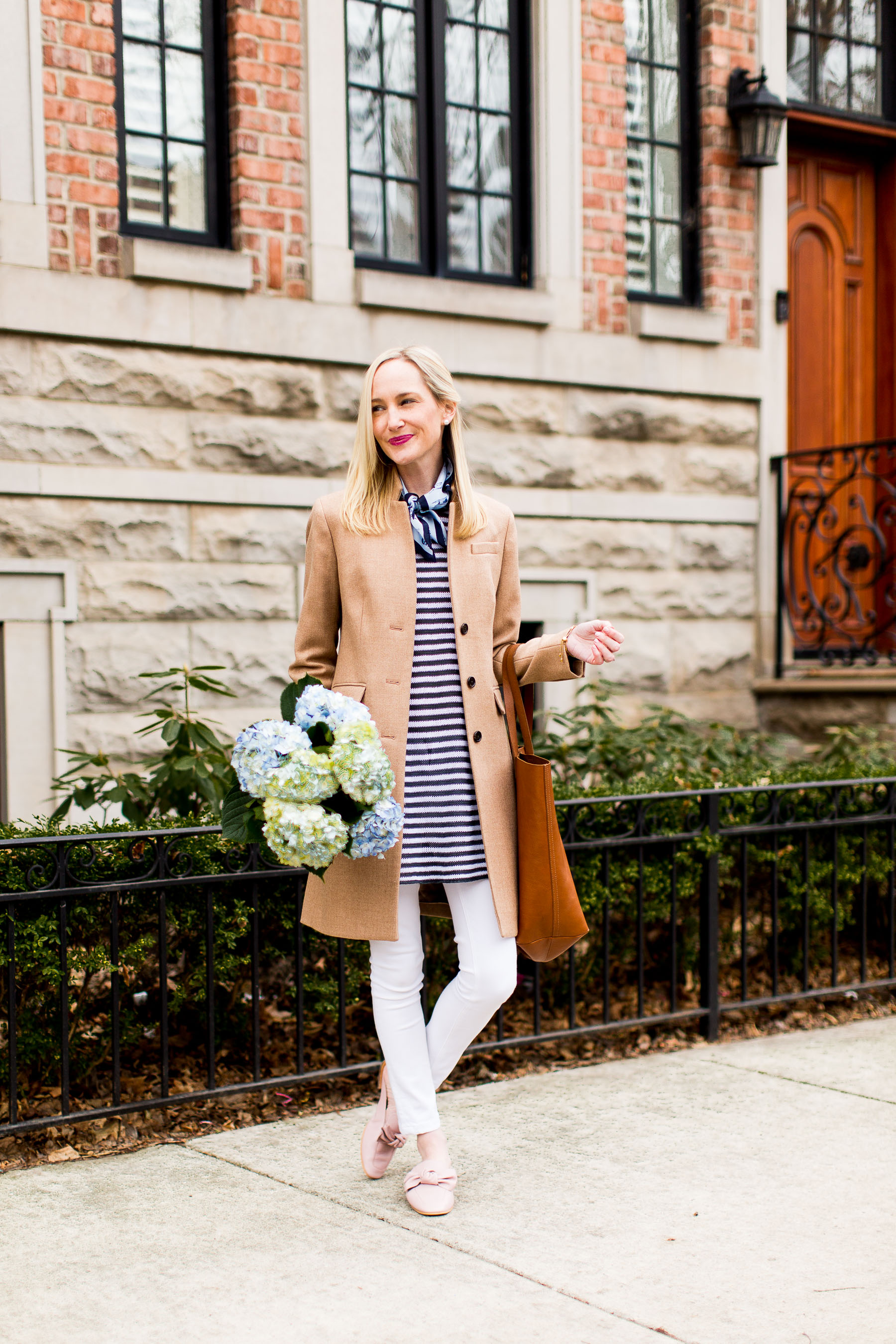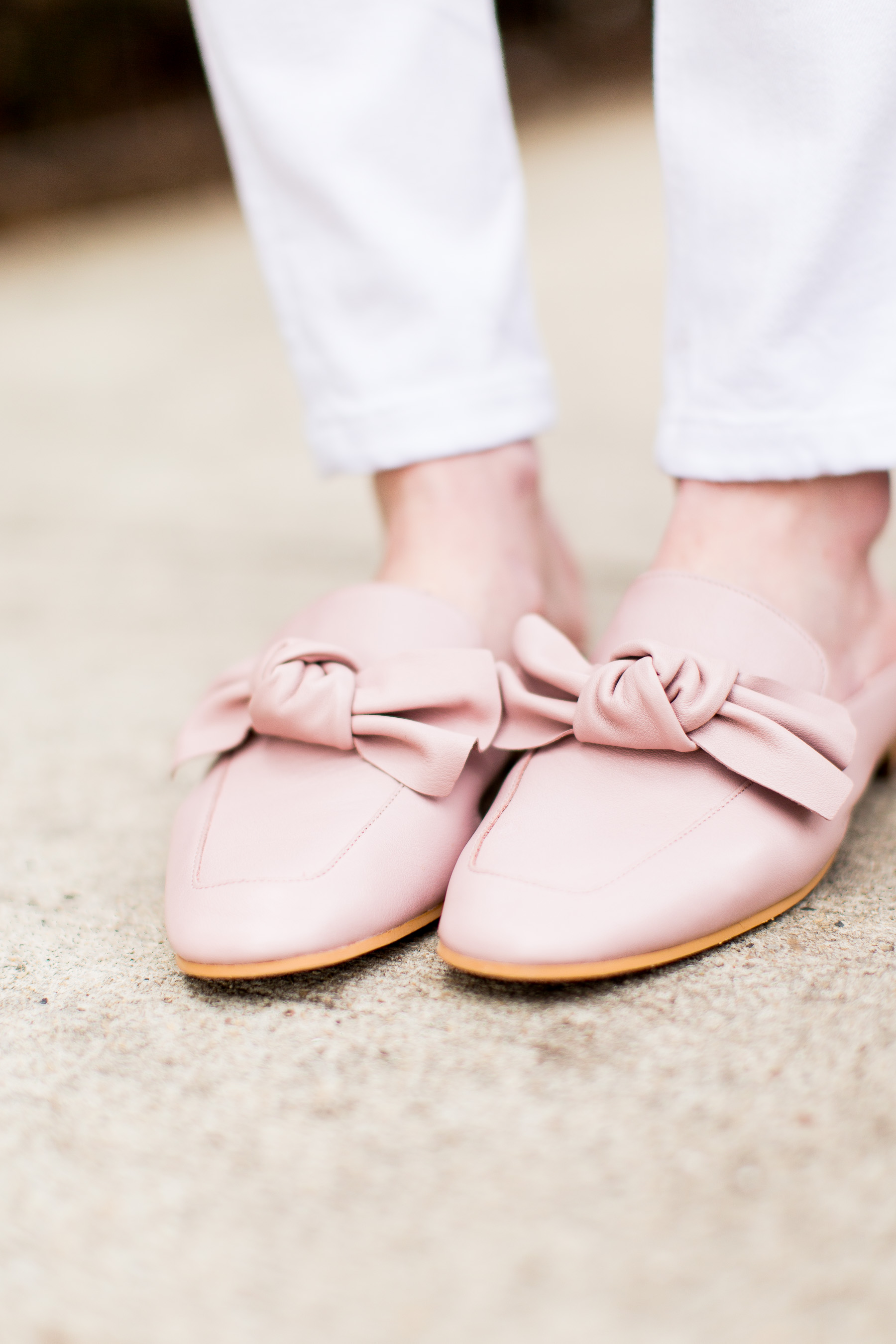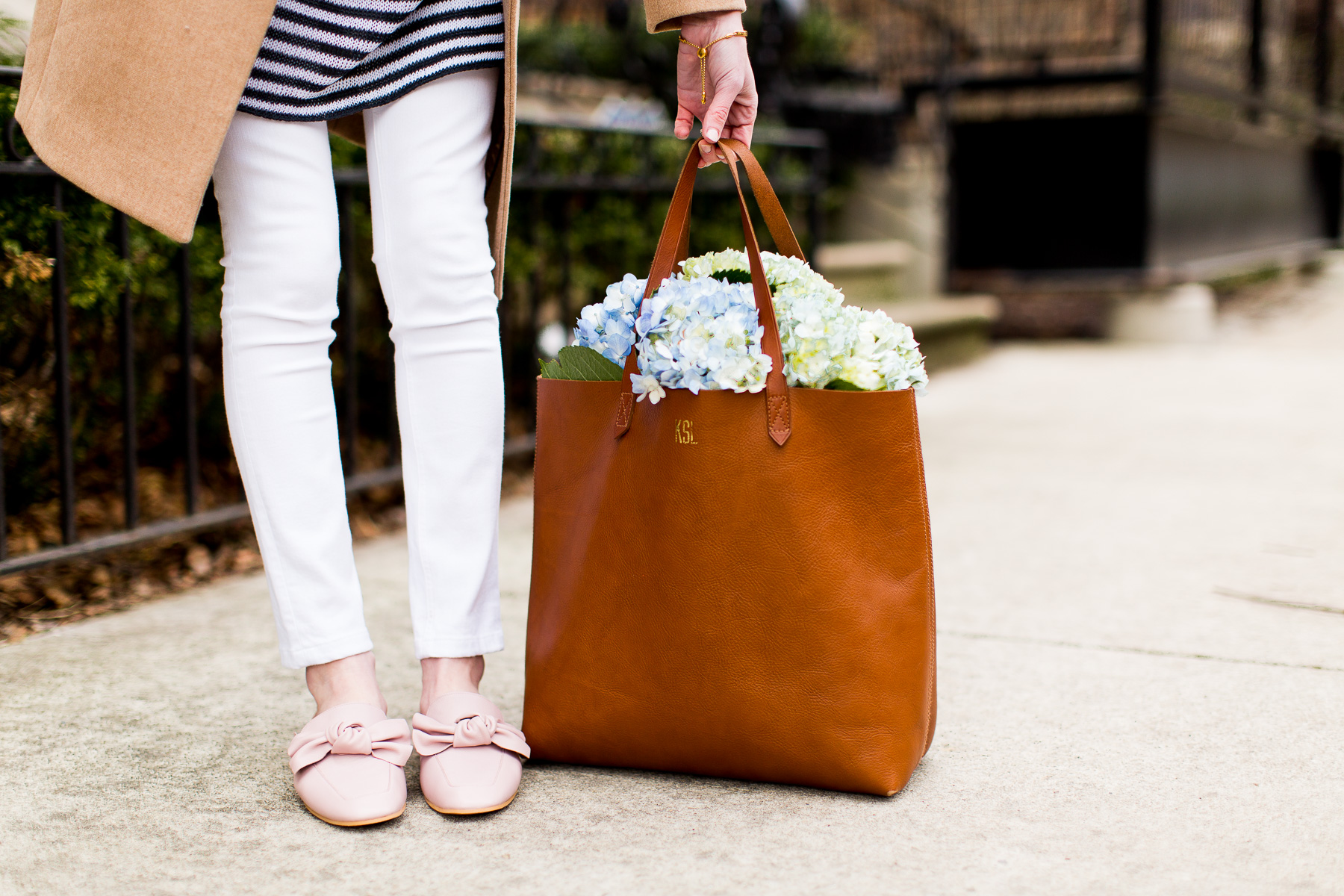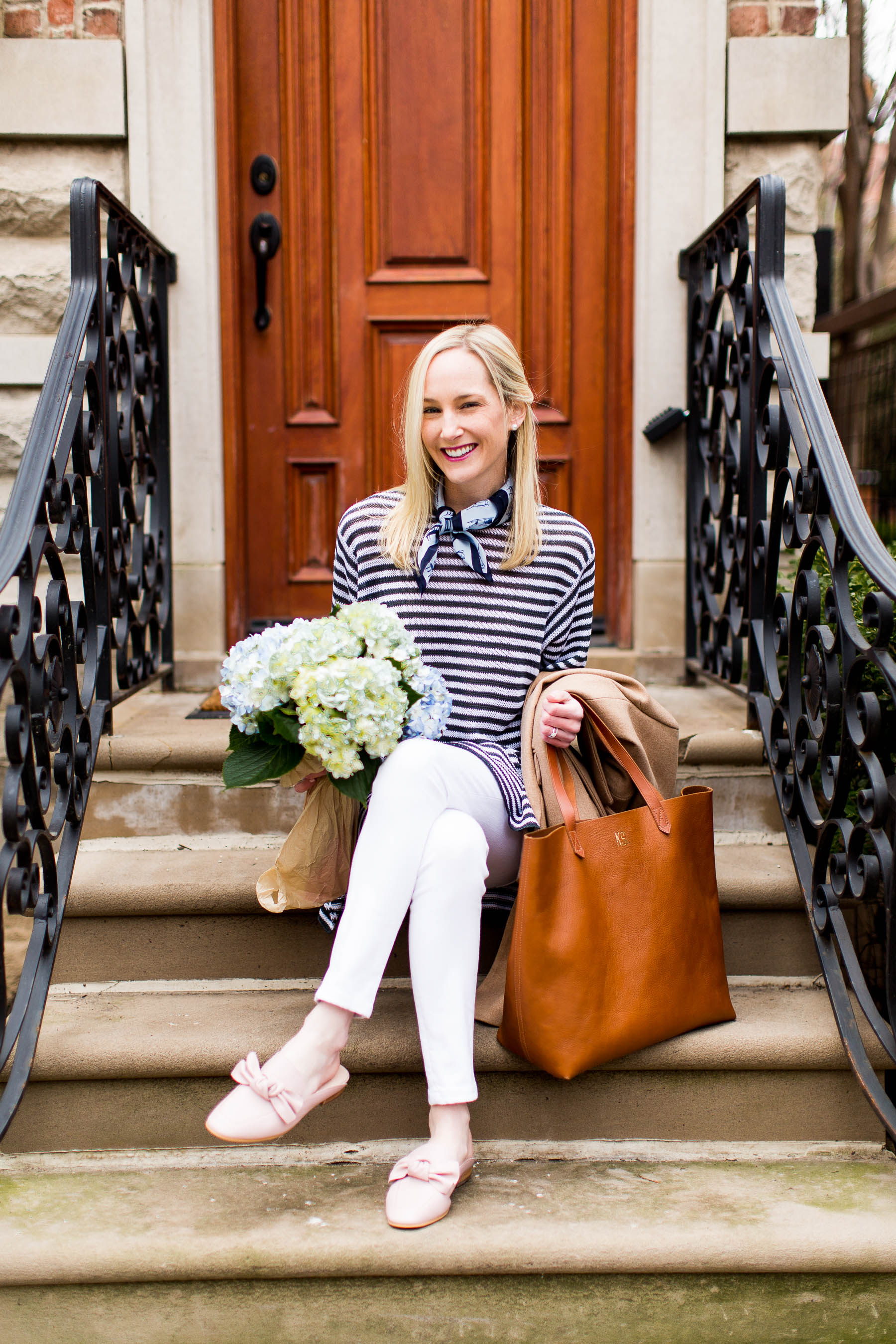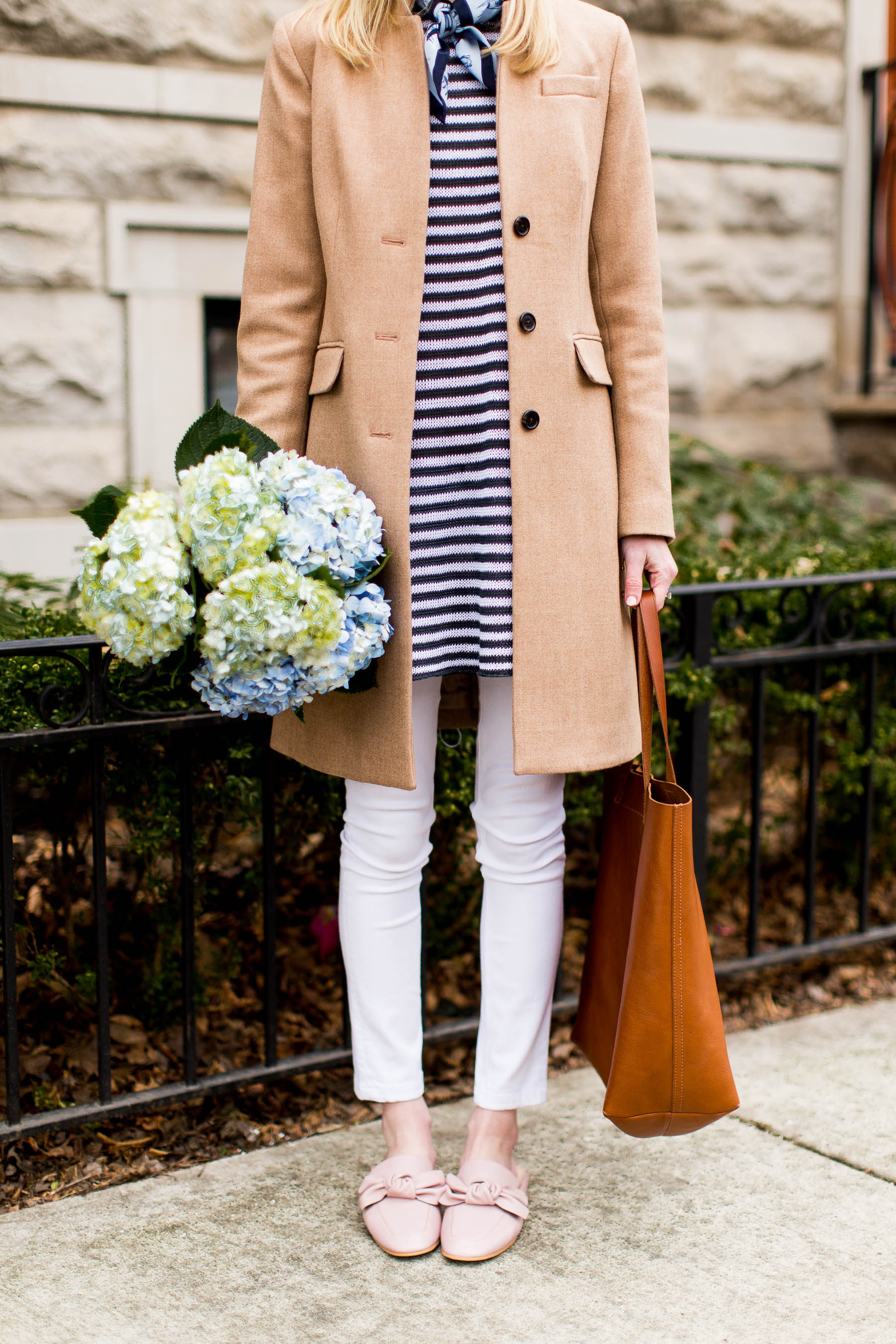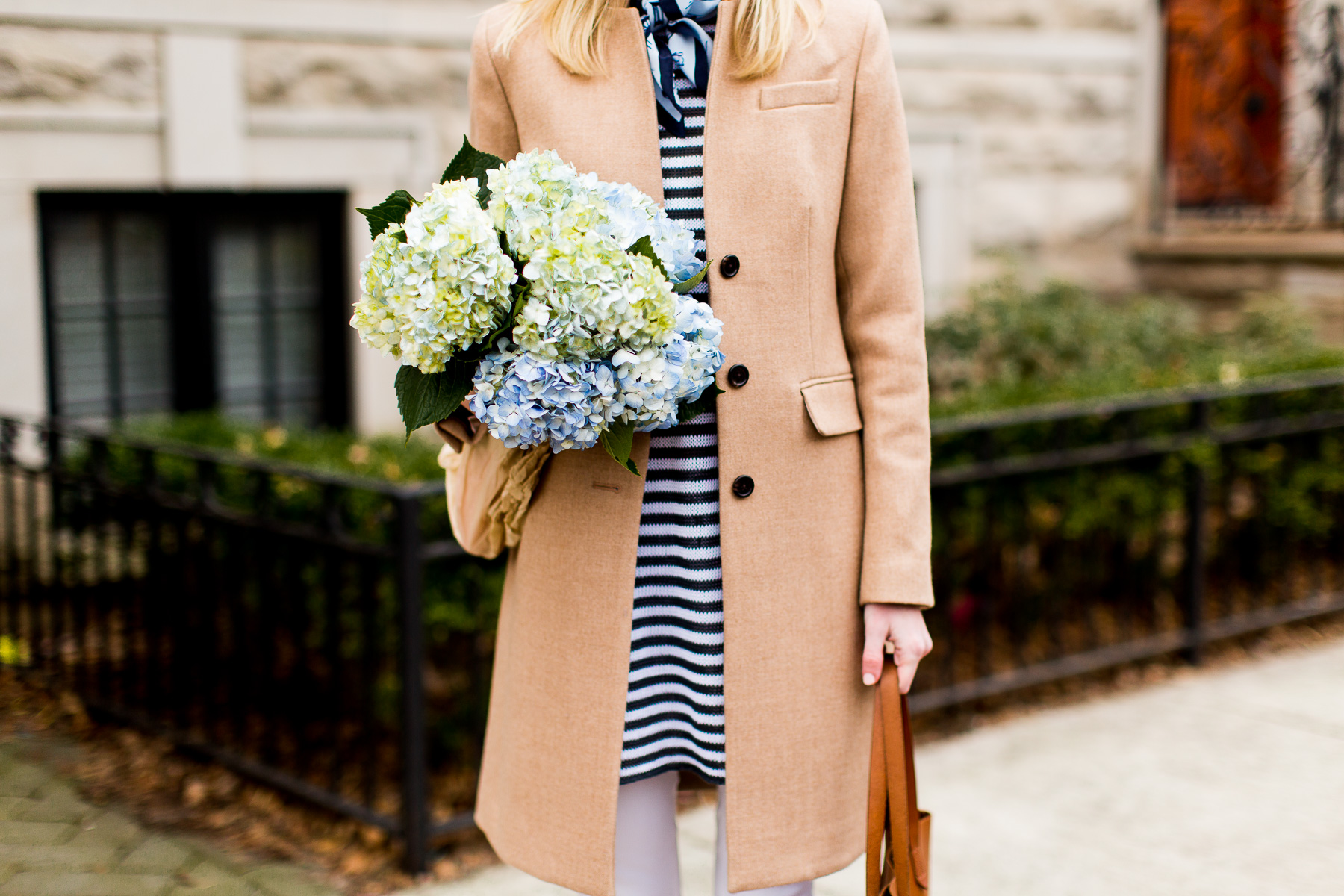 Shop the post:
Eileen Fisher Top / Similar Rag & Bone Jeans / Bow Mules / Leather Tote / Similar Scarves here, here, here and here / Topcoat

This post was sponsored by Nordstrom, but all opinions are my own. As always, thank you so much for supporting the partnerships that keep Kelly in the City up and running!